Between school parties and Easter baskets from their grandparents, my kids will be coming home with chocolate bunnies and cream-filled eggs to last us till the Fourth of July. So I've been looking for some extra special Easter basket gifts for kids that go beyond what you might find on your drugstore shelves. They're perfect for those of you who want to ease up on the sugar; or for kids like ours, who are already going to have more than their fill from other sources.
Mix them in with some traditional Easter fare (it is hard to resist jellybeans after all), or limit the Easter baskets to a few small but special gifts. Added benefit: These cute crafts, toys, accessories and other playthings might keep kids busy long enough for parents to get Easter brunch on the table or get that Easter egg-decorating table set up.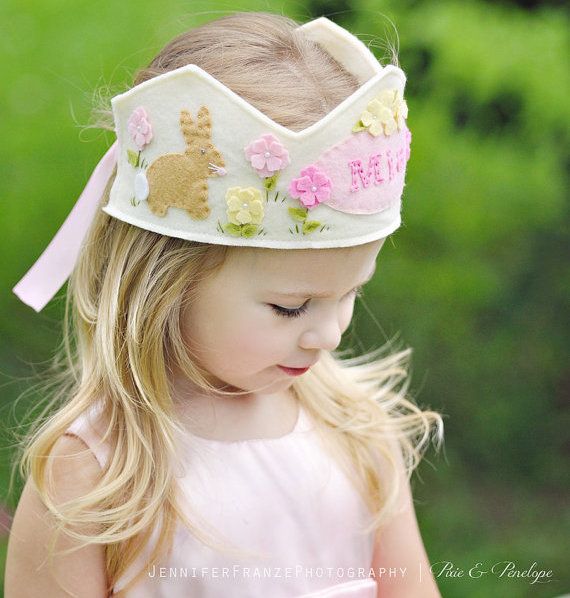 This handmade felt crown by Pixie and Penelope is pass-it-down-to-your-granddaughter gorgeous. In the meantime, my own daughter will be crowning herself queen of the Easter egg hunt. What an amazingly special gift that you can roll up and tuck in that little bunch of Easter grass.
For kids who are already into LEGO Friends — or if they're just starting — I love the idea of an inexpensive kit for the Easter basket like this springtime LEGO Friends set with bunnies and carrots. It's affordable, and can you resist those bunnies? Neither will your kids.
Related: 17 gorgeous but easy Easter egg decorating ideas that are all about color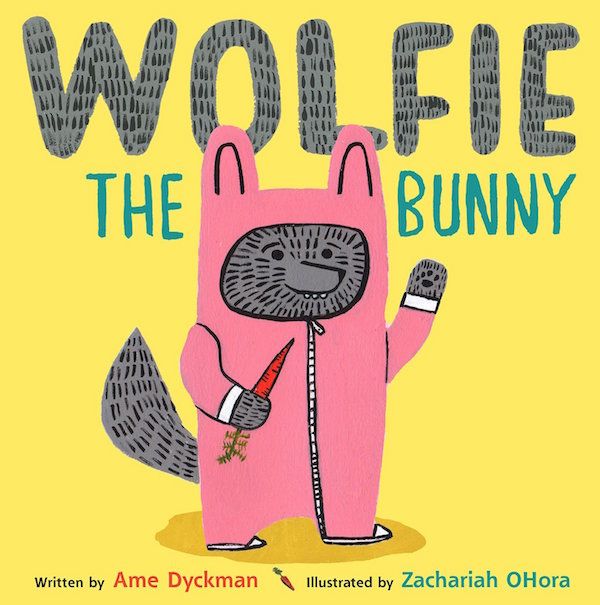 Wolfie the Bunny by Ame Dyckman is one of those fun-to-read-aloud books in which readers know what's going on, even though the characters are blind to it. It subtly touches on deep subjects like fear, loyalty and even trans-racial families while staying fiercely adorable. And? Bunnies!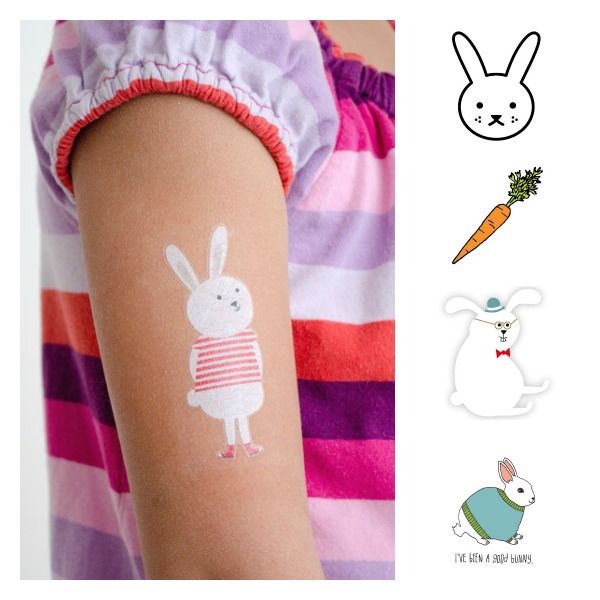 We can never resist the designy temporary tattoos from our friends at Tattly. For Easter, search the site for bunnies, rabbits, or carrots, and you'll find so many perfect options. Older kids can even put tattoos on their phone cases for an easy DIY upgrade.
Get your smartphone cameras ready, if you have a house full of little ones wearing these dress-up dress-up bunny ears from Pottery Barn. So cute!
Spring may be on its way, keeping toes adorably warm is for any season. Dress your kids' feet up in these funky, comfy bunny and whale socks from Sock It To Me to add some personality to your Easter festivities.
Related: 14 fun, easy Easter crafts + printables for kids
I've had my eye on these sweet ballerina bunny stuffed animals by Maileg for a long time, and Easter might be the perfect excuse to give one to my daughter. They range in size from a miniature doll she could use in her dollhouse to a huge extra-large one she could dance with. Oh, decisions!
Preschoolers love to sort things, and I love when they find an old-school (i.e., non-battery-operated) game to play every once in a while. The rainbow-colored handmade wooden egg sorting game by Laughing Crickets is so pretty, too. Love those colors! You could fill a basket just with those eggs then keep the buckets on the side.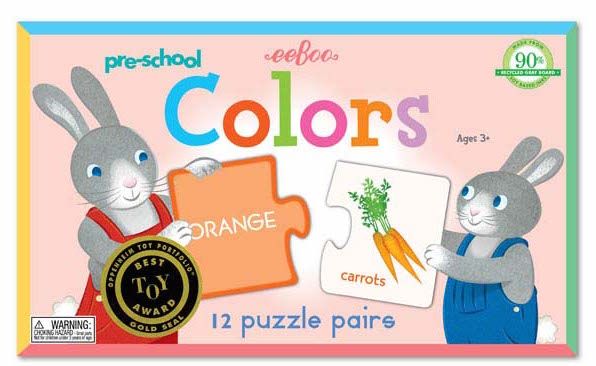 We're always looking for great educational games for kids and eeBoo never steers us wrong. The bunny on the cover of this color-matching puzzle for preschoolers makes it a great little addition to the basket.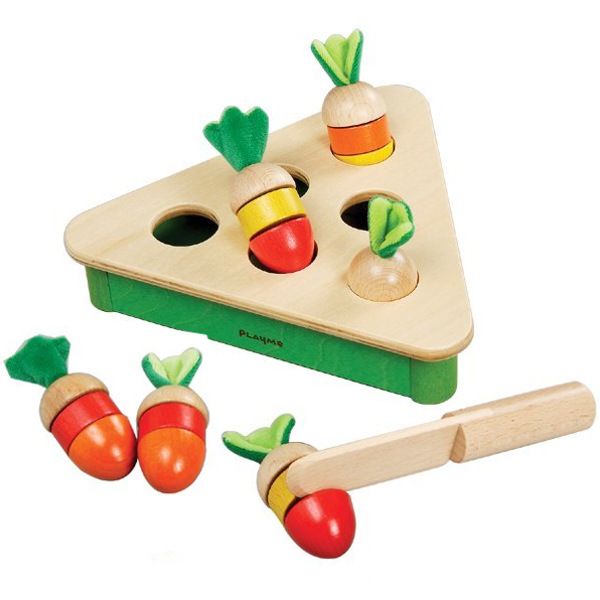 Also for toddlers, this clever carrot memory game by Play Me can be played three different ways to keep short-attention-span kids happy. It's a color matching game, a memory game, and a food play cutting game all in one.
For kids of any age, tuck little buckets of eco-friendly play dough by eco-dough in the empty spots in their baskets as an affordable bit of fun. Buy a set and break them up across all your kids kids' baskets — since you know they'll end up in the same arts and crafts drawer anyway.
If you're looking for a cute Easter basket gift for a littler one, these reversible bunny bibs by Maileg are so sweet for those too young for chocolate bunnies. Also, it's cute way to cover up the kids' Sunday best and not stress so much about covering it with Easter dinner.
The Country Bunny and the Little Gold Shoes is 1939 classic you might remember from your own childhood — and even our parents' childhoods. Yet the story by DuBose Heyward about a brave, wise, wonderful, hard-working mother bunny who overcomes all odds to become an Easter bunny still holds up today. (Even if none of us mothers can ever be as perfect as she is.)  Our kids love this one, and the illustrations by Marjorie Flack are just magical.
Related: 2o of the best easy Easter egg decorating ideas that look very, very impressive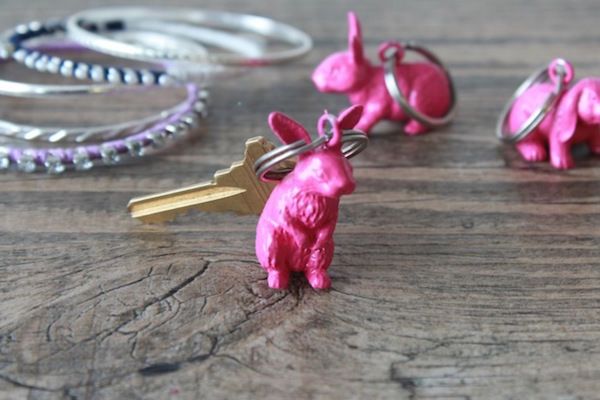 If you're a DIYer, check out this funky bunny rabbit keychain kit at Darby Smart which includes everything you need to make 6 of them. Or if you have a tween or teen who loves crafting, wrap up the whole kit. (If you add their own house key too? Coolest parent ever.)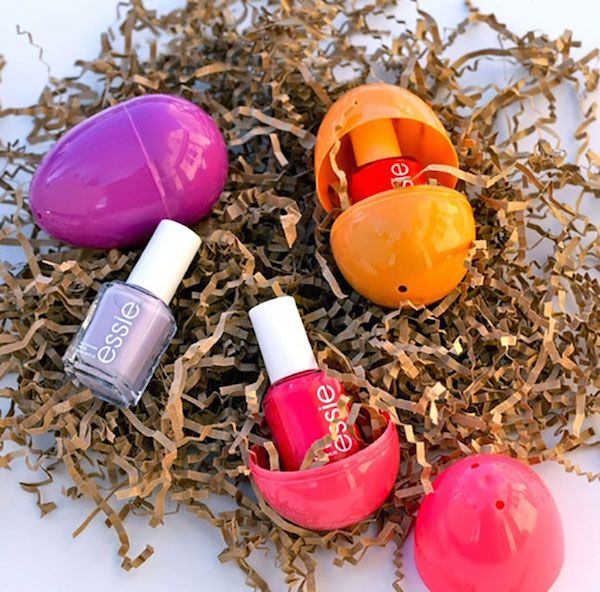 Also for kids starting to get a little old for little toys, I love this idea for filling plastic Easter eggs with nail polish colors via Fall in NaiLove. We've even got recos for the hottest nail colors for spring this year, should your tween or teen be following such things as Pantone color palettes. [h/t Brit + Co]
If you tend to pick fewer items that are maybe a little more special, consider this sweet bunny necklace from Sarah Jane Studios. It's packed with vintage charm. And that little pearl? So perfect for Easter.
Finger puppets for the kids equals after-brunch entertainment for the adults. I can hear the hilarious voices my kids would use for this felt bunny finger puppet that we spotted on Etsy at Razzle Dazzle by Sally.
Personalized labels: a type-A kid's dream? Or maybe just mine. We've always loved the personalized name labels from Mabel's Labels and now they've introduced this cute bunny design. Just customize with your kids' favorite colors or some pretty pastels and you've got a smart Easter gift that's practical too.
I want to live in a world where this pear-shaped bunny saves the day. I have a feeling my kids would be fighting over who gets to keep this hilarious superhero bunny tote bag by yayasheshe. Awesome.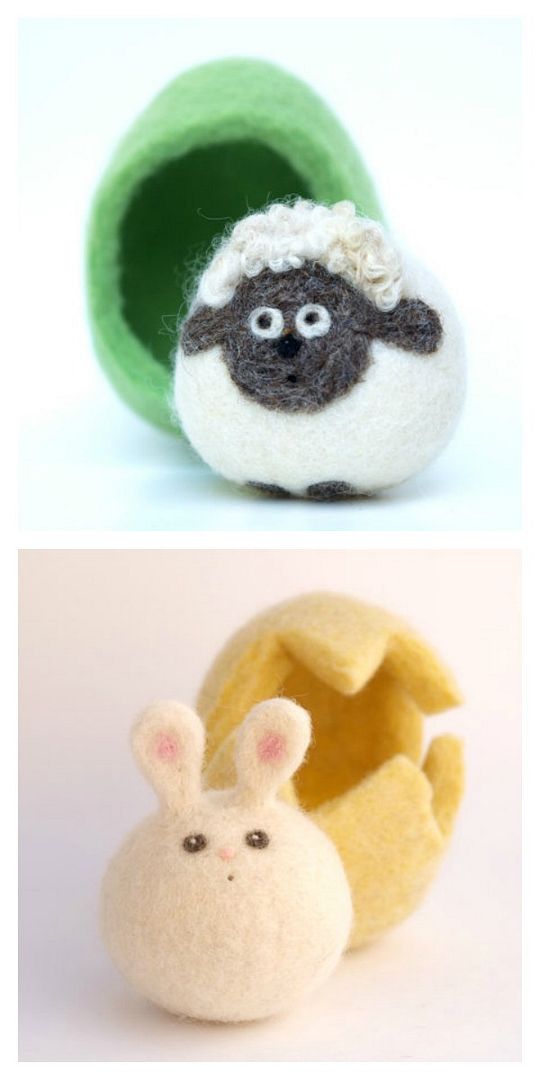 Handmade gifts can be so meaningful, and the felted bunny and sheep toys by Fairy Folk are about the sweetest toys for young kids this Easter. Toddlers will love putting them in and taking them out of their little homes.
Yay for free Easter basket gift ideas! Print out these free printable Easter stickers from Emma Trithart on sticky labels you already own and cut them out, or grab some temporary tattoo paper (just over $7 on Amazon). They may be end up being the biggest hit of all.
For more Easter ideas, follow our Easter Pinterest board.