Since we're always looking for anything that will make parents' lives easier, we're so excited to break the news today about the brand new Ergobaby ADAPT. While Ergobaby already makes tons of fabulous carriers that moms and dads swear by, the ADAPT is the very first infant carrier offering a custom, ergonomic fit for your child — from birth — all without the need for any extra inserts.
Life with newborns made easier? Yes, please.
It's hard enough to get kids and babies and all their gear out the door, so anything that requires fewer parts is a big win for us. Simply by adjusting the Velcro panels at the bottom of the Ergobaby ADAPT, it adapts (get it?) to carry newborns from 7 pounds to kids up to 45 pounds.
Although those of you carrying a 45-pound preschooler on your back all day…well, bless you.
Related: 3 of the best baby carriers for dads.
In the seat of the carrier, where your baby's bum goes, the large Velcro panel has three embroidered guides showing where to adjust the carrier for your baby's size and weight. And because it is Velcro, you can make the minor adjustments you need for a perfect fit. No matter which of the three, hip-healthy, carrying positions that you're using.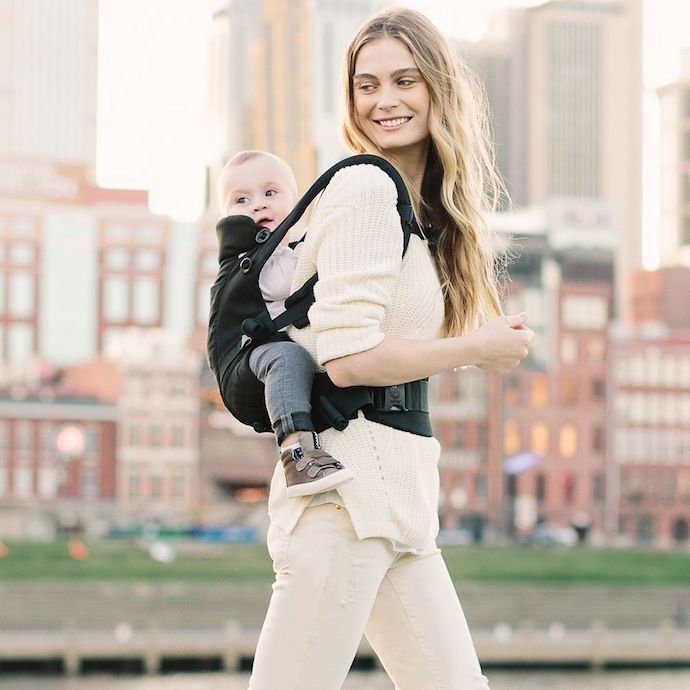 Of course having a great carrier is more than just how the baby feels, but how you feel too. So Ergobaby has also added new comfort features to the ADAPT just for parents (and we thank you!) like crossable shoulder straps that won't feel like they're slipping off your shoulders. Plus there's still lumbar support for the wearer which can be a lifesaver.
Having tried it out, the ADAPT feels less bulky to me than the Ergobaby 360, making it more comfortable and definitely easier to stash in a diaper bag. And for those of you who weren't crazy about the large velcro band on the 360, you'll be glad to know the ADAPT goes back to a clip closure at the waist.
Unfortunately, it only comes in black or pearl grey, so if you're looking for vibrant colors or fun patterns, you'll have to go with another model, like one of the stylish carriers we recommended recently for National Babywearing Week.
But because I'm making an effort to buy fewer items and buy smarter for my new baby who's on her way, I'd be more than okay spending a little more on a carrier like this one. $145 gets me a comfortable (for both of us), safe, neutral-colored carrier that lasts for years and goes with everything — however fashions end up changing from now until she's (gulp) a 4-year-old.
You can find the brand new Ergobaby ADAPT carriers starting today today at the Ergobaby website. Thanks to Ergobaby, for sending us a sample for consideration.