If your little camper is heading off to sleepaway camp this summer, possibly for the first time (sniff), you'll likely receive from the camp a long list of all the essentials to pack — extra socks, bug repellent, water bottles, headlamps. But, on top of all those must-haves (and they really are), we think that a few special items that connect them to home can help make the transition from bed to bunk a little easier.
We spoke to our experienced sleepaway camp parents around here, and put together 7 of our favorite ideas for sleepaway camp essentials that help stave off homesickness and ensure the transition goes as smoothly as possible. For both of you.
Related: 6 essential sleepaway camp packing tips to keep you organized and sane (if not a little sad)
1. Free printable postcards to make keeping in touch easier.
Along with the letters you'll mail to them, as often as possible, make it easy for your kids to keep in touch with you with some free printable, camp-themed postcards that you can tuck into their luggage. With these colorful camp postcards (also at top) from My Daily Bubble, your kids can pick from several different designs so cool they may actually want to sit down and write a quick hello.
Just be sure to pre-address and stamp them, especially for younger kids, if you hope they'll actually make it to your mailbox.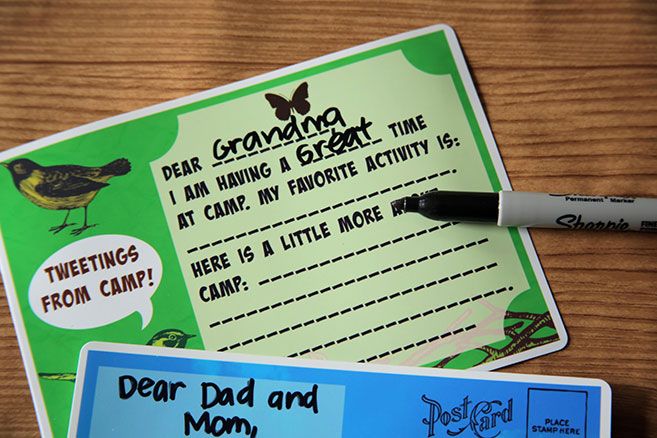 If your younger camper could use some help getting started, check out the awesome fill-in-the-blank printable postcard from MyPrintly. With just a few spots to fill in with words or a picture, it gives kids some help in corresponding with Mom and Dad, or anyone to whom they'd like to write.
Related: 6 cool sets of summer camp labels for kids

2. An extra-special lovey to help them get through a tough night.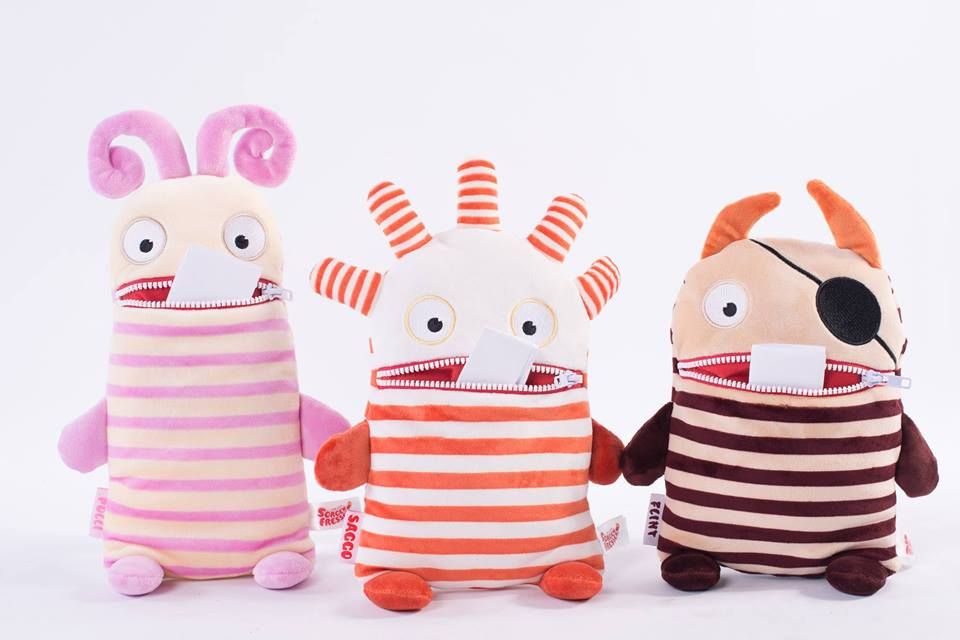 For younger campers, going to sleepaway camp can be a big, big deal. If you're concerned that your kids will get a little lonely at night, give them something extra-special to cuddle with at bedtime. You should of course send them there with an existing favorite to remind them of home. But a gift of something new and special, "just for camp," can work wonders too.
I love the Worry Eaters dolls which not only make great bedtime companions but also give somewhat anxious kids a place to literally tuck away their worries. Tell them that their Worry Eater doll can hold onto any of their camp-related concerns until they return home. But, also remind them that if there's a real problem at camp, their counselors are always there for them.
Related: Some of our favorite camp stationery for kids.
3. Journal or sketchbook for recording their thoughts and memories.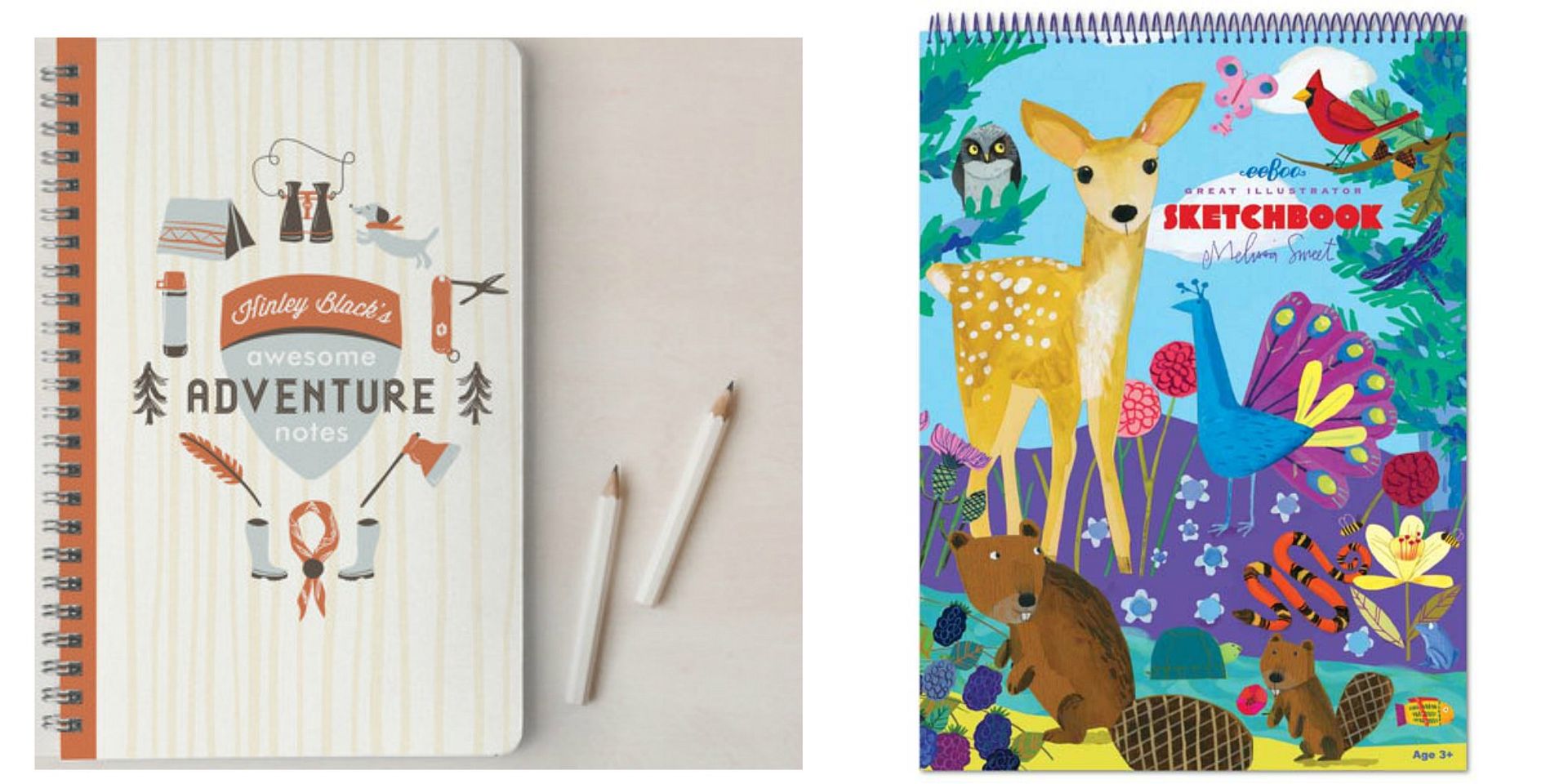 Pack your child a journal or sketchbook for sleepaway camp like one of the cool options we featured in our Summer Camp Care Packages post. It's a great way for them to record all their great memories, or to even document animals they spot or cool nature walk discoveries during their stay. Though there are many different journals you could choose from, we love this personalized option from Minted for our young writers, and also check out eeboo's Life on Earth Sketchbook for kids who prefer to draw their memories.
It's also great to remind kids that a journal of good times helps them remember how much fun they're having when homesickness does set in, as it will from time to time.
4. Care packages to share with bunkmates.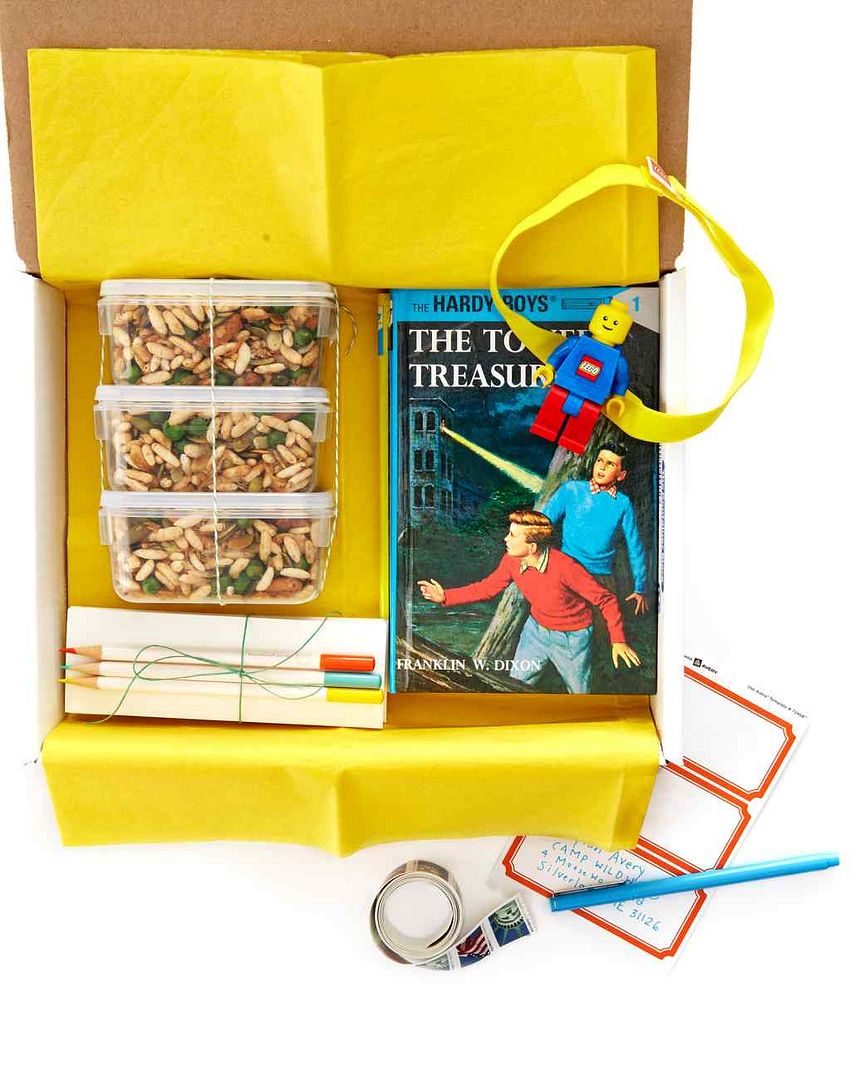 One of the best things about sleepaway camp? Getting great summer camp care packages from home! You can pack one secretly as a surprise for when they unpack their luggage,  or of course, send them off as special deliveries once camp is in session.
We love care packages that share the fun with bunkmates too, from craft activities to easy games to play on a rainy day. In fact, a lot of camps insist that you provide enough of whatever you send for the entire bunk. And if snacks are allowed, include favorites (we recommend stuff like chips, licorice, cookies and other non-melty options) that are meant for sharing. For more ideas, check out this cute care package from Martha Stewart, above.
5. Photo book of home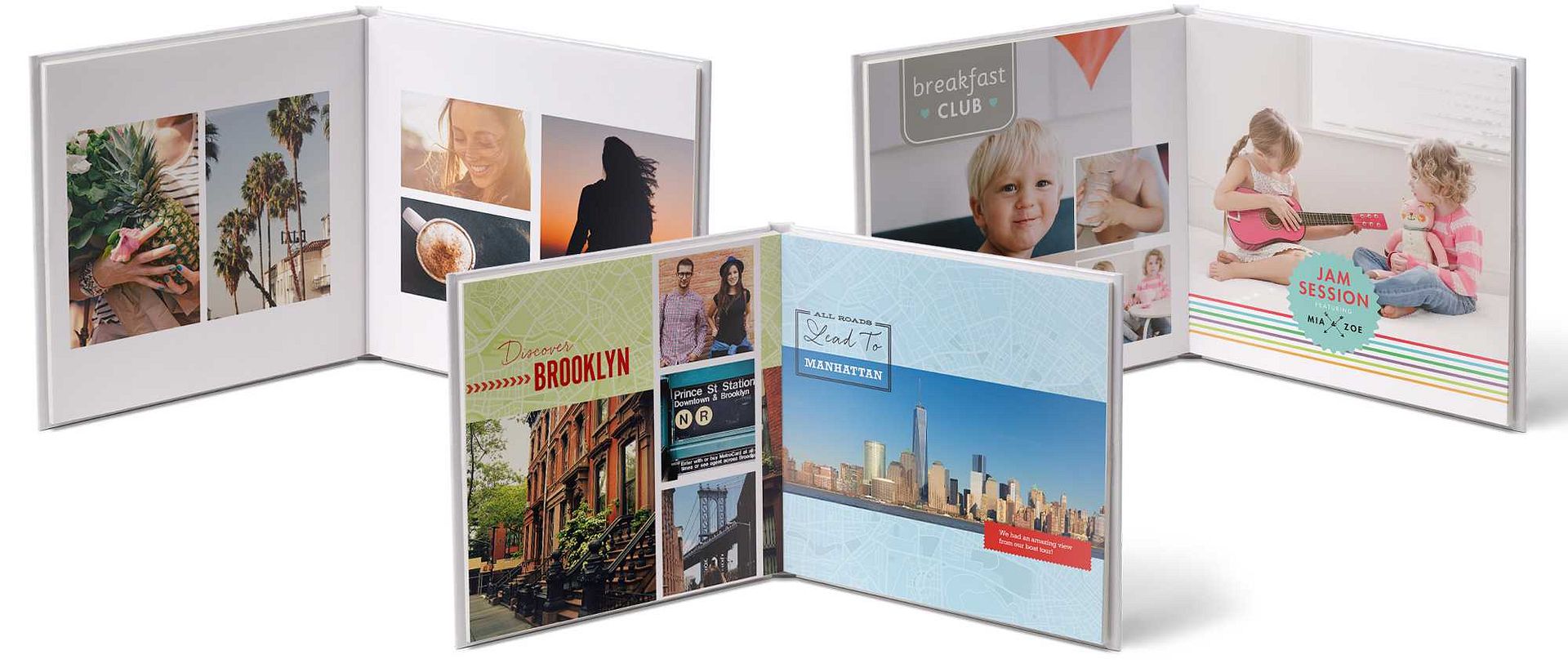 If your kids will be comforted looking at photos from home, make them a small, easy-to-pack photo book of all their favorite people, friends, and pets. It doesn't just stave off homesickness, it gives kids a way to share their home life with their new friends at camp.
For older kids who will appreciate your mom humor: Take photos of all the chores your child doesn't have to do while they are away at camp — an unmade bed, full garbage can, empty dog bowl.
6. Kid-friendly camera for capturing favorite sleepaway camp memories.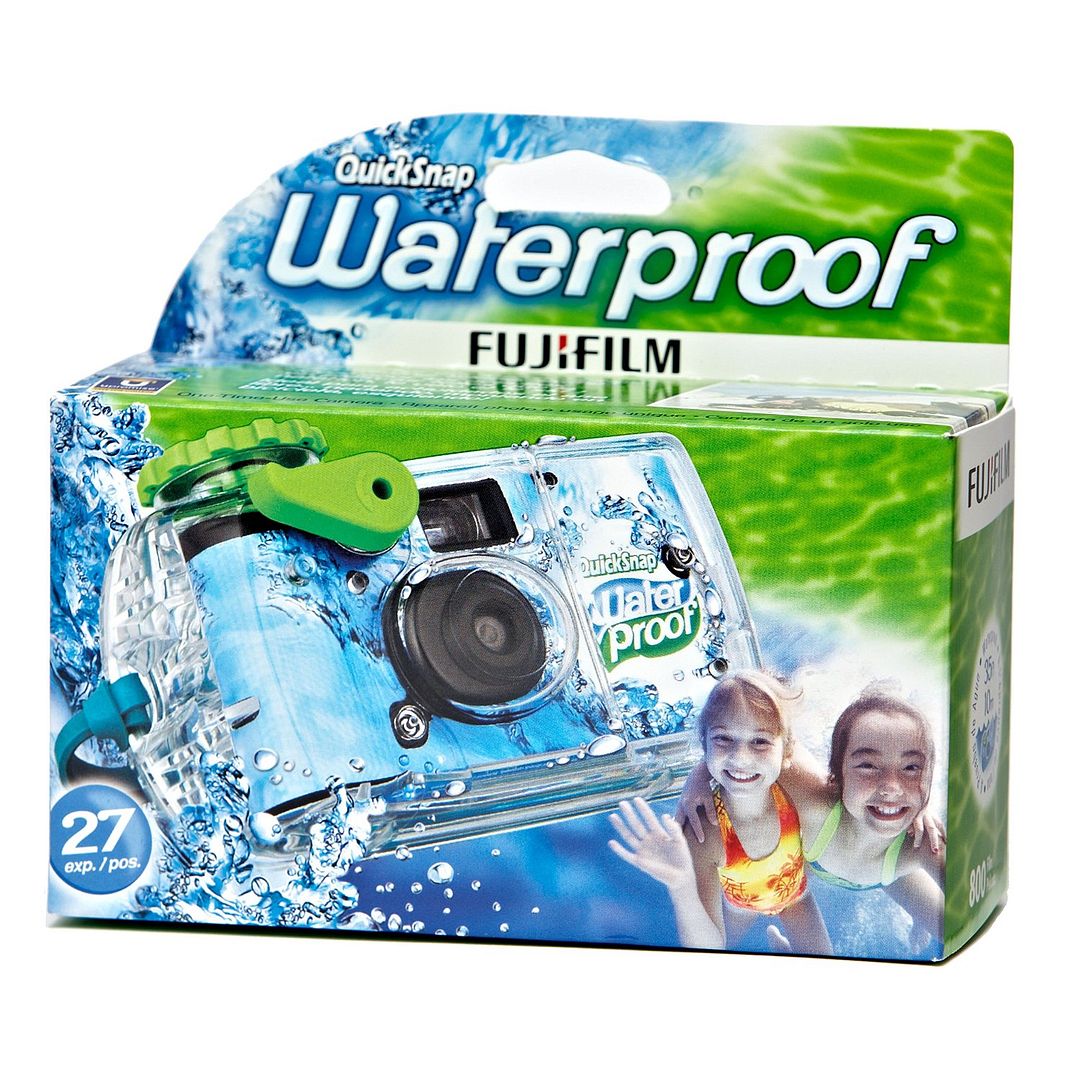 A camera makes a great ice-breaker, turning even the most shy kids into goofballs. But first check your camp rules to be sure that cameras are allowed. If you're hoping to bring all those memories home, instead consider sending them there with a disposable camera with film you can develop when they return. Personally, I'd go for the Fujifilm waterproof cameras because…kids + camp.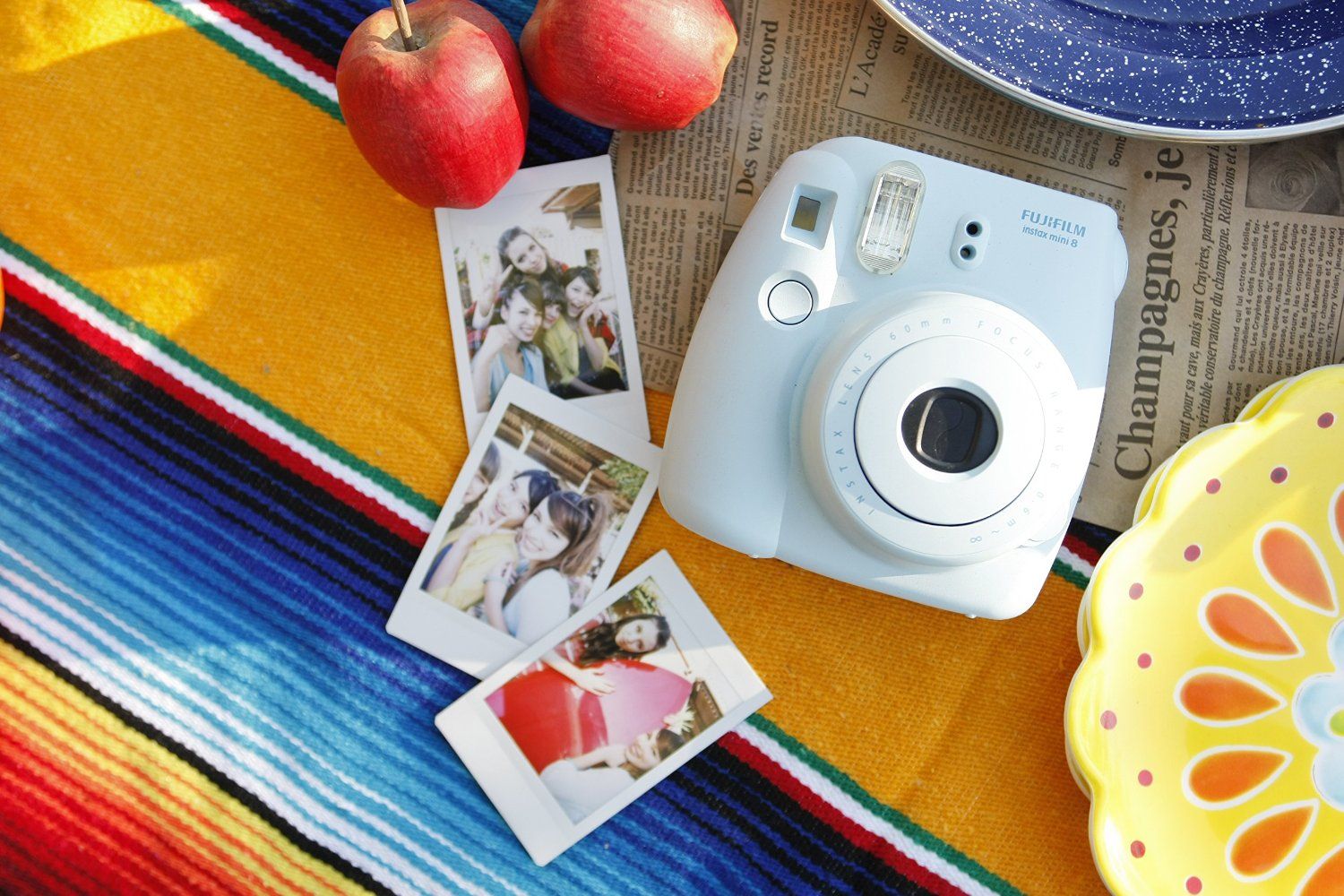 From our experience, camps that don't allow digital cameras will allow instant film cameras like the Fujifilm Instax Max which our kids adore. You can even send more film in subsequent care packages which they'll need, since they tend to hand out pictures to friends or cover their bunk walls with them. Like Polaroids, there is space on the bottom of each photo for kids to sign with a little heartfelt message (think: summer camp yearbook). Bonus: surprise your camper by snapping a few funny portraits of your family ahead of time and tucking the photos in with some other sleepaway camp essentials so there is always a familiar face from home up there on that bunk wall too, if they need it.
7. Special notes from home tucked throughout their luggage.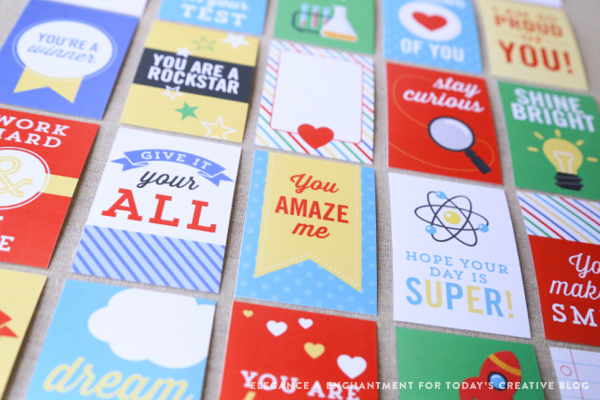 Though you won't be sending them off to sleepaway camp with lunches, we love the idea of hiding printable lunchbox notes like these from Elegance & Enchantment throughout their luggage. Each one provides a little inspiration and encouragement, a lot of love, or just a thought to make your camper smile. Tuck them into pockets, under piles of clothing, in their pillowcase, or half a dozen pages into their journal so they find the notes periodically throughout their summer camp stay.