If your kids are headed to camp this summer, sending them a cool summer camp care package will make their day. Or week. Even if they didn't even look back to wave when you dropped them off. We've got a whole bunch of fun ideas for care package goodies that, according to our own kids, will make yours proclaim you the best parent in the world to all of his or her bunkmates. Short of sending a life's supply of candy.
Just be sure to check with your camp before sending one out–they all have different care package rules, especially when it comes to food, or making sure there are enough goodies for every child in the bunk.
This post contains affiliate links and some purchases may generate a small commission that helps support our team at no additional cost to you. 
For our most recent camp care package ideas, see our 2021 post! 
Care Package Gifts to Preserve the Memories
After a few nights of s'mores and pillow fights, it's easy for kids to forget all the little things they've done while away at camp. Sending them a nice new custom camp journal like this one designed by Sharon O for Minted will give them a place to write down their favorite summer memories, even if they aren't willing to share them all with you. You can even add your child's name and choose from three colors.
If they're not journalers, just encourage kids to write down or sketch pictures of all the cool things they see — and not tuck them away in pockets for you to discover in August
Kids may also want to capture snapshots of their new friends, so consider packaging an inexpensive waterproof single-use camera with something useful but fun, like a new pair of flip-flops.
Also a great camera for camps that don't allow electronics: The Fujifilm Instax Mini
For younger campers, the cover on eeboo's bright and sweetly illustrated Life on Earth sketchbook cover will encourage them to make an illustrated journal of all they see on those nature hikes.
Camp Care Package Ideas: Rainy Day Activities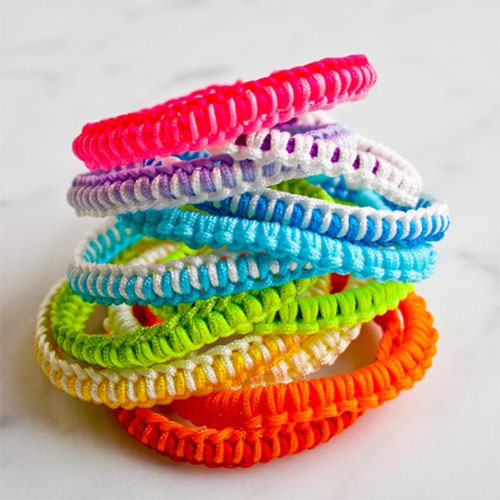 A rainy day at camp can become a lot brighter with some fun craft projects to do with friends, like making friendship bracelets (find 4 fun new patterns at this link), which never seem to go out of style. Just be sure to send supplies! We love this fun Friendship Bracelet Kit from Purl Soho (above) which is one of our favorite DIY gifts for kids any time of year.
Or, you can put together your own package by picking up a huge pack of embroidery floss from Amazon or your local craft store.
Some nice, new sharpened colored pencils and drawing paper will give kids with an artistic side something to do while hiding from the raindrops. And how much fun is this crafty camp care package from Giver's Log, holding art supplies inside a clear water bottle. It's bound to be one of the coolest pieces of mail passed out in the bunk. (Note the website no longer exists, but the idea is still great!)
You'll definitely be the cool parent if you include a set of Tattly non-toxic tattoos for the kids to decorate their bug bites one rainy afternoon. I love the mix of tattoos in this set, from robots to toothy monsters to an authentic-looking skull and crossbones, but there are tons of other designs to chose from if your kids would prefer their tattoos to be a little sweeter. They even have Tattly x CHARM IT tattoos which brings in the friendship bracelet motif in a new way.
Ranging from silly to thought-provoking, Table Topics To Go – Kids edition is a great icebreaker for a new group of friends. The question cards will keep the entire cabin talking way past "lights out." If that's okay.
There's no end to great kid-friendly board games made for summer travel or group card games that are perfect for lots of kids. One of our favorites: Not Parent Approved, which is kind of like Cards Against Humanity for kids — irreverent enough to get them giggling, but no so much to make the counselors blush.
Sometimes a good book is the best way to deal with a rainy day, and we still love the suggestions from our own writers in our post about our children's favorite books for ages 2-12. There are great choices for both girls and boys, from humor to fantasy. But we've got so many book recos around our site!
Check out these 10 graphic novels loaded with girl power, or 8 must-read summer reading books for tweens and teens who want to stay woke, or anything at all from the most recent best books of the year lists which we feature each year.
Camp Care Package Ideas: Health and Hygiene Help (Hey, we can't help it, we're moms)
Kids who are away for a few weeks will (hopefully) be using up their bug spray to keep the mosquitoes away, so send along some refills like Burt's Bees' Burts Bees Natural Herbal Insect Repellent along with some Res-Q Ointment for any bites, burns, or scrapes they may get. Though if ticks are a concern in their neck of the (deep) woods, be sure to read our guide to the best, safe tick repellents for kids right now like the top-rated one from Sawyer, above.
With no time for haircuts (or, quite possibly, showers), help your girls keep their loose tresses out of their eyes with some pretty hair accessories and ponytail holders, like this massive pack in every color, from Goody. Find it on Amazon or any drugstore at all, of course.
If you are worried that laundry may be very, very low on their list of "things to do," send along some fresh camp themed tees from Likewear, or a care package packed with super fun socks from Sock-It-To-Me for both boys and girls.
Think your son may be wearing that same favorite tee over and over? Add a few more to the rotation featuring your kids faves, whether it's Stranger Things, Star Wars, or Fortnite. Or hey, even unplugged faves like tees that celebrate sports or reading — we love this Wonder book cover shirt from Litographs.
Camp Care Package Ideas: Did Anyone Say Snacks?
We've never met a camper who doesn't want to receive treats from home, but it's always best to check the rules for your particular summer camp;  some do not allow food to be sent at all, others restrict foods containing any of the primary allergens, and still others may require that you send enough treats for the entire bunk to share.
Check out our roundup of allergy-free lunchbox snacks in neat single-serve packaging, like this box of granola bars from 18 Rabbits. We've also got an entire collection of Trader Joe's camp snack ideas for care packages should you be a TJ's devotee.
The Sweet Shop NYC is like a modern Willie Wonka factory with all kinds of goodies that you might not normally indulge the kids with at home, including retro candies like Pop Rocks, wax mustaches (remember those?) and Razzles. Contact the shop and they can put together something custom just for you. It's the perfect guilt gift. You know what I'm talking about.
For special treats, we love the idea of hand-decorated, camp themed sugar cookies like these from Shop Cookies Couture. She can customize them for you, should you want to leave out the "birthday number" cookie. And if you need to be even more cautious as far as food allergies, check out Divvies cookies, from a long-time favorite allergy-friendly bakery.
And of course, there's always s'mores! We put together a great post on 5 creative ways to send camp food gifts including these individual mini s'mores kits using a frun printable s'mores kit label from Club Crafted. Kids may or may not be able to roast them over a fire, but we think they're a classic camp snack either way.
Of course you can alway package together a big bag marshmallows, graham crackers and enough chocolate for the bunk — extra-long wooden s'mores skewers optional.