There have been a lot of hard things in the news this year, and I think we can all agree we need a little more happy in our lives. So when a friend told me that her kids found $5 and a note to buy some candy "on us" tucked into her movie rental (yes, some people still rent DVDs!), I got inspired. What simple, random acts of kindness could I do with my kids to help other people have a happier day too?
We've collected some of our favorite ideas here — from nice things you can do for strangers to kind ways you can treat your friends and family at home. Surprising people with happiness is something I'm excited to get behind, and we'd love to hear your favorite ideas in our comments below, too.
1. Share some ice cream
We love the nice surprise of someone ahead of us on line paying for our coffee, and a fun kid-twist on this trend is to treat someone at the ice cream truck. When you hear that music start playing as the truck nears your block, give your kid enough money for two desserts so they can treat a friend too. Or for a cheaper way to do the same thing, splurge on a box of popsicles and invite the neighbors to come cool down with a sweet treat.
2. Leave cash for snacks
Before you return your next kids' movie rental, put a couple dollars and a note inside so the next kids who choose it will get the chance to buy some popcorn or candy. I love how easy this is for the person who finds it — they're already at the store, and it will be such a fun surprise for the kids.
3. Mail a note to a sibling
Let the kids get out the fancy stationery and write a sweet note to a family member — even a sibling — and put it in the mail. There's nothing quite like getting a handwritten letter in the mailbox, especially one that compliments you and cheers up your day.
4. Play with a fussy baby
I've found that my kids love to try to make babies smile, and sometimes distraction for a fussy baby is everything. From their seat at a restaurant or coffeeshop, let your kids play peekaboo with a fussy baby across the room, shake something colorful to attract the baby's attention, or make silly faces so the baby is entertained — and the parent can get a few minutes to enjoy a cup of coffee.
Related: Renegade Made helps kids create random acts of kindness through crafting.
5. Do a sibling's chore for them
Encourage your kids to take a peek at the family chore chart and do one of their siblings' chores. Just because. It might be a hard sell, until they realize that good deeds usually come back around to you too. And a spirit of helping around the house is good for everyone.
6. Leave an unused toy for someone to find
If you have old ride-on toys your kids have outgrown, but they're still in good shape, use our editor Liz's suggestion and leave them at a toddler playground for other kids to use and share. Or, you could call your school or a single mom's support network to see if the toys would be appreciated there.
7. Start a free mini-library
Weed through your bookshelf to find the good condition children's books your kids are finished with, then leave them in your building's lobby, your neighborhood clubhouse, or at a local community center for other kids to enjoy.
Related: What Does it Mean to Be Kind?

8. Send someone cookies
Make a batch of cookies and let the kids deliver them to your neighborhood community center, library, fire station, or police station to say thanks. Because is there any yummier way to feel appreciated than with homemade cookies? We love this CD-sleeve wrapping idea from HGTV as a way to package your favorite recipe.
9. Post an encouraging word
Our kids could all use some positive feedback from their friends, so encourage them to do the same. Arm them with post-it notes to stick to the stalls in her school's bathroom or on friends' lockers with notes that empower their classmates. They can simply tell them they're beautiful, smart, talented, or a valued part of their school. Or, read through our favorite empowering quotes and pick a few to share — these are generally meant to be empowering for women, but there's no reason why our boys can't share them too.
10. Bring in the neighbor's trashcan
While my kids are hauling our trashcan back to its proper place after the garbage truck has been through, they could go ahead and grab the neighbors and pull it back to their garage too. It's simple, anonymous, and actually really helpful — the best kind of random act of kindness.
Related: The end-of-summer bucket list: 9 fun, easy ways to get in some last-minute fun in August
11. Make a friend a playlist
In middle school we'd always make our best friends mix tapes, so why not let your kids download a playlist with their favorite songs to a zip drive to share with their friends? I know I have plenty of cheap ones laying around the house, so it's a great way to put them to good use. Stick them in this retro USB gift box for old-school cool vibes.
12. Pick up garbage
In the spirit of leaving places better than we found them, I pretty much ask my kids to help pick up noticeable garbage everywhere… even if it isn't theirs. I know, the horror! But, you could also take a grocery bag with you on your next nature hike or walk through the city and pick up trash from litterers along the way, just to be nice and to help save our planet one small step at a time.
13. Email a compliment
If you've set your kids up with email, help them use it for good by randomly emailing a friend with a thoughtful compliment, thanking a teacher or coach, letting grandparents know they're loved, or even sending a message to their city representatives telling them thanks for their public service.
Related: Cool craft kits for kids that give back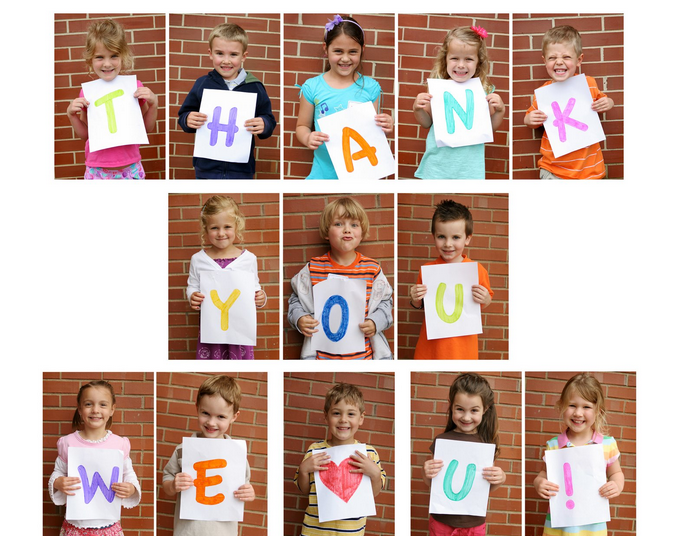 14. Give your teacher a hug
As your kids head back to school, encourage them to do something sweet for their new teachers. We love this photo gift idea we found at Tutus and Turtles; it would be so cute for the kids to surprise the teacher with these signs on their desks in the classroom. Or, write a note saying how much you're looking forward to being in their class, bring in some books they can add to their classroom library, or just give them a hug on the way in the door. Because being a teacher isn't easy, and they need all the love they can get.
15. Straighten up the toy aisle at your local toy store
If the toy aisles at your local shop are anything like mine, they can look like a tornado came through after kids have been to visit. Charge your kids with straightening up the toys while they're there — they'll get the chance to touch everything (just the way they want to) and you'll make the clerk's day by setting everything straight before you leave.
16. Sit with someone new at lunch
Scan the lunchroom for someone new to sit with, and learn a little about them while you eat. You might make their day, and a new friend in the process. It's the little things.
Related: Educational activities for children this summer
17. Make friendship bracelets
We have a few still hanging on to the Rainbow Loom trend, but our kids are also getting into old-school '80s friendship bracelets. A fun way to beat the boredom as summer winds down would be to make a bunch of these heart-patterned bracelets we found at Honestly WTF, then randomly hand them out to friends or leave them taped to lockers when school starts.
18. Pick flowers for a neighbor
Next time you're in the park, collect some pretty blooms and take them to a neighbor or someone special in your building, like the doorman. It's such a simple gesture that will cheer them up for the rest of the day.
19. Treat for the bus driver
If you make homemade muffins or smoothies-to-go for your breakfast, wrap up an extra one as a sweet way to say thanks to the bus driver who gets your child to and from school safely. This pick-me-up is sure to make their day.