My kids are huge fans of the fun pop culture Easter eggs we've featured at Cool Mom Picks and the cool ice cream cone eggs over at Cool Mom Eats. Plus, these galaxy eggs are geeking them out too. But I have to say, I love pretty floral Easter eggs in springtime.
So I went searching through the sites of some of my favorite bloggers and found 9 gorgeous tutorials for the prettiest floral Easter egg decorating ideas.
If you want to really impress your brunch guests this year, in the prettiest way possible, try one of these.
At top: DIY tissue paper eggs | Say Yes
Related: Fun (and easy!) flower crafts to make with your kids for Easter
Eric Carle is one of my very favorite children's book authors, so when I saw these floral Easter eggs at Bugaboo City in his iconic collage style, I was smitten. Kim's technique is simple, and I was happy to see she shows us how to make some of his most famous characters too.
You need a bit of artistic skill to pull off these pretty watercolor flower Easter eggs at Grow Creative. If you have a steady hand with the paintbrush, you'll really impress at your Easter party this year. But even if yours come out looking a bit more abstract than hers, they'll still be gorgeous.
The folk art wood grain floral Easter eggs that Anna over at Flax and Twine made this year are so so pretty. If you're into neutral color palettes and a more simplistic look, this just might be the one to try this year. Click over to see what she uses to get that lovely wood-grain look on her eggs.
Related: 15 gorgeous Easter egg decorating ideas all about color
I love the modern flair to these watercolor flower Easter eggs at Dream a Little Bigger. Click over to see her pro tips on creating this cool watercolor effect. You might choose to let your kids paint the big swaths of color, then you can go back later to turn those colorful shapes into pretty flowers.
I'm fascinated by this new technique that's trending all over the craft sites: dyeing relief floral print eggs, like these colorful, vibrant ones at Freutcake. The process is actually very simple and the result is stunning. Click over for the surprisingly easy instructions.
Related: Natural Easter egg dye recipes for every color of the rainbow
Got markers? Then you can make these cool Otomi print Easter eggs. Homemade Banana shares some good tips on how to make these like a pro. I love the simplicity of this craft, because my kids can definitely have fun making these too! You can make anything you want, of course, but those flowers…so pretty.
You can make a huge impact without a huge effort by adding an unexpected 3D feature to your eggs, like these paper cutouts to make paper flower Easter eggs at Tell Love and Party. Click over for a full list of supplies.
Whoa, I could never paint eggs this gorgeous. But that's no problem, because these DIY tissue paper Easter eggs (also shown at top) aren't actually painted. Click over to Say Yes to see how it's done! If your heart is set on this particular pattern, you're in luck — it's available as a printable via the link at the tutorial.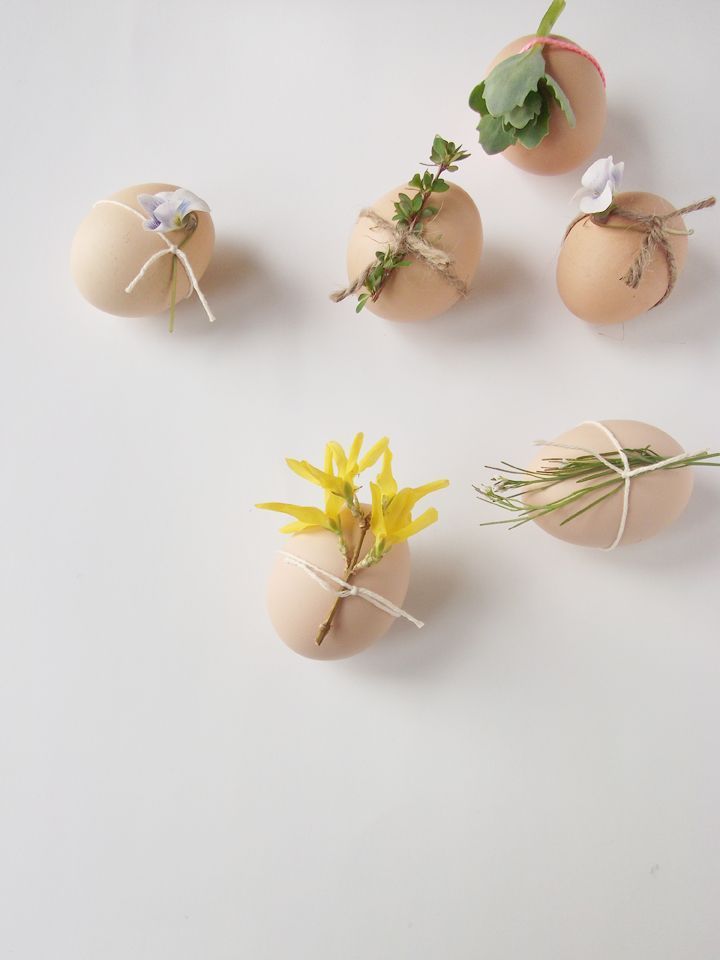 It simply does not get any easier than these fresh flowers eggs at A Daily Something. I included these in my best easy Easter egg decorating ideas roundup a couple of years ago, and this is still a favorite of mine. Fresh flowers, so simple. So pretty.