There are few better moments for traveling families than the day your child is ready to carry their own luggage through the airport! (Can I get a woot?!) I've put together some fantastic hard-side luggage for kids that makes for fantastic first-time luggage, whether they're a tot or a young teen.
I wanted options that were rugged enough for the beating kids can give all of their items, but something fun and cool enough that they'll want to grab it before you can even ask them to yourself.  Now that's a win!
CMP is an rstyle and Amazon affiliate
This cool kids' luggage by Zinc Flyte turns into a scooter for a small kid. Yes, like the kind you ride on! When not in use, the back wheels pop up into the bag to be carry-on compliant. Of course, no zipping through the TSA checkpoint kids…that would be bad.
Since Despicable Me came out in 2010 everybody loves a Minion.  The limited-edition Minion luggage from Always New  pays tribute with a roller bag that's indestructible, lightweight, and clever — that eye is also a luggage tag. I love that while this cool kids' luggage may be screaming yellow, but it's not cartoony, making it just Miniony enough for even older kids.

The Pottery Barn Kids kids' luggage department always has an awesome selection of pint-sized roller bags, but we're especially excited about this one (not yet on their website) with pretty pastel rainbows. Liz snapped this photo of it at a press preview and it'll be on shelves soon, so keep an eye out! Our older girls — and honesty our younger ones too — are digging it.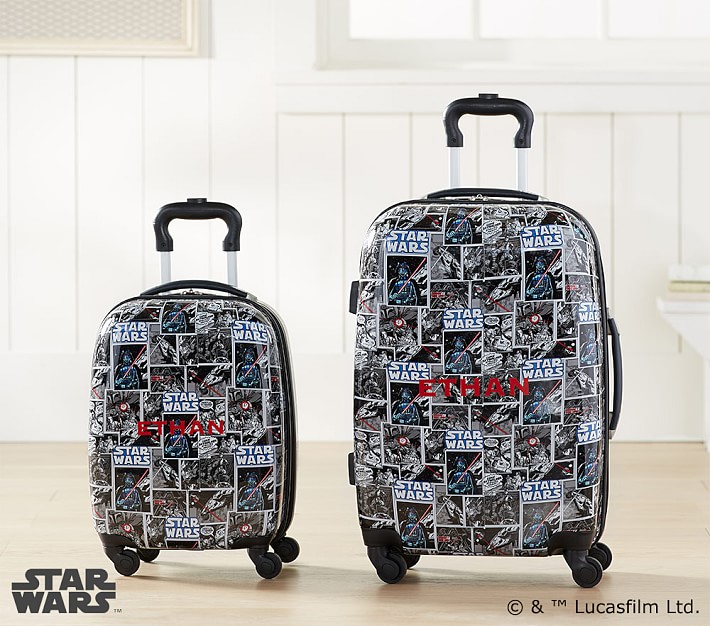 In the meantime, browse the other cool kids' luggage at PBK, like the Star Wars spinner wheelie suitcases for kids, because they're all on sale. On sale, friends! Like, a lot on sale.
We love the work of artist Romero Britto which translates so perfectly to all things kids. Like this Heys USA Britto Wheelie Luggage that's so pop arty-cool, we kind of want to keep it for ourselves. The chances of missing this colorful exterior on a baggage carousel are slim to none, right? And it comes equipped with a TSA-approved three-number lock  — though I might keep the password safely in adult hands.
Related: The best family board games that make for fun family travel 
If you're looking for a non-character suitcase for older kids, or one that younger ones won't outgrow so fast, these cute Merax Travelhouse 2-Piece Wheelie Bags remind me of our favorite rose-gold color trend that's going on right now. Even so, they come in all kinds of pretty shades. And they may look like antiques your kid inherited from a stylish great-great-aunt, but the durable hard plastic will hold up to kids who are hard on their luggage.
Related: Budget family travel tips: 5 smart do's and don'ts to save you a ton on your next family vacation
This world traveler hard-side wheeled luggage set from Rockland is just plain awesome for jet-setting kids. Made with high-quality plastic, both bags are super-durable, and the design manages to be worldly and sophisticated while totally kid-appealing. Actually, it appeals to me, too!
I mean. It's the sunglasses emoji. So this kids' emoji luggage by established luggage brand Heys pretty much screens cool. (And it's on sale for 50% off or more right now, which is also cool!) But hey, if your kid is more into toting around the crying-with-laughter emoji or an emoji blowing a kiss, you can get those on Amazon at a great price too.
Or, uh, there's this Heys emoji puking up a rainbow luggage. Which we didn't know was an actual emoji, but I doubt our kids will care.