The kids in my life aren't into the whole piggy bank aesthetic anymore. Like, at all. But I think they'd love one of these cool, modern coin bank alternatives to the original to help them save their pennies, dimes, and coveted quarters.
It's a great way to get even young kids excited about the concept of saving money; but hey, even if all these coin banks do is help clear up all that loose change around the house, let's call that a parenting win.
Related: The coolest birthday gifts for 5 year olds: Ultimate birthday party gift guide
Move over piggies — sharks are what's in right now with kids! And you ask me, this white shark coin bank by Pillowfort for Target could totally pass for modern art in an upscale apartment — but it would also look cool on an older kid's bedroom shelf.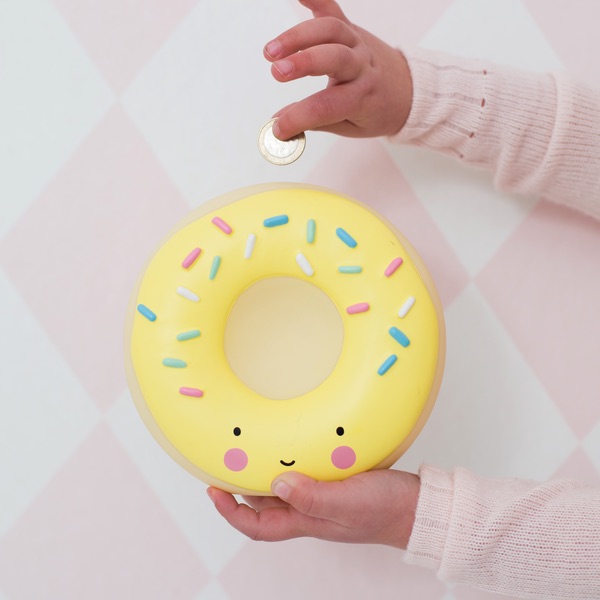 Yes, donuts are still in, as a food group and as a design motif. If your kids are into those $5 gourmet donuts (or just the look of them), they might be excited to start saving in this donut coin bank at Little Lams as soon as possible.
Balloon dogs have been trending for a while now (we first called it in 2012!), and I'm loving the dog balloon coin banks I spotted at Vancouver's Made by Humans Etsy shop. It's pricier than some similar ones, but it's nicely constructed, and comes with a stopper so you don't have to smash it to get the funds. You know, unless you want to.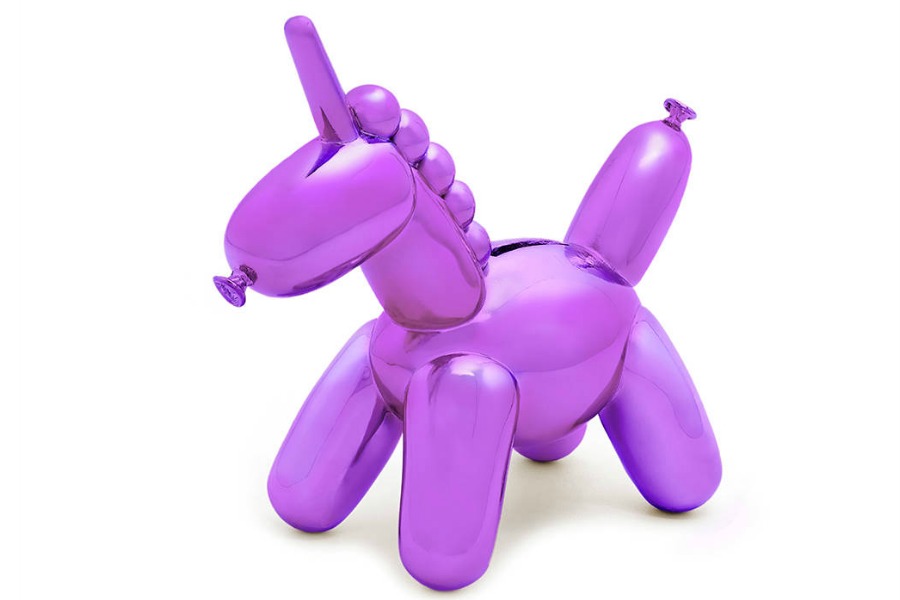 Psst… They sell a balloon unicorn coin bank too. (Also shown at very top.) Win!
Related: The crazy cool unicorn sidewalk chalk that suddenly has us coveting sidewalk chalk. 
Speaking of trends, this sugar skull coin bank is so of the moment — and yet, timeless. I think it's just colorful and funky enough to appeal to tweens and teens.
What kid doesn't love dinosaurs? Exactly. This fun handmade wooden Brontosaurus Coin Bank from CMP favorite toymaker Arks & Animals will ensure that all those hard-earned coins don't disappear like the dinosaurs.
I'm so taken with this white star balloon coin bank also by Pillowfort for Target, which looks like a cool mylar helium balloon. If your kid wants to have a coin bank without looking like they have a coin bank, this is a cool way to go.

If you're buying for a kid who's too old for piggies, but still into adorable kittens, they'll love this cat in a box coin bank from the MoMA store. The cat grabs each coin and stashes it for safekeeping, automagically! Wait, there's a way to save money that still delivers instant gratification? No wonder these are on backorder right now.