We certainly couldn't forget to include cool gifts for stepmothers in our Mother's Day Gift Guide this year.
After all, for a lot of us, Mother's Day is a chance to give thanks to all the nurturing women in our lives who have helped make us who we are — and that includes grandmothers, mothers-in-law, godmothers, and of course, stepmothers.
Whether your stepmother raised you like her own child, whether she's a dedicated grandmother to your own children, or whether she's simply another fabulous female in your life you rely on for love and support, we hope these gifts for stepmothers on Mother's Day are a small way to honor a very important woman in a lot of our lives.
This post contains affiliate links, which means we may receive a small commission from purchases to help support the work we do, at no additional cost to you. So, thank you!
Related: 10 brilliant subscription gifts for Mother's Day that shower her with love all year long
Personalized Mother's Day Chocolate Box
$60 for 24-piece, customizable box, What Candy Says
So many fun ideas in this shop if you need a gift for a stepmother on Mother's Day — or uh, a gift for yourself?
Related: 15 of our very favorite personalized Mother's Day gifts
Literally best stepmom mug
$14, Fieldtrip on Etsy
Like, literally.
Secret love message bangle with names or message inside
$74.99 on sale, The Vintage Pearl on Etsy 
While personalized jewelry for Mother's Day including birthstones or birth coordinates might be great for birth moms, it's not always as meaningful as a Mother's Day gift for stepmothers. Instead, consider something like a personalized heart bracelet with hearts representing the stepkids or grandkids in her life — and go the extra step and have your own message or series of names engraved inside.
Dinner or Brunch Together
$ varies
Just the gift of time together is special in itself, but if it happens to come with amazing food all the better! Even if it's not on Mother's Day proper, a reservation outside at a local restaurant when the whether is nice would be fab.
Shown here: Atelier Roquette in Brooklyn, which I love supporting as a woman-run business. Monica and Leisa also own Homemade/Hudson and if you're upstate in the Hudson Valley, they can do some amazing catering in your own backyard or at their beautiful farmette.
Custom Family Portrait Silhouette
$25+, Simply Silhouettes
In a lot of cases your family wouldn't be complete without your stepmother. Which is why a custom family portrait, like this gorgeous option from one of our favorite Portland-based indie makers, might be a fab gift for a stepmom that a lot of us might not necessarily consider.
Related: 12 truly cool handmade Mother's Day keepsake gifts from the kids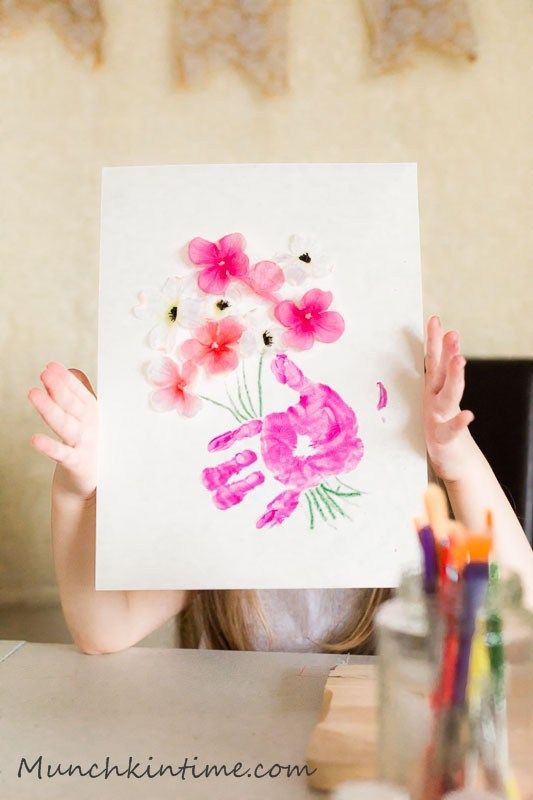 DIY Handprint Bouquet Card or Artwork
Free tutorial, Munchkintime
If you're looking for something for her from younger kids, we adore this adorable tutorial from the Munchkintime blog that we also included in our roundup of 10 creative handmade Mother's Day cards from the kids. The colors she's chosen are just gorgeous, and I love the combo of flat art and 3-D objects. Click over for full supply list, step-by-step photo instructions, and even more variations on the theme.
Related: 18 free Mother's Day printables for tons of last-minute gift ideas
Box of Gourmet French Macarons from Ladurée
$45, Goldbelly
A box of gourmet macarons from the iconic Champs-Élysées bakery is a lavish gift for the stepmom who has done her fair share of spoiling you over the years — and maybe missing traveling to Paris herself these days.
Or hey, feeling up to it? Check out Cool Mom Eats where you'll find an awesome recipe for making your own macarons.
Big Dipper/ Little Dipper Necklace Set
$90, Figs & Ginger on Etsy
Rhonda Dudek has created this lovely friendship necklace adaptation that I think would be so thoughtful as a Mother's Day gift for a stepmother from her stepdaughter.
Hanging Succulent Garden
$53, Built With My Bare Hands
Of course stepmoms love flowers on Mother's Day too, but this is one idea that will last a lot longer than a traditional bouquet. In fact, we have a whole post full of fantastic cut flower alternatives for Mother's Day that make great gifts for stepmothers too.
Related: 21 ideas for last-minute Mother's Day gifts that don't feel last minute at all
Honorary Mom Mother's Day Card
$4.50, Em + Friends

For a special woman in your life who's like a mom to you, this card says it all. In fact,  toss in a few other gifts from the Em + Friends shop because we love all of them! We're big fans of the hilarious mugs, tote bags and especially, these everyday bravery merit badges, which pair perfectly with the card. Just note that she only makes a few of the badges designs these days, but the ones she does sell are fantastic.