Each year, we love putting together a list of affordable holiday gifts for kids under $15. With budgets tight for so many, it really helps to know that there are plenty of affordable gifts that still seem like big deals to kids, tweens, and even teens.
Including lots from the small businesses we love to support.
Maybe you're trying to spend a little less this year, or maybe you have so many nieces, nephews, and little cousins to shop for — either way, we hope you enjoy these wonderful holiday gifts for kids under $15.
(Or you know…$15.99. At most. Sometimes I just can't resist!)
Don't Miss: 50+ seriously cool gifts for men and women, all under $15
Because we know you all have different shopping preferences, we included options at some of the big stores (some of which come from small businesses too), but we hope you'll consider supporting smaller shops as well. And of course, you can always make something (kids love homemade cookies!) and shop local — we bet your local toy store, gift shop, and especially your local bookshop would really love your business right now.
This post contains affiliate links which means we may earn a small commission from purchases, which supports our team at no additional expense to you. There's no payment for inclusion in our guide, just the stuff we love! We know that's rare these days. 
All prices accurate at the time of publishing, but subject to change. Prices do not include shipping.
Also see: All of our Holiday Gift Guides for you to peruse!
50+ terrific gifts for kids under $15
DIY Superhero Cape Making Kit $12.95, Kiwi Co
Why be Superman when you can be Super Margot or Super Isaiah?
Among Us "Brady Brunch" Tee $14.54/ea when you buy 2, XpehArtCute Red Bubble
Hot game of the 2020's mashed with hot show of the 1970's.
First 100 Words from the 80's, First 100 Words from the 90's $9.99 each, Amazon
Gen X parents (and–ahem–grandparents): you'll enjoy these as much as the kids.
Colorful Bird Bird socks for kids $8, Bombas
Or grab any of their favorite Sesame Street characters. Plus, Bombas donates a pair too.
Holiday Stud Earrings $10, Naaz Design Co
Handmade by art director and Etsy entrepreneur/mom Farah Brigante, she has so many wonderful earrings in her shop, but for kids these are pretty adorable!
Mandalorian The Child Bluetooth Speaker $15.99, Amazon
But we all know him as Baby Yoda, of course. If your kids are fans, see our entire list of Mandalorian gifts for fans
Unicorn horn sidewalk chalk set $15.00, Twee at Burke Decor
(and currently 35% off with code TWINKLE)
Puts a little more magic into those hopscotch boards.
Change Sings by Amanda Gorman $9.31, Amazon
Inspiring and gorgeous from a voice of a generation.
Paint Your Own Christmas Cookie Set, $15.99/cookie, Sweet Craft Kit
A craft you can eat — hooray!
DIY natural dough kits $12.99, The Dough project
"Dough it yourself." Ha.
100-piece Votes for Women Puzzle  $14.99, Amazon
Perfect for little hands with big dreams
Love you to the moon and back jewelry tin $15, Michelle Mach
Lots of beautiful options from this writer, editor, and former librarian.
Also see: 20 of our favorite educational board games that are loads of fun too
Organic Zipped Baby Xmas Footie $11.00 on sale, Primary
So nice to find affordable holiday PJs from a small business! See the site for lots more options.
Pretty floral stickers $15 2 sheets, Tattly
Tattly's new stickers will look great all over their laptop case.
Santa Plush $15, Keepsake Bridal Baby
Also available: Reindeer and elf plush
Green Toys Airplane $10.10, Amazon
Ready for takeoff.
 A Christmas Story: A Major Game by Funko Games, $6.99, Amazon
You'll shoot your eye out! (No you won't, no bb's here.)
 Elf Snowball Showdown Card Game by Funko Games, $6.99, Amazon
Or, for you Elf fans (as in, all of us….)
Christmas face masks $12.99, The Trendy Tot
Keeping kids safe and festive.
Individual Crayon Letters $4.80/ea, Art2TheExtreme
You'll have to spend a bit over $15 for a name over 3 letter, but this shop's work is wonderful!
Also see: The coolest gifts for 5 year olds this year
Mother-Daughter Love You More Bracelet Set $11, Brooklyn Rose Beads (shop is on short break)
Tons of adorable, affordable gifts for kids under $15 in this Etsy shop.
Psst…this can be from a Dad, an Aunt, a Grandma or Grandpa, or even a big sibling too.
Personalized Mini Journals, set of 2 $13.29, Personalization Mall
Maybe pair with a great set of markers, like the ones below.
Star Wars Pop-its fidget toy $10.99, Amazon
Keep little fingers busy with their Star Wars pals
Set of 36 Dual Tipped Markers $12.99, Amazon
For bullet-journaling, sketching, or just a little off-screen doodling.
Initial Hair Clips $5, Bauble Bar
At this price, we'd grab them for lots of people on our list!
Also see: Our 10 Best Gifts for Women in 2020 | Small Business Holiday Gift Guide 2020
Dream like Martin… t-shirt for kids and babies, $18
Kamala & Michelle… shirt $22, MM of Philly
(Note that these have both gone up in price since we first featured them, but we still love them!)
Also see: 11 inspiring children's and YA books about historic women for our girls — and especially, our boys.
Personalized Snowman Face Mug for Kids $10.20 on sale, Priscilla V Design
Now the kids won't fight about which is theirs! PS Don't forget to add a pack of hot chocolate.
Handmade Girls Sparkle Tutus, $12.95+, Ingrid Elizabeth
The perfect festive holiday wear! (Or you know, nighttime wear, if you can't get them to take it off.)
Felt taco play food set, $8.25, Felt Food Truck
Sorry…guac is extra
Also see: The cutest handmade play food makers on Etsy 
Magnetic Play Set by Petit Collage $13, Amazon
Hours of unplugged play, at home or in the car.
Mario Badescu Fresh Face Gift Set $10.50 Anthropologie
Our tweens and teens call this one of their top gifts — and the price is great!
Spalding NBA Mini Outdoor Basketball $12.99, Target
Any excuse to get them outside a little more these days
Bamboo Christmas ornament set $15.99/3, Paper Culture
Each year, we love giving the kids new ornaments that are "theirs" to hang.
LEGO Brickheadz Christmas  Nutcracker $9.95, Amazon
So popular with kids of all ages, and this set is so cute!
Illustrated Growth Journal $15.95, Boy Girl Party
A lovely gift for an older kid or teen who could use a little quiet time.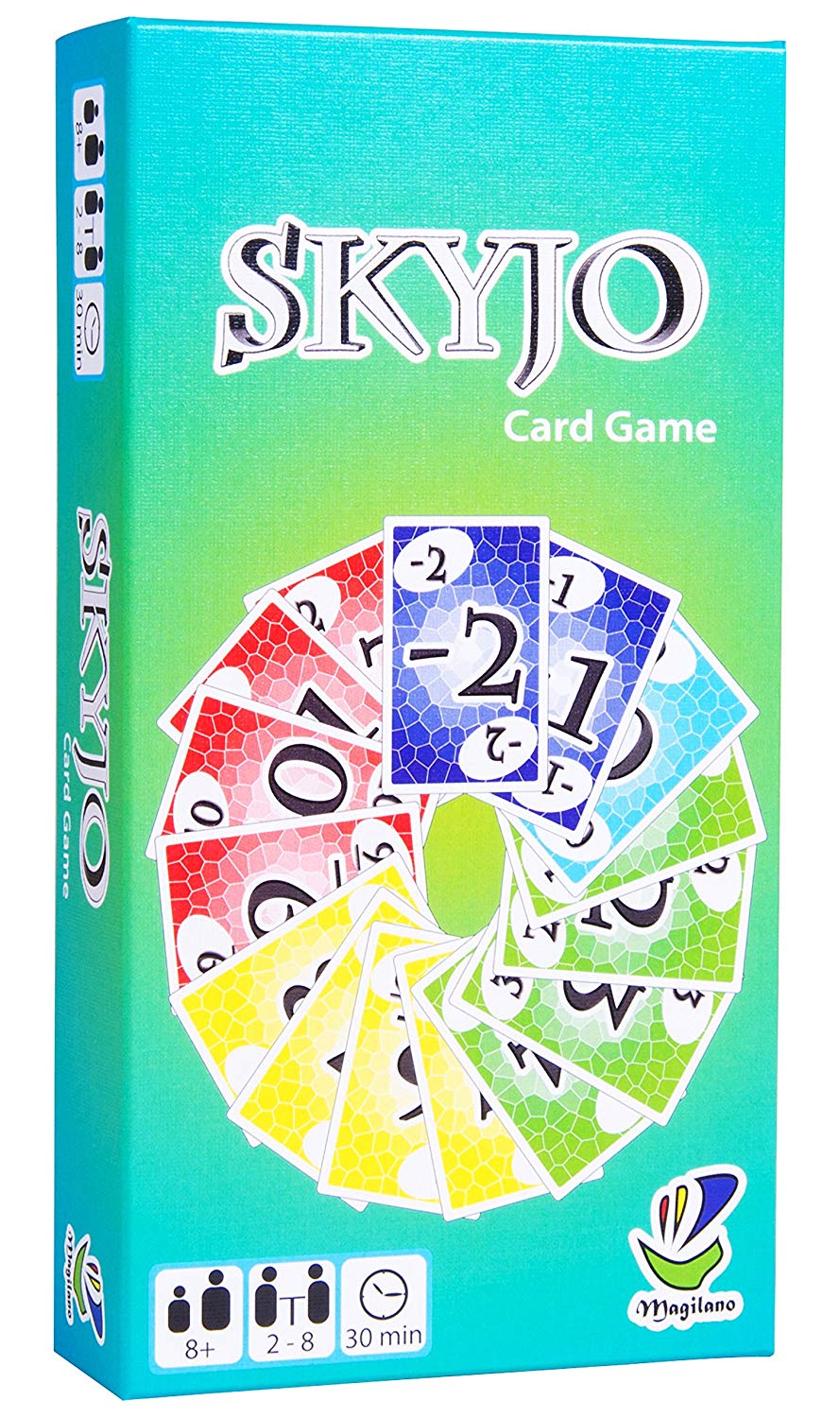 Skyjo Game $14.95, Amazon (currently unavailable but check back)
Freshen up the game closet this holiday with one of our kids' favorites.
Nora Pisa Bracelet (sized for teens + adults) $10, Bauble Bar
Love the bits of color showing that add a bit of pop to any outfit
Fortnite Coloring Book, Roblox Coloring Book, or Animal Crossing Coloring Book $6-7 Amazon
or your local bookstore or toy store
Just add crayons and…enjoy the silence!
Cotton Dress Shirt in 3 styles $9.99, H&M
You won't believe how grown up he looks in an instant.
Seven Spools of Thread: A Kwanzaa Story $6.43, Indiebound
A beautiful gift for observers of Kwanzaa, or any kid who wants to know more about our many winter celebrations.
Limited Edition NASA Etch a Sketch,  Amazon
The original is always a great gift, but we'd grab this one while you still can. (This limited edition is now over $15)
Lip Balm Gift Sets $7.95-$10.95, Delight Naturals
This shop offers every flavor you can imagine, from popular options to Butterbeer!
Rainmaker Toy $12.99, Amazon
Soothing and fascinating to young toddlers.
Ultimate Science Kit $14.99, Target
STEM gifts for kids are always a good idea.
Also see: 9 fantastic no-screen tech and STEM gifts for kids
Mean Girls Burn Book inspired phone case $11.99 on sale, ADSStudio on Etsy
Are your older kids as obsessed as ours are?
Kids' ukulele $13.99 , Amazonudio on Etsy
How soon til they can play Tiptoe Through the Tulips?
Kawaii boba tea AirPods case  $8.98, Amazon
If you have kawaii-loving tweens or teens, they'll love this!
Superman Christmas Funko or Wonder Woman Christmas Funko , Amazon
Able to leap Santa's sleigh in a single bound! And looks like they've leapt right out the $15 and under category, but there are loads more Funko figurines to consider!
Holiday Cozy Sock Sets $3/2 pairs (lots of styles available), Target
Also comes with a gift card holder…should you want to give a little something extra
Coco on Blu-Ray $10.99, Amazon
Because we could watch it over and over, too.
Naruto Ramen Time 1000-Piece Puzzle $14.99, Usaopoly
Run like Naruto to grab this great deal!
JVC Gummy Earbuds $7.95+, Amazon
Terrific tech gift for kids under $15, and loads of colors, too!
Girls/Tween Skater Dress $10.00, Target
Holiday style can be comfy, affordable, and still super cute
Star Wars lightsaber bookmark, $9.99, Quetzal Studio
A great way to make a gift of a favorite book more special. Personalization available.
To The Moon: The Longest Fold-Out Coloring Book In the World $8.99, Amazon
The coolest coloring book goes on and on and on.
Kids metallic star leggings $13, Primary
The sale section from this small, women-owned business is full of great deals like these!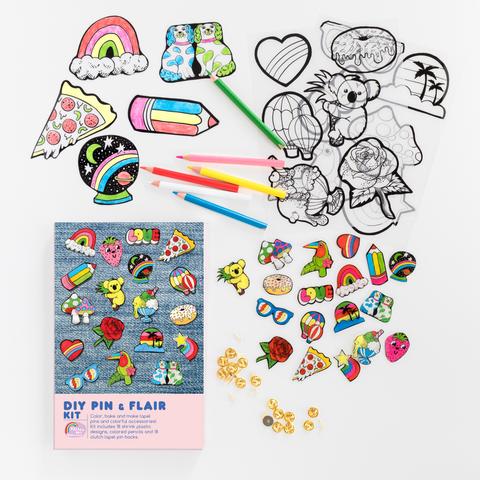 DIY pin and flair kit $15.00 Maisonette
From Yellow Owl Workshop,  kids love being able to decorate their own backpacks, caps and jackets
Essentially Charli, by Charli D'Amelio $4.09 Amazon or your local bookseller
If you have TikTok-ers on your list, they'll know her.
Create your own Custom Trading Card Kit $12.99, Magic Beans
For the creative kid who already seems to have everything, this is brilliant!
"Choose Kind" Wonder pouch $8, Out of Print
From one of our kids' favorite books, made for stashing makeup, school supplies, spare change…
Pokémon LCD Watch $8, Target
He's back! And, he's telling time!
LEGO Avengers Iron Man building kit $9.84, Amazon
The only thing better than finding a cool gift for kids under $15 is finding one under $10.
Blinger Ultimate Nail Wand Collection $14.99, Amazon
Yes, we know it's like totally plastic and silly but wow it's fun and all of our kids want one. So, here you go.