Who here is a fan of no-carve pumpkins for Halloween? As someone with a toddler who definitely shouldn't be anywhere near sharp objects, I've become a staunch convert. And as someone who doesn't always get to my Halloween pumpkin until the last-minute, it beats the hard work — and clean-up time — of dealing with all those pumpkin guts.
These pumpkins look adorable on a front porch without gunking up your sidewalk and most will last a long time since they're not carved — perfect for those of us with kids who don't want to take down the Halloween pumpkins til Christmas!
We especially love that these no-carve pumpkin ideas can be done alone by teens or older kids, or with the help of small children. Most even use household objects you already have lying around, or just require a quick trip to a craft store or drugstore.
Fellow last-minute parents, we've got you covered!
At top:
Thumbprint pumpkins at Handmade Charlotte
Floral no-carve pumpkin at The Merry Thought
String art no-carve  pumpkins at Hello Wonderful
DIY Paint Pen Pattern No-Carve Pumpkins at Lovely Indeed
Updated for 2022
No-Carve Pumpkin Ideas for Halloween


This post contains some affiliate links to help support our work at no additional cost to you. So thank you! Please visit the tutorials of these independent makers and support their sites — we're grateful that they offer these DIY no-carve pumpkin ideas free to all of us. 
Related: 16 more amazing no-carve pumpkin ideas you have to see!
Thumbprint No-Carve Pumpkins

If you've got younger kids who want to participate but don't have the skills for fine details yet, check out this wonderfully creative thumbprint design no-carve pumpkin at Handmade Charlotte. You can let kids do the finger painting, then draw the cactus, pineapple, or pumpkin (so meta!) details on later, or they can even turn the prints into little cats or ghosts. Yay teamwork!
Or for a more teen-ready no-carve pumpkin idea, have them turn their prints into ghosts, skulls, and vampires.
Related: 11 cool teen Halloween craft ideas that don't suck.
Toy Spider No-Carve Pumpkin
It doesn't get much easier than this no-carve DIY rainbow spider pumpkin at The Crafted Life. Just paint a pumpkin white and go! The pops of color will really stand out among all the au natural pumpkins on the block. Because rainbow is the new orange?
Be sure to check out our 13 no-carve pumpkin ideas that are fun for young kids too.
Floral Moon No-Carve Pumpkin

Caitlin at The Merry Thought put together this truly elegant no-carve floral moon Halloween pumpkin tutorial and one of the things she learned — despite the title, you should probably swap in fake flowers for the fresh ones unless you want to be updating yours every two days! While it is in fact a no-carve pumpkin idea, it does require use of a drill. Great for teens and adults…let younger ones place the flowers and paint the pumpkin.
No-Carve "Cross Stitch" Pumpkins
If you're on Team Teal Pumpkin in support of kids with allergies then extra candy for you! Check our post on 8 creative teal pumpkin decorating ideas that includes this clever no-carve faux cross-stitch Halloween pumpkin from U Create for Eighteen25 that's super easy, thank to Kari's instructions.  We think her idea for mixing your teal pumpkin in with grays and blacks really makes it pop, too.
I'm all about letting kids go wild with doodling on their pumpkins but sometimes you'd just rather keep the pens and markers away. For those times, I recommend checking out the string art Halloween pumpkins from Hello Wonderful, which is such fun no-carve pumpkin idea I bet the kids ask to do it every year. Plus, affordable! Right now, you can find a 50-pack of embroidery floss on sale on Amazon for just $6.99 or so.
Related: 14 fun and easy Halloween crafts for prechoolers
No-Carve Watercolor Pumpkin Decorating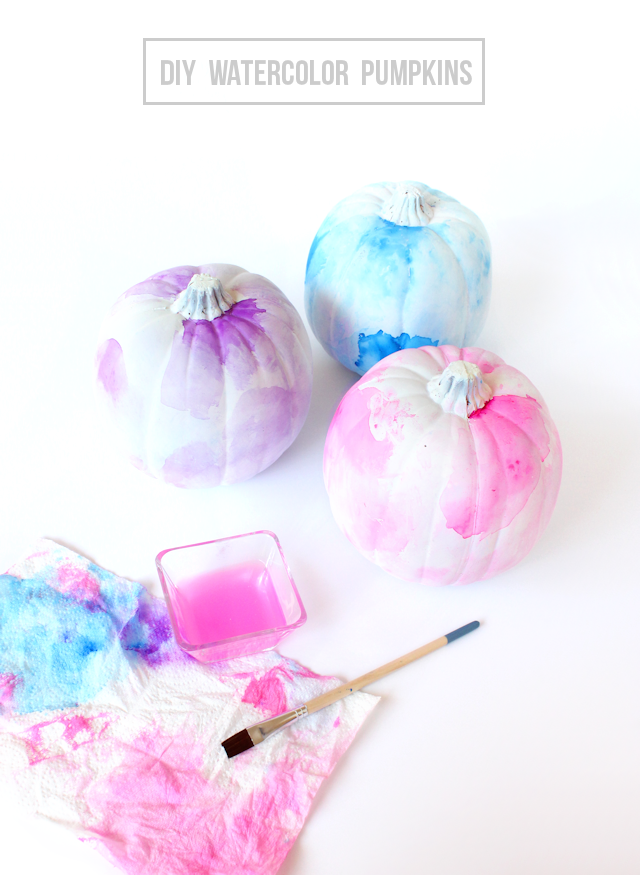 Who knew splashing watercolor around over a pumpkin could yield such pretty results? These DIY Watercolor Pumpkins from Lines Across are pretty smooth crafting, even for the littlest paintbrush-wielders in your family. Even if you don't use the ultra sophisticated "Cerulean Blue" or "Quniacridone Rose" paint colors that Rachel at Lines Across suggests grab some regular watercolor sets and let the kids go to town.
No-Carve Sharpie Patterned Pumpkins

Chic, minimalist patterns can be fun for older kids and tweens to create and hey — perfect for last-minute pumpkin! Which is why we've covered so many Sharpie pumpkin decorating ideas in the past. These DIY Paint Pen Pattern No-Carve Pumpkins at Lovely Indeed are among my favorites. Love the geometric shapes and winking eye motif. Check the site for her easy 5-minute DIY tutorial.
Related: 6 super cool ways to decorate pumpkins with black Sharpie. Lazy? Or brilliant!
Tattooed No-Carve Pumpkins

Leave it to our friends at Tattly to put together a tutorial for making tattooed Halloween pumpkins using their fun temporary tattoo designs. (Note that the post is no longer live, but it's as easy as following the instructions for skin.) To make your no-carve pumpkins more sophisticated, try using their metallic tattoos — or their new glow-in-the-dark tattoos! Just know this is a gateway craft, and next thing you know, your kids may ask to pierce their pumpkin, too.
Related: Unicorn pumpkins FTW! The cutest tutorials from around the web. 
Marbled Nail Polish No-Carve Pumpkins
 
I love the effect of this cool DIY marble no-carve pumpkins at Making Lemonade Blog. While it's a fun last-minute pumpkin decorating idea, it will require a run to the drugstore (or a delivery from Amazon) to grab some cheap nail polish. It's also best to work with white pumpkins if you can — spray paint your own, or just use the faux versions from the craft store.
Geometric Mid-Century Painted No-Carve Pumpkins

I like that Kara at A Kailo Chic Life borrowed some mid-century patterning for these cool painted mid-century geometric shape pumpkins, but still made them look thoroughly modern. Save this no-carve pumpkin tutorial for the slightly older kid who's steady-handed with a paintbrush — or let younger kids do the base color while you help with the stencil.
Related: 11 cool teen Halloween craft ideas that don't suck.
Sand Art No-Carve Pumpkin
OMG, sand art! And pumpkins! Together! This sand art no-carve pumpkin from Design Improvised totally takes me back to my childhood. You'll need to plan ahead and visit your local craft store for colored sand (or find this 3-pound pack of assorted color sand on Amazon), but the results look totally worth it to me.
Cute Creature No-Carve Pumpkin

Costumes for your pumpkins? But, of course! We first found these no-carve creature pumpkins from A Small Snippet a few years back in a roundup of  16 creative no-carve Halloween pumpkin ideas and it's so cute! I especially love the spider and the baby owl. These are very doable for kids, and the site even offer templates for making eyes and ears and you know, bones.