You know the dad who has everything? The one who's impossible to shop for? Yep, so do we. So here, we present some of our favorite splurgey Father's Day gift ideas for that very guy. Not that he wouldn't love something from the rest of our Father's Day Gift Guide, but if you want to spend a little more this year, here are some gifts that wow us.
Vintage Scrabble Set
For family game night, there is just no comparison between this originali style board and those flat cardboard ones. To say nothing of the digital version on your 3-inch phone screen. ($179 at Restoration Hardware)
Personalized Cufflinks from his Signature
Yes, it's spendy, but wow, what an impression. Swipe his initials or signature off some paper lying around, or have your kiddo write out Dad's first initial. Pick silver, gold plate, gold, or platinum, if money is no object. ($350+ at Cuff Him)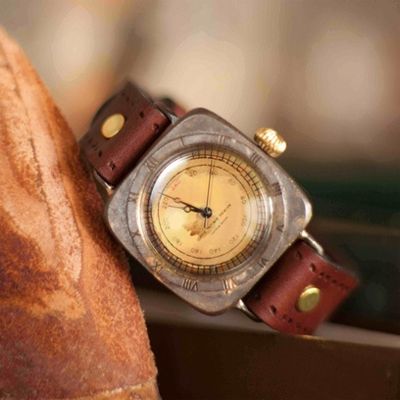 Deco Watch
The great thing about vintage watches: They never go out of style. ($450 at Peter Nappi)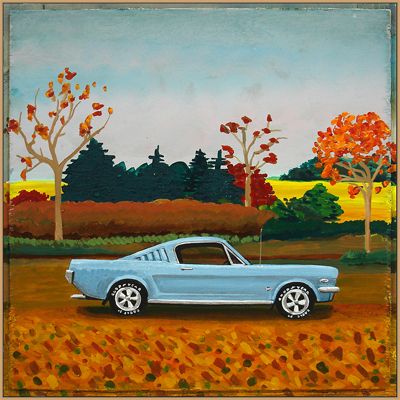 Custom Vehicle Art
If he's got a favorite car from his youth, a dream car, or even a boat, this cool service will replicate it on a background of your choice. ($395 at Uncommon Goods)
Brooks Leather Bicycle Seat and Matching Grips
For a sporty dad, consider a splurgey bit of gear that he'd never by for himself, like this sweet leather seat. ($119, 89 at Kaufmann Mercantile)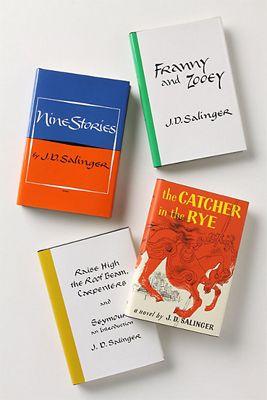 JD Salinger Boxed Set
Any literary dad will love this box set of Salinger novels, with reproductions of the original cover art. ($99.99, Anthropologie)
Handcrafted Travel Backgammon
If Scrabble isn't his game, this travel backgammon set is just gorgeous. ($160, Fredericks + Mae)
BBQ Briefcase
Yes, grilling tools for Father's Day can be a cliche but what can we say? Man like fire. Man like build fire. Man no feel like caveman around fire with this briefcase. ($85, Uncommon Goods)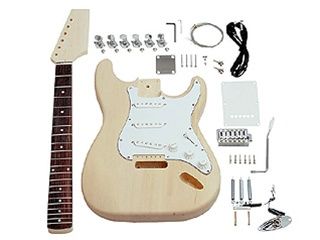 Saga Electric Guitar Set
If he's always been jonesing for a guitar, check out this set which lets him put his own together. That way if he never picks it up, he can still feel proud of it. ($200, Maker Shed)
Ballpark Blueprints
If he's a baseball fanatic, choose from 21 different ballparks on these awesome blueprints of the stadiums. ($185, Uncommon Goods)
Italian Leather Tie Case
If he already has his share of fancy ties, here's the fancy leather case to store them all when he hits the road. Gorgeous. ($185 at Gent Supply Co)
Peugeot Electric Pepper Mill
For the culinary dad, an electric pepper mill is so indulgently perfect. Especially one as well made as the ones from Peugeot. ($115, Give Simple)
Handmade Leather Football
This football would make an awesome desk piece or bookshelf display. At this price, mayyyybe don't actually go outside and toss it around. ($139, Kaufmann Mercantile)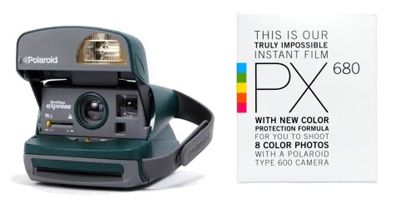 Refurbished Polaroid Camera with Film Bundle
Polaroids are coming back and this refurbished camera comes with everything he needs to snap, and shake it like…well, you know. ($117.31 on sale, Polaroid Store)
65″ McCauley American Ninja 3-Bladed Ground-Adjustable Metal Aviation Art Airplane Propeller
Oh, like he already has one? ($3695, Plane Pieces)
——————
Congrats to the winners of our Father's Day Gift Pack valued at more than $550!
1. Jack Spade Canvas Messenger Bag 2. MOUTH World's Greatest Dad Gourmet Basket 3. Complete Game of Thrones Season 1 Blu-Ray Collection 4. Daddy Keychain by Lisa Leonard 5. Dove Men+Care Gift Pack for skin, face, body and hair  6.Dad's Book of Awesome Projects  7. Native Union Switch Bluetooth Speaker
Other Gift Ideas for Dad:
The coolest personalized Father's Day gifts
Father's Day gifts for new dads
Great homemade gifts for Father's Day
Father's Day Gifts from the Kids
Gifts for the Stylish Dad