These days, there's no shortage of ways to save money, which is certainly welcome over the holiday season and our growing shopping lists. And it's not just about coupons, discounts, and deals, which we love, of course. Taking steps to live more sustainably can actually save you money, and not just over the holidays.
That's where our sponsor PUREEnergies comes in. We really admire all they do to save families money and get them to live more sustainably. And their recent trip to the Amazon to learn more about sustainability got us thinking about how we can do the same in our own lives, since it really only takes small changes to make a huge difference. For both our wallets and for the earth.
They're sharing their own learning experience in beautifully-produced videos with the hopes that it will help others do the same in their own homes. Seriously, we were captivated; it was like watching a National Geographic series. And so we took them up on the challenge!
Here, 13 of our favorite ways you can save a whole lot of money over the holidays, all by making simple, sustainable changes that really are doable. In fact, some of them may hardly change the way you celebrate the holidays at all.
1. Regift. Yes, we said it.
Say what you will, but we think regifting gets a bad name. It doesn't mean pass your old socks or some freaky monkey statue that you hate onto your cousin and call it a day; but that duplicate toy your kid got for her birthday that's still in the box? Or the lovely stationery from your coworker that you know you'll never get around to using yourself? Nothing wrong with giving them to someone who will really appreciate them. Gifts sitting in closets gathering dust out of guilt do no one any good. We know; we've been there.
And hey, bottles of wine or champagne are pretty much made for regifting. We speak from experience.
2. Find alternatives to buying gift wrap
Instead of spending money on gift wrap, we have always loved using a pretty tea towel or a gorgeous handmade Furokushi scarf (like this one in our own Indie Shop, also shown at very top) which can do double duty as both the giftwrap, and a very special gift itself. Package some books for kids in a fun personalized library tote. Or gift toys in a cool toy storage container that will be put to good use by grateful parents later on.
Update: Regretfully, the great.ly shop is no longer in operation. We hope you'll find other cool stuff you love throughout our site.
You can also upcycle newspaper as gift wrap and it can look fantastic. Really! (Tip: Foreign papers often look more lovely than our own local rags, as seen in this idea from Helga Noack which is made even prettier with a sprig of flowers.) The crossword page looks amazing as gift wrap, especially for a book-lover–and if you're like Liz, it gives the recipient something to do later, too. Or for small gift boxes, like jewelry, try pages from an old weathered dictionary or a book of sheet music that you were going to recycle anyway.
Finally, you can make your own wrapping paper from the shipping paper that's sent inside large boxes to cushion the items. This DIY potato stamp tutorial at Design Mom is shown for clothing, but Kristen has done it every year with her own kids on that upcycled shipping paper. No money spent at all. Except for a potato and some paint, both of which you might have in your house already.
3.  Skip gift wrap entirely.
In Kristen's house, Santa doesn't wrap toys for her kids because "he doesn't have the time for it" (he's busy, yo!) so that's a big eco-friendly money saver right there. She just uses some of the better shopping bags from shops that she gathers all year round–especially the brown paper bags with sturdy handles that look perfectly lovely under the tree. And if they're gifts from sibling to sibling, let your kids decorate the bags with paints, crayons, glitter or stickers.
4. Find alternatives to buying gift tags
We love printable holiday gift tags–especially free ones–and always features our favorite every year. It's so great to simply print out a sheet or two of them and save the time, money and energy of going to the store to buy ready-made ones. (Not to mention all that extra packaging.) But you can always skip the tags entirely with cool gift wrap ideas like this one from Bugs and Fishes–use upcycled materials like maps or sheet music to make letters that label the gifts directly.
If you love gift tags, then you can make your own, too. Whether it's cutting and pasting images from holiday cards from year's past (we actually save all the ones we recieve for that very reason) or just making your own with craft supplies you already have around the house.
5. Bring your own shopping bags when you shop for gifts
A lot of us are in the habit of bringing our own reusable shopper totes for groceries, but you can remember to bring along one for local holiday shopping excursions too–like our favorite leather tote from fashionABLE. Or try the pretty nylon bags from Baggu which fold down so small, you can stash one in your glove compartment or keep it in a zippered compartment of your own handbag. Not that this is a big money saver, but it does make good eco-sense and saves money for the shopkeepers in the long run. In fact, some of our own local boutiques don't even offer bags anymore.
6. Rent or borrow your holiday wear.
We can't rave enough about Rent the Runway which is like borrowing the perfect holiday outfit (and accessories too!) from that one awesome friend with an amazing closet. How nice to spend only $60 instead of $400 on a designer dress you know you won't wear much.
As another option, holiday clothing swap parties are a big thing among both Liz and Kristen's friends. Invite friends over, ask them to bring clothes that don't fit or really don't get worn, and offer them up to family and friends. We've scored some seriously cool things this way.
And the truth is, sometimes it makes you want to keep a long-forgotten item of your own; you know how you often don't realize how great something is until you see it on a friend? Yeah, that.
You can try clothing swaps virtually, too. We've seen people starting Facebook groups just for reselling and sharing items that don't fit them but are in great shape. Keep an eye out for your own network's social feeds and see how you can get involved–or just start your own!
7. Embrace hand-me-down holiday clothes for the kids.
Liz has been handing down her girls' favorite clothes to Kristen's younger daughters for years now and we know we're not the only ones. Some of those cute, dressy clothes look hardly worn at all. And it's not like young kids will say Oh mom…that's sooo 2011. Pick your best to share with friends and then encourage them to pass along too. We've found that our kids really do appreciate new clothes to dress up in, wherever they come from. "New to them" just means new.
8. Go thrifting for holiday decor or accessories
Instead of buying that very cute, pricy set of Rudolph dishes brand new–you know, the ones you will use once a year?–look for great holiday finds at your local thrift stores. Whether it's clothes, holiday party accessories, or awesome vintage pieces that make great gifts, we've had great luck with shops like Housing Works which also sells better items online. You keep items out of landfills, and can save a ton. Maybe even support a good charity too. The festive Hungarian Crystal Neiman-Marcus cordial glasses here are currently up for auction at $60–that's wayyy less than the original price as you can imagine.
9. Ditch the paper plates. Even for the kids' table.
Whether you're hosting a holiday party or just having a few relatives over for Christmas dinner, consider using regular silverware and plates instead of the paper and plastic. Even for the kids. Some of us tend to default to paper for easier clean-up–and we totally know how busy things can get right now. But you save money when you use what you already own–and hey, you can bond with friends while you all do dishes together. We have tons of ideas on setting a family-friendly holiday table, none of which include styrofoam.
10. Use innovations in tech to save money and energy. Oh, so many options!

On behalf of Pure Energies, we previously posted 9 small steps to live more sustainably through tech on Cool Mom Tech, and our readers really responded to it. Some of our top tips take some time, like installing a Nest learning thermostat and working your way towards a smart home.
Also worth considering in the long term: getting your home with the solar panel program. PURE Energies is a big deal energy adviser that's helping families across North America adopt solar power and other products that save us money and energy and we're on board with both of those.
But in the short term, you can install attractive LivingPlug inlets to get rid of those energy vampires, or simply unplug your cords, Christmas lights, and gadgets when they're not in use.
And for those of you who really like coming home to a beautifully lit tree, we get it. A perfect solution is the Belkin We-Mo. Plug in your cord through the switch, then use your smartphone to control it when you're out. You can set it to turn on right when you get home, or program it manually. Do the same for lights, your sound system, your space heater–we love our own We-Mo systems to pieces.
11. Switch from Incandescent to LED bulbs as a holiday gift to yourself
Unless you're traveling, holiday time can mean you're home more than usual with the kids off from school and work on hiatus. That also means higher energy bills from lights and power. Switching to LED bulbs is far more efficient and the money savings can be staggering. PURE Energies will actually be offering their own high-efficiency LED light program that allows you to change over all your current bulbs, and even add dimmers for mood lighting. Uh…we mean, as another smart way to save energy.
12. Make your own gifts.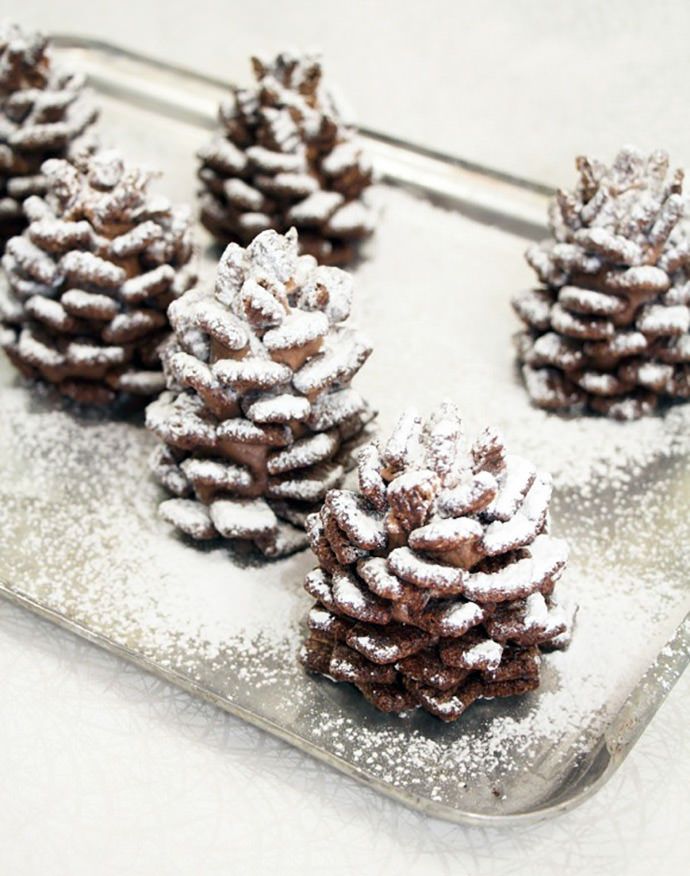 We always have plenty of ideas all year long for homemade food gifts, and other homemade gifts you or the kids can make yourselves. You don't have to be a master crafter or a culinary school grad with your own canning room either. Be sure to check out our posts for lots of ways to make people very happy with a gift from the heart that's easy on the wallet. In fact, these homemade chocolate pinecones from Handmade Charlotte have been a huge hit with our readers this year. We expect a lot of lucky boys and girls (even the grownup ones) will be munching on these over the next few weeks.
13. Send online holiday party invitations and thank you notes
We know this one can be controversial, and it totally depends on your own circle of friends and family and how they perceive emailed thank you notes. Also, we confess we still love real, paper holiday cards with real photos of our families. But the truth is, you can save a whole lot of money and time when you use a great digital holiday party invitation service And for some of your thank you notes, try the gorgeous ecards from Paperless Post which we use all the time for our own events. Good way to save paper, money, and trips to the Post Office.
Thanks to our sponsor PUREEnergies for doing so much to help families save money, and for allowing us to share our favorite tips with you.
Also, if you're really interested in living a more sustainable life, check out the PUREEnergies Project Kayapo journey to the Amazon on their website. The Kayapo people protect one of the largest regions of Amazon rainforest in the world, and have successfully battled waves of squatters, loggers, miners, rangers, and government officials to maintain their land and way of life–and protect the rainforest which benefits all of us. 
You can sign up to continue following their journey to learn more of the PUREEnergies' founders journeys (including bringing them solar lights!) through an ongoing series of really interesting videos.