If it's not clear, we all love parties around here. But planning and hosting them? Well, that can be a challenge, especially if you're a busy parent. But fear not! We've put together a ton of ideas to help make parties even easier. In other words, we want you to enjoy the party too; not just be the hired hands toiling in the kitchen or pouring drinks the whole time.
Whether you're up for a backyard potluck, a Halloween party for the kids, birthdays of all kinds, and of course, holiday entertaining which is just around the corner, you've already got the excuses to throw a great party — now you'll are the tips and tricks to make sure you pull it off with ease and style.
So whether your guests are kids or adults, or likely a mix of both, we hope you find these easy party throwing tips that we've put together as helpful as we all do. Hey, even if you think you're not the party-hosting type, you just might change your mind now!
CMP is an rstyle affiliate
1. Consider bringing in a co-host
We throw plenty of our own parties for Cool Mom Tech and Cool Mom Picks, and both Kristen and Liz can assure you, having a partner is a lifesaver. Why not consider that for your own parties? You can save so much time, energy, and money by asking a friend to host your party with you. Maybe one of you can provide the space, set-up and clean-up, while the other manages the food and the guest list. (You can fight over decor responsibilities, ha.)
We've seen this work so well for double birthday parties for kids, because splitting the fee for that gymnastics space rental is so so nice; and even for dinner parties with friends. Besides, sharing the guest list and meeting friends-of-friends makes for a way more fun night.
2. Use apps and checklists to plan ahead
Parties at your home are so not enjoyable when you're stressing about getting everything done at the last minute. Fortunately, there are plenty of resources on the web these days to help make everything easier along the way — and especially the day of the party.
Lately, we've all become big fans of The Wunderlist app and companion website which lets you create simple to-do lists to keep track of everything before the big day. Clean the house before lunch? Check. Chill the wine by 4 pm? Check. Book the balloon artist a month in advance? Check. You can even share your list (great for co-hosts), assign tasks, and leave comments on your to-do items. My favorite feature, though, is that you can access all your completed tasks too, which is really helpful when there's something you need to go back and refer to after the fact.
Also cool? You can emojify your lists now! So insert the graphical images for food, booze, cake, music and you're set.
3. Send digital invitations. It's totally acceptable.
Unless you're planning a wedding or super-formal event, tech is totally fine –and often preferred by your guests — when it comes to sending digital invitations and save-the-date reminders.
It's environmentally friendly, budget conscious, and so much easier to track your RSVPs when you're using an app like Hobnob (a former sponsor)
It takes only a few minutes to make a gorgeous invitation; they have really excellent designers (unlike some digital invitation services, let's be honest) — and it's totally free.
When you're done, the invitations go out via text message, which is a smart way to insure they don't get lost in the inbox of doom. (That's not just us, right?) We also like that RSVPing is a cinch since your guests really just reply YES or NO to the text. No remembering passwords, logging into sites, or digging through email. In other words, slow RSVP'ers, this one is for you.
4. Put the kids to work!
We're always surprised when our readers ask for tips on what to do with the kids while you're getting ready for a party. Parents, you are not alone in the world. You have those kids! Kids who can help you get ready for a party, whatever their ages, like Kate's kids shown here.
(Hello? Free labor.)
Preschoolers can put away any toys they aren't willing to share when friends come over, or color some fun welcome signs for the front door — ours love doing that any time anyone comes over, and the result is always so personal and charming. Elementary-age kids can help you sweep the floor, pick up the living room, blow up balloons, or set the table. Kate's kids have even helped carry firewood to build a bonfire in the back yard.
Or hey, put your tweens and teens to work at what they know best: Let them create playlist of favorite party songs. Even if you do have to put the kibosh on six consecutive tracks from Wicked.
Whatever it is you have your kids do, it keeps them busy and feeling like they contributed to making the night awesome, plus it makes things easier for you. Don't be afraid to ask!
5. Don't play DJ
Speaking of playlists, long gone are the days that someone had to sit by the CD player all night and make sure the music kept going. We say, choose a Pandora, or Spotify Radio, or Rdio station then stream your music to a Bluetooth speaker or ideally, a system like Sonos which we love…then walk away for the duration of the party. Done.
If you sense the mood changing, like if you want something more mellow for dinner or more upbeat for dessert, just pop on a new one with a click or two right from your smartphone.
6. Make advance plans for your pets
This may not seem like it would save you much time or energy, but if your dog jumps up on the table and eats the hors d'oeuvres you've just pulled out of the oven and placed on the coffee table, like our editor Liz's once did (grrrr…) you will know that getting your pets out of the way can be a definite time-saver.
Ask a friend or neighbor to keep your pet for the duration of the party, or just crate your dog or cat (fish should be okay)  in an out-of-the-way spot in the house will eliminate chances that your pet will misbehave or that a guest would accidentally let them out the front door as they come in. Nothing puts a damper on a party like making everyone to come outside and search for Beulah.
As a side note, if you do have a pet, it's nice to let your guests know ahead of time in case of allergies, and to clean up thoroughly — put your kids to work on the couches with your vacuum attachments and consider steam cleaning the chairs and rugs. Also, keep some allergy meds on hand. Just ask Kristen about that.
7. Get groceries delivered
Don't be a martyr! Let someone else bring over the paper cups and bags of chips. You can save yourself tons of time by letting someone else do the shopping for you. We are currently raving about the abundance of online and app-based grocery delivery services which are spreading across the country, like Instacart (above), or Shipt.
Some services will even deliver from your favorite restaurants. Or try Costco delivery (via Instacart) or Boxed, which can send you all those paper products and clean-up essentials in bulk at excellent prices.
8. Keep the food simple with buffets and food bars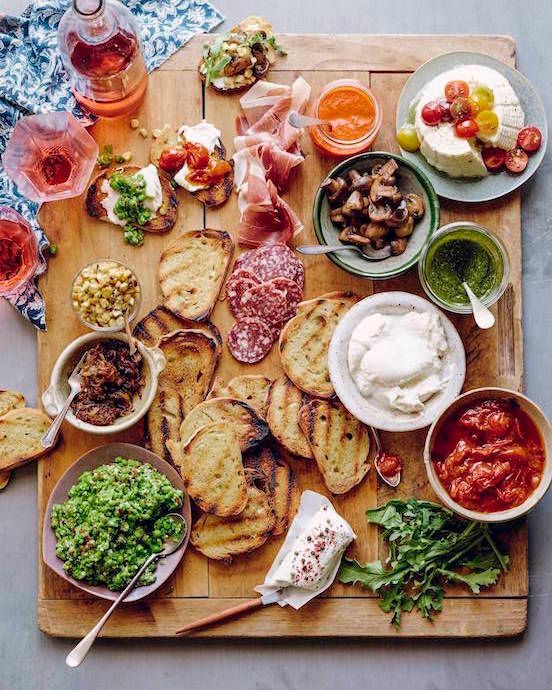 It's tempting to want to impress your guests with amazing food, but they know they're coming for a fun night out, not a meal at French Laundry. Unless you're a serious pro, don't overdo it.
Choose recipes that you can prep earlier in the day or the night before, so you're just popping them in the oven when it's party time. Or ideally, go buffet style! We've got ideas for 5 easy food bar ideas for last minute entertaining.  That includes this no-cook bruschetta bar, above, that we've featured on Cool Mom Eats from What's Gaby Cooking which is so brilliant — absolutely no cooking, but a huge crowd pleaser. Definitely check out her tips.
9. Label the food
When you serve food buffet style, we also suggest you set out some pretty printable labels (these from Billy and Scarlet on Etsy), mini chalkboard signs, or just make some DIY table tents with index cards that identify what the dish is and any ingredients that might be a problem.
It doesn't have to be fussy at all. It just allows allergy-conscious (or just picky) guests to discreetly and easily choose the items they can eat — and saves you time having to explain 27 times that yes, that chicken is meat-free and peanut-free and gluten-free too.
10. Brush up on easy dessert hacks
DIY magic shell trick from Make It Easy by Stacie Billis; Photo: Naomi McColloch
Don't take time away from the great conversations or kids' games to hide away in the kitchen working on dessert. Instead, use one of these great dessert hacks to make serving it up really easy.
Set up an ice cream sundae bar, or be sure to check out our favorite ice cream hacks to make everything easier to scoop, serve and eat!
Another tip we offered in our post about throwing a great block party: Amp up MYO sundaes by slicing up an ice cream cake as the base. Then set the servings out for each guest, alongside with bowls of yummy toppings like peanuts, cherries, sprinkles, and chocolate chips for self-serve dessert.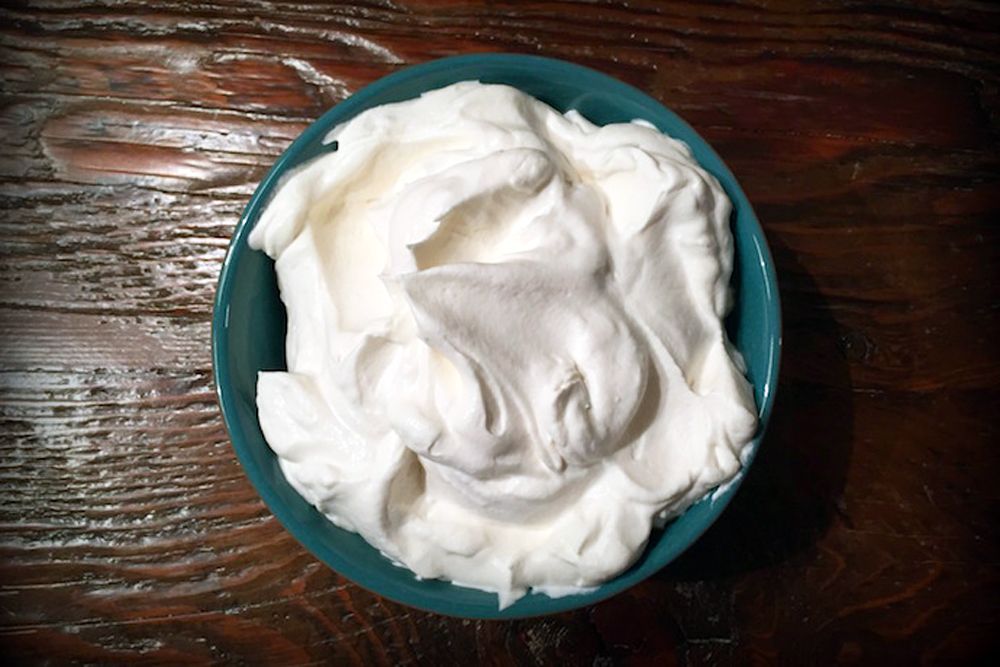 If the weather's too chilly for ice cream, you can still keep dessert simple. Purchase a bakery-made pie or cake and serve it with homemade whipped cream. No kidding: The whipped cream takes just a few minutes and can make the entire dessert. No one will know the whole thing wasn't made from scratch.
11. Don't clean up after dinner. Well, yet.
The reason you're having your party is so you can hang out with friends and family, not show off an immaculately clean home. So don't worry about the mess left after dinner. If it helps, leave the dinner table or the main room where you're having the party and go eat dessert in the living room or on the porch. No one sees the mess, and when you're less distracted by it you're more able to hang out with you guests instead.
Today we party! Tomorrow we clean.
12. If kids are invited, always always always have crafts on hand. Always. More than you think you need. Then add some more.
Even if you're planning the most well thought-out Hamilton party or mermaid party or Stranger Things themed party and you think you have all the activities planned to the minute, it never works out that way. Unless you've got an entertainer booked for two hours or a few hired hands, the kids will always end up with tons of free time you hadn't expected.
So our tip: Expect it.
If it's a nice day for playing in a backyard, then awesome. But if you're indoors, our tip is to always have a table or corner of the room with easy, age-appropriate, not-so-messy craft supplies. It can be a giant bucket of LEGO bricks, or it can be a few boxes of crayons with free printable coloring pages.
We're also huge fans of the beautiful OMY giant coloring pages which you can spread out on a table, and at 63″ long, there's enough room for plenty of kids to go to town at once.
Plus, we've learned that having an activity that gives younger kids in particular a place to regroup and have a little quiet creative time, can help prevent tired-kid meltdowns like nothing else.
And just like college, the best parties are the ones where everyone is passed out at the end. Well, at least the ones not old enough to drive.