Hi Cool Mom Picks! Can you put together some unique holiday gift ideas for creative kids that go beyond the same craft kits I see everywhere? Thanks so much!
Ooh, I love this question. We know that all kids have creativity in them, so Cool Mom Picks is always filled with the kinds of toys and gifts that really help kids harness that innate creativity and imagination. While there's no shortage of gifts out there for kids who love crafts, art, making stuff, or good old-fashioned imaginary play, I've combed our recent holiday gift guides, toy guide series, birthday gift guide and pared it down to a (very very) few favorite unique gifts for creative kids — hopefully the kinds of things that you haven't seen before.
Okay, so let's just say this is the stuff I'd like to get for my own kids, not just because I know my kids will love them, but because I love supporting the smaller companies who make them, and could use the boost over the holiday season. Especially when they make gifts as terrific as these.
And hey — don't forget that creativity takes all shapes and forms! Also be sure to look around our sites for STEM gifts for kids, maker gifts, fantastic books about creativity, and gifts that get kids in the kitchen.
These 71″ long posters packed with wonderful original illustrations will have kids doodling all winter long — and probably beyond. This creator is the original maker of posters like these, even if you've seen others, and I love what a great way it is to keep kids busy when it's too cold to play outside. By the way, it's also a terrific group activity making it a smart gift when you need one thing to buy for a whole family. Find them at small boutiques like The Mini Life; or if Canadian shipping is prohibitive, shop the wonderful boutique Perfectly Smitten, or there's now a nice selection of them at Amazon including themes like New York, London, the pyramids, and random fun abstract doodles — plus medium sized posters, for a bit less money.
We love this cool, small mom-run company that created a brilliant series of female action figures with more athletic bodies than most, and "super powers" like courage, bravery, persistence, and general female ass-kickery all around. But the truth is, our boys would love playing with them too. It started as a very successful kickstarter, and now the sets are available right from their site.
Related: 12 cool STEM gifts for girls. (And hey, for boys too.)
There are a lot of fantastic craft kits and subscription boxes for kids out there, but this is the first one I've seen that asks kids to create items they don't keep; instead they're mailed off to people in need in places like nursing homes or children's hospitals. Fantastic way to encourage hands-on creativity, and hopefully creative thinking about other ways to support people in need this holiday.
This cool company blends the best of educational technology with the best of hands-on creativity and learning. Kids can play with tangrams, try word and number games, or download the latest app, Masterpiece, which turns the iPad into an impressive drawing tool. Best of all, Osmo grows with your kids since it's perfect from 3 to about 13.
We are big fans of the husband-wife team at Caravan Shoppe, who's making amazing, affordable block sets that let kids mix and match tops, middles and bottoms to create fun characters. What's brand new this year are block sets in themes like careers, animals, and mermaids/mermen that are great on their own, or put them together as a larger block set for more  possibilities. There are even some fun new Ollibots, printable, DIY toys for robot-loving kids. 6 robot or $12? Not bad.
Related: Our new favorite spot for printable toys: Smallful
In our own holiday gift guide, we've put together some really cool craft gifts for kids and a favorite new find are the gorgeous handmade child-sized weaving looms from Wood Creek Looms, a small father-daughter company out of San Diego. If your kid is transition from crafts to wearable art, this is a great place to start.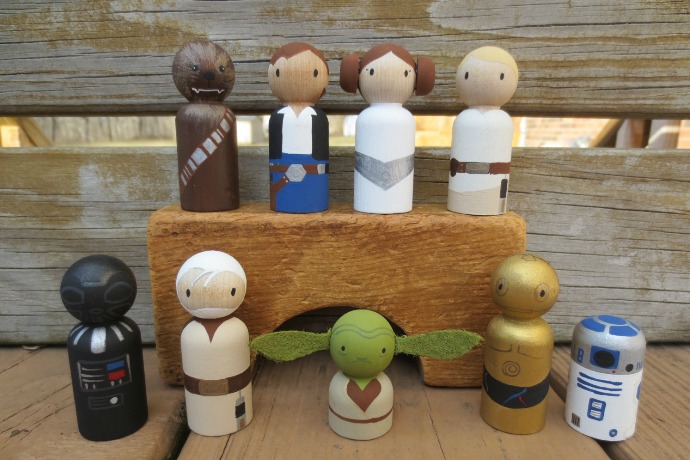 If you want a truly special gift to build creativity when it comes to imaginary play, check out the gorgeous, keepsake-quality, handpainted peg doll sets at Wooly Llama. That's not to say kids won't find their favorite characters represented here; whether your kids are fans of Harry Potter, zoo animals, heroes and villains, or princesses, there's no end to the creative play they'll get from these. The best part is that kids' imaginations know no bounds; we can see putting a few sets together and watching as a mermaid and Dumbledore work together to save Iron Man from an escaped elephant.
While the mass-produced capes and superhero costumes at the big stores are definitely more affordable, we are smitten with the lovingly handmade superhero costumes at the Lovelane Etsy shop. The designs are outrageously cool, and we love giving kids the freedom to be Super Ben or Super Sophie, instead of just recreating something they've seen in a movie or comic book.