We love companies that help us do a little extra good when we purchase their products, like TOMS shoes and Bears for Humanity and Mitscoots Socks which each have "buy one, give one" business models. And now we've discovered a line of adorable new handknit dolls called cuddle + kind that not only will make our kids squeal from the cuteness, but also help combat child hunger in the US and around the world by providing meals to children in need.
Based on the incredible amount of support they've received just a week into their Indiegogo campaign, clearly we're not the only ones who can't wait to get our hands on one.
Created by Canadian husband-and-wife team Jen and Derek Woodgate, cuddle + kind's nine colorful knit dolls have a worthwhile mission besides snuggling with our kids at naptime. Each purchase will provide ten meals to kids who would otherwise go hungry, through partners World Food Program USA and the Children's Hunger Fund. Each doll even comes with a little cloth bracelet attached to remind the recipient of this extra kindness.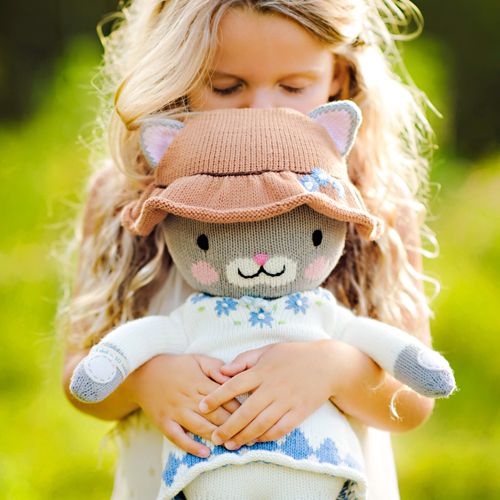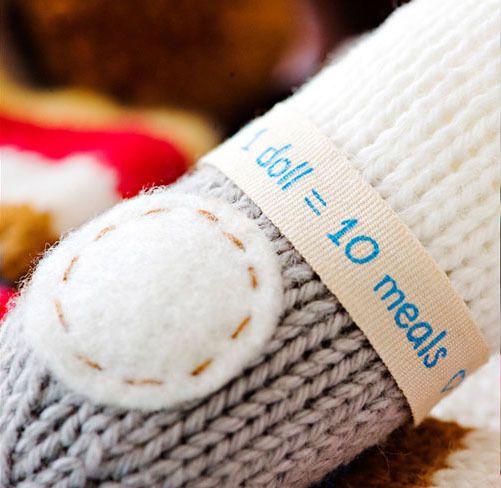 The dolls are all knit by talented Peruvian artists who also earn a sustainable fair wage for their work, much like our beloved blabla dolls. (In fact, we'd be remiss if we didn't point out that the knit construction and 20″ size does bear a resemblance.)
The super-colorful characters include a pair of ice-cream loving reindeer, brightly smiling mermaids, and nattily attired bunny rabbits, all with  colorful accessories like glasses, hair bows, scarves, and hats attached. Because each accessory is sewn into place, they are safe for even younger kids. Plus, you won't have to hear "where are Bunny's glasses?" ten times a week.
Check out cuddle + kind's website for more information on their new knit dolls as well as their mission to provide meals through World Food Program USA and the Children's Hunger Fund. Their current Indiegogo campaign has some great incentives, like multiple-doll purchase discounts if you're looking for some great holiday gifts. Estimated delivery is November, 2015, though we wouldn't be surprised if that is pushed out a bit due to the incredible demand but hopefully before the holidays. 
You can also help feed kids without making a purchase. From now until October 16th, become a cuddle + kind follower on Facebook, Instagram, and Pinterest, and they will donate one meal for each new follower on each social media platform.