Here at Cool Mom Picks, we're huge fans of non-candy Valentine's Day treats for the classroom. Not that there's anything wrong with a little bag of conversation hearts or a cute chocolate kiss with your cards, but not every class allows candy Valentines — and not every parent welcomes them.
So I tracked down some really cool and easy non-candy Valentine's Day classroom treats for kids of all age to help you out. Because while there are no chocolate hearts here, with ideas this fun and creative, I'm pretty sure your kids will still skip home from school, excited about their V-day haul.
CMP is an rstyle affiliate
Related: 19 wildly creative, free printable valentines for the classroom

Here's a cool idea that goes beyond the typical non-candy Valentine's Day treats for the classroom. A few packs of fun foam masks from a party store then attach this equally adorable free printable card from Simply Notable. Love this non-candy treat idea for kids in pre-k and kindergarten.
Every member of your kid's classroom can get inked with his or her own name courtesy of these temporary tattoo hearts — such a thoughtful gift for kids of any age. Tip: Make sure you have your complete class list handy; you'll need to write them all into the 'notes' section while ordering. ($18 and up, Love and Lion) And hey, if you're not a DIYer? Check out the ready-made Valentines themed temporary tats from our friends at Tattly.
Related: Awesome non-candy Valentine's Day gift ideas for the kids | Valentine's Day Gift Guide 2017.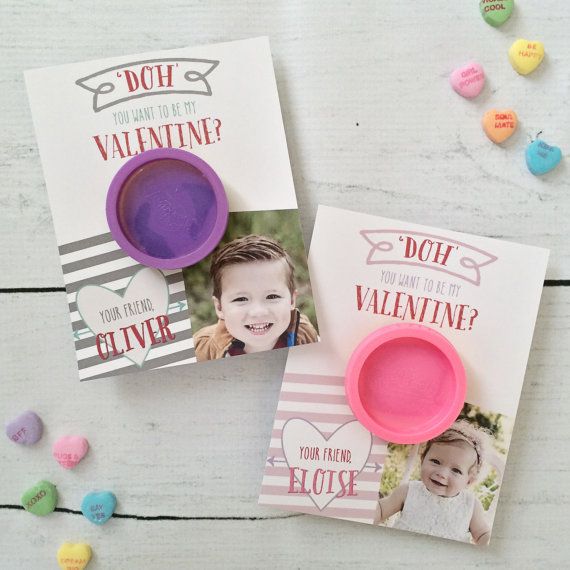 This personalized printable features a picture of your kid and the perfectly sized spot to stick a party-sized tub of Play-Doh. ($10 for the digital file, Ollie and Lulu)
I think it's in every kid's DNA to be attracted to practical jokes like finger traps, which is why I think this idea from Little Bins for Little Hands will stick (ha!) out. You can pick up a few packs of affordable finger traps from a party store and let your kids write out the witty cards. While their fingers are still free.
This one is a wee bit pricier, but love the results!Each  dog shape is actually a handmade seed packet that contains the teensy beginnings of all sorts of annual perennials, like poppies and cornflowers for a non-candy Valentine's Day treat for the classroom that keeps on giving into the spring. ($38 for 24, Recycled Ideas)
Such a great non-candy treat for bigger kids to give to their classmates. Friendship bracelets are fun to make (provided you're not stuck finishing them by number 18!) and even more fun to give. (Free printable gift tag, Dandee A Happily Crafted Life)
Related: 18 non-lovey dovey printable Valentine's Day classroom cards for boys (and girls!)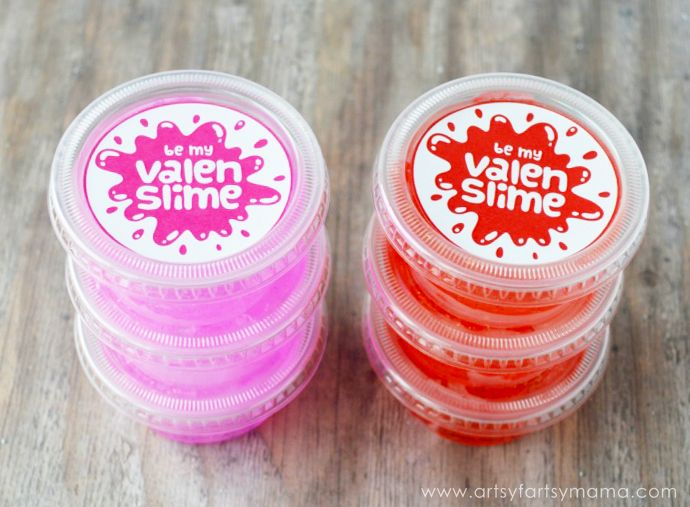 Now this is the way you get mushy on Valentine's Day! It takes only a few ingredients to make enough of your own DIY sparkly slime for AN entire class, and the splat-looking free printable label is too goo-d. Ha, couldn't resist.(Free for the digital download, Artsy-Fartsy Mama)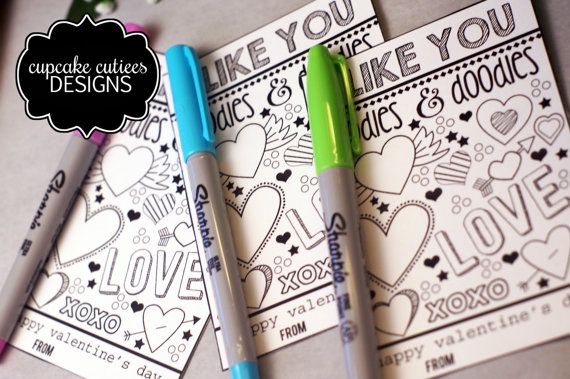 These print-at-home cards are also the gift: A cool miniature custom coloring page. Attach a few crayons, markers, or some freshly sharpened colored pencils for a very sweet non-candy Valentine's Day classroom treat. ($3.50 for a digital file, Cupcake Cutiees)
Squeezy applesauce packs get sprung from the regular lunchbox routine with these sweet printables. Definitely awesomesauce for the littlest ones. And parents will appreciate the break from all that chocolate. ($5 digital file, Just Add Confetti)
Related: 7 more sweet, non-candy Valentine's Day treats for Candy Meltdown Avoidance. (C.M.A.)
Love this creative craft from a very clever DIY blogger! I think it would be so easy to make with materials you may even already have at home. Click over for the easy instructions, and the free printable tag. This non-candy Valentine's Day classroom treat is on point. (Free instructions and digital download, by Happiness Is Homemade)
For more Valentine's Day help, check out these posts:
– 19 of the coolest, non-candy Valentine's Day gifts for kids
– 11 DIY Valentine's gifts kids can make themselves
– Cool Galentine's Day gifts for your BFF, Leslie Knope style
– 14 sweet and modern Valentine's Day gifts for babies