Summer break will be here in just a minute, but there are some things you can start planning now to help make sure your kids don't hit the summer slide on their reading and math skills over the break.
Research shows that most kids lose about two months' of learning over the summer — and have for the last 100 years or so. But by putting some simple (and, yes, even fun!) activities in place for the summer, you can help your kids retain what they've learned this year.
We've polled everyone from teachers to administrators to BTDT parents to find out what's worked for them, and here are our top tips and tricks for helping your kids avoid the summer slide.
This post contains affiliate links and some purchases may generate a small commission to help support our work at no additional cost to you.
– This post has been updated for 2021 –
Related: 6 clever ways to get your reluctant reader to love reading
1. Use a rewards system to help them practice reading skills

Find out what motivates your kids — whether it's ice cream, stickers on a chart, or extra video game time — and set that as the reward for reading 20 minutes each day or brushing up on those multiplication tables. I love this Summer Reading game free printable collection (it's free, with newsletter signup) at Chikabug.
It includes a bingo board of reading activities, coupons for prizes, and a printable banner where your kids write short reports on every book they read and hang them proudly on display at home. Looks like there's motivation for every personality type here.
2. Join your library's summer reading program.
Every summer our local library has a big summer reading program, where our kids can set their own goals for the summer. They've earned great rewards, from legitimately cool toys to a trip to the water park. Our library also hosts book clubs, author Q&A sessions, and even creative writing workshops. Check with the children's librarian nearest you to find out what programs they're offering this summer.
Related: Download this free, printable summer reading list challenge for kids of all ages.
3. Take kids on a book shopping spree — even if it's to the library.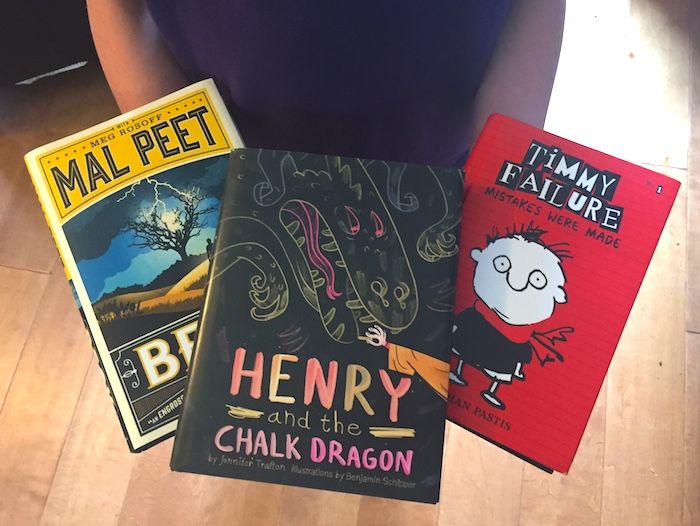 By the end of the school year, kids are tired of being told what they have to read. But picking a book or two of their choice from the bookstore can be a refreshing and inspiring change for your kid. Of course, you can always hit the library too for a budget-friendly alternative.
At the top of my kids' reading list this summer: Beck by Mal Peet and Meg Rosoff (for my 12-year-old); Henry and the Chalk Dragon by Jennifer Trafton (for my 10-year-old); and every Timmy Failure book ever for my 7-year-old.
For more recent books, be sure to check out this comprehensive roundup of the best children's books of 2020: All the award winners to read with your kids in 2021. It's a great place to begin!
4. Start a book club with neighborhood friends.
Our neighbors get all the kids together once a month during the summer for a kids' book club, where they tackle their summer reading list together. Brilliant!
Like any book club, the kids all read the same book but on their own, then they get together to talk about the book over snacks and summery treats like popsicles. Sometimes, the neighbors even go all-out with a big themed backyard party.
Plus, you can bring books to life through the movies. If Diary of a Wimpy Kid or Captain Underpants are on your kids' reading list  you're in luck! Make it a book club book, then watch the movie adaptations once they've finished reading. Or, check out author Kate DiCamillo's perspective on why it might be better to see the movie first. (Really!)
Related: A super simple tip to help your kids with their summer reading right now
5. Give the kids screen time. Okay… educational app time.
There are a lot of amazing educational reading apps — and by the way, reading on screens is just as good as reading on paper according to educators. Or check out any number of educational math apps (like one of the wonderful Osmo Genius Kits, shown above),so yeah, some screen time over the summer might be a really great thing.
Because, isn't it way more fun to learn when you're doing so with an interactive game instead of a boring worksheet?
That said, I've found this tip to be especially useful when I put serious limits on my kids' non-educational screen time. Because as great as DragonBox Algebra might be, my kids will still pick Mario Kart every time.
6. Read aloud to them. Yes, even the older ones!
Back when Kristen & Liz chatted with LeVar Burton on their Spawned podcast (yes, really!), one of his top tips for turning kids into readers was to make sure your kids see you reading. If they see you reading, they'll understand its value to you and your family.
One way you can achieve this is to read to your kids, no matter how old they are. Hey, even our tweens love for us to read to them every once in a while.
So, pick a great book either just outside your child's reading ability or a book that's great for the whole family, and have that be their summer bedtime story.
And if you choose a book you've been wanting to read too — a great YA book like Lucky Broken Girl by Ruth Behar, a bio or memoir, like I Am Malala, or a classic like The Phantom Tollbooth — you'll be even more motivated to read at those later-than-usual summer bedtimes. Two birds, one stone, right?
7. Keep a journal.
To keep your kids' spelling, handwriting, and composition skills fresh, have them keep a journal (like this awesome personalized unicorn journal we included in our roundup of cool rainbow unicorn gifts for kids) where they can write down the best part of their day each day. Art-loving kids can even illustrate a picture of their day.
Not only does it keep them sharp, it's a great keepsake memory of your summer adventures too.
I've found it works best to let them journal at breakfast instead of bedtime, when we're often rushing to just finish up the day. But over breakfast, they can write about the day before and make plans for the day ahead at a more leisurely pace.
Related: 4 fantastic, creative journals to get kids drawing, reflecting, or plotting to save the world.
8. Play board games together.
Our family loves to play board games, and many of them require the kids to really think about their math skills. Of course, I'm not talking about Candy Land here, but games like Ticket to Ride: Europe, which has kids keeping count of their cards and add up point totals.
Also check out my own favorite math game, Kingdoms, which is really about addition and multiplication skills practice, but my kids haven't figured that out yet. Game play requires placing castles on the board in a way that adds up to the most points; kids as young as 8 or 9 can play, and they're really working those math skills as they constantly recalculate totals to see which placement option benefits them the most. (But, shhh, don't tell them that!)