I'll be honest, I don't have a whole lot of time for planning creative' first day of school photos for my kids. Between making sure everyone remembers to put on shoes after a no-shoe summer and packing up 47 pounds of school supplies, our first day of school photos are usually quite, uh, spontaneous.
If, like me, you're searching for some totally-doable but still creative ideas for your kids' first day of school photos, look no further! Here are just a few ideas I've curated from around the web from some seriously creative parents and photographers!
Related: The coolest back to school supplies and fun accessories under $10 to make September more fun | Back to School 2018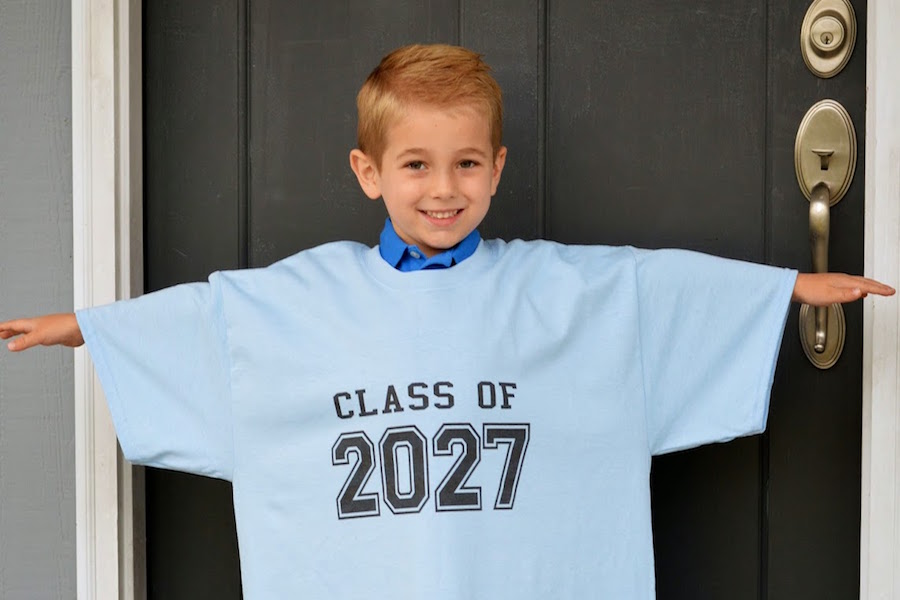 Emily from The Journey of Parenthood had the wonderful idea of making her son Kye a "class of 2027" shirt to wear on the first day of school (also at top) each year, right up to his senior year of high school. Of course at that point, the tee will be a lot less huge. (Also on that day, Emily will very likely be in tears, remembering just how huge that shirt used to be. Sniff.)
If your kid starts kindergarten this year — well, get moving on those "Class of 2031" shirts. Eep!

For another t-shirt idea that your kids can actually wear to school without tripping over it, grab one of these wonderful, mom-designed Chalk of the Town tees. You eliminate the need for any paper or sign supplies, because the children are the signs! Just add chalk or washable chalk markers with an appropriate first day of school photo message, then wash later for your kids to redecorate over and over again.
Angie at Jonesing 2 Create posted fantastic first day of school photos that her friend Melissa Au, of Dandelion Dreams Photography snapped of her own twins before they started preschool. Talk about picture perfect — right down to the bushel of apples! Click over for Angie's smart, doable tips for how to pull off this idea in the real world. (i.e., when you're not a talented pro photographer like she is.)
Above all, I absolutely love the space that Melissa she included for a child's own signature. It makes it that much more sentimental and beautiful in its imperfections. Check out the rest of her wonderful kids' photography by the way, for lots of inspiration.

You can also use the ground as your chalkboard for first day of school photos, like this sweet idea from Paging Fun Mums that you can easily replicate. Weather permitting, you might want to illustrate your message the evening before, and snap the photos bright and early the next day so no one's missing that first day of school bus. Another tip: Wet the chalk before you draw for richer, deeper colors.

A cute dry erase board will work as a clever first day of school photo prompt, too. Teacher Melissa from Apples and ABCs worked with a friend, pro photographer Melissa Vossler, and used this "name tag" dry erase board to create first day of school photos. Check out the whole set — they're adorably funny! As are Melissa's kids (though they're probably a little older and adorable by now.)
For a similar option, you could make great use of a speech bubble shaped dry erase board (available from our affiliate Target for $19.99) — think of all the creative things you could put on that. I happen to love this "stop crying, Mom" photo. But I bet we all have tons of inside jokes in our families that would lend themselves to the perfect quote for a creative first day of school photo..
Related: Pro family photography tips for parents who have caught the photo bug.

How clever is this first day of school photo idea by Design Improvised? And yet, so simple! Even a preschooler with a billion first-day jitters, or an eye-rolling tween may have no choice but to smile when they're holding a balloon. And, once you click over to see how to make your own, you'll be impressed by how easy they are, too.
This first day of school photo from @colaradobehrs on Instagram gets an A+ from me, for getting away from the schoolyard and instead using a glorious, color-filled scenic backdrop instead. A real one, by the way — that's not like a photobooth backdrop obviously! Find a location in your town or city that best represents the vibe of your community, whether it's a brownstone stoop, a grafitti'd wall, or a bucolic fencepost along a nearby farm.

We featured this first day of school photo idea from Balloon Time a few years ago, and I love it still. Just download her free printable, then fill it in with some of your kid's favorite things. The end result is a photo that documents a whole lot more about your kid than just their school year and grade number.
And what about filling it out on the last day of school, too? That way you can see the huge difference a year makes.
Related: Photo tips for those of us who take a million photos a year. In other words, moms. 
I suspect that the school was instrumental in providing the props for this first day of school photo from @natasha_jones09's, but if you want pics of your kid that really go big, you could easily pick up some lettering from a party supply store. Or maybe coordinate with your school PTA — it might be awesome to set this up on the front lawn of your elementary school and let every parent have a go at it!
Photographer and mom Mindi Stavish has a sweet and creative idea for first day of school photos that she shared on Everyday Family: Every year, have your child hold something they love. In this case, she wrapped a wooden letter K with her son's favorite comic book character. Click over for the simple instructions to  DIY.
You could also snap a shot of your kid holding their favorite book or stuffed animal or toy — because you know it will be different shot every single year. And it will be totally fun when they hit high school to rib them about their first grade Care Bears obsession.

Because we're living in a digital age, I love the idea of adding special effects or illustrations to first day of school photos after the shoot! You can use apps — like the Little Nugget: Baby Milestones app ($2.99, iOS), which is the source of the very professional looking photo above. Just add whatever kinds of cute, illustrated details you like, whenever you find the time. I mean, I do suggest the first day of school if you want to put them up on your social channels.
But if you don't get around to it until the first day of school next year, I won't hold it against you one bit.