Recently, we've seen more and more doctors recommending sleep logs and sleep journals for those of us who regularly wake during the night, or have trouble falling asleep in the first place.
It makes sense. Especially for parents.
One of our problems, which KJ Dell'Antonia described on a recent episode of Spawned, is that late nights, after our kids are finally in bed may be our only me-time. It's tempting to stay up later than we should so we can read, watch a movie, just hang with our partner, scan social media — but then, the negative sleep cycle continues.
That's why keeping track of your sleep with a printable sleep log might be the key to identifying the flaws in your nighttime routine so you can try to create better habits.
So I've looked around and found 3 helpful printable sleep logs to make this tedious task ("oh great, one more thing to do as a parent") a little easier.
You should also be sure to check out our smart tips for getting better sleep, so that when you do identify some issues you want to fix, you'll have some tools and resources to help you out.
And hey, if you're a parent and you're not tired all the time, then I'd like to know your secret. And the type of vitamins you're taking.
CMP is an rstyle affiliate
Related: The 5 biggest sleep-training mistakes parents make, and how to fix them
A beautiful printable sleep log system that's like a bullet journal
This bullet-journal style printable sleep log at the Digital Download Shop on Etsy lets you track sleep by target ranges like 8-9 hours, for example. (Ha, wishful thinking?)  I'd personally purchase their complete sleep log  starter pack, which includes the sleep tracker as well as a mood tracker that looks helpful.
Put them next to each other in your bullet journal, and you can compare how the amount of sleep you get is affecting your mood each day and really see the cause and effect.
A cute printable sleep log that's super easy to fill out
If your energy level throughout the day is your biggest concern, the printable sleep log that also charts daily energy levels at Paws and Paper on Etsy may be perfect for you. Just color in a dot for each hour you sleep (so easy!), then rate your energy level for that day from one to five stars. It's a very simple method to get the insight you need to change your bedtime routine.
A no-frills printable sleep log that you can completely customize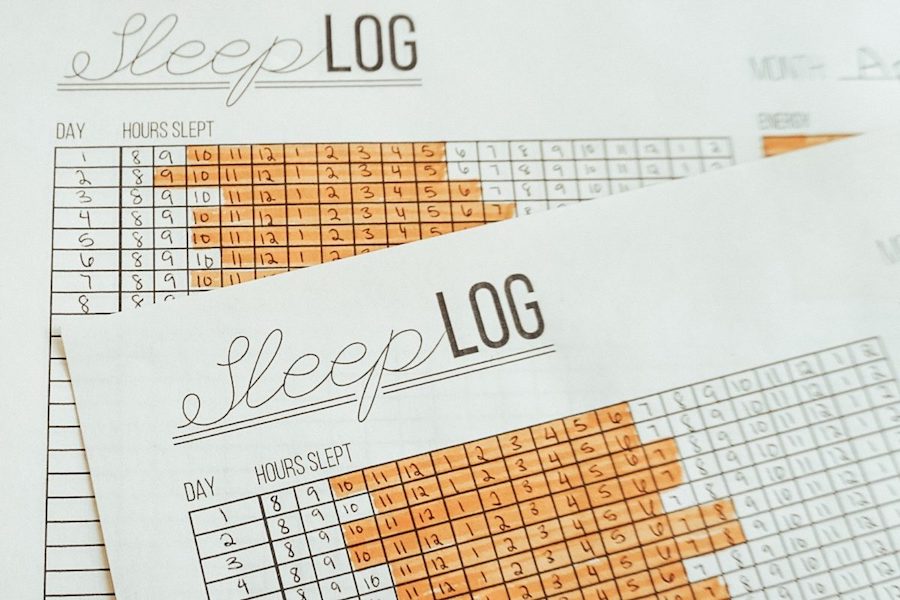 This free, customizable printable sleep log by The Front Door by Furniture Row is very simple and I like it because you can completely personalize it just for you. Plus…no charge!
It's designed so that you start the first square in the row with the earliest hour at which you think you could fall asleep, then fill out the rest of the row sequentially from there. (Big props to the parent who thinks they can be asleep by 8 PM, ha.) Each morning, highlight the hours you actually sleep — including nap — and then also log your energy levels.
You just might find there's more of a correlation between those late night Netflix binges and your daily energy levels than you were hoping but hey. They always say the first step is admitting you have a (Game of Thrones/Arrested Development/Veep) Problem.