I've been spending so much time seeking out the best personalized gifts for grandmothers this Mother's Day, to make it clear just how much we love them. God knows I couldn't do this parenting thing without my kids' Mimi, Grama, and Nana in their lives. They deserve the best gifts ever this Mother's Day — and fortunately, the best gifts don't always mean the most expensive.
Whether you're on a budget or have plenty of money to spend, you'll find some creative, unexpected Mother's Day gift ideas here that I know the Grandmas, Omas, Nanas, and Abuelas in your life will cherish.
This post contains affiliate links, and purchases may generate a small commission to help support our team at no additional cost to you. 
– All prices and links have been updated for 2022 –
Related: 17 more wonderful Mother's Day gifts for Grandma, Nana, or Oma
Personalized cutting board featuring Grandma's best recipe (3D Carving, $23+)
I love the idea of engraving her own favorite recipe — or even an heirloom recipe that's been passed down and has special meaning in your family.
Personalized cuff with her grandkids' handwriting (Emily J Design, $57 +)
Guaranteed to melt her heart.
Related: 12 truly cool handmade Mother's Day gifts from kids that become heart-melting keepsakes
My Life Story So Far journal ($32, Uncommon Goods)
While she's the one doing the personalizing here, she'll be creating a family heirloom more precious than anything.
Leather bag with a custom message from grandkids (Fontem, $220+)
Surprise her with the sweetest note…that you can both keep secret. They can even use your own handwriting.
A keepsake photo album of the kids, just for grandma (Artifact Uprising, $72+)
When it comes to personalized gifts for grandmothers, photo gifts will always be among our favorites. This one is just lovely, but also check our comparison of the 13 top custom photo book companies.
Custom photo key ring (Create Gift Love, $39.38+)
We've covered a lot of personalized photo gifts through the years, and this one is for the grandma on the go. It may also be one of the most popular gift ideas we've ever shared — our readers have literally purchased hundreds, if not thousands.
(The price has gone up a wee bit since we first shared it, but it's still a beautiful deal for a personalized gift for a special grandma.)
Personalized Box of Chocolates from Godiva (see note)
You can now pick your ribbon color and have them emboss it with your own personalized message.
The Golden Girls message here is pure coincidence.
(Note that personalized ribbons is no longer available, but their special Mother's Day assortment may do the trick. $54)
Custom painting of Grandma's house (Blessed Willow Gallery, $35.69+)
This is such a sweet idea for a personalized gift for Grandma for Mother's Day, especially if it's your kids' favorite place to visit.
Related: Creative, personalized gifts that make us go, whoa.
Personalized crochet hooks (Wood Paper Scissors UK, $9.44)
Perfect opportunity for her to teach her grandkids how to crochet — or maybe they'll teach her!
Related: Our 10 Best Gifts for Grandparents Supporting Small Businesses
Custom name pillow (Qualtry, $24.99)
For the Grandma who really doesn't need another reason to bring up her grandkids, but wants one anyway.
You can add up to 11 names! Talk about a personalized Mother's Day gift.
Related: 15 easy recycled Mother's Day gifts your kids can make from stuff you have right at home
Engraved necklace with children's names (Centime Gift, $44.20+)
This is a sentimental but still chic gift for any grandma (as long as she has 15 or fewer grandkids) and the price is terrific.
Engraved personalized family tree art (Foxbairn, $55+)
I love this personalized gift for any Grandma who knows that family roots matter.
Related: Tons of fantastic last-minute Mother's Day gift ideas that don't feel last-minute at all
Graphic Longchamp Tote with initials (My Pliage Signature, $305+)
If you've got a stylish grandmother in your life, this is pretty fantastic. And the styles have gotten a lot more modern. Wow.
Personalized recipe book (see note)
If a chef's kitchen is her happy place, this custom recipe book will become a family keepsake. (note: this item is no longer available but Minted has lots of personalized journals and notebooks, $18)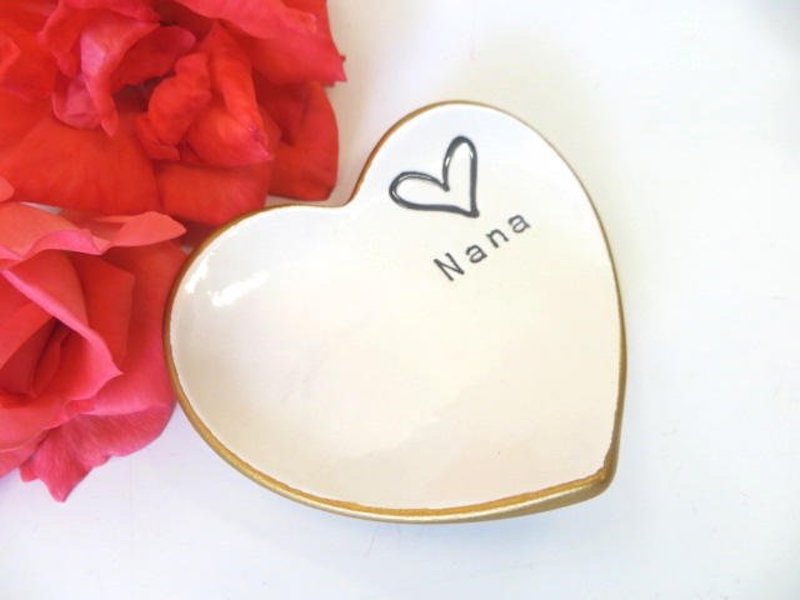 Nana ring dish (Momology Pottery, $46+)
You can also find Oma, Grammy, Grandma, and more at this shop.
Prices have gone up a bit over the years, but it's such a thoughtful handmade gift supporting a talented maker — worth every penny for a keepsake like this.