When the thunderclouds roll in, digging up rainy day kids' activities to keep the brood entertained indoors isn't so easy. Especially when all they can think about are beaches, bikes and bothering each other. So we thought it was high time to revisit some of Cool Mom Picks' favorite past ideas for cool indoor fun.
A craft a day keeps the remote control away
Crafts are of course the first thing we think of for rainy days or brutal heatwaves. I absolutely love the all-inclusive, adorable and affordable craft kits from the Little Experiences, like the Rocket kit (shown) and the Flowery Jewelry Kit.
Other craft kits we love include the innovative and all-inclusive craft kits from Eye Can Art like a kids printmaking kit. Kookle's Paint-Your-Own Nesting Dolls would keep my girls busy for hours, bless their little wooden hearts. And the groovy (and not too messy, really) Tie Dye kits can be set up right in the bathroom for an afternoon of indoor fun. Skip the patchouli.
Some of us are the types who never remembers to have craft supplies on hand, and so we turn to the sanity-saving Kid's Busy Box. Their Summer Collection features 20 seasonal crafts and materials which should get you through the season and beyond without last minute runs to Michael's.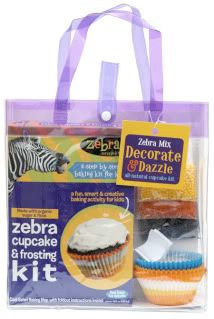 Baking with kids: Because sugar always seems to make a day go faster
Telling my kids that we may bake later on puts them on their best behavior for hours. While of course there's always baking from scratch, we love the delicious kid friendly baking kits from Zebra Mix which even provide activities while they're impatiently waiting for the brownies to set. If it's playdate day at your place, check out Zebra Mix's "party in a bag" Kids Cupcake Kit.
Online DIY inspiration for those wholly uninspired days
Fun and easy-to-do projects abound at the Wee Wonderfuls Shop, with their adorable (and free!) downloads, and Make and Takes, a website featuring fabulous, but totally doable, free craft projects for kids. Also check out Cut Out and Keep which doesn't focus on crafts for kids per se, but is still full of inspiration.
Put those imaginations to work
If you're looking to turn off the tube for a while, the oversized Doodles and Scribbles from Taro Gomi can literally last your kids for days on end. Kids starting at about 3 will love them, and trust me, their mamas do too.With older kids in the house, you don't even need a pencil. Table Topics cards' Kids Topics set and spark some lively discussions about something other than the cleanliness of their bedroom. Although that one may come up too.
There's always (gulp) the DVD player
Okay, so even the best of us turn to Nemo and the Dora box set more than perhaps we should. But if you want to feel a wee bit less guilty about it, first get a hold of Elia's very cool Mini Chair Kit which actually lets kids build and decorate their own sturdy cardboard chair to sit on. Just make sure it dries before they plop their little butts down on it.
See? I knew we could get through this together. –Christina