We are always fans of giving books as gifts, so we put together some of the best books for dads of all kinds as part of our 2014 Father's Day Gift Guide. Whether the dad of the house is a book junkie like mine is, or would simply appreciate some funny bathroom reading (you know what I mean), we've got plenty of ideas for you.
Plus, because we all adore the dads, granddads and stepdads in our lives so much, be sure to check out our massive Father's Day giveaway below, valued at over $900, that we've put together from some of our very favorite Father's Day gifts. Including a great book. Of course.
All our picks are determined solely by the editorial team; there has been no compensation in exchange for recommendations. Some products may include affiliate links.

The book for the new dad with a sense of humor
Life with a toddler can, at times, seem like one never-ending tantrum. If that's where you are right now, take a deep breath and have a good long laugh at the arbitrary nature, if you will, of kids' emotions in Reasons My Kid is Crying by Greg Pembroke, based on his popular blog. Watch other parents maintain their sanity by laughing at the different reasons why their kids have lost it:  I wouldn't let her rub her popsicle on the dog. Or He thinks the letters on his shirt are upside down. (They weren't, of course.) Based on the tears of laughter we've seen rolling down our own SigOths' faces, it's a pretty safe bet that Dad will love this.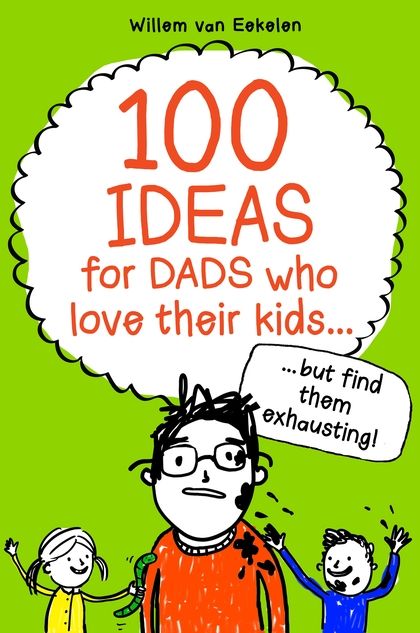 A book for the hardworking dad (which may be most of them)
We know that when our kids' dads work those 70-hour weeks, they still want to love on their children even though they're about to fall asleep. So we think they'll get a laugh out of 100 Ideas for Dads Who Love Their Kids but Find them Exhausting by Willem Van Eekelen. The book is a collection of 100 ways to play with your kids when you're not necessarily in the mood. Most of the ideas involve dad lying down, closing his eyes, and letting the kids use their imaginations to play on or around him. We think they'll work best with toddler-age kids, but the book is pretty hilarious in that "oh my gosh, that's terrible…but also kind of brilliant" way.

For the hands-on dad who's not afraid of a little glue, food coloring, or mess to clean up afterwards
Dad's Book of Awesome Science Experiments by Mike Adamick is full of fun and clever science experiments that Dad can do with the kids, or older kids could even do on their own, and impress him later. There are plenty of options that are simple and easy enough to do without a trip to a chemistry supply store, if such a thing exists, and plenty of new projects your kids haven't seen before. Or, if your kids' dad is more the type who lives for DIY weekend activities, you might like Dad's Book of Awesome Projects. Big love for crafty dads.

Books for the dad parenting with another dad
There are some excellent memoirs on the experience of being a gay dad, and that could be the perfect gift if you happen to be celebrating Father's Day with your husband or partner. Does This Baby Make Me Look Straight by Dan Bucatinsky follows his adoption of two children and is simultaneously honest, hilarious and sentimental. Another highly recommended book is The Kid: What Happened After My Boyfriend and I Decided to Go Get Pregnant by Dan Savage. Dan is known for his blunt way of talking about sex, and his story of deciding to try for a kid is an eye-opening view of what it's like to be a gay dad in America today.

A book for the adventurous dad
The excitement that takes over our kids when they set out on an adventure is so fun to witness. If Dad–or Grandpa–loves to get outside and get active with the kids, Microadventures  by Alastair Humphreys might be the perfect gift for him. It is full of ideas for ways to capture that adventurous spirit without the expense of a month-long trek through Patagonia; although that might go on our bucket list too. Pair the book with the gear he'll need for his adventure, like a new set of techie bicycle tires, camping gear, and a commitment to try to check off all your top adventures before the kids graduate from high school. Sniff.
A book for the foodie dad
While there are tons of cookbooks, of course (did you check out that Esquire cookbook we recommended? Yum.) we love the idea of the Foodie Top 100 Restaurants Worldwide, selected by top food critics and foodie editors from Ruth Reichl and Patricia Wells, to Masuhiro Yamamoto. (Those names will mean something to him if he's a real foodie.) And the photography? Wow. Let's just say this one might have to come with two plane tickets to dine at Alain Ducasse in Paris or Noma in Copenhagen. Not that we'd turn down a French Laundry visit.
A book for the dad of sons…or the son of a dad
We've been following the great reviews of Good Talk Dad, The Bird and the Bees…and Other Conversations We Forgot to Have, a witty, funny, and sometimes poignant he said/he said book from father and son team–and TV news mainstays–Bill and Willie Geist. Like a cross between Tim Russert's Big Russ and Me and the laugh-out-loud Sh*t My Dad Says, it would make for great summer memoir reading for so many of the dads and grandfathers in our lives.
Books for the cool grandfather
We all know stories from grandad are just the best, so we like the idea of getting him to write them all down for our kids to remember even when they're grandpas too.We've covered lots of great journals like this in the past, and now My Life Story—So Far is a new one for us: a lovely linen-bound guided journal that will guide him through the process of telling his life story. It's fun in that you can honor the family legacy–and get some good dirt on Grandpa's younger years all in one go.
EXTRA COOL: WIN IT!
We're so excited to give away one massive Father's Day prize pack valued at more than $900, filled with some of our favorite gifts for dads. In fact, we want to steal them all.
PRIZE INCLUDES:
•Collection of 10 Dove Men+Care skin products including dual-sided shower tool, 2 bottles of Body+Face Wash, 2 Body Bars, Thickening Shampoo, 2 in 1 Fortifying Shampoo and Conditioner, Cool Silver Antiperspirant, Clinical Protection Antiperspirant, Hydrate Face Wash, and Hydrate Face Lotion
•Beats By Dre Solo Headphones available at Target
•Custom keychain with your child's artwork from Metalmorphosis
•Dad's Gotta Eat gourmet collection from MOUTH
•Moleskine myCloud Messenger Bag
•Duck Island Dopp Kit from Zady (to keep all those cool Dove products)
•J Press York Street fine corded tie from Zady
•Dad's Book of Awesome Science Experiments by Mike Adamick
TO ENTER: THE CONTEST IS NOW CLOSED, CONGRATS TO THE WINNERS!
Other 2014 Father's Day Gift Guide posts:
Personalized Gifts for Dad
Gourmet Gifts for Dad
Gifts for the Stylish Dad
Gift ideas for New Dads
13 Cool Gifts for Dad Under $20
Gifts for the Dad who has Everything
10 Cool DIY Gifts from the Kids