A dad's first Father's Day may be the most special of all–if he can even remember it through the whirlwind of those early months. So for them, we present these Father's Day gift ideas for new dads as part of our 2014 Father's Day Gift Guide. They range from the sweet and sentimental to the "Wow, you got me what?" Just don't forget a great card. First rule of Father's Day: There always, always has to be a great card. (Because it's totally fine to talk about Father's Day.)
And because we all adore the dads, granddads and stepdads in our lives so much, be sure to check out our massive Father's Day giveaway below, valued at over $900. We've put it together to include some of our very favorite Father's Day gifts and made it really easy to win.
All our picks are determined solely by the editorial team; there has been no compensation in exchange for recommendations. Some products may include affiliate links.
Let's be honest, when you're a new parent of any kind, you will be taking photos. Lots of photos. Millions of photos. And that's before breakfast on some days. To thank him for sharing the sleepless nights, a really thoughtful gift is a fantastic camera like the highly-rated Sony Cyber-shot DSC-RX100. Yeah it's a splurge but one you'll all benefit from for decades to come. ($698, Amazon … and you might want to add a drops and spills warranty for $64.99)  
We already covered fun ideas for personalized Father's Day gifts, but it's getting down to the wire! Try this nicely crafted personalized money clip on Etsy. Nice typography, and very nice pricing. ($29-39, Sierra Metal Design)
Because yes, real men do change diapers, we always find fun gifts for new dads at Diaper Dude, probably because it's run by a cool dad himself. Right now, we're liking this affordable (and decidedly macho) camo changing station. ($12, Diaper Dude)  
If you want something more keepsake-sentimental than straightforward practical, you can never go wrong with a gift of a family portrait sesssion from a professional photographer. This one hails from Justin Hackworth who is simply amazing at bringing out the best in everyone; but if you're not in the Salt Lake City area, look for someone great near you. ($ varies)
– Don't miss our big Father's Day giveaway below. Entering is easy! – 
A more sophisticated accessory for parenting duty: The Jack Spade Waxwear Leather Dad Bag. It doesn't even look like a bag made to tote diapers and wipes and pacifiers that fell in the sandbox then wiped on our jeans and may just give back to the kid but we're not sure yet–and that's the whole point.  ($298, Jack Spade)  
Lisa Leonard is a go-to artist of ours for sentimental gifts (did you see her beautiful personalized dad key chain?) and another lovely option for a cool dad from her shop is this personalized keepsake bowl. We could see it on the bedside, next to the sure-to-grow collection of photos, scribbled drawings, and other mementos of the joys of fatherhood. ($54, Lisa Leonard)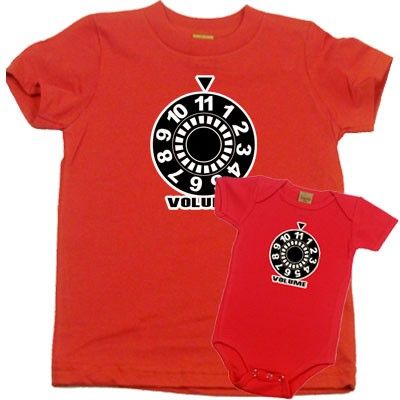 We're not always so into daddy and me sets, but recently we've found a few that are just irreverent enough to be cool and not trying-too-hard. At least we think so. Another to add to the list: The volume goes to 11 daddy and me set. Because it's never too early for baby's first Spinal Tap reference. ($38, Baby Wit)
If he's a gear guy, he'll love the Origami Stroller from 4 Moms which may be the first stroller we've ever tried that even brings men without kids rushing out from the sidelines to play with it. The headlights, the iPhone connectivity, and especially that one-touch open and close absolutely make this a stroller he'll love as much as the baby. ($721, Amazon)
A custom photo book can be just as appreciated as something that costs ten times more. Pinhole Press always does a terrific job, and we've got lots of Father's Day photo book ideas for you, should you want to give one to all the dads and grandpas in your life.  ($29.99, Pinhole Press, and  save 15% through 6/15/14 with code CoolMomPicks)
How stunning is this Wisdom leather journal? No doubt any cool dad or grandpa will have many words to fill it with as the years go on. It even makes a thoughtful Father's Day gift from a new dad to his own father. What was that Mark Twain quote about how the older he got, the smarter his dad got? Yeah, that.  ($95, Monica Rich Kosann)
EXTRA COOL: WIN IT! We're so excited to give away one massive Father's Day prize pack valued at more than $900, filled with some of our favorite gifts for dads. In fact, we want to steal them all.  
PRIZE INCLUDES:
•Collection of 10 Dove Men+Care skin products including dual-sided shower tool, 2 bottles of Body+Face Wash, 2 Body Bars, Thickening Shampoo, 2 in 1 Fortifying Shampoo and Conditioner, Cool Silver Antiperspirant, Clinical Protection Antiperspirant, Hydrate Face Wash, and Hydrate Face Lotion
•Beats By Dre Solo Headphones available at Target
•Custom keychain with your child's artwork from Metalmorphosis
•Dad's Gotta Eat gourmet collection from MOUTH
•Moleskine myCloud Messenger Bag
•Duck Island Dopp Kit from Zady (to keep all those cool Dove products)
•J Press York Street fine corded tie from Zady •Dad's Book of Awesome Science Experiments by Mike Adamick
TO ENTER: THE CONTEST IS NOW CLOSED, CONGRATS TO THE WINNERS!
Other 2014 Father's Day Gift Guide posts:
Personalized Gifts for Dad
Gourmet Gifts for Dad
Gifts for the Stylish Dad
13 Cool Gifts for Dad Under $20
Best Books for Dads
Gifts for the Dad who has Everything
10 Cool DIY Gifts from the Kids