You know the dad who has everything? The one who's impossible to shop for? Yep, so do we. So even though we've now suggested dozens of Father's Day gifts of all kinds, you might still be looking. And we feel for you. So here, we present some of our favorite gifts for the dad who seems to have everything. Some are splurgey, some are free, some just a little off the beaten-path. Hopefully there's something here for the lucky paternal superstar in your life.  Besides your undying love and affection, of course. Which may in fact be all he needs.
We're happy to welcome our friends at Dove Men+Care who are in part sponsoring our gift guide, because they totally believe in taking care of dads, and celebrating those dads who take care of their families. Just like we do.
Plus, because we all adore the dads, granddads and stepdads in our lives so much, be sure to check out our massive Father's Day giveaway below, valued at over $900, that we've put together from some of our very favorite Father's Day gifts. Entering is easy. Good luck!
All our picks are determined solely by the editorial team; there has been no compensation in exchange for recommendations. Some products may include affiliate links.

This vintage style speedbag by fashion flash is so neat looking for an office, whether he's in training, or just wants to feel like a tough guy.  ($89 on sale, Gilt.com. Use our invitation link if you're not already a member.)

The Topps site has so many cool ideas for sports fans, like this original vintage baseball artwork. Fear not non-Bostonians; there are options from nearly every team in the league. ($9.99-69.99, Topps)

If he's an adventurer or just likes to be cool and say "I've got it…" when you go to open a package in the mail, take a look at the gorgeously crafted handmade Pocket Knife by Son of a Sailor. It comes in handy in all sorts of situations; just remember to take it out of your pocket when you go through airport security. ($34, Cool Mom Picks indie shop at Great.ly)
If you're crafty, we have tons of ideas for homemade gift ideas for dads, and one of our favorite from last year is printing a custom coloring page of Dad made from a photo of him, then letting the kids go to town.  (Free with code on Crayola 64 crayons box, Crayola Color Studio ; photo via Andy Hinds)
-Be sure to check out our big Father's Day giveaway below. Entering is easy! – 

The artisan crafted hammocks from Yellow Leaf are so hot right now, every day we check the site and another style is sold out. If this one is calling your name, grab it now. Throw in a great book while you're at it, and a coupon for a few hours to himself. (This style $249, Yellow Leaf Hammocks; get a free tee with purchase with "DADSNORES" at checkout)

It's awesome when you can get a dad something he'd really want but would never actually buy for himself. We think the custom hand-painted one-of-a-kind bike helmet from Belle Helmets fit the bill perfectly if he's a cyclist. If not, it may just make him want to take it it up. ($150 by Belle Helmets, Hatch.co)

Whether he has a turntable or would just hang it proudly on a wall, look for a vinyl record from his favorite band. You'll be amazed at how happy this makes a music lover. ($25+, red envelope, or visit a record store near you. Do they still have those?)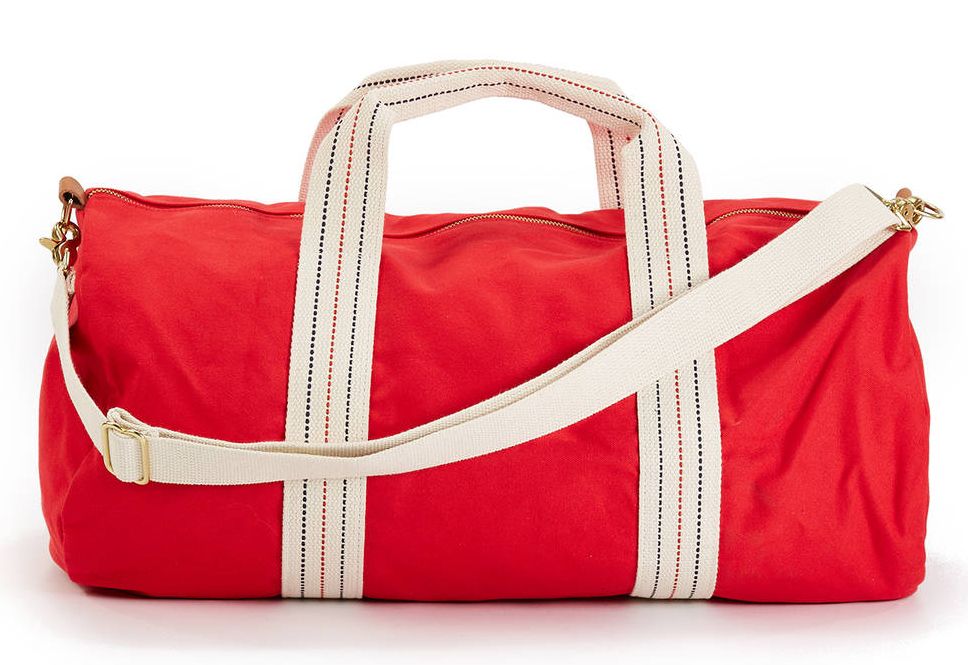 Every guy should have one great, well-made, logo-free duffel that he didn't get for free at some conference or event. We love the Blue Claw Co. Fire Hampton Duffel which comes in a few colors, but this fire engine red is striking. ($145, Zady)
Experience gifts are always a hit. Think tickets to a theater, concert, or sports event he's been dying to see. They can be tickets for the whole family, two tickets for date night, or just a few for him and some buddies for a needed boys' night out. ($ Varies)

If you are going the splurgey route with some hard-to-come-by tickets to a great sporting event or concert, consider adding in this stunning (and manly) Handmade Stadium Blanket Tote which opens to a full-sized blanket. Indulgent? Totally. But for the right kind of guy, it's awesome. ($395, Billy Reid)

We recently fell in love with the modern superman watercolor giclee prints we discovered from Blule. If he's more into Batman, The Flash, or even Han Solo, she offers those too. , ($69, Blule)

Bond No.9 makes such cool,conceptual fragrances with New York City themes.We're partial to the Bond No. 9 Brooklyn Fragrance which would look awesome on a hip dad's nightstand–but don't worry, it doesn't smell like the Gowanus Canal. ($190/1.7oz, Nordstrom)

Whether for camping trips or just over the stove for movie night, we think dads will dig this vintage campfire popcorn popper. Even better, it's on sale. ($79 on sale, West Elm Market)

The Polaroid HD Waterproof Sports Action Camcorder is so fun. Lightweight, shockproof, and waterproof (of course), it's awesome for any dad who's into surfing, snowboarding, rafting or just being silly in the pool with the kids. (50% off at $54.99 for a limited time, Target)
For the dad with a big heart, email or snail mail a Charity gift card from Just Give. You pick the dollar amount, he picks from 1.8 million charities operating worldwide. And there are quite a few Father's Day designs that are as sweet as the gift idea. ($varies, Justgive.org)
EXTRA COOL: WIN IT!
We're so excited to give away one massive Father's Day prize pack valued at more than $900, filled with some of our favorite gifts for dads. In fact, we want to steal them all.
PRIZE INCLUDES:
•Collection of 10 Dove Men+Care skin products including dual-sided shower tool, 2 bottles of Body+Face Wash, 2 Body Bars, Thickening Shampoo, 2 in 1 Fortifying Shampoo and Conditioner, Cool Silver Antiperspirant, Clinical Protection Antiperspirant, Hydrate Face Wash, and Hydrate Face Lotion
•Beats By Dre Solo Headphones available at Target
•Custom keychain with your child's artwork from Metalmorphosis
•Dad's Gotta Eat gourmet collection from MOUTH
•Moleskine myCloud Messenger Bag
•Duck Island Dopp Kit from Zady (to keep all those cool Dove products)
•J Press York Street fine corded tie from Zady
•Dad's Book of Awesome Science Experiments by Mike Adamick
TO ENTER: THE CONTEST IS NOW CLOSED, CONGRATS TO THE WINNERS!
Also a big thanks to our wonderful sponsor Dove Men+Care. Visit their website for more info about their terrific skin, hair and body products, and follow them on Twitter, Instagram and Facebook because that's how we all roll these days.
Other 2014 Father's Day Gift Guide posts:
Personalized Gifts for Dad
Gourmet Gifts for Dad
Gifts for the Stylish Dad
Gift Ideas for New Dads
13 Cool Gifts for Dad Under $20
Best Books for Dads
10 Cool DIY Gifts from the Kids