You didn't think we'd forget little ones in our 2015 Valentine's Gift Guide did you? While of course we dig all the romance of the day, we also can't resist showering babies with love, which is why we put together this list of 16 Valentine's gifts for babies, should you feel the need to do something ridiculously cute. Plus, just think of the awesome photo opps you'll have to send to the grandparents on the 14th.
Or, maybe you have a friend expecting around Valentine's Day. Or a February shower that requires a thoughtful gift. No big splurges here–just little tokens of your love that make for some of our favorite Valentine's gifts for babies, all from some of our favorite designers and shops.
Haba Wooden Heart Clutch Toy ($12.95, Haba)
Get your baby's chubby hands on the Mimi Rattle, which is the perfect entertainment for stroller rides. Each heart and dowel spins independently, and baby can even chew on it if she wants because the water-based paint is non-toxic.
LOVE Blanket ($78, Little Giraffe)
The warm, fuzzy blankets from Little Giraffe have been some of my very favorite gifts for a new baby. This Valentine's Day, who wouldn't love to snuggle up in their new LOVE baby blanket, knit from the softest yarn ever? It comes in pink or baby blue.
Related: More great Valentines gifts for your baby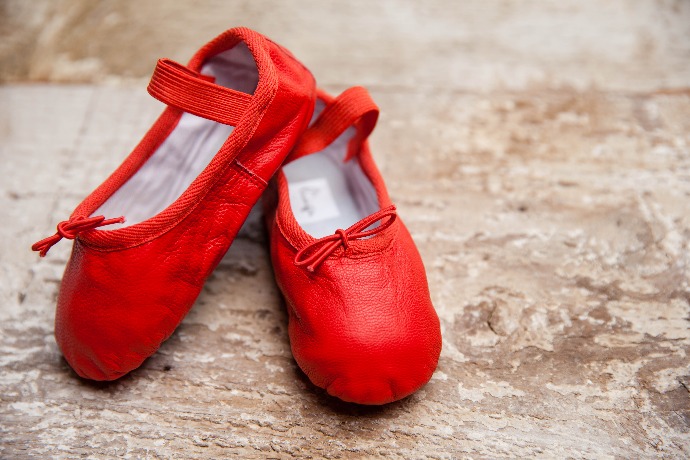 Red Leather Ballet Flats ($39, Linge Shoes)
If your little one is dressing the part on the 14th, we love these adorable red baby ballet flats by Linge Shoes. You're never too young to be seriously stylish, and these comfy shoes will get plenty of wear until she outgrows them.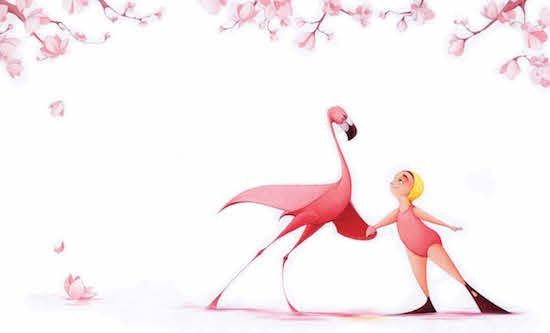 Flora and the Flamingo by Molly Idle ($17, Amazon)
Books are always great gifts for any occasion, and we love, love, love the sweet and charming picture book Flora and the Flamingo by Molly Idle. It is on our best books of 2014 list and our kids bedside tables…every night. While it's not a board book for babies, it's a great addition to a growing library. And if you want to double your bedtime reading time, check out Flora and the Penguin which is just as cute.
Blabla Handknit Flower Rattles ($18+, Blabla)
If you're all about flowers for Valentine's Day, here's one that's just perfect for a baby–flower rattles, from the same folks who have made the Blabla dolls our kids have loved for years. They're soft, handknit, fair-trade, and free of pollen.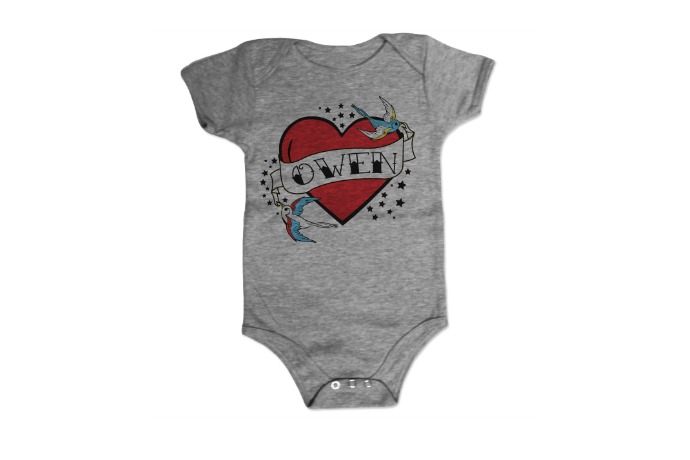 Heart Tattoo Baby Onesie ($23, Psychobaby)
If super-sweet isn't your thing for your kid, you may love this classic tattoo bodysuit we recently spotted. It has a more stylish design than some we've seen. And we've seen many. And the personalization makes it extra cool.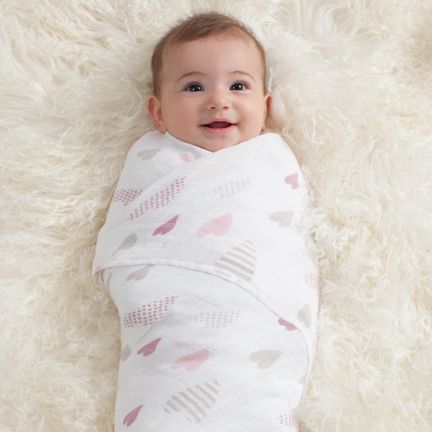 Heart Print Swaddle Blanket (set of 4 for $49.95, aden + anais)
Swaddled babies mean sleeping babies and…that might leave a little more time for romance on Valentine's Day. Or you know, sleep. If it's time to add a new swaddle blanket to your stash, check out the the Heartbreaker classic swaddle blanket from aden + anais, perfect for Valentine's Day and all year long.
Related: 7 adorable baby photo ideas for Valentine's Day
Heart Pacifier Clip ($15, Chewbeads)
How many times have we frantically searched the house for baby's missing pacifier? Problem solved when you use this adorable option from  Chewbeads. Plus, it doubles as a teething toy (which is great, since they'll probably chew on it anyway).
Crocheted Heart Baby Hats ($26, Hunky Dori Boutique)
Yes, more tattoos. These crocheted hats from a nifty little Etsy shop were one of our favorite Valentine's Day gift ideas for babies last year, and–what can we say. We still love them. So great to be able to support an indie Etsy artist too.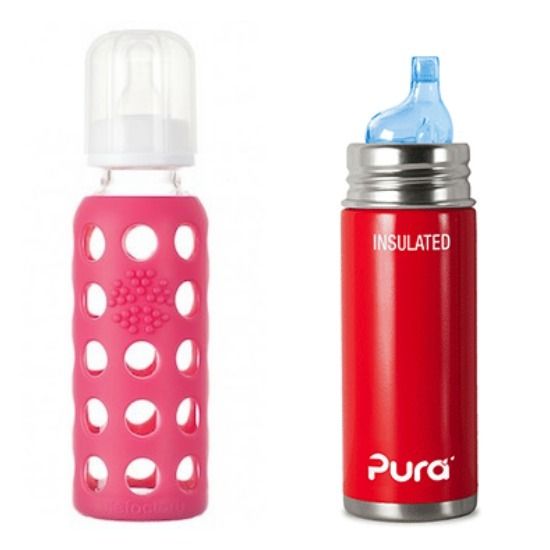 Red Baby Bottles ($14+, LifeFactory and Pura)
Maybe Vday is an excuse to grab a practical gift that you might be needing anyway, like a fresh new bottle for your midnight feeding dates. Glass bottles with pretty silicone covers, like these from LifeFactory, have always been a favorite of ours. And lately we're loving the stainless steel baby bottles from Pura.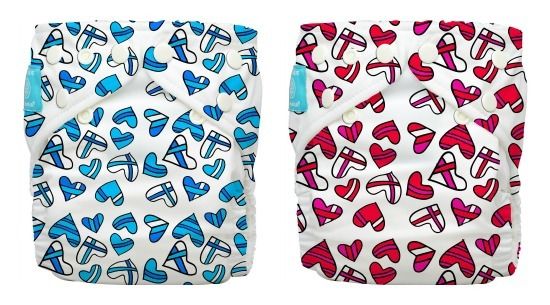 Hearts Cloth Diaper ($21.99, Charlie Banana)
If you're a cloth diaperer, we can't resist these hybrid cloth diapers from Charlie Banana. They're too cute to hide, right? And not having to buy diapers every week can be a Valentine's gift to yourself.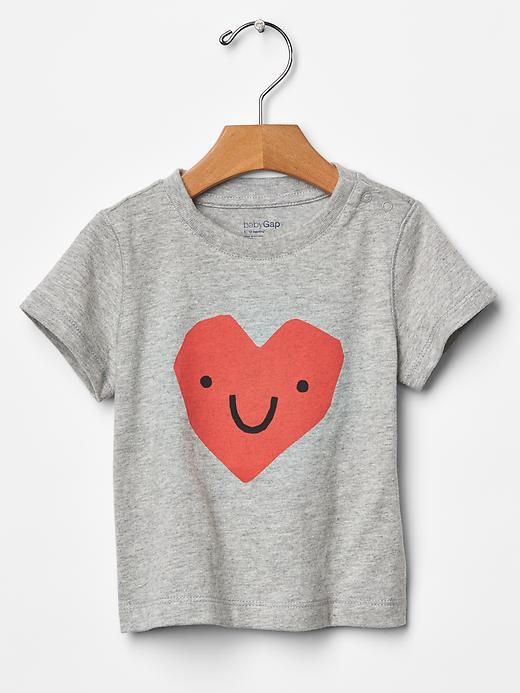 Graphic Heart Baby Tee ($12.95, Gap Kids)
There's something about this graphic heart tee from Gap Kids that just steals my own heart. It comes in sizes 0-24 months, and I could see a baby rocking it with black jeans, or a huge black tutu and some ankle boots. Or hey, maybe just some comfy sweats. Babies get to do that too.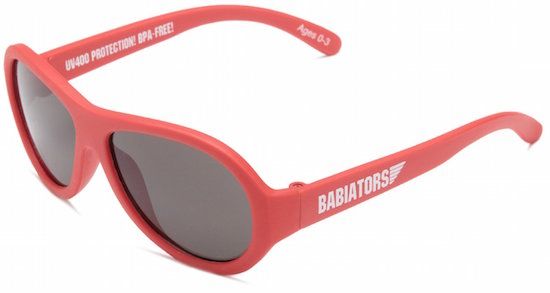 Red Sunglasses ($19.99, Babiators)
Don't be afraid of a little baby swagger. Just for fun, grab your kiddo a pair of Babiators sunglasses, and don't even worry about them breaking or getting lost. The Babiators warranty, magically, covers both.
Arrows and Heart Onesies ($48, eleventyfive)
If twins are giving you double the love this Valentine's Day, deck them out in a so-not-cheesy twin set from Etsy shop eleventyfive. Of course, they work for babies who aren't twins also since each one-piece is adorable on its own. And sold individually too.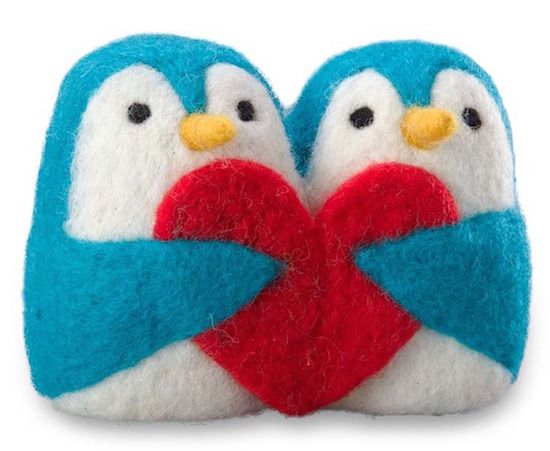 Felted Love Penguins ($12.98, Magic Cabin)
How cute are these two guys cuddled up together? They're small enough for baby to hold, but I'd put this out on display in the nursery so it doesn't get picked apart—it is felted wool, after all. And something tells me that once that baby is…oh, five or six, these could be two of his best friends.