When it comes to showing moms our unending appreciation for all the hard work they've put in for us over the years—especially now that we get it a little better ourselves—we always want to make Mother's Day incredibly special. And yet, sometimes…we get a little busy. Which isn't the same as forgetting, of course! So we've tracked down some really wonderful free Mother's Day printables just for you. Because the right card can make that perfect Mother's Day present look special, a fun banner can make a home-cooked brunch more festive, and pretty printable gift wrap can amp up the homemade gift from the kids.
The best part: These are all free! Even though these are the kinds of cards and goodies we'd be willing to spend a few dollar on at a stationery store. So we owe a big debt of thanks to the incredible bloggers and designers who created them. We raise a mimosa to you.
Related: The 2015 Mother's Day Gift Guide from Cool Mom Picks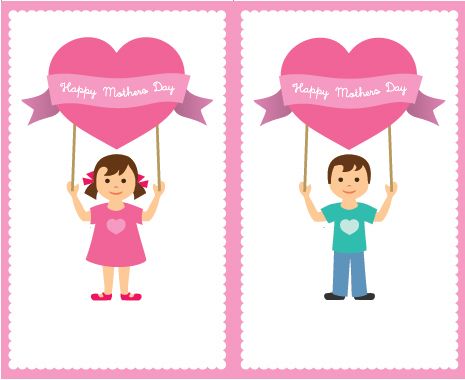 These adorable, free printable Mother's Day heart banner cards from Catch My Party can be personalized. Just jump into the PDF file and add some time, or if you have nice handwriting that's all it takes. Even better, let the kids write their names themselves in the space below. So sweet! (Just note that while some of the other designs feature more diversity in skin color, these unfortunately don't. Check their whole selection of Mother's Day printables and find something right for you.)
Sometimes the simplest messages are the sweetest, and this Free printable watercolor Mother's Day card from How About Orange says it best. If you're giving her a little painted handprint or other creative gift from the kids it's the perfect pair.
Related: 12 ideas for cool homemade Mother's Day gifts from the kids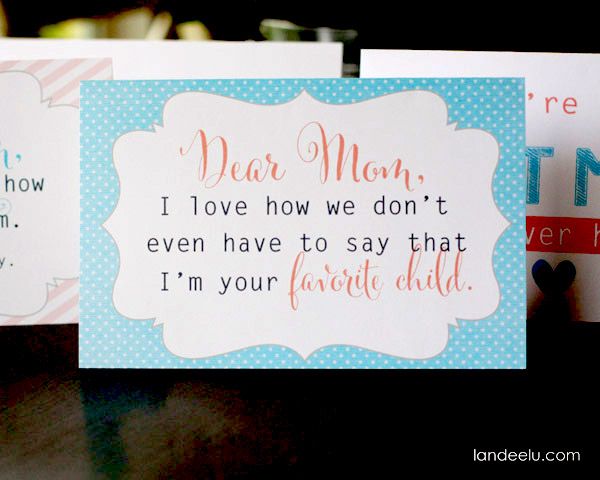 If your mom appreciates a good laugh more than a sentimental poem, this hilarious printable favorite Mother's Day child card from Landeelu might be the perfect one for her. Just don't let your siblings see. Then again, if you're an only child, it might be that much funnier.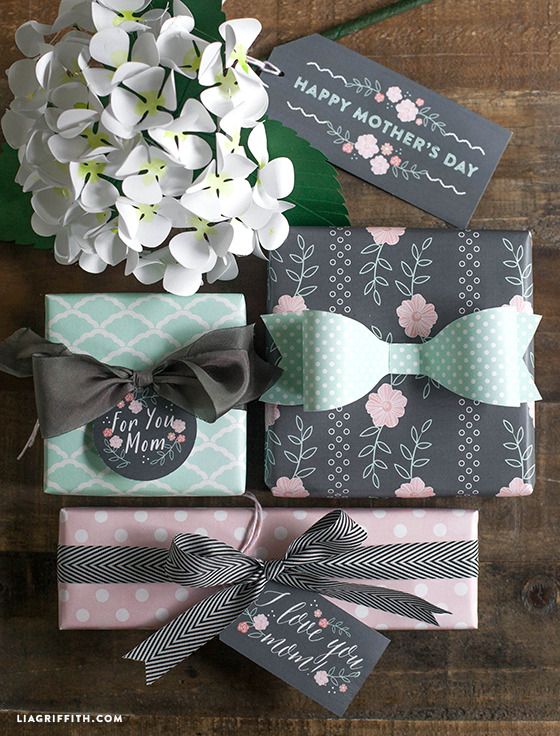 The mint and pink mix-and-match printable Mother's Day tags, bows, and paper from Lia Griffith are perfect for spring. I'd expect to pay boutique prices for these in a store, but they're free. Happy Mother's Day to me! Just make sure you have lots of ink in your printer for these.
Celebrate the queen of your household with this free printable Mother's Day crown and card from Mr. Printables. We predict in our houses that the queen's crown will be usurped by the heirs to the throne pretty quickly, but she can probably wear it long enough to get in a few fun photos.
My favorite treat on Mother's Day is to sleep in and not have to fix breakfast, so this free printable Mother's Day room service menu card from Hostess with the Mostess would be a terrific surprise (hint hint). Give it to Mom the night before, so she has something to look forward to the next day. Also, so you know what you need to cook. And you may notice that one of the options on this menu is Eggs Benedict, so color us impressed. There's no way we'd expect our kids to whip up a perfect Hollandaise Sauce! A smoothie or some pancakes would be just perfect.
Related: Three Mother's Day brunch menus as fab as the moms we're honoring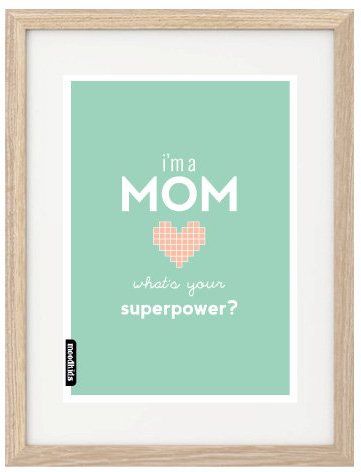 We all know by now that being a mom takes remarkable powers, from ESP to having eyes in the back of your head. That's why we're loving this free printable poster by MoodKids. Frame it, or even just turn it into a card she'll love.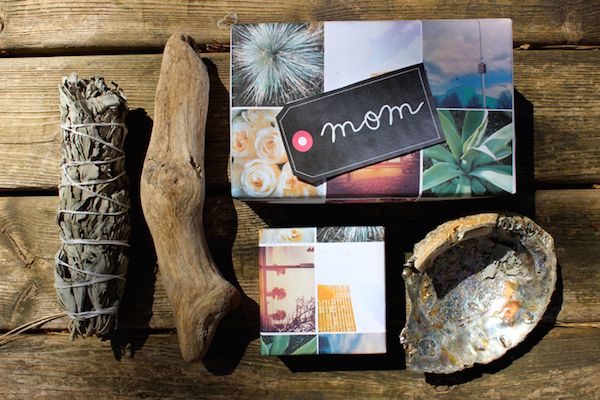 We love the simplicity of these easy, free printable Mother's Day chalkboard gift tags created by Poppytalk. They'd look great against any paper, but if you're up for it, check out her Instagram gift wrap DIY which could incorporate lots of pics of the kids.
A free printable Mother's Day coupon book like this one by Kori Clark, can be an awesome gift if you fill in the blanks with some of her favorite things. Personally, I'd like an extra uninterrupted hour to sleep in one morning. Kristen wouldn't mind a date night with Ryan Gosling. Liz is happy to have one Sunday-night movie night at home with the kids — with all tablets, phones, and small screens safely away.
Related: 5 easy handmade Mother's Day card ideas from the kids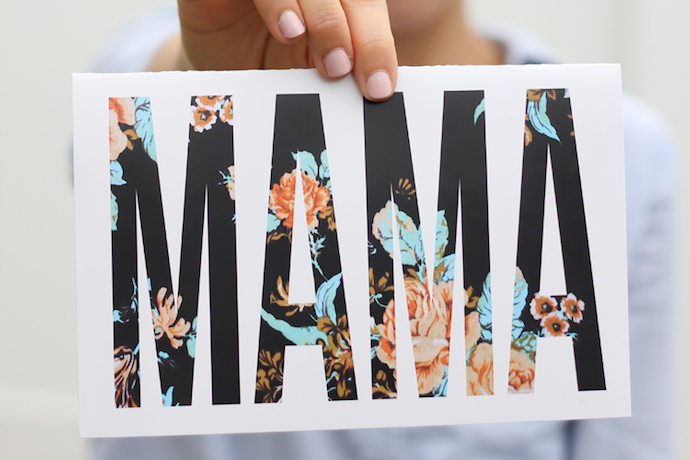 The floral free printable mama Mother's Day card from Delia Creates is a cool card we wouldn't mind framing for our desks after the gift-opening has ended. There are several other styles too but this one is just so lovely.
If you're fresh out of ideas for filling in your own blanks, this free printable Mother's Day coupon book by Skip to My Lou is so gorgeous. We do admit some of the coupons are a little…traditional; if there's a Dad around, shouldn't he sharing laundry duty all the time and not just "helping out" on a special occasion? But then, you can always just clip out the coupons that seem right for you. We'd take 25 alone of the BIG HUG coupons. Not to mention breakfast in bed.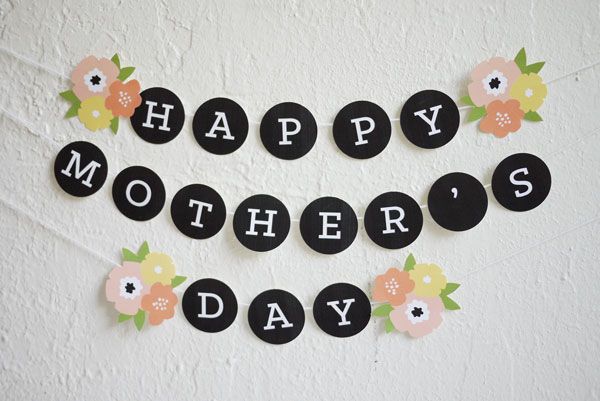 We can always count on Jordan from Oh Happy Day to serve up elegant, modern printables and DIY projects. This cute free printable Mother's Day banner is perfect for her bedroom door (surprise!) , the front door, or on a wall by the brunch table. It's a really easy way to make the day feel a little more special.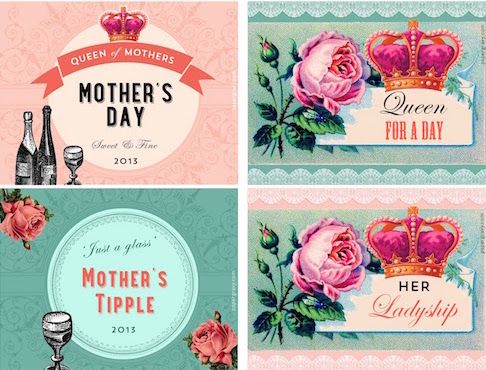 If you're bringing a bottle of wine over for brunch at Grandma's, dress it up with these kitschy, vintage-inspired free printable Mother's Day wine labels from The Graphics Fairy. Because what mom wouldnt get a smile from a bottle of "Mother's Tipple?"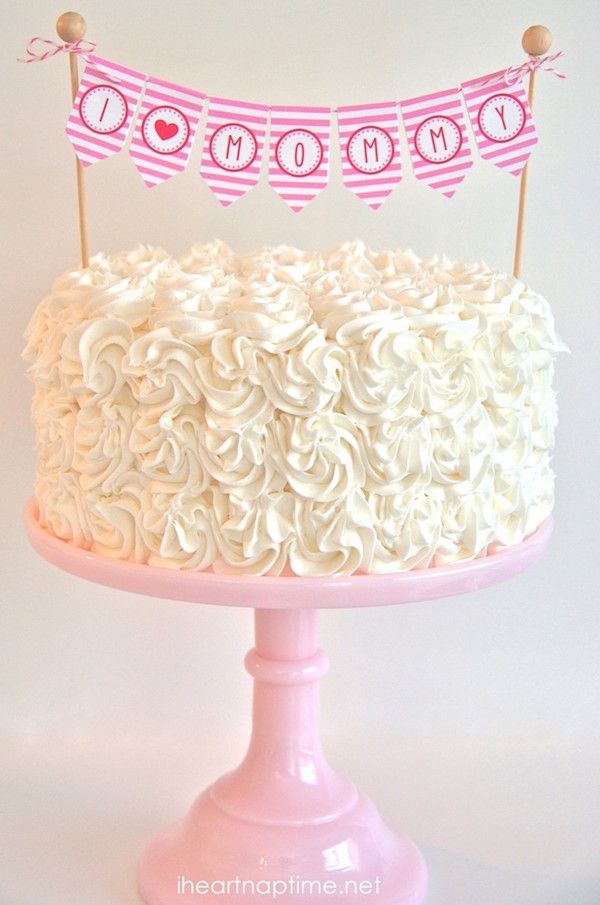 if you've got cake plans as part of your day — because, cake —  bump up the color of a solid frosting with this "I Love Mommy" printable Mother's Day cake banner by I Heart Naptime. You can even attach them to straws or skewers.
Related: 5 easy Mother's Day cake recipes that make a perfect last minute surprise.
There is so much I want to thank my mom for, I sometimes get overwhelmed with writer's block when it's time to sign my name to her card. These sweet printable note card prompts from Pen & Paper Flowers offer up some great ideas for speaking your heart to your mom. You can even leave her with pick-me-up notes to read throughout the year.
Here's a cool last-minute idea:  Make Mom feel really special by surprising  her the night before with an invitation to a party all about her. Even if it's just inviting her to brunch in her bed at 8AM. Or better…10. This free printable Mother's Day invitation from Catch My Party is so pretty with those bright cherry blossoms, and you can even print out tons of coordinating cupcake toppers and other party decor.
This sweet free printable mom poster at Diaper Style Memoirs makes us sniffle, even with the cool modern design. It reads, Mothers hold their children's hands for a short while, their hearts forever. Print it on decent paper and place it in a nice frame for a really sweet last-minute gift. It would even look pretty small, in a frame on her nightstand.
I'm always excited to see what's new in Caravan Shoppe, and their cool Mother's Day printables are free right now through a partnership with Chatbooks photo books. Whoo! We love the inspirational messages, but Amy Poehler is really speaking truth with, Sleep is out. Tired is the new black. Best yet — these are designed to work as cover images for their square photo books, which are always one of our favorite gifts.  But of course, they'd make great DIY greeting cards too.