It's so easy to find yourself on-the-go all the time as a parent, but having downtime is important. In fact, I think it's vital to being a good mom or dad. Of course, a few hours alone to get a manicure or go for a walk is so nice, but I like to find ways to unwind with my kids too. That's why I've been absolutely thrilled to see adult coloring books blow up, and I'm fascinated by research I've seen lately saying that coloring happens to be a really effective way for adults to relax. So if you need a break from crosswords or Netflix or Candy Crush, we've rounded up some of the best coloring books for adults that we'd love to get our hands on. In fact, pull a chair up to the table and unwind while your kids have theirs.
Then again, if if your kids are a bit older, these are the coloring books they'll be wanting too.
CMP is an Amazon and rstyle affiliate.
Related: 2 coloring books to inspire creativity in adults and older kids
Coloring Books for Adults: City Themes
If the big city is your place of zen, there are a handful of amazing coloring books that will take you to your happy place. Fantastic Cities by Steve McDonald is a winner, full of clean, architectural lines that any type-A colored pencil owner will love getting just exactly right.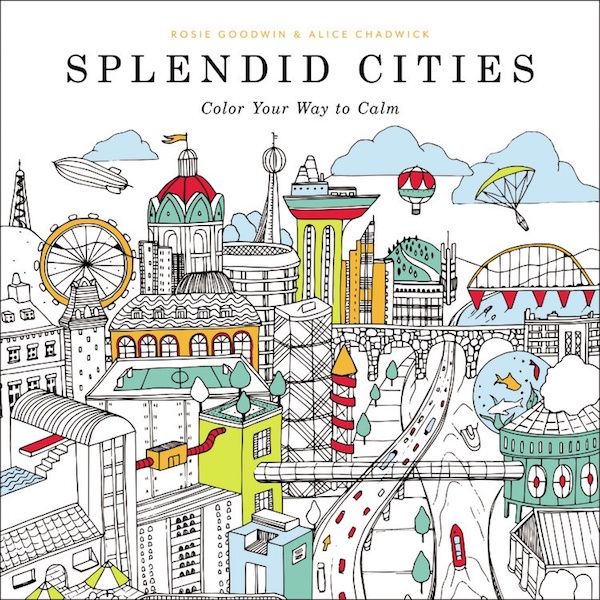 Splendid Cities by Rosie Goodwin and Alice Chadwick — not to be confused with Fantastic Cities, ha —  has more of a playful flair to the illustrations, with ferris wheels and hot air balloons depicted alongside skyscrapers and highways.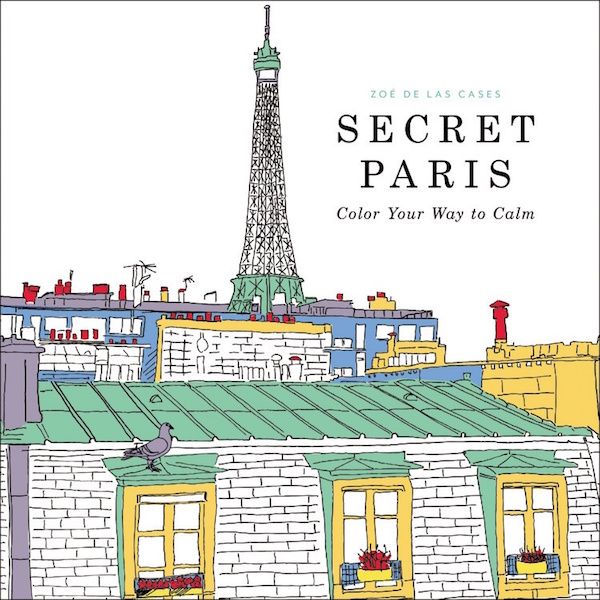 Secret Paris and Secret New York by Zoe de Las Casas are designed to create calm as you color in the most amazing places in your favorite cities. The illustrations are relaxed and easy, so you can relax too.
Coloring a Stroll in London by Thomas Flintham is a coloring book for adults that features huge flip-out pages; in fact, this photo is just a fraction of one page. That means each one will take your hours to complete, but you'll end up with really fantastic, frameable posters when you're done. At least if you can find frames that long.
Related: DoodleLit. Because, Mr. Darcy Coloring Pages.
Coloring Books for Adults: Nature Themes

I feel like we have to credit Secret Garden by Johanna Basford to some degree for the entire trend of coloring books for adults. We first found this book back in 2013 and were instantly taken by the charming, sweet illustration style. You could sit with your kids and color these intricate full page drawings together — if you're willing to share, that is.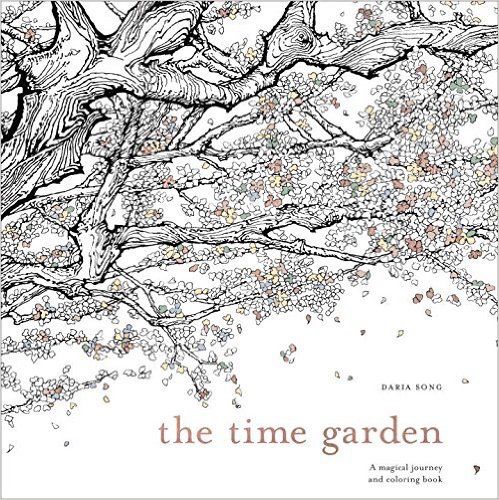 Of course there now other coloring books that feature bucolic scenes and details from nature, making them extra relaxing and meditative to complete. The upcoming Time Garden by Daria Song (it comes out September 1) stands out to me for its story-like quality of illustrations as you flip from one page to the next. Also, it has great, thick paper that makes this one a terrific gift, too.
Get out your fine-tipped markers or pencils for the Enchanted Forest,  Johanna Basford's follow-up to Secret Garden. It's also interactive, featuring hidden objects, mazes, and other clever additions to themes like castles and magical woods. I'm not sure I personally have the patience for this level of detail, but if you do, you'll end up with some exquisite pictures ready for showing off on the fridge door.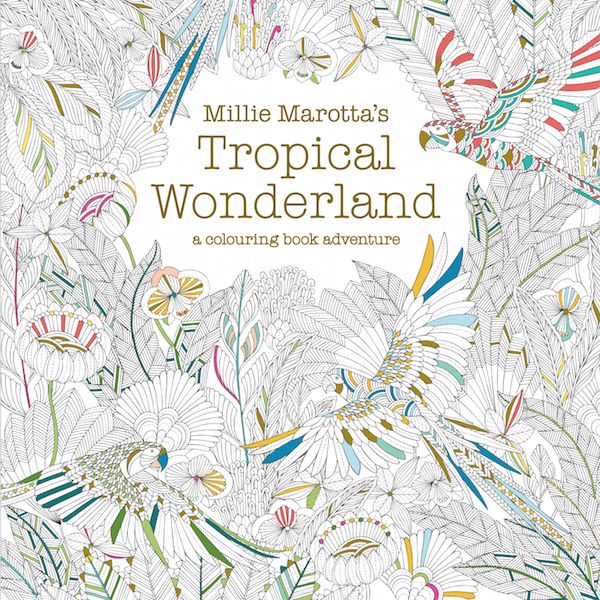 If a beachside cabana is where you find your peace, get a copy of Tropical Wonderland by Millie Marotta. It's like looking into a dense rainforest, with all kinds of parrots and palm fronds for you to color. Now you just need a piña colada to go with it.
Last year we featured Wendy Piersall's Coloring Animal Mandalas and it's still a terrific choice. The 31 different drawings have varying degrees of intricacy, so you can save the peacock or the lion for a day that you have plenty of time. Or need plenty of zen.
Coloring Books for Adults: Therapeutic Patterns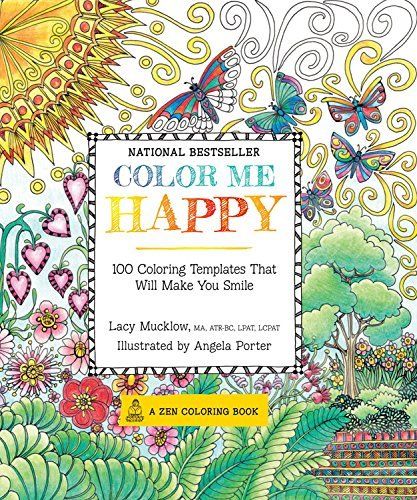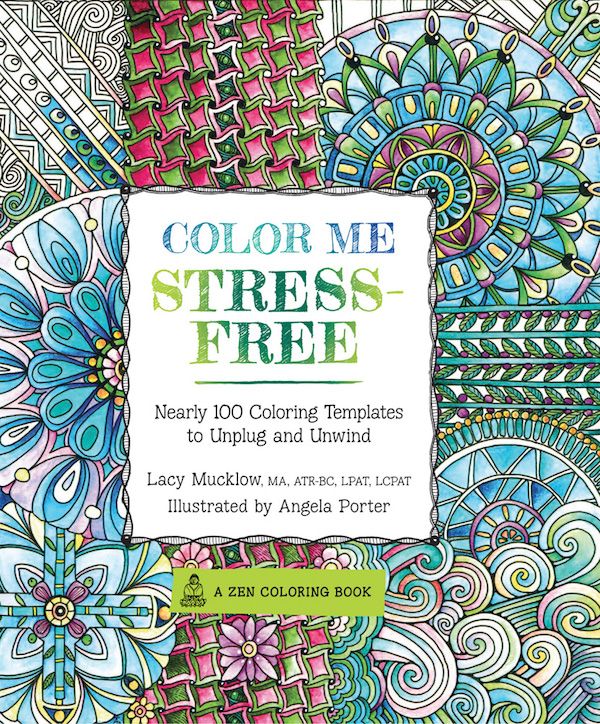 Seeing as how coloring can truly relax you, it's no surprise that some smart authors are marketing their titles as therapeutic. The Color Me series is a collaboration between art therapist Lacy Mucklow and artist Angela Porter, and I find the images are really thoughtful. Color Me Calm is full of feathers, rainbows, and starry skies. Color Me Happy has cheery rays of sunshine, flowers, and butterflies. And the newest book, Color Me Stress-Free (on preorder now for a 9/15 ship date) features hearts, swirls, and shell shapes that give off such good energy that I may insist my kids join  me for this one.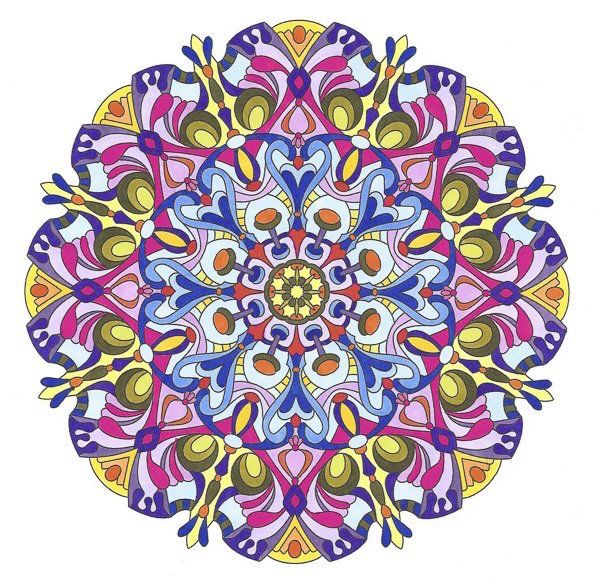 I find coloring books with huge, intricate patterns pretty hard to resist. But the perfect symmetry of a mandala is tremendously appealing to me, like the ones in Angie Grace's Balance: Extreme Stress Menders. It definitely lives up up to its name, giving you the chance to just slow down and focus. Then, back to the chaos, parents!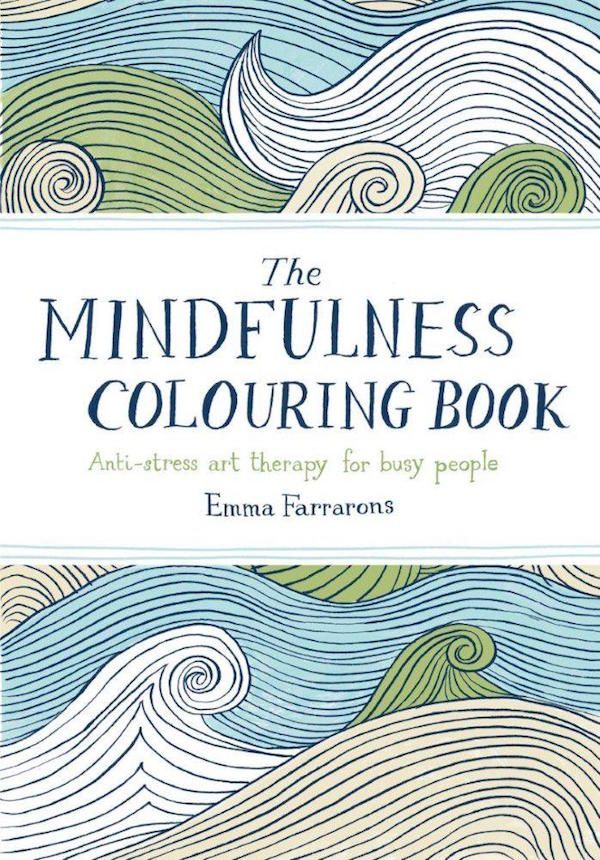 The Mindfulness Coloring Book by Emma Farrarons is designed with busy people in mind — and hey, isn't that all of us? I like that this one is a smaller size that's meant to fit perfectly in your handbag or tote. A good box of fine-pointed markers is another story, of course.
Related: The huge, and hugely fun, coloring poster from OMY
Coloring Books for Adults: Quirky and Funny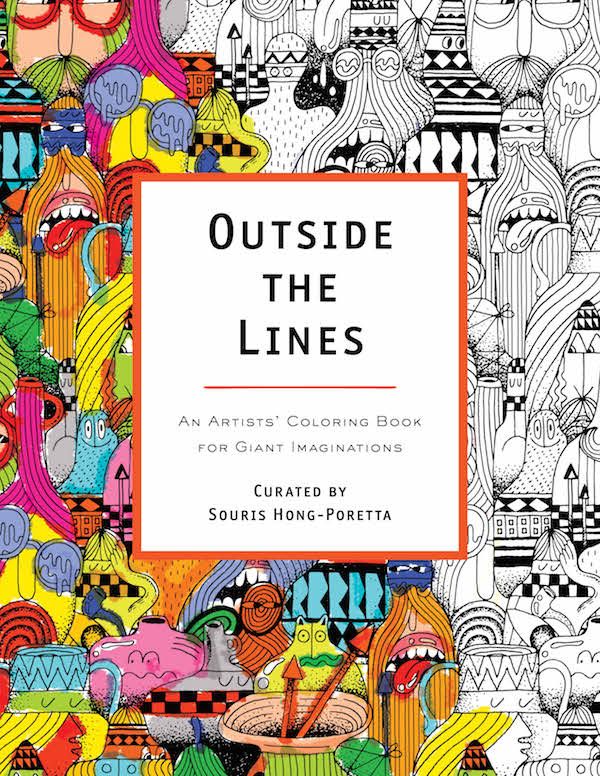 Coloring books for adults don't have to mean pages full of minute detail. I love the quirky charm of Outside the Lines: An Artists' Coloring  Book for Giant Imaginations.  Curated by Souris Hong-Porretta, you'll find more than 100 cartoonists, fine artists, graphic designers, musicians, and other talented creators represented here keeping it interesting at every page turn. Plus, there's plenty of empty space for open-ended creativity and some larger pop-art designs as well from the likes of Keith Haring and Shepard Fairey.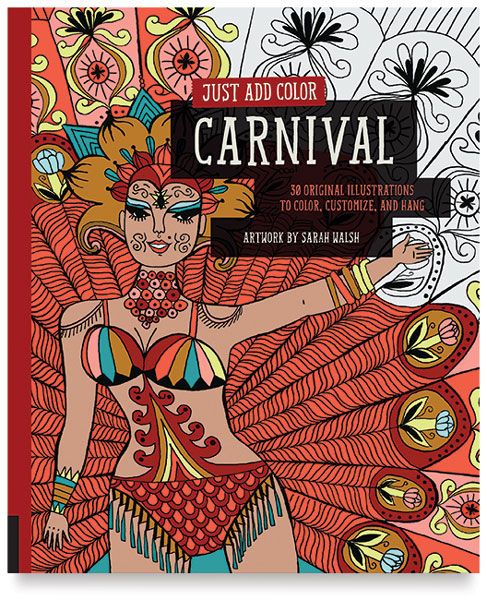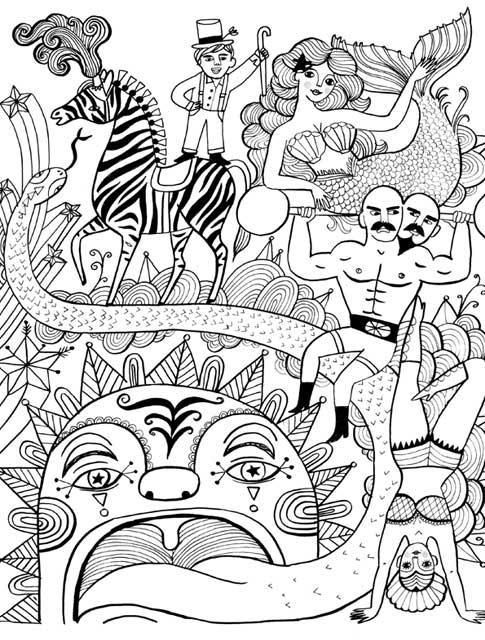 The Just Add Color series feature people and activities that are quirky cool, like Sarah Walsh's Circus coloring book, Carnival coloring book, and Day of the Dead coloring book. Her style lends itself so perfectly to coloring pages, though they're pretty fantastic before you've even put colored pencil to paper.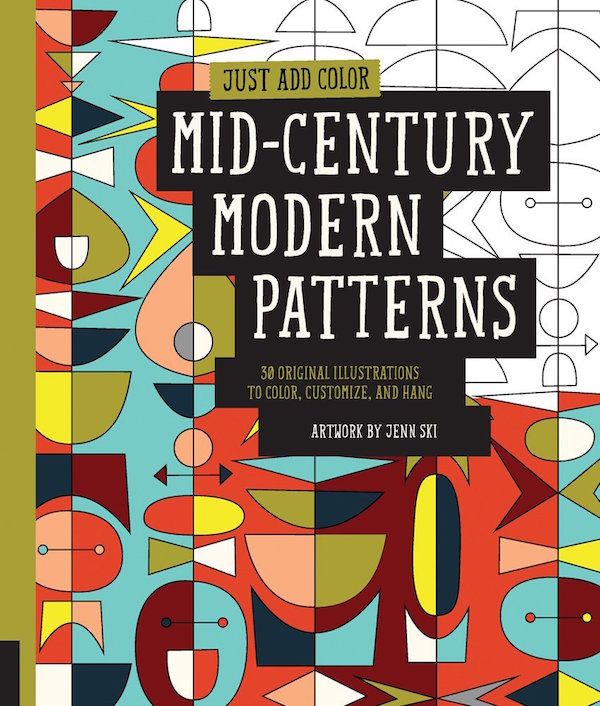 Also in the series, I am flipping out over Jenn Ski's Just Add Color: Mid-Century Modern coloring book that's full of original drawings, all perfect for fans of Matisse, Mondrian and Miro.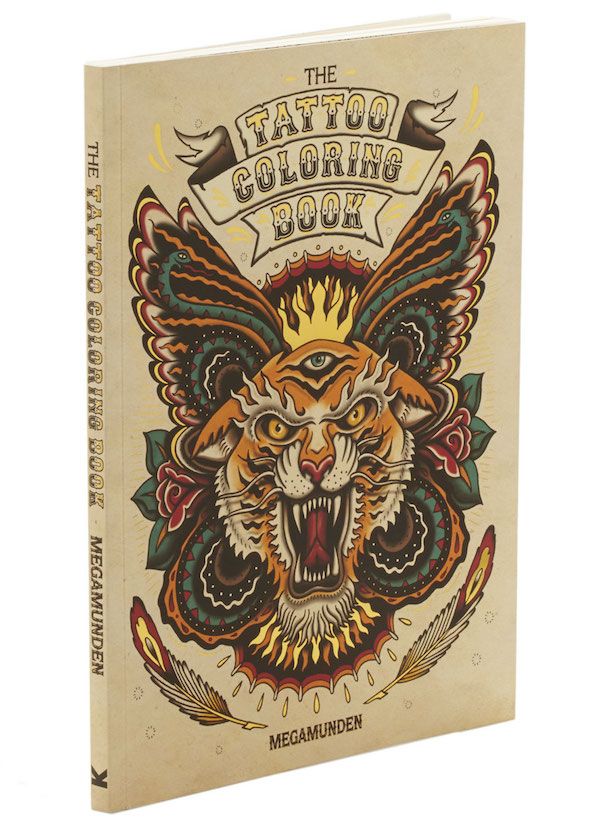 If you want to tap into your edgier side, try the Tattoo Coloring Book by Oliver Munden. Whether you're inked yourself or this is the closest you'll come, the designs are way cool. Hey, maybe you'll even find one you love enough to permanently tattoo it on some body part of yours. Never know.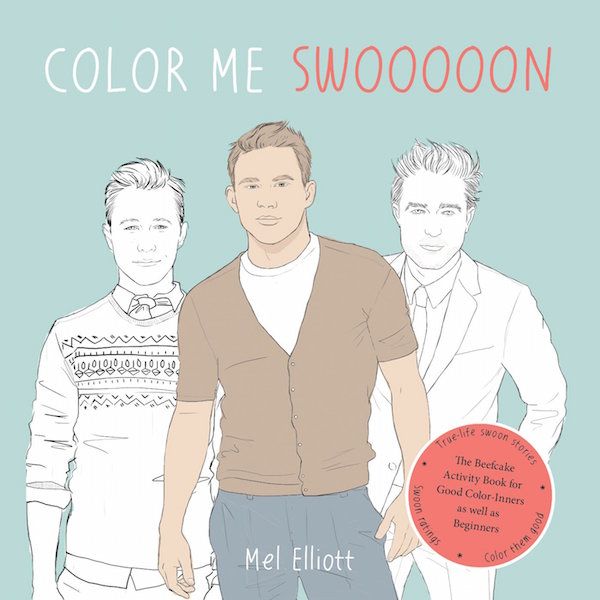 Okay, so we had to close out with two adult coloring books that make us feel like teenagers. Because we could never forget  Color Me Good Ryan Gosling or the newer Color Me Swooooon Beefcake Activity Book by Mel Elliott, which covers just about all the bases. Hey, girl: Don't judge what we mamas need to do to relax in our free time.
Take that as you will.