It's hard to feel like King of the Road when really, you're King of Don't  Go Beyond the End of the Driveway! With three kids and one long paved driveway, I've been there!  So, whether you live on a house on a high-traffic street, or you just need to keep your kids a little closer to home for whatever reason, I've got 10 fun ideas to make driveway bike riding more fun for those kids who love their wheels but could use a little more excitement.
And don't forget the helmets! Even if it is "just" in the driveway. We kind of love our bikers in one piece.
(top image via Melissa & Doug blog)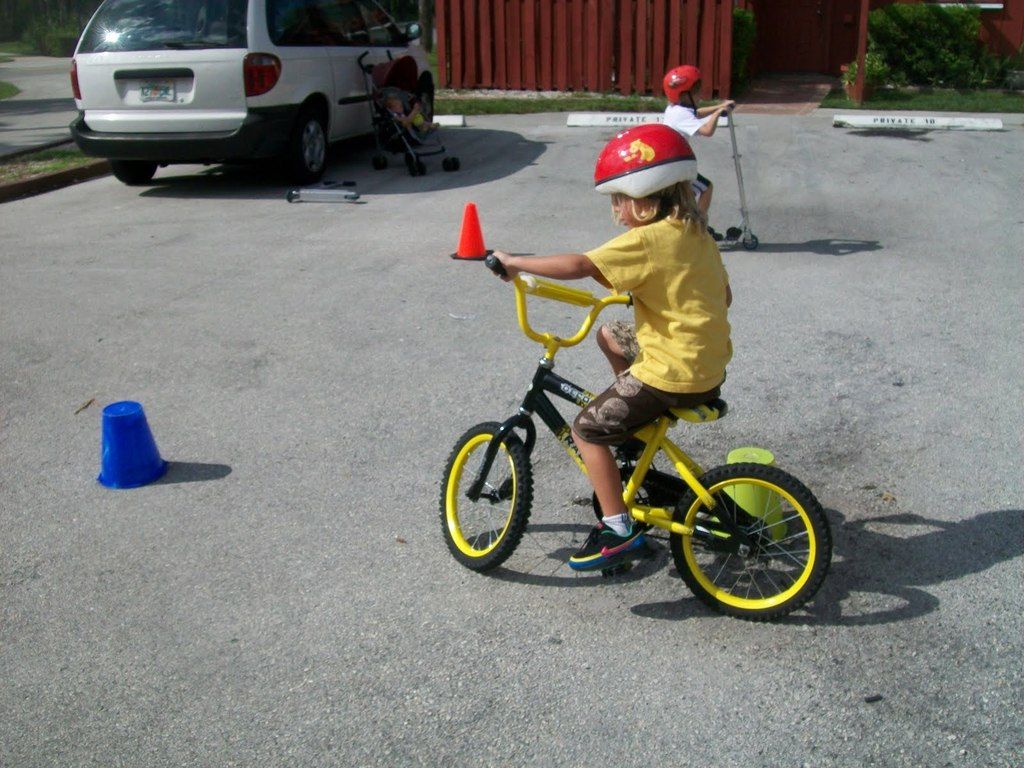 1. Create an easy bicycle obstacle course
This is a great way to get kids to practice making turns without losing their balance.  Take a look at this easy bicycle obstacle course at Home Grown Families which has a few fun ideas for safe obstacles you can use. My suggestion is that for very young kids, be sure to place the cones nice and wide apart until they get the hang of it.  For more accomplished riders, it's all about getting around tighter turns, and beating their speeds.
Related: Our favorite safe, cool bike helmets for kids.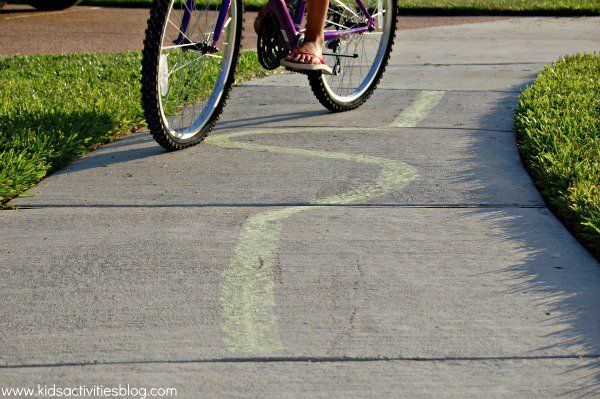 2. Hold slow races
Instead of your kids speeding to the end of the driveway, it's fun to hold some. slow bicycle races for kids like the the ones outlined on Kids Activities Blog. This is such a great way for kids to improve their balance since the idea is to go as slowly as possible without putting a foot onto the ground. Even us older bike riders can have fun with the kids doing this challenge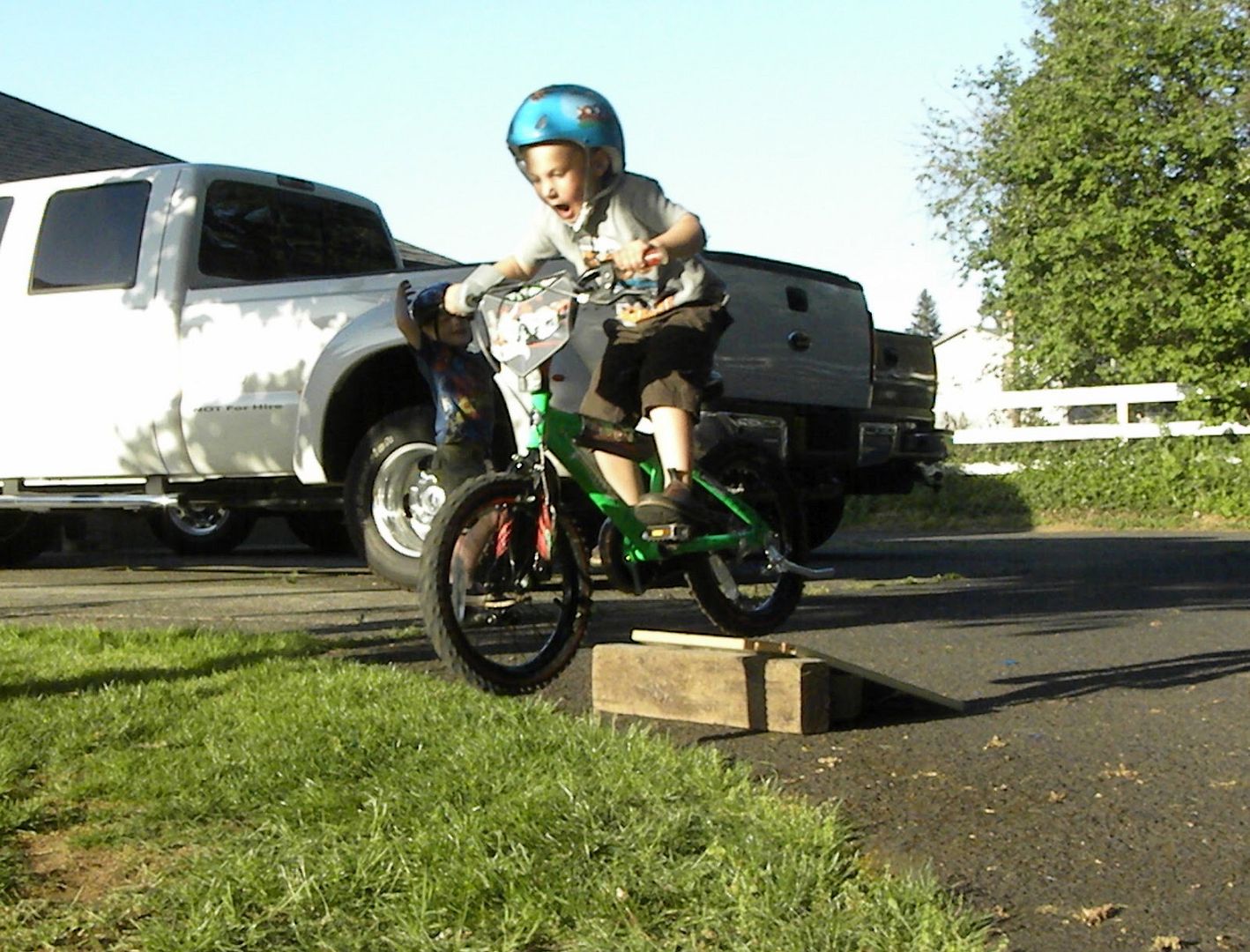 3. Make a bike jump. (A safe one. A small one.)
Yes, I know this idea can seem terrifying to a lot of parents but I'm not talking 6-foot moguls. At Rascals, Rik Rak, and Racing, you'll find an idea for a small DIY bike jump ramp for kids and all you really need are two boards. It's a fun way for kids to get some air, even if it puts them just a few inches off the ground. Play around with the height of the ramp to make sure it's something that is doable for your kids, but don't be surprised if they keep asking for it to get higher once they get the hang of it. Whee!
4. Create mountain bike obstacles
Get those little legs ready to try mountain biking someday with some wood pieces assembled to mimic the bumps they will encounter in the woods. This long wooden bike course for kids by What Did We Do All Day? helps kids who normally pedal on smooth asphalt get used to the bumpity bumpity of a trail.
In my  yard, we even have a long plank of wood on the grass that challenges the kids to keep moving forward in a very straight line—it's so much harder than it looks!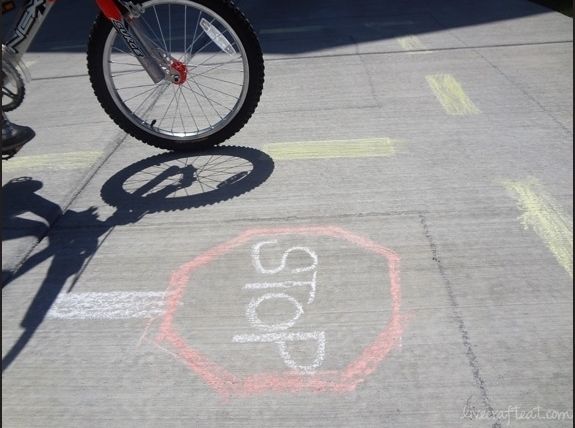 5. Practice bike safety. Make it fun.
Sneak a little bike safety lesson into the fun, and your kids will be better bikers when they venture further out onto the sidewalks, parks, and bike paths in your town. At the Melissa & Doug blog, guest blogger Katie Heap of Live Craft Eat demonstrates how you can use sidewalk chalk to create a bike path, complete with directional signs. And don't forget to teach the kids arm signals to indicate left and right turns!
Related: Piki Piki: It's a bike! It's a trike! It's the new top of your toddler's wish list.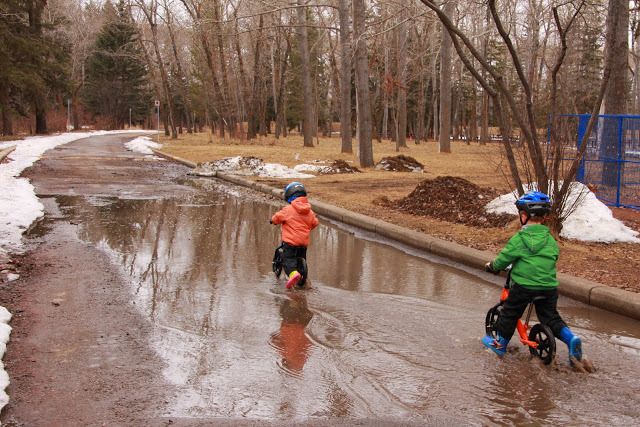 6. Bike through puddles.
After a good rainstorm (or if you've got a hose handy), take the kids out to ride in some puddles and see how messy they can get riding back and forth through the biggest one you can find. I love these images of kids biking through puddles via the aptly named Family Adventures in the Canadian Rockies blog. Even the slowest pedalers will try to speed up a bit to see if they can make a bigger splash, and suddenly that little driveway feels like some fun treacherous off-roading trail. Kind of.
I probably don't have to remind you to put them in their messiest play clothes for this one.
7. Make a DIY bike wash
On one of the last few hot days of summer, set up a bike wash to clean off the kids wheels. We love this DIY bike wash idea from Crafty Sisters which lets kids cool off while they wash off their bike too. Set up a big tub of soapy water if they've gotten their bikes particularly dirty.
We've also got some fun DIY bike wash idea on our post filled with summer block party ideas that can be especially fun for a big group of kids, if they're making the most of those warm summer weekends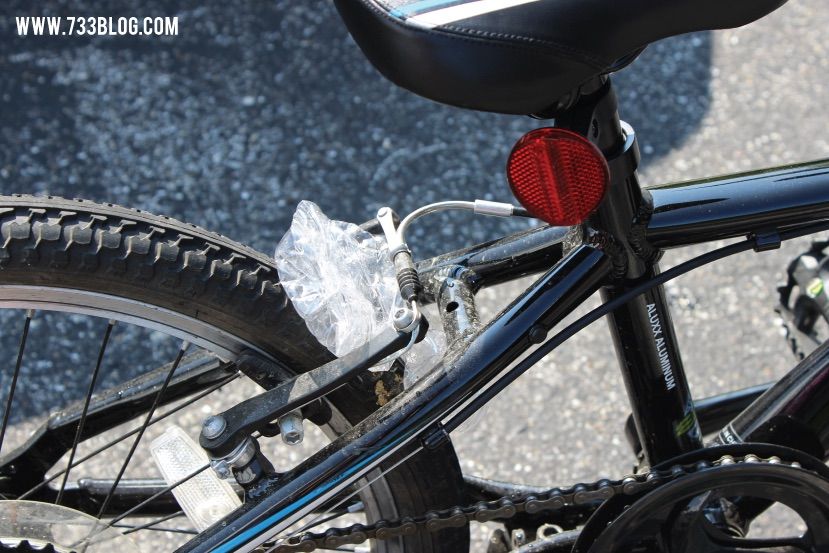 8. Hack a bike to make cool motorcycle sounds.
Word on the street is that Seven Thirty Three's hack that lets youturn a regular kid's bike into one that sounds like a dirt bike is l-o-u-d. Super easy to do with only one simple item you may already have in your house. One surprise benefit: If your kids are old enough to ride down the road out of sight, you're sure to be able to hear where they are.
9. Try your hand (or wheels) at bike painting
I so love this idea at The Golden Gleam for setting up bike painting. This smart tip lets you mix art time with outdoor active time with the combo of paint, paper, and whatever wheels your kids like to ride. You may need to follow up with a bike wash (see above), but I think the effort is worth it.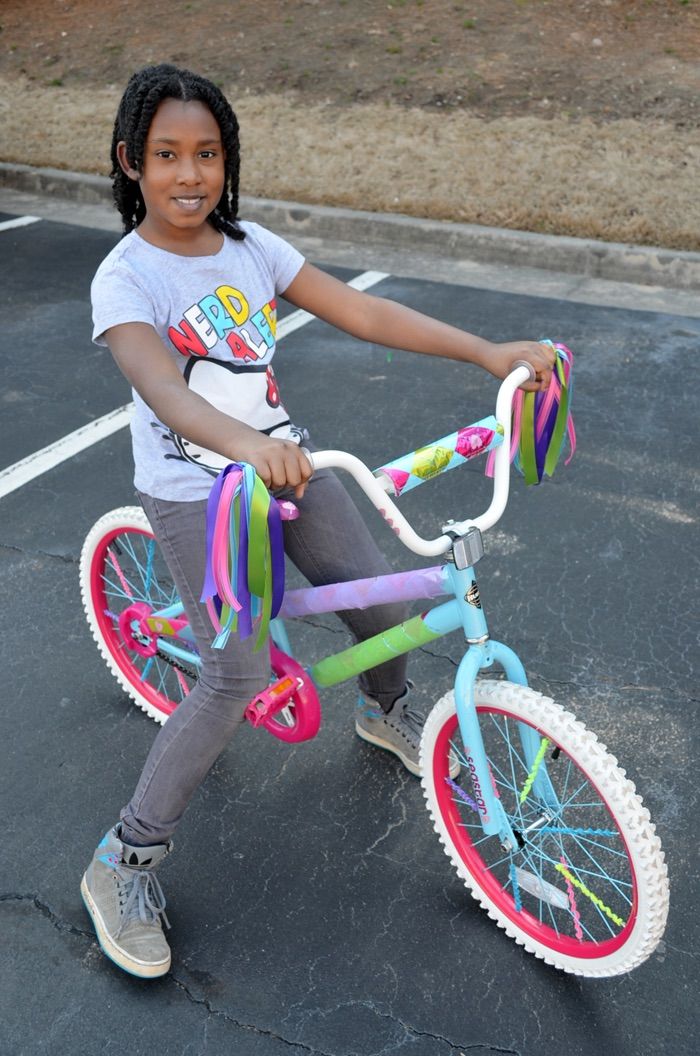 10. Make a fancy bike
Until you can take that bike on a parade out the driveway and through the neighborhood, spend some time making it look even more awesome. With just some extra doodads and basic craft supplies you have around the house, you let your kids decorate the heck out of their plain old bicycle or tricycle Green and Gorgeous has great step-by-step instructions for decorating your kid's bike with a little homemade bling and we featured some of our own ideas for hosting neighborhood bike parades.
And hey, if you've got hand-me-down bikes for your kids like so many of us do, blinging it up is an especially good way to make it seem new to the next-in-line sibling or cousin.