This has been a brutal month with consecutive natural disasters, many right in the contiguous US or close to home, and our hearts are so heavy.
There's Hurricane Harvey's devastation in Texas, Hurricane Irma pounding Florida and the Virgin Islands, and now Hurricane Maria's destructive impact on Puerto Rico.
Related: Get outraged about Puerto Rico. Then help these organizations who really really need you.
At the same time the news is showing incredibly difficult images of search and rescue attempts after the Mexico City earthquake involving schoolchildren which has the world glued to our screens filled with fear and hope.
When we look for advice about talking to our own children about tragedies like these, it becomes clear that parents face our own unique set of challenges; while we are trying to process the immediate aftermath of a terrorist attack and seek out news, we are balancing our own fear, horror, outrage and despondency along with what to say to our children, how to behave, what to expose them to, and just how much.
So again, sadly, we want to point you to the posts and resources that we know have helped thousands of parents over the years.
Top photo: UNICEF disaster relief 
1. Get tips from these expert resources
If you are struggling, please read how to talk to children about tragedy, a post first created in the wake of of the Paris attack in November of 2015. It's full of helpful links and resources we find incredible valuable, from medical and mental health organizations to hotlines, and parenting sites that specifically share outstanding advice.
2. Be extra sensitive about kids with anxiety
If you have children who are particularly prone to anxiety, remember it's okay not to tell them absolutely everything. Honesty isn't the same as "telling it all."
One of the best tips is to ask your kids, "what is it you have questions about?" and let their questions guide your answers and the amount of information you deliver. Above all, make sure they know that you are here to keep them safe and that is your number one job in life.
3. Look for the helpers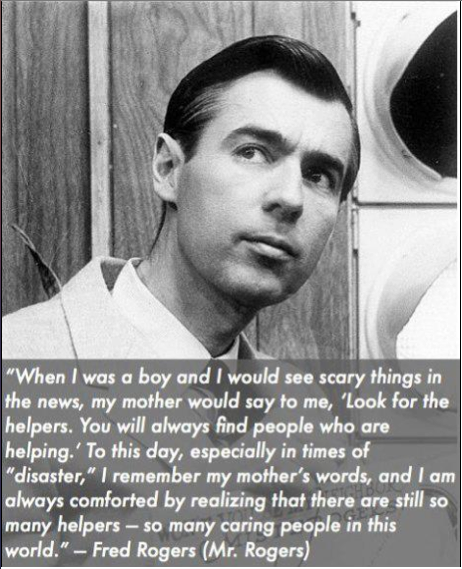 We also suggest taking another look at Mr. Roger's much quoted advice, look for the helpers. It's a positive way to frame the events for kids (and adults) of all ages, and helps even your youngest children feel more optimistic and safe when considering the enormity of events that are completely out of their control.
You might also share the uplifting videos and stories depicting times journalists became heroes of Harvey rescue efforts. It's an encouraging reminder that help doesn't just come from people in uniforms, but that we all rise together to help one another when people are in need.
4. Form a plan
One of the ways to make kids feel better is to give them a sense of control. After a the Manchester Arena incident earlier this year, we wrote about essential safety tips about crowds and separation that you should discuss with your kids. It's a huge help for kids to feel they have the tips, tools and resources should they ever find themselves in this situation.
You can also share tips for what to do if they are even in an earthquake. States like California are good with delivering this info, but other states like New York, less so. The info at the ready.gov site linked here has very comprehensive tips – but the page looks a little ominous so maybe pare it down instead of showing it directly to your kids.
What may be most helpful are the pages specifically for kids with worksheets and games to teach kids what to do in a disaster, like this game, above, that helps kids pick what kinds of items to grab if they have to leave the house.
5. Let kids find ways to help, too
Kids also feel better when bad things happen if they feel like in some way, they're part of the solution. We've recently shared ways to help the victims of Hurricane Irma and organizations supporting the victims of the Houston floods after Hurricane Harvey.
See if your kids would like to send some money in their piggy bank, donate a week's allowance, send letters to hospitals, comb through their own clothing to find items in good shape that other kids can use, or help you shop on Amazon wishlists to pick out items to send.
We've also found that empowering our older children to help decide what kind of donation to make and where gives them a sense of control that helps lessen the blow, psychologically. Here are some starters:
IN MEXICO: The Mexican Consulate in Miami has urged monetary donations be made to the Mexican Red Cross; but here's the Mexican Red Cross wish list that has already been set up, allowing you to donate supplies directly if you'd prefer.
Ella Nilsen and Dylan Scott at Vox have a great roundup of organizations that need help in Mexico for earthquake recovery and relief.  They include the Mexican Community Organization, UNICEF Mexico, Global Giving, and Oxfam Mexico.
The New York Times also suggests Topos Mexico and Direct Relief, as well as The Fondo Unido Mexico emergency fund, which is part of the United Way network.
IN PUERTO RICO: Please see our updated list as of 9/30/17
According to the Miami Herald, The Puerto Rican Leadership Council of South Florida will be gathering together donations including water, nonperishable food, diapers, clothes and medical supplies starting on Friday, Sept. 22. Keep an eye there for more info as they still determine what's needed most right now.
Reports are that it may be as long as six months before power is restored to the entire island, making it even more difficult, and the needs more urgent.
Vox has provided a solid list of organizations that's primed to help in Puerto Rico, including ConPRmetidos, The American Red Cross (which already has thousands of volunteers on the ground), and Americares. Meredith Clark at Glamour has suggested some excellent options including Unidos Por Puerto Rico, founded by the First Lady of Puerto Rico, Beatriz Rosselló, to help the victims of Irma and now Maria. And Lin-Manuel Miranda introduced us to Hispanic Federation, which has first responders helping out on-scene in Puerto Rico, Mexico, and the Dominican Republic.
For a roundup of highly-rated organizations that are helping communities in the aftermath of Maria, take a look at Charity Navigator.
And of course, we're big fans of UNICEF which specifically focuses on children and families.
Above all, we extend our sincere love and sympathies to everyone who is suffering right now, in Mexico, in Puerto Rico, in the contiguous US, in the Caribbean, and beyond. We're with you.

-Liz, Kristen and the CMP team