Since the introduction to Harry Potter 20 years ago (wha-aa?) I can't think of a children's book that's resonated with so many kids and adults as RJ Palacio's Wonder. It's made my own daughters' lists of Favorite Books Ever, and they adored the Wonder movie too.
(Even if we all agreed that it needed a little more Daveed Diggs.)
There's just so much about its words, it's spirit, its message that's so resonant, it's the kind of story that never leaves you. So I'm not surprised to see my own kids getting excited about Wonder-themed gifts we've been stumbling across for the holidays.
So I put together just a few wonderful (ha) Wonder gifts ideas for kids — and their grownups — for whom Auggie's story and the lessons of compassion, kindness, empathy and friendship mean so much. Because any time of year, choosing kind is always a gift.
CMP is an rstyle and Amazon affiliate or find these at your local indie bookseller
The official Choose Kind t-shirt (also at top) is an example of a gift that lives its own message — every shirt sold through Omaze benefits the PACER National Bullying Prevention Center. Find both youth and adult sizes so you can grab one for everyone in the family. But you have to order by December 14, before the campaign ends.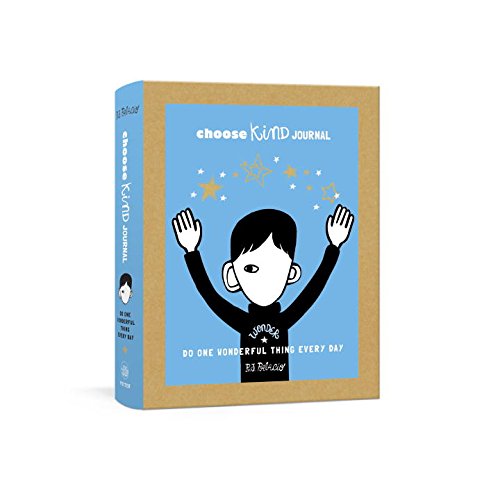 Judging from the clicks from our holiday gift guide list of great gifts under $15 for kids, this Choose Kind Journal is a major hit. Who doesn't love the idea of doing one wonderful thing every day? Psst…it's a great gift for adults, too.
In collaboration with Wonder and the Children's Craniofacial Association, boot maker Roma made these adorable limited edition Roma Kids Wonder Rain Boots. I want one for me! But they only go up to size 3Y. This is such a cool company to support —  for every pair you buy, a pair is donated to a child in need — their goal is to donate 1 million by 2020! Plus, a percentage of all their boot sales goes toward building schools and learning centers.
Auggie & Me: Three Wonder Stories is a great gift for kids who finished the original book but can't get enough. It's not a sequel — it takes place at the same time, and offers perspectives from Julian, Christopher and Charlotte that help remind us that there's always more than one side to any story.
The Wonder book cover tee from Litographs is great evidence that kids don't need a sassy saying on a shirt for it to be cool. This one is made up entirely of text from the book — so great! It only comes in adult unisex sizes, but my kids would belt an adult S over leggings or wear it as a nightshirt.
I love the We Are All Wonders iPhone case from Bridge Design Group on Etsy, featuring the design from the book of the same name that was written for kids a little young for the book, but not for the message. And if they're old enough for an iPhone (even if it's your hand-me-down iPhone 5), they're not too old for the message either.
The Choose Kind Wristbands and Different is Cool Wristbands from the CCA shop are perfect stocking stuffers – just 5 for $5 with the profits supporting kids with craniofacial differences. My kids would never take theirs off. (Photo: Durant Intermediate School via @CCAKids on Instagram)
Whatever gift you think is perfect for a Wonder-loving fan, there's one that I hope any of them would value, and that's a donation in their name to the Children's Craniofacial Association which helps "Real Life Auggies," or what they refer to as WonderKids. (Image: Kimmy Ann Snow via CCA website)