If you're like me, you've seen very few of the Oscar-nominated films this year outside of the "Best Animated Films" category. (Life as a parent, right?) But I love movies, and I love movie award-shows, which means I don't want to sit there all night wishing I had seen everything.
We've got your back! Here is where you can stream nearly all of this year's nominees before the awards show on Sunday, February 24 — and our team has included some tips on which ones are great to watch with your kids. Annnnddd, which ones are best watching on your next date night at home. After the kids are in bed.
-Kate, with Liz + the CMP team
CMP is an rstyle and Amazon affiliate
Related: That's inappropriate, Mom: When to let kids watch R-rated movies
Where to stream the 2019 Oscar Nominations: Best Picture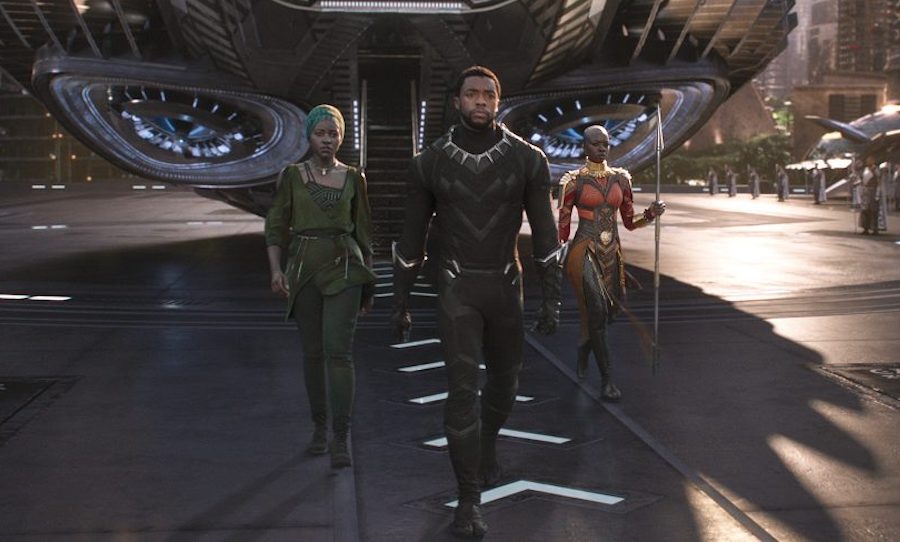 Black Panther
(stream on Netflix, rent or buy on Amazon, iTunes)

When it first came out, we shared what many moms of color were saying about the importance of Black Panther But let's be clear: this is one we highly recommend watching with the kids if for some reason, you haven't over the past 12 months. (Yes, it's been out that long.) Wakanda forever!
BlacKkKlansman
(rent or buy on Amazon, iTunes)

This is Spike Lee's darkly funny, incredibly powerful, definitely R-rated dramatization of a real undercover operation into the KKK during the 1970s. It's a must-see (the performances are phenomenal), and totally worth paying for a rental. It's not a kids' film, as you might have guessed, but will certainly spark some important conversations if you have teens mature enough to watch.
Bohemian Rhapsody
(buy on Amazon, iTunes)
Thanks to the popularity of this movie, my 8-year-old has become obsessed with Queen's music. He's dying to see the movie, but Common Sense Media recommends it for 13-year-olds and up. That said, Liz watched it with her 11-year-old and 13-year-old daughters who dug it, and she totally recommends it for mature  tweens and teens. I've also heard that as long as you're buying it, you can fast-forward to the Live Aid performance at the end and watch right now with the whole family.
The Favourite
(pre-order on Amazon, iTunes starting February 12)
This sexy costume drama taking place during Queen Anne's reign in England is getting amazing reviews — 94% on Rotten Tomatoes and the ties with Roma for the most Oscar nominations. So of course, it's high on all of our lists. It's probably best watched after the kids are in bed or with mature teens, but the mostly female-led cast including Olivia Colman, Emma Stone and Rachel Weisz has us excited to see it.
Related: 12 easy Oscars party ideas to make a night in more glam
Green Book
(pre-order on Amazon, iTunes starting February 19)

Viggo Mortensen and Mahershala Ali are both nominated for their performances in this film that explores racism and friendship in the 1960s Deep South. While it has been criticized for being another white savior film that plays down the realities of the Jim Crow South, we'd suggest it's good to watch it with that lens, and use some of the passionate responses to the film to inform the conversations you have with your older tween or teen about it.
Roma
(stream on Netflix)
Liz calls Alfonso Cuaron's critically-lauded Roma "an exquisite film…but not for everyone." It has a decidedly indie film spirit about it; it's a quiet, slow, but masterfully told story of a domestic worker in 1970 Mexico, working for a rich family during a time of political unrest. It's earned 10 nominations and could help you win that Oscar pool if you put it down for Best Picture — but kids may not be able to sit through a black-and-white film that's entirely in Spanish and Mixtec with English subtitles. That said, you should. It's the kind of movie you can't get out of your head.
A Star is Born
(buy on iTunes, Google Play)

The music and performances in A Star is Born are amazing (and both Bradley Cooper and Lady Gaga are nominated for theirs), but the themes of addiction and trauma are pretty mature. I'd save this one for a date night without the kids around. In fact, watch the 1976 version with Barbra Streisand and Kris Kristofferson, and make it a double feature.
Vice
(pre-order on Amazon, iTunes)
Unfortunately, there's no official release date for this movie on Amazon or iTunes, so you'll probably have to hit the theaters if you want to see Adam McCay's darkly funny if incredibly polarizing biopic of Dick Cheney (Christian Bale) and George W. Bush's (Sam Rockwell) stranger-than-fiction journey to the White House.
Related: The diversity of movie heroes and movie makers | Our editor's top 10 of the year
Where to stream the 2019 Oscar Nominations: Animated Features
If you want to catch Spider-Man: Into the Spider-Verse or Miraiwith your family before the Oscars, you're going to have to make one more trip to the theaters. But the other nominated animated movies are currently streaming, some even for free!
Incredibles 2
(stream on Netflix, rent or buy at Amazon, iTunes)
Possibly my favorite Pixar sequel, you should absolutely watch Incredibles 2 for your next family night if you haven't already. It's full of all the wit, drama and excitement the first Incredibles movie had — and even my teenagers loved this one.
Isle of Dogs
(stream at HBO, rent or buy at Amazon, iTunes)
Like all of Wes Anderson's movie, Isle of Dogs is quirky and funny, and at the same time, a really sweet story, and you don't even have to love dogs to love the movie. It's rated PG-13, Common Sense Media recommends it for ages 10+, and it would make for a fun movie night — even with younger kids who may not get all the nuances ("wait, is that Jeff Goldblum's voice?") or even the edgier bits, but will love the animation and the…well, the isle of dogs.
Ralph Breaks the Internet
(stream on Amazon, iTunes after February 12)
I skipped this sequel in the theaters, but my kids saw it with their grandmother and loved it — and we've just heard raves about it from parents everywhere. It's that kind of movie that evidently works on two levels, so you won't be suffering through it like some kids' animated films.You'll have a chance to watch it before the Oscars if you buy it streaming when it releases February 12.
Related: 10 of the most awesome RBG t-shirts to celebrate the force that is Justice Ginsburg
Where to stream other notable 2019 Oscar Nominees
You can find access to all the Oscar-nominated short films, from animated to documentary, at ShortsTV on February 19. As for feature-length films, below are ones worth checking out.
RBG
(stream it on Hulu, rent or buy on Amazon, iTunes)
I left this documentary about Ruth Bader Ginsberg totally inspired, and I can't wait to watch it with my kids. Liz feels the same way, and her girls really loved it — and that's saying something for a documentary about a political figure. It may be a little dry for much younger children, but it's appropriate for any age and highly recommended from our entire team.
At Eternity's Gate
(buy on Amazon, iTunes)
Willem Dafoe is nominated for his performance as the troubled Vincent Van Gogh in this artful, PG-13 biopic, and teens who enjoy historical films or have an interest in the artist specifically may really like it.
The Wife
(rent or buy on Amazon, iTunes)
Glenn Close is nominated for her role as the longtime wife of a Nobel Prize winner played by Jonathan Pryce, and the film is about the secrets that are hidden under the surface of their "happy" marriage. Reviews are decent if not uniformly stellar, but if you're a big Glenn Close fan (and who isn't?) this might be a good one for adults only.
Can You Ever Forgive Me?
(buy on Amazon or iTunes)
Best Supporting Actress nominee Melissa McCarthy takes a real departure from what you might expect in this darkly funny biopic based on a true crime story. She plays author Lee Israel who makes her living profiling celebrities, but falls out of favor and has to build a new career out of lies to get back on top. Her co-star Richard E. Grant is also nominated and we'd watch him in anything. Plus, we really like supporting good movies directed by women — in this case, Marielle Heller.
Related: 11 fun Oscar party ideas that razzle-dazzle in all the right ways
Free Solo
(pre-order it on Amazon, iTunes for an expected February 12 release)
Grab your kids and watch this heart-stopping documentary about free climber Alex Honnold's attempt to scale El Capitan with no ropes at all — a free climb that will have you gasping at the beauty and holding your breath until the end. That is, if you can handle this kind of nai-biter doc.
The Ballad of Buster Scruggs
(stream it on Netflix)
The latest from the Coen Brothers is an anthology, following six different stories about life in the old west. It was nominated for best adapted screenplay, costume design, and original song. It was admittedly too dark for me, but it does have a 92% on Rotten Tomatoes, and if you're a Coen brothers fan, you may love it. Stream each of the individual episodes with your Netflix subscription and decide for yourself.
Minding the Gap
(stream it on Hulu)
Bing Liu's documentary about skateboarders has been called the best movie of the year by so many critics.100% on Rotten Tomatoes with 67 reviews? Wow. Warning: it's more about childhood trauma than skateboarding, and it's not an upbeat film in the least, but it's definitely a quality film.
Where to stream the Mr. Roger's documentary, despite it not being nominated for an Oscar. Hmph.
Won't You Be My Neighbor
(buy on Amazon, watch free on HBO with subscription starting Feb 9)
If you really want to be up on the insider chat about snubs and omissions and bad nominations as you follow along with the #Oscars hashtag on Twitter, you'll definitely want to watch Won't You Be My Neighbor. This universally beloved doc about the universally beloved educational television pioneer, Fred Rogers should have been nominated for Best Documentary Feature by every account — but wasn't.
In fact, if you're planning on skipping the Oscars, you might want to just watch this instead.