One of the great ways to get our kids excited to learn about anything at all is through crafts and coloring pages. So for National Women's History Month this year, we searched the web to find some of the very best printable coloring pages featuring groundbreaking American women.
And wow, did we find a lot!
– This page has been updated for 2022 with working links and iots of new pages –
We tried to stick with really good renderings of the women; so these are more lifelike than cartoon-y. Also, wow. It was hard to stop at just 16. So we turned it into 21 this year, and it's still hard to stop.
A follow-up may be in order!
All of these famous women coloring pages are free and definitely worth the printer ink. And more importantly, the beginnings of conversations they may inspire your kids.
Like, "Any reason in particular you chose purple glitter pen for Mae Jemison's space suit?"
-Liz and Caroline
Related: 6 new biographies of great American women you don't want to miss this Women's History Month
This illustrated tribute to nerves-of-steel abolitionist and tenacious liberator of enslaved people, Harriet Tubman, is so powerful when it's rendered as a Wanted poster. As far as famous women coloring pages go, this could be a great place for kids to start because if it weren't for her own journey so many other Black Americans through history might not have had their own.
Free download, Amazing Women of History; basic PNG image also available
Related: 11 excellent new children's books for Black History Month – and the rest of the year too
A roundup of important American women coloring pages would never be complete without the inclusion of Rosa Parks, whose brave act of civil disobedience was a turning point in the civil rights movement. She was not actually smiling in the original UPI/Bettman photo that this illustration is based on — but she definitely was happier the Montgomery buses became integrated.
Free download, Coloring Home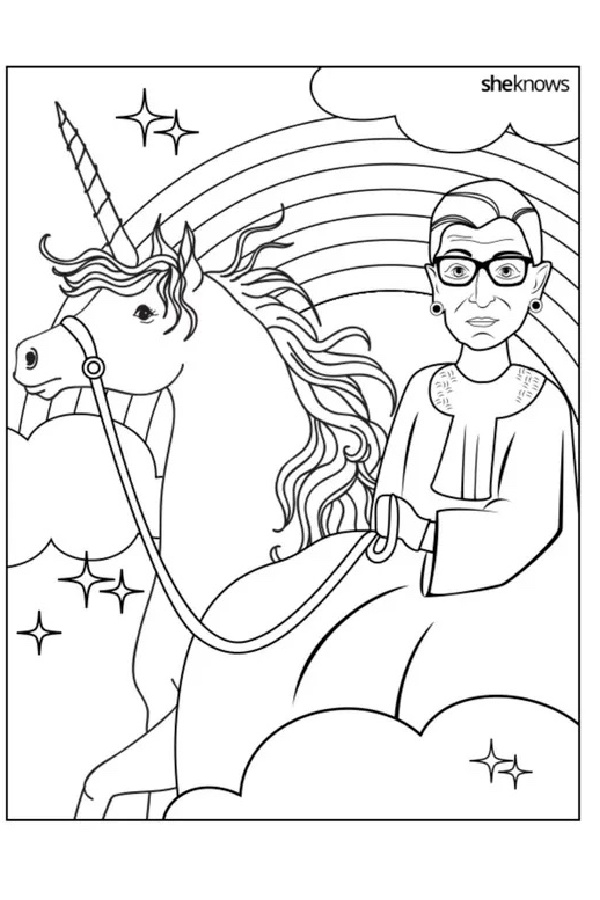 We are still mourning the loss of the incredible trailblazing SCOTUS Justice Ruth Bader Ginsburg and we hope your kids will have a lot of discussions about just what made her so important. We discovered this collection of 11 free printable coloring pages back in 2016, and we still haven't gotten over how utterly fantastic they are. The notorious RBG riding a unicorn, sporting a RGB tattoo, or taking a selfie — a far cry from the more literal Women's History Month coloring page depictions.
Free download from Karen Kox for She Knows
Related: 10 of the most awesome RBG t-shirts to celebrate the force that is Justice Ginsburg..
We love that Dover Publishing, to promote coloring books of theirs like Famous American Women, offers a large sample of famous women coloring pages from the book, all free for download. That includes this portrait of America's first female Supreme Court Justice, who served for more 25 years before retiring in 2006. Thanks, Justice O'Connor, for paving the way.
Free printable, Dover Publications
If your kids are fans of Hidden Figures like ours are, they know that becoming the first African-American woman in space was no small feat. As if that weren't enough, Jemison also practiced as a physician, served in the Peace Corps, started her own tech company, and even appeared on Star Trek.

Free download, ScienceWorks Museum
We were so happy to update this post in 2022 with this wonderful coloring page of Dolores Huerta, from the shop Piccolina, the mission-driven shop offering the women's history shirts we've featured here before. Love the wonderful spirit captured, depicting the powerful labor leader and civil rights activist who co-founded the National Farmworkers Association with Cesar Chavez. At 89, she's still out there, doing the work. Icon.
PS Check out all the talented women artists that this site employs — you can find their work on tons of terrific items!
Free download from Piccolina
I like the simplicity of this coloring page of Florence Nightingale, one of the great reformers of health care. (Where is she when we need her now!) Considering how many kids are now growing up extremely interested in the work of healthcare heroes, this is a terrific free coloring page for Women's History Month that feels as relevant as ever.
Free download, Cool Mom Picks; original page no longer available.
Related: Check out these 7 sets of cool, modern, free printable paper dolls, from Wonder Woman to Hamilton
We're all obsessed with this funky, beautifully rendered design of activist, scholar, teacher and acclaimed author Angela Davis. Such a bold, powerful statement piece for a bold, powerful woman who's been such an important figure in the civil rights movement — and still is today. In fact her most recent book, Abolition. Feminism. Now. just came out in 2022.
Free, Cool Mom Picks
NOTE: This image was previously connected with an Etsy shop no longer in existence. Please contact us if you know of any issue with copyright/artist permissions. The only other sites where it currently exists are a little spammy.
Related: 5 fabulous new books about Black women leaders and activists, all written by Black women.
Sometimes our kids identify most with younger women who are still highly visible today, doing the kinds of things that our kids like to do too. If you have children who are Olympic Games fans or figure skaters themselves, they'll love coloring in Olympic medalists Michelle Kwan and Kristi Yamaguchi. Both free downloadable coloring pages hail from illustrator Evan Hayden's series of Asian-Pacific American History Month coloring pages he created for Education.com — and the set includes architect Maya Lin as well, who's another hero of ours.
Free download, Education.com
Related: 6 fantastic children's and YA books to celebrate Asian American and Pacific Islander Heritage Month
We adults may recognize the famous social reformer, women's rights advocate and notorious suffragette Susan B. Anthony from her profile on the coin. But it will be nice to see how she looks in color, when our kids have a go at this free coloring page for Women's History Month.
Free download, Whoo! Jr Kids Activities (Formerly Classroom Jr)
Related: Empowering gift ideas for girls who will run the world one day.
This is a fantastic famous women's coloring page featuring one important American First Lady our kids should definitely know more about. I'm crazy about the quote featured, and the flower wreath she's totally rocking. Beautifully done. And PS If you haven't yet watched the Eleanor Roosevelt documentary from PBS, this is a great opportunity. She was even more powerful and influential than a lot of people today know.
Free download, Cool Mom Picks
NOTE: This image was previously connected with an Etsy shop  no longer in existence. Please contact us if you know of any issue with copyright/artist permissions.
As long as we're talking First Ladies, Michelle Obama was such an inspiration to so many girls and women for 8 years, we bet they'd love this coloring page to hang on their walls. And wow, we looked around and a lot of Michelle Obama coloring pages are either poorly drawn (ugh, sorry) or feature her with her husband, President Barack Obama. The thing is: She's fierce in her own right.
Free download, CMP
NOTE: This image was previously connected with an Etsy shop  no longer in existence. Please contact us if you know of any issue with copyright/artist permissions. 

The first Latina woman in history to travel in space is a perfect female pioneer to get to know better during Women's History Month. As the current director of the Johnson Space center — and only the second woman to ever hold that position — she's still going strong as someone our kids can look up to in modern history.
Free download with registration, education.com

Kids who are differently abled are always grateful to see themselves reflected back in their heroes and heroines. That's why Hellen Keller, the
author, disability rights advocate, and political activist remains such a powerful force in Women's History — and all history.  PS TikTok-ers…yes. She's real.
Free download, Dover Publishing

The phenomenal woman Maya Angelou is another incredible US women's history pioneer who we're still missing terribly since her death in 2014. So many of us grew up on poetry, and we love how this coloring page captures her some of her wonderful creative spirit. Plus, so many fun details for kids to help make her as colorful as she was in real life.
Free, SuperColoring.com
Related: Barbie's Inspiring Women collection of dolls make the best gifts. (And not just for girls)
All those wonderful children depicted here may inspire kids to choose to color this coloring page for Women's History Month — and hopefully get to know Mother Hale's humanitarian work with foster children too. She's a wonderful example of a woman who translated her own childhood hardships into a commitment to invaluable public service.
Free download, Dover Publications
Of course we had to update this post to include the woman who shattered the glass ceiling of the White House in 2021 – Our first Madame Vice President, Kamala Devi Harris. San Joaquin Delta College actually offers an entire free printable Women's History coloring book, filled with images of women around the world, each created for a contest. The winner and very first page happens to be this terrific illustration by Joe Villarreal. In fact, it's the nicest Kamala Harris coloring page we found anywhere.
Free, San Joaquin Delta College 
Related: These 3 great children's books help introduce your kids to Kamala Harris

This Rosie the Riveter-inspired coloring page is such a good look on the former Senator, Secretary of State, author — and of course the first female presidential candidate from a major US party (who also won the popular vote by millions). She still means a lot to so many of us, and if you're a fan, download the whole amazing coloring book to see 11 images including Hillary riding a dragon — and even breaking up the testosterone party on Mount Rushmore. Ha.
Free download, She Knows
Not all important women through history have names we know — though we should. And while our kids may be most familiar with Disney's interpretation of Pochahontas, in honor of Women's History Month we really should strive for more accuracy. We like this image of a Wampanoag woman from a collection of historically accurate Thanksgiving coloring pages. If you're going to honor American women, you have to include indigenous women who were here long before anyone was known as "American."
Free download, Many Hoops
Bonus: 31 Women's History Month Coloring Page Figures All in One
From Here Wee Read, we love this free coloring page of all kinds of women. It's a history lesson and art activity all in one!