We get to try a lot of amazing beauty products, and you can rest assured that one of the first things we do is read all the ingredients to see just how safe they are for our skin and yours. But of course, natural doesn't always mean better (and to be fair, in some cases, better results doesn't mean 100% natural). In honor of Earth Day, here are some of our favorite natural skin care brands from some of the smaller companies you may not know. They all maximize results and pampering while minimizing, well, pretty much everything yucky.
I have tried every one of them–or our editors and contributors have. So we can totally stand behind these picks, beauty product junkies that we are.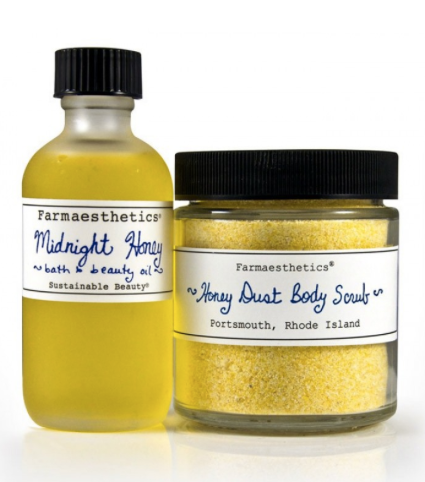 Farmaesthetics
Don't let the product names or mom imagery on some of the labels fool you. This luxurious line of fine herbal skin care is great for new moms–and old moms and not-moms and anyone with chapped hands. The stand-out product for me is the Solar Salt Mineral Bath, but I used up every bit of every sample and still miss the way their lavender fragrance somehow reminds me more of my summer in Toulouse than anyone else's lavender. There are oodles of pretty gift sets (also shown at very top) just waiting to make you feel and look amazing– Midnight Honey Body Buzz, I'm looking at you.
Summer Sky Organics
I had a hard time selecting just one product to focus on when I reviewed Summer Sky Organics, but I still inhale my arms every time I rub in the Mandarin Vanilla Momma Belly Oil. If you're putting together a gift for an expecting mom, a growing baby, or a grown-up who needs organic skin care in his or her life, you can't go wrong with this collection of nourishing balms, creams, and oils from organic face care to yummy soaps. The Rosehip and Argan Facial Oil is especially nice when soaking in a hot bath. Do you see a pattern here? Women need pampering!
Zoe Organics
You'll find a great range of natural skin care products on the Zoe Organics site, from belly butter to a super rich body cream, even natural insect repellent, all made with 100% organic ingredients. As for the Baby Bath Tea so what if it's officially for babies? When I look back on all the natural skin care products I've tried over the years, I still remember how sad I was when I used the last sachet of this amazing bath treat. The ingredients include calming herbs, oatmeal, and cocoa butter and rate a big fat 0 on the EWG Skin Deep Cosmetic Database. Mom or not, you can't go wrong with this line.
Tata Harper
Christina swears by this premium line of natural, luxury skin care products that one tends to find in fancy spas like Canyon Ranch. The standout in the line may be the beautifully scented Replenishing Nutrient Complex, which goes on like oil, and absorbs completely within seconds without feeling heavy or greasy. And it's reassuring to know that most of the ingredients comes from plants that creator Tata Harper herself grows on her big Vermont Farm.  You can try one of the gift sets in order to sample lots of different products; and there's also a special Better Beauty Project Earth Day Collection right now with travel sizes of four of their best-sellers. Plus 100% of the profits from it support the nonprofit Nest to help bring their edible garden/slow food initiative to India. It's a very cool story from a very cool brand. 
Blissoma
I don't want to sound like the kind of ad you never believe, but as soon as I started using the natural Facial Cleansing Bars from Blissoma, the constant acne I'd fought my entire adult life… disappeared. Ever since trying my first Blissoma sample, I've been going back to that well for new bars of this gentle, rich