Picking our favorite of all the coolest kids' music of 2011 is a little like picking among our children–so many incredible artists creating so many great albums, that even parents like them too.
Here, Christina's top ten kids' albums of 2011 based on her voting for the Fids + Kamily awards. (So in fairness, some of these came out late 2010. If you're a stickler for details.)
And three picks for singles we really love, should you be updating your MP3 playlists:
1. Mind of My Own by Frances England
Perfect lyrics that capture the spirit of newly independent toddlers.
2. Wake Up Baby! by Dan Zanes (with Shine)
One of our favorite new voices with one of the best known.
3. Baby Cloud by Caspar Babypants (featuring Rachel Loshak)
A haunting and gorgeous lullaby.
We can't recommend this music highly enough if you are looking for some new music for your collection. Happy listening! –Christina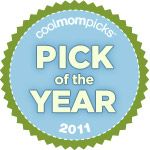 More 2011 Editors' Picks:
Editors' Picks 2011: Coolest Kids' Music
Editors' Picks 2011: Coolest Kids' Room Decor and Art
Editors' Picks 2011: Coolest Baby Clothes
Editors' Picks 2011: Coolest Kids' Furniture
Editors' Picks 2011: Coolest Baby Food, Kids' Snacks and Kids' Dishes
Editors' Picks 2011: Coolest Boys' Clothes
Editors' Picks 2011: Coolest Baby Gear
Editors' Picks 2011: Coolest Kids' Toys
Editors' Picks 2011: Coolest Kids' Books
Editors' Picks 2011: Coolest Jewelry and Handbags