We found so many cool boys' clothes this year, it may be the first year we've given boys' clothes their own category! Enjoy some of these awesome editors' picks, putting to rest the notion that only girls get the good shopping.
Red 21 Boys
Kristen: If there's a piece that juxtaposes classic lines with modern style, it's this rockin' skull jacket from Red 21 Boys (at top). I'm always impressed with the quality of their clothes, which means years not weeks of washes and wear.
Black Kite kids' shirts
Kristen: In the sea of blue and white (or some combination of the two) button-down shirts, the funky colors and patterns of the Black Kite shirts make me wish I had more reasons to dress my son up. Hmmm…maybe that's the point.
Goorin Bros hats
Liz: If you like little hats on your little man, but are yearning for something more fashion forward than a sports team or whatever came free in a fundraiser swag bag somewhere, Goorin Bros has you covered. Find everything from trucker hats to newsboys, fedoras, skull caps and beyond.
Luchadores themed line from Tea Collection
Liz: This Señor Azul tee, and others from Tea's fall/winter Mexican-inspired line, are just a perfect pop culture-meets-kids-fashion moment for me. I can't imagine any boy that wouldn't love the theatrics of it all.
Fat Tie shirts
Liz: They're shirts. Emblazoned with fat ties. Adorable.
Kermit Adidas
Kristen: I'm so ga-ga over these shoes that I wish they made them in my size. What an excellent way to show your Muppet mania. And of course, they're great for girls too.
Underdoodles
Liz: Fabulous, thick, hearty organic underwear emblazoned with cute icons, none of which have their own animated series! (And psst, they're not just for boys.)
Livie and Luca Boys Shoes
Kristen: As you moms of boys know well, it's tough to find a casual shoe that can be dressed up and down. I always find myself returning to Livie and Luca, and this year is no exception. The cool styles plus awesome details (love the mismatched numbers) put them at the top of my list.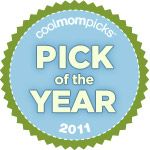 More 2011 Editors' Picks:
Editors' Picks 2011: Coolest Kids' Music
Editors' Picks 2011: Coolest Kids' Room Decor and Art
Editors' Picks 2011: Coolest Baby Clothes
Editors' Picks 2011: Coolest Kids' Furniture
Editors' Picks 2011: Coolest Baby Food, Kids' Snacks and Kids' Dishes
Editors' Picks 2011: Coolest Girls' Clothes
Editors' Picks 2011: Coolest Baby Gear
Editors' Picks 2011: Coolest Kids' Toys
Editors' Picks 2011: Coolest Kids' Books
Editors' Picks 2011: Coolest Jewelry and Handbags