Enjoy these, our Editor's top picks of 2011 for toys for babies, tots, and big kids too–all of which we think will keep kids happy for more than a few minutes. That's pretty rare these days. And not a battery compartment in sight!
Little Sapling personalized alphabet blocks
Liz: I think this is just about one of the best baby gifts or shower gifts ever (at top)–they're handmade, personalized, and they'll actually be played with. After which, you've got a lovely heirloom. You can't say that about tickle-me-anything.
Breastmilk Baby Doll
Liz + Kristen: We have to give a shout-out to the most controversial toy of the year; though it's controversial for what we think is the wrong reason. We're thrilled it's been introduced in the US so that kids can "feed their babies" the same way they see their own moms feed theirs. We just wish it cost less.
Begin Again Toys
Kristen: I just love a company that's dedicated to providing parents and their kids with safe, eco-friendly toys that don't require a slew of batteries. And surprise, they're the kind of toys that kids go back to play with over and over again.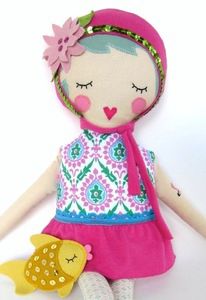 Lori Marie Dolls
Kristen: I'm so impressed with these gorgeous, completely handmade dolls. They make for a beautiful keepsake that any little girl would love to play with and then pass down to her own daughter. It's a nice change from all the plastic dollies that require burping and diaper changes–this one just runs on imagination.
Honorable Mention: Sophie Giraffe
Liz: While the beloved natural rubber teething toy from French company Vulli is not a new toy (we first featured it in our 2007 Safer Toy Guide), that's exactly why she warrants a mention–2011 marked her 50th anniversary. Happy birthday Sophie! You don't look a day over two.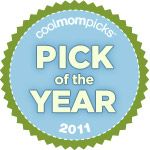 More 2011 Editors' Picks:
Editors' Picks 2011: Coolest Kids' Music
Editors' Picks 2011: Coolest Kids' Room Decor and Art
Editors' Picks 2011: Coolest Baby Clothes
Editors' Picks 2011: Coolest Kids' Furniture
Editors' Picks 2011: Coolest Baby Food, Kids' Snacks and Kids' Dishes
Editors' Picks 2011: Coolest Boys' Clothes
Editors' Picks 2011: Coolest Baby Gear
Editors' Picks 2011: Coolest Kids' Toys
Editors' Picks 2011: Coolest Kids' Books
Editors' Picks 2011: Coolest Jewelry and Handbags