We all have a certain fondness for our kids' books category. Finding wonderful books for kids is one of our favorite thing to do for all of you. Here, some of the very best books for kids that we reviewed in 2011.
Shel Silverstein: Everything On It
Liz: A posthumous book release from Shel Silverstein? Be still my Silverstein-loving heart. My kids love this one (at top) just about as much as Where the Sidewalk Ends, and that's truly saying something. Buy it for every kid you know.
The Man in the Moon by William Joyce
Kristen: In an age of digital kids books, I have to give a lot of credit to a book that can mesmerize kids as much, if not more, than an ebook. WIlliam Joyce's book is perfect for kids of all ages, even ones who might be a little big for story books, which speaks volumes about the artistry–graphics and words.
Lemony Snicket 13 words
Liz: Yes, it came out in the end of 2010 but I only discovered it this year. It's Ionesco-absurd, perfectly funny, illustrated wonderfully by Maira Kalman; and I have to love that my daughter surprised her first grade teacher by naming "despondent" as a synonym for sad thanks to the book. Still, it's more for parents who want their kids to enjoy silly books and imagination; not for a fast-track to Stanford.
A Zeal of Zebras: An Alphabet of Collective Nouns by WOOP Studios
Liz: Ever since I was a kid, I've always loved learning the proper names for groups of animals. This one takes on 26 of them beautifully. It's a spectacular alphabet book, both in look and in tone, and one your kids won't soon outgrow.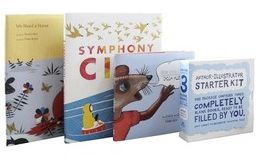 McMullen's Book Bundle
Kristen: As if I couldn't love McSweeney's any more than I already do, they've added a children's imprint, McMullen's, a including We Need a Horse, Symphony City, and a reissue of Here Comes the Cat. But maybe the best part is The Author-Illustrator Starter Kit of blank books to encourage kids to become their own authors. The perfect addition to any kid's library.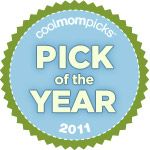 More 2011 Editors' Picks:
Editors' Picks 2011: Coolest Kids' Music
Editors' Picks 2011: Coolest Kids' Room Decor and Art
Editors' Picks 2011: Coolest Baby Clothes
Editors' Picks 2011: Coolest Kids' Furniture
Editors' Picks 2011: Coolest Baby Food, Kids' Snacks and Kids' Dishes
Editors' Picks 2011: Coolest Boys' Clothes
Editors' Picks 2011: Coolest Baby Gear
Editors' Picks 2011: Coolest Kids' Toys
Editors' Picks 2011: Coolest Kids' Books
Editors' Picks 2011: Coolest Jewelry and Handbags