Sunday night is Oscar Night! Or as so many of us think of it, Oscar party night. So I've scoured the web for some easy Oscars party tips and printables, because it's the perfect excuse to get together with friends, dish on the dresses, talk through the technical categories, and tweet your favorite snarky comments. And of course, set up your Netflix and Amazon lists for the next few months. Because like so many parents, I've only seen a couple of the movies nominated. Except the animated category, of course. We've seen all those. Twice..
Related Post: Where to to see all the 2015 Oscar best picture nominees.
Hand out an Oscars ballot, stat

This is the one time that if you're hosting friends, you should put something else in their hands before a drink of some sort. Have printable Oscar ballots ready for your guests to fill out right away. As in, before Neil Patrick Harris even takes the stage.
Also? Prizes! It can be as big as you want it, but it doesn't have to be cash. At my house, you get a piece of chocolate for every correct answer, and at the end of the night the one with the most right gets to take home the leftover wine…if there is any.
Get a Little Help With Your Oscar Predictions
If you want some tips–because, as I said, you wouldn't know Whiplash from Foxcatcher–check out the predictions from favorite critics and media pubs and see if you can gain a little last-minute insight. Of course keep in mind that no one is ever 100% right so go with your gut, then pick a few dark horses.
The New York Times, complete with an odds chart
FiveThirtyEight *Liz's favorite source for totally geeky election-style weighted results
Greet Your Guest With A-List Cocktails and Mocktails
Skip the paparazzi and hand your guests a yummy cocktail when they arrive instead, like the tasty and so-on-trend Benedict Cucumberbatch cocktail at the Evite blog. Sadly, said drink does not come with actual Benedict Cumberbatch.

The Champagne and Strawberries cocktails at Sugar and Charm is a fabulous option that can easily be made booze-free, too. Switch out the champagne for ginger ale or lemon-lime soda and now your non-drinking kids, friends, and designated drivers can feel fancy too.
When we discovered the Society Sparkler, a white peach and cardamom Bellini, from Fashionably Bombed. It sounds mouthwatering but the brilliant edible gold star rim (find it at Wilton, or similar) can make it Oscars-perfection.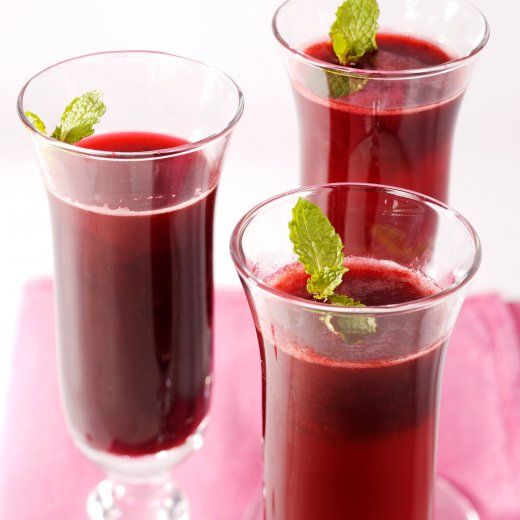 And should you be going booze-free for any reason at all, we have six yummy–even healthy–mocktail recipes to offer up some inspiration, like this super easy Cranberry Sparkler from Martha Stewart. A sprig of fresh mint and fancy glasses is all you need to look like you put in a whole lot of effort.
Related: 5 delicious champagne cocktail recipes

Play Oscars Bingo..and Beyond
One of our favorite things to do during the show is Oscars bingo, and we've scoured a lot of cards this year. Of everything we've found, I prefer the hilarious Oscar bingo card from Reddit which includes Emma Stone making a funny face, a celeb who doesn't laugh when a joke is made about them, and "Wes Anderson wears something resembling the carpets in your childhood home."
However the printable Oscars bingo card from Everyday Dishes (above) wins for most stylish, if the categories are a little more expected. (A celeb trips or falls; forgets "who" they are wearing). It definitely helps keep the interest up through the whole show. We play for bragging rights, but a few small prizes could make it even more fun. Like a date with Bradley Cooper. Oh wait, that's not small at all.

If the Oscars are your thing—as in, you've hired all-day sitters and your friends are coming over to watch every minute, from the red carpet to the final credits—then skip Bingo and  try this Fantasy Oscars Draft we found at Formal Fringe. It's a nod to fantasy sports leagues with a movie-star twist, for those of you who have all day to obsess. Maybe get someone who isn't planning the party to coordinate this part?
Start Oscars Night with Festive Appetizers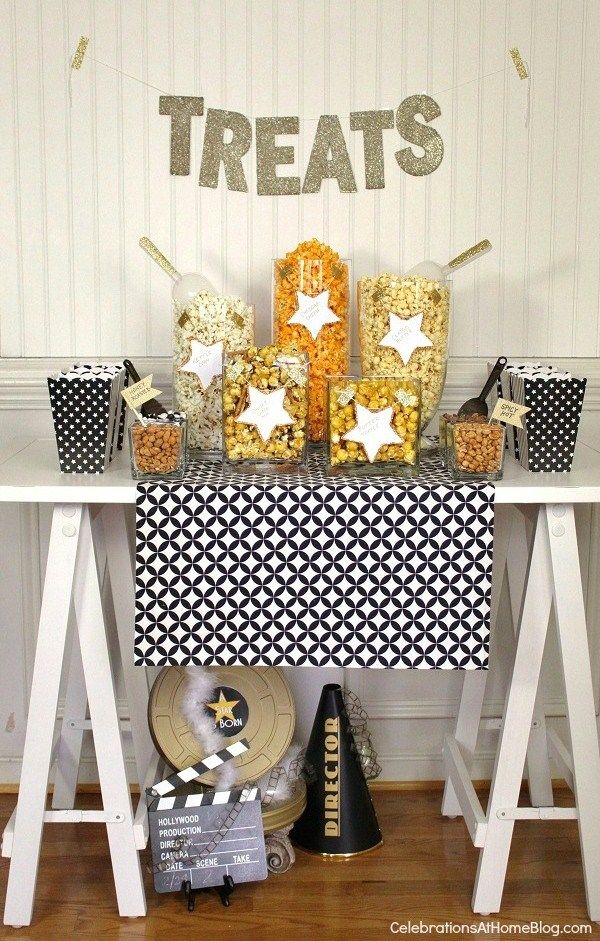 As with any party, you want munchies out as soon as your guests enter the room. This popcorn bar we found from Celebrations at Home is one of our favorites because it's so easy to set up. We've got 7 outrageous popcorn recipes that you can serve, like Toasted Coconut Kettle Corn from Aida Mollencamp, above.
If you're time-crunched or going simpler, you can pop plain popcorn and serve separate toppings in bowls, like homemade blends of popcorn spices, chocolate chips, M&Ms, nuts, or dried fruits. Yum.
If you're putting out crowd-pleasing chips and dips, don't forget the guac! It's so so easy to make–at its most basic, just mash some avocados, squeeze in some lemon juice and add salt and maybe some red onions and cilantro. For more ideas, we've got 5 terrific guacamole recipes for you to peruse, including a very easy, cheesy guac recipe from What's Gabby Cooking. Make more than you think you need, trust us.
Also be sure to include some protein-rich munchies to keep energy up; you don't want your guests to bail on you before the first wardrobe malfunction of the night, right? We've got lots of tips for making a cheese plate with regular supermarket ingredients. (This image, via Buzzfeed) Don't skip on the cured meats and yummy salamis.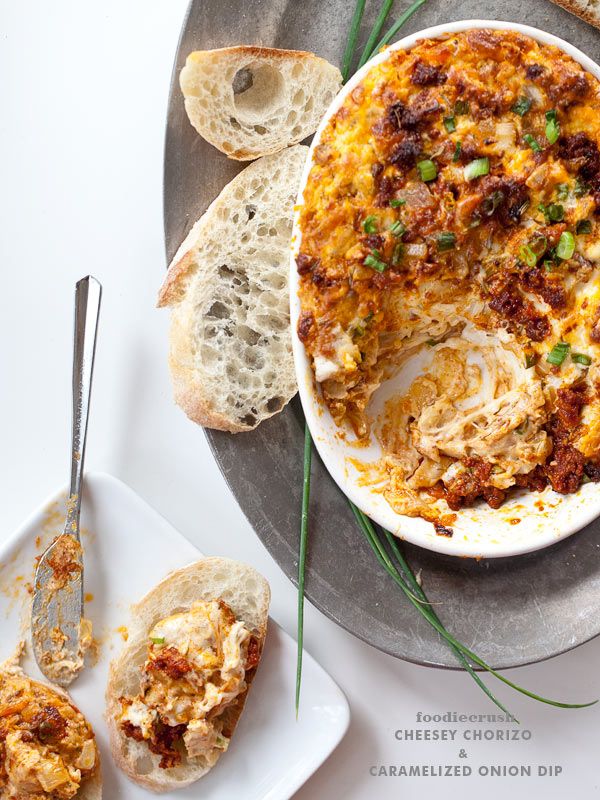 Or put in a little more effort with this delicious Cheesy Chorizo and Caramelized Onion Dip by Foodie Crush. It's the protein boost you need to make it to the end, especially for those of us on the East Coast who have to stay up sooo late.
Don't Forget the Kids!

Sure, maybe the kids aren't making it up much past the first few awards if you're on the east coast. But it is possible to keep the kids entertained and include them, without splurging on a sitter. These tuxedo hot dogs are such a fun Oscars-themed kid meal. (I promise you don't need a course in Origami to complete them.) And of course, let them all vote for Best Animated Film, even if they can't stay up late enough to see the live results.
 Related: 7 fantastic appetizers for adults that kids will totally love too.
Serve Sweets When a Sugar Rush is Required
Wondering when to pull out the sweets? We're thinking about 90 minutes to two hours in, when the drinking slows down and the show can get a little slow at times. Sugar time!
Now I must say, I'm rolling my eyes at some of the "quick and easy" recipes I've seen for Oscar parties—you'd miss the whole show trying to get these ready. So keep the sweet treats simple. Like jelly beans in a bowl. (Ha.) For something a little more impressive, I like this pretty scoop of ice cream with gold stars from Not Martha. There are always the finger food options, like these indoor s'mores from Style Me Pretty. Or try he decadent cookie butter popcorn recipe from I Heart Naptime which…whoa.
You can also serve favorite a homemade hot chocolate recipe. Or bonus points for setting up a coffee bar with gourmet coffee drinks if you want your guests to stick around for the big awards at the end.
Remember the year of interpretive modern dance numbers from each Oscar winning song? Or did you sleep through that one too?
Happy Oscar watching everyone!