Thanks to a Disney-fanatic grandmother, we've just returned from our fourth trip to Disney World since my kids were born. And yes, I know we are lucky! However while it is indeed a magical place, there are definitely some challenges if you're thinking about taking a Disney World vacation with a baby. There isn't much time to relax and recharge your batteries in the parks, and there are a lot of long days and complaints about tired feet. But with the right planning, I've found it can still be a whole lot of fun.
I've now taken two Disney World trips with babies and researched tons of tips to make it easier. (Especially for saving money, because it's not cheap, yo!)  Liz's common sense tips for Disney World and Kristen's post on tips for taking kids to Disneyland are both full of great ideas to make your vacation fantastic, but I wanted to share my own simple tips to make a trip to Disney World with a child under two so great, you might even want to do it again.
The trip, that is. Having another baby is totally your call.
1. Find the right room for your family
While you might spend a lot of time at your hotel, you are probably not going to spend a lot of time in your hotel room, unless you are resolutely dedicated to letting your baby nap in the room every day. I've found that we're mostly in our rooms for a quick change into our swimsuits and later to collapse into our beds at night. So, think about what you'll really need in your room before you splurge on a suite with a full kitchen.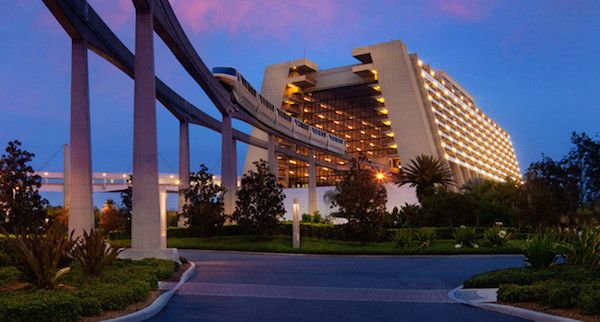 On-site accommodations

There are definitely lots of perks of staying on property–from great nighttime views of the fireworks to the ability to reserve your dining options earlier than everyone else. And best of all, you can get to the parks quickly with a baby. Especially if you stay on the monorail. That means, the Contemporary, The Polynesian, or Disney's Grand Floridian resort. These are by far the most convenient option if you have a baby who will need to nap, but of course, not the budget options.
You may also be considering the Animal Kingdom Lodge, where little ones will be fascinated by giraffes and zebras that wander outside your balcony, but know that you have to travel everywhere else in the resort by bus, which takes longer and is harder with a baby — and all the gear that goes along with said baby
If your wallet is feeling the strain, you can find rooms that start around $100 at the Pop Century or Art of Animation resorts. They still have incredible pools and fun activities, with transportation to the parks.
And no need to bring a pack-and-play from home–any room will be equipped with one.
Off-site accommodations
Booking rental houses in Kissimmee through sites like VRBO or HomeAway is a great option too, and it can be a really affordable way to visit Disney World, especially if you're splitting the cost with extended family or friends. Before you commit with a credit card, ask for the house's address and Google the directions to the park to make sure you're comfortable with the drive. Some are just minutes away; others, not so much.
Just know that this really does make the trip more challenging with a baby. I strongly vote for on-premise accommodations especially for a shorter trip, if you can find great deals that fit your budget.
Related: How to find a great rental house when your family has outgrown a hotel room
2. You don't have to stay at the parks all day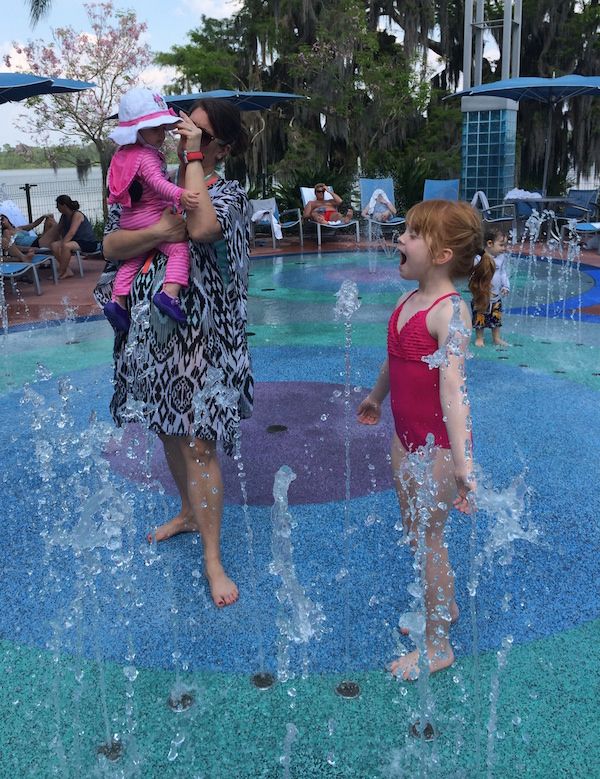 Since you've spent a fortune getting to Orlando, you might be tempted to spend as much time as possible in the parks to get your money's worth with those tickets. But Disney resorts are incredible, so look at them as an important part of your trip. In other words, no need to feel guilty for heading back to your hotel early.
Play Fantasia mini golf — seven years later, my kids still talk about this. Hang out at one of the splash-and-play pool areas for babies; Disney's lifeguards are on-top-of-it good (as my preschooler can tell you–oof!). Catch one of the movie screenings or campfires at night. Then there's my favorite activity: watching the Electrical Water Pageant or the parks' fireworks display from your room, if you have a view.  This lets you get that amazing experience without fighting the massive crowds — and potentially while your baby is sound asleep right near you.
3. Plan your days well
There is so, so, so much to do at Disney World that you are guaranteed to get to the end of your trip and realize you didn't get to half of your wish-list. Even so, I try! So I like to set up a loose schedule for us to follow to make sure we will hit all our favorite destinations.
If you're staying at a Disney resort, the first thing to do when you're planning your trip is check the Magic Hours schedule. You can find it on the the My Disney Experience app (iOS and Android). Different parks will open one hour early and close one hour late each day for resort guests only, giving you a less-crowded hour in the parks.
Since babies wake up crazy early anyway, definitely make the most of this. In fact, you should be taking advantage of this even if you're not with a baby! You'll get through lines faster before the huge crowds arrive, get plenty done in the morning, and then you'll be ready to take a break mid-day.
(Hint: I like to compare the app to Undercover Tourist's crowd calendar. Magic Hours + a low-crowd day is the jackpot. Be sure to download both apps)
Related: 10 of the world's most simple tips to enjoying a Disney vacation with kids.
Once you know which park you're going to each day, schedule your FastPass+ rides. You get 3 FastPass+ passes each day, and you have to use them all in the same park — a rule we really wish they'd change. Think about your nap times and mealtimes when you schedule these. You only get a one-hour window to use your pass, and you'd hate to lose your long-awaited time slot for Pirates of the Caribbean because you're doing a feeding.
I also suggest you try and see the parks section by section when you've got young kids in tow, instead of hitting the "big rides" first. However if you are with kids who are old enough to know what they want to do, tell them which area you're hitting first, and let them each pick a ride (or two) in that section. See it all, then move on. That way you're not riding Splash Mountain (in Adventureland) and then Peter Pan (in Fantasyland) then Buzz Lightyear's Space Ranger Spin (in Tomorrowland) and back to Pirates of the Caribbean (in Adventureland).
Make it easy on yourself, parents. This is a marathon, not a sprint!
4. Now be willing to throw your plans all out the window.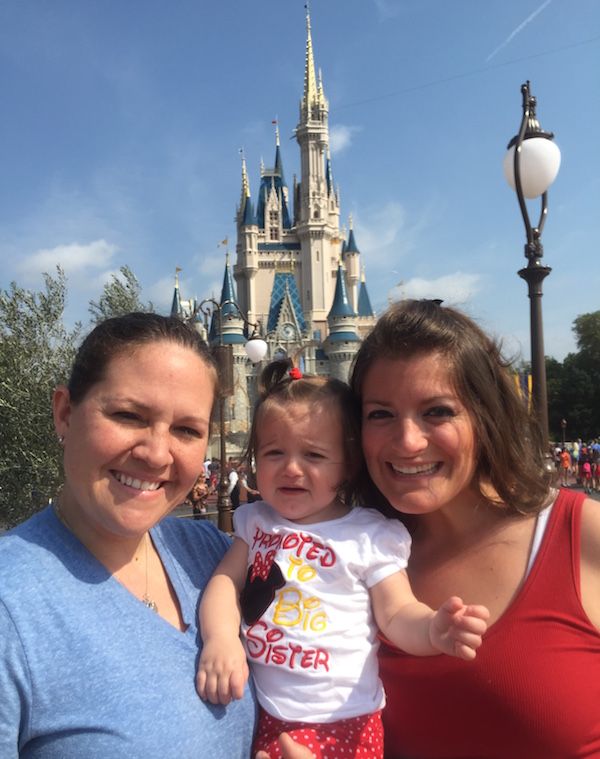 All this said, remember that even the best-laid plans don't seem to stick very well at Disney, so be prepared to be flexible. Nap time might need to come early or late — or in the stroller instead of your room. Feedings might not happen every three hours exactly. That picture of the kids you want in front of Cinderella's castle for your Christmas card? You may have to try again tomorrow. Or accept the tears.
If you're willing to let go of the schedule and go with the flow, you'll be a lot happier. And so will your baby. Which is key.
5. Use the rider switch option.
If you're traveling with other adults or older kids who want to enjoy the thrill rides your baby can't ride, like the new Seven Dwarfs Mine Train (it's so fun!), use the rider switch option at Disney. This is seriously a lifesaver.
The ride attendant will send the waiting parent and baby to the FastPass+ line while the rest of your group rides. When they're through, you can hand off your baby to the other adult in your group who just rode, and now you can take turn with up to two other people. This also works with older kids who get scared mid-line and want to sit out Space Mountain after all.
I understand that there's a similar option at Universal Orlando, which by most accounts is more flexible in terms of allowing you to ride with your whole group. But even so, it's nice that Disney offers this as a time-saving way to let everybody get a turn (or two) together.
6. Visit the playgrounds. They're amazing.
There's only so much "stay close and hold my hand" a kid can take, and your baby won't be happy in a stroller all day. So let them have some time to crawl. My family's favorite spot is The Boneyard at Animal Kingdom, for toddler-sized slides and a huge digging area. Tom Sawyer's Island at Magic Kingdom is also a nice change of pace for a squirmy, restless baby. Or, just let them crawl and watch the ducks on one of the new grassy areas around Cinderella's castle. So easy.
We've seen parents rush their kids out of the playgrounds because they feel like kids can "go on slides at home." But remember, a Disney Vacation is about about making memories with your family. Sometimes that means doing the things that are exciting for your kids, whatever they may be.
7. Think twice before you buy the dining plan.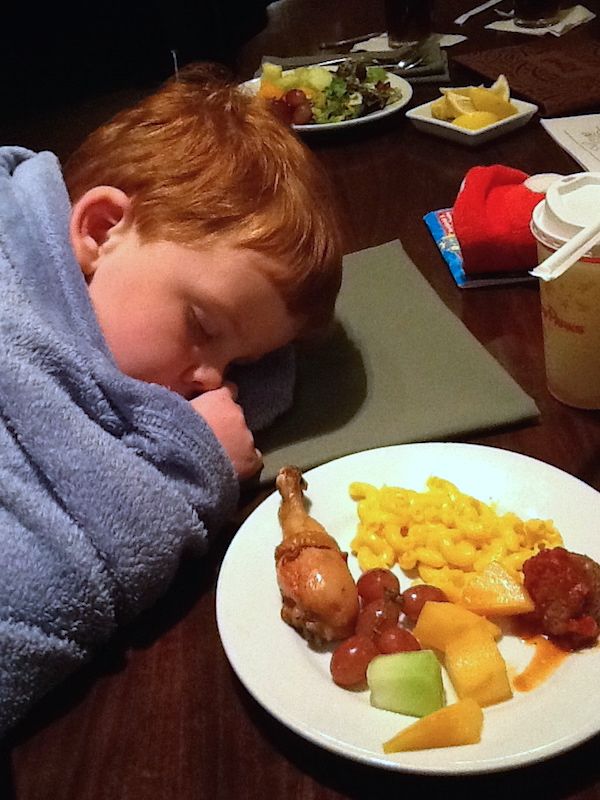 Disney meal plan: Money well spent? 
The regular Disney dining plan includes one sit-down meal per day, and those meals typically last at least 90 minutes. That's not so great for young kids. In fact, on our last trip, someone left our table early with a fussy baby at every meal.
Family style meals, like the one at Liberty Tree Tavern at Magic Kingdom, or character buffet meals, like Tusker House at Animal Kingdom and Crystal Palace at Magic Kingdom, will get you through quickly, and the characters keep your kids happy while you wait.
Unless, of course, your kids are terrified of them.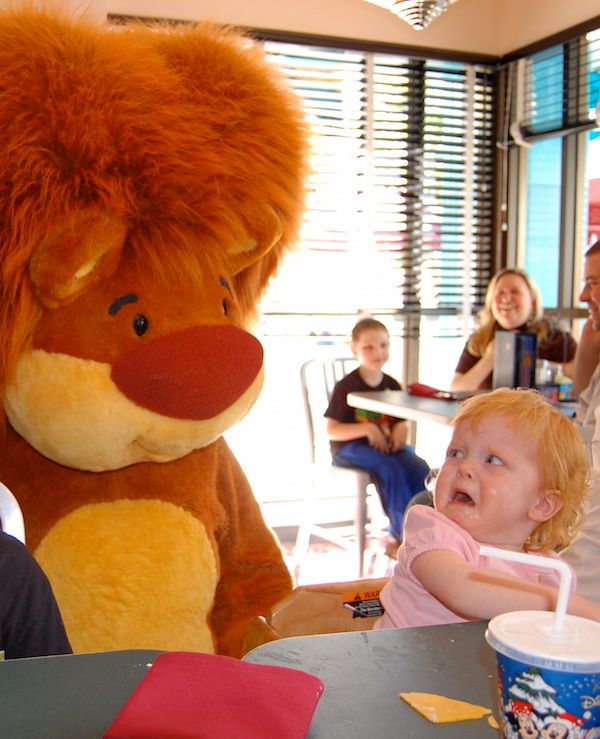 A joyous photo opp with my daughter
How well did your child do meeting Santa or the Easter Bunny this year? That can be a pretty good litmus test as to whether or not they'll like the characters at the park.
If you decide to pay for the meal plan, book your reservations early–especially for the fancier sit-down meals, like Be Our Guest Restaurant or Chefs de France, and of course, for the character meals. It is so sad to watch parents begging the hostess for a table in Cinderella's Royal Castle to meet the princesses, when you know it's just never going to happen.
Huge tip: Disney allows you to book dining reservations 180 days in advance. Another perk for those staying on property is that you can actually book your dining for your whole trip 180 days before the first day of your trip, giving you a couple days advantage on the best times over the non-resort-staying guests.
Don't wait on this. Especially during peak travel times, those reservations book up fast.
8. Pack what you need for the parks, and nothing more.
With babies, the rule tends to be pack more than you need, but I'd say pack as light as you can while you're in the parks because hauling stuff around gets old, fast. Even if you're pushing a stroller. If you're a formula feeder, pre-fill your bottles with formula before you leave, but skip the water or they get too heavy. Besides, you can get free cups of water from any vending station that sells soda.
Otherwise, pack enough diapers for the day, wipes (a travel pack, not an entire box), an easy lightweight change of clothes like a onesie, a hat, some sunscreen — you know, the basics.
And if you forget anything, don't panic. The Baby Care Centers in all four parks have all the first aid, feeding, and diapering supplies you could want, plus changing tables, high chairs, TVs, and room to play. This is also where they take lost kids, but we hope you don't have to use it for that.
9. Bring a filtered water bottle.
I know this is super specific, but I highly recommend a Brita filtered bottle or a similar bottle if you have a favorite. They're lightweight, they're perfect for you and the kids, and when you're traveling with a baby, especially if you're mixing formula, it beats spending a lot on bottled water.
10. Take a stroller and a baby carrier.
When you're on a Disney vacation with a baby, you want a lightweight stroller with plenty of storage space for those long days in the park. I prefer a deluxe umbrella stroller that folds up really small on a bus or crowded monorail. But pack a baby carrier too. Strollers are not allowed in the lines for rides, and I've found that my babies get really frustrated with all the in-and-out.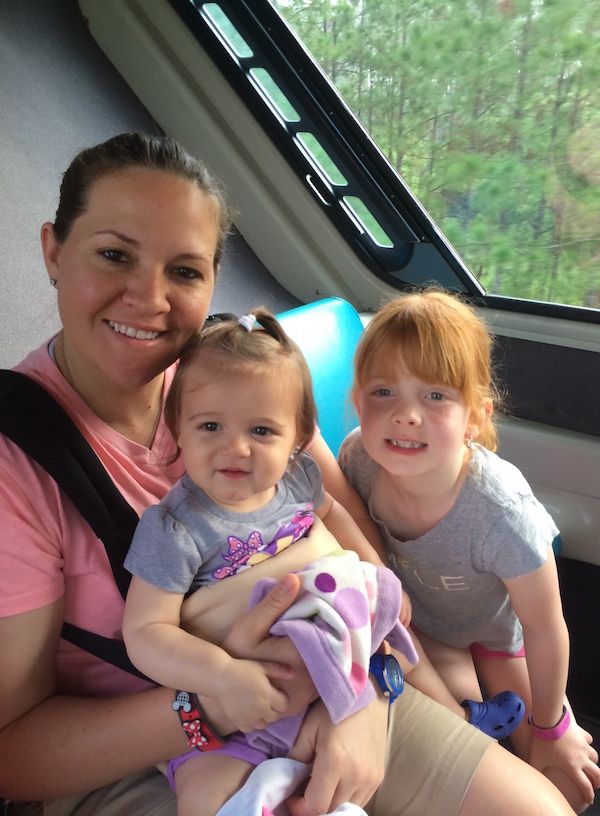 We've been happiest when we get to a particular area, park the stroller once, then use the carrier to go from ride to ride. I always feel more comfortable with my babies strapped to me on the rides anyway, you know, so they don't wriggle out of my arms and land in Peter Pan's mermaid lagoon.
Plus the buses and monorail at Disney World do not have car seats for babies. While it's no five-point harness, using my baby carrier when we were in transit felt just a little bit safer than having them loose in my lap.
And yes, you can rent a stroller in the park, but I prefer to bring my own–especially with a baby. Disney's strollers are really big (i.e., hard to get through the crowds), made of molded plastic that won't lay back for nap time, and are harder to pick out of the crowd when they're in the stroller park areas. You know, since they are all the same. Also, you have to turn the rented strollers in at the front gate, and I've found the time I need the stroller most is that last leg between the park and the hotel.
If you are flying and don't want to bring your stroller on the plane, check out a stroller rental company like Orlando Stroller Rentals that will deliver a favorite brand to your hotel room.
11. Schedule an adults-only night
Nothing refreshes a tired parent like a night out without the kids. If you don't have the luxury of traveling with sitters, consider booking a babysitter through Disney for a night. It's not cheap, with a 4-hour minimum plus an extra $2 per hour after 9 PM, but it's a trustworthy service with background-checked employees. They're pretty amazing too, trained to play games and do crafts with your older kids, not just sit them in front of the TV.
If you could really use an extra set of hands at the park and you're not on a budget, you can even hire a sitter to accompany you during the day.
Then, choose one of the awesome restaurants at the park — Liz absolutely raves about Jiko at the Animal Kingdom Lodge — or something in your own hotel if you don't want to stray too far. Sometimes an adult beverage, or just a few hours during which you're not cutting someone else's food, can be just what's needed to recharge you during a long, crowd-filled, kid-filled week.
12. Hand sanitizer. Hand sanitizer. Hand sanitizer.
The last thing you want on a huge family vacation is someone getting sick. Trust me, a theme park with a stomach bug is no fun.
13. Schedule a babysitter when you get back.
Whether or not you were able to get an adult night into your vacation, go ahead and build a mani/pedi or massage into your vacation budget for a day or two after you get home. You know, the old "vacation from your vacation" thing.
Knowing I'd have a day or even a few hours to myself when we woke up the next morning after arriving home is what kept me (somewhat) composed when our 10-hour drive home turned into a 14-hour one. After that, I was more ready to download all my photos, share favorites with family, and start reliving the most magical days of our Disney vacation — and maybe even thinking about when we could plan the next one.
What tips do you Disney-pro moms have? Leave them in our comments. We'd love to hear them!
[all photos © Kate Etue for Cool Mom Picks, all rights reserved; please do not reproduce without permission]