When you've got a little one, you probably know that means you have a whooooole lot of preschooler birthday party gifts to look for over the course of the year. One gift for each party for each kid in your child's preschool class? Yeouch. That's a whole lot of gifts. And it definitely adds up.
While every family has a different birthday party gift budget, it can be tough finding ones that cost in the $15 range or less. So we did the work for you!
We all put our heads together around here and came up with a great list of preschool birthday party gifts for under $15 — ones that won't look like you cheaped out. In fact, we think they're all pretty cool at any price. Plus, they're fun enough that they'll make any birthday boy or girl very happy. So go ahead and stock up on a bunch now. Odds are, you'll be restocking before the year is through.
CMP is an Amazon and rstyle affiliate
Related: The Ultimate Birthday Party Gift Guide:
The best gifts recommendations for kids by age
1. Tegu magnetic wooden block set ($12.99)
My kids love Tegu blocks because the hidden magnets make it so much easier for their masterpieces to stay together. There are huge expensive kits you can buy, but for a preschool party birthday party gift, we recommend introducing someone to these cool toys with a small starter set like Robo. This little collection of 8 blocks can build horses, spaceships, and anything else a child can imagine. And should they already own some, they work seamlessly together.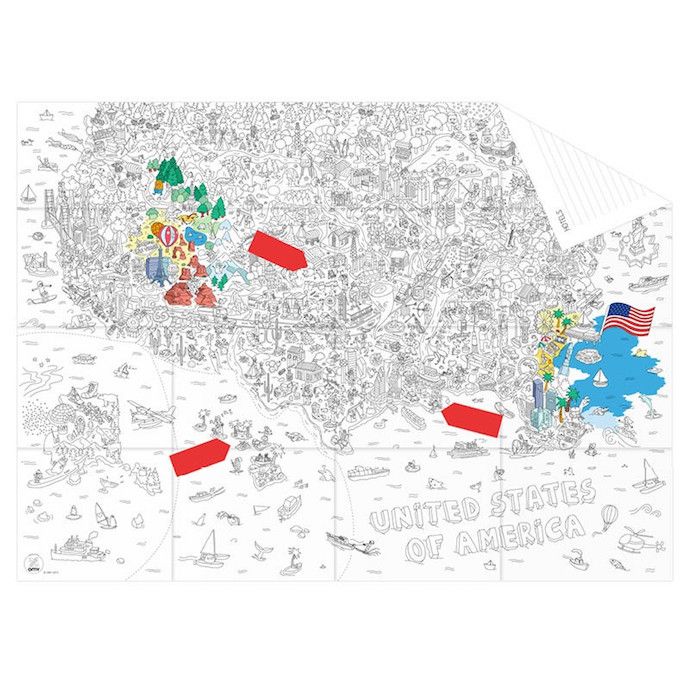 2. My USA coloring pocket map by OMY (about $12; ships from Canada or find other options on Amazon)
If you know a preschooler who likes to color, blow their mind with this coloring map by French company OMY, makers of our favorite giant coloring posters. The whole family can get involved in coloring this one (if the birthday kid will share, that is). Plus, it comes with stickers which just make it that much more fun. Throw in a box of 15 Crayola Washable Crayons ($3.49) for good measure, because what kid doesn't get excited about a brand new set of sharp, beautiful crayons with all the paper labels still on?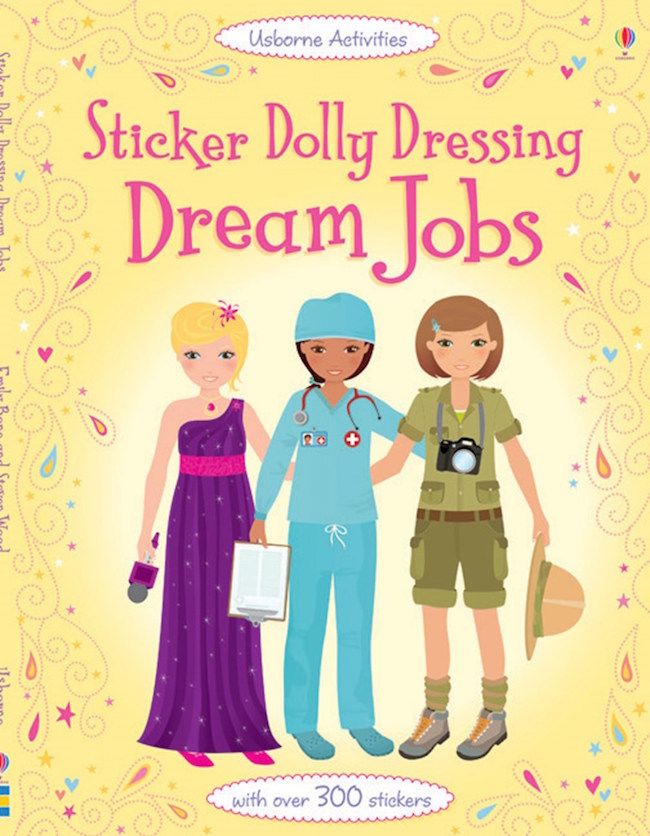 3. Sticker Dolly Dressing Dream Jobs ($8.90)
Our editorial team is unanimous about this preschool party birthday gift idea: all of our kids at some point have become obsessed with the Usborne Sticker Dolly Dressing books. Truly, obsessed. There are a few million of them to choose from — everything from princesses and knights to Greek myths. Our girls though, want to put in a thumbs up for this Dream Jobs sticker book. With over 20 pages and 300 stickers to dress up these three friends, it will keep a kid entertained for hours on end.
4. Grow-a-Maze kit ($7.34)
We love gifts that last our kids past that first time they take it out of the box, and one of the cool science kits from Green Science are perfect. They are inexpensive, educational, and exciting — a perfect trifecta. One favorite for this age group is this Grow-a-Maze kit, which shows kids how plants will bend and move toward light. I can see even my 11-year-old checking in on this one daily to see if the plant makes it through the maze.
Related: Unique gifts for creative kids that you haven't seen before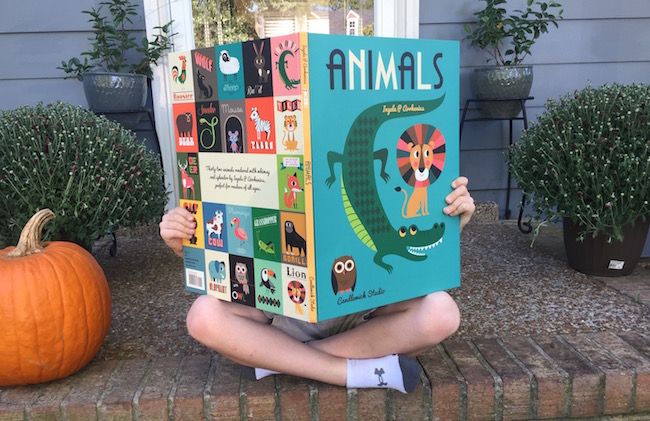 5. Animals by Ingela P. Arrhenius ($14.02)
Of course, some of our favorite gifts are always books. If you're looking for a serious wow factor, wrap up the newest book from terrific author and illustrator, Ingela P. Arrhenius. It's a huge, oversized book full of her iconic mid-century modern interpretations of animals. We would even pull some pages out of the book to frame them for our kids' walls; they're that gorgeous.
6. Shwings shoe wings ($8–14.95)
Everyone brings toys to a birthday party, so when our kids have gotten unique non-toy birthday gifts, those really tend to stand out. Shwings are certainly going to do just that. This is a "stop the party right now and put these on my shoes" kind of gift, whether you opt for something edgy or something sweet, and everyone will be asking where you got them. (Psst… you can find the My Little Pony Shwings shown here at Amazon.)
7. My Mini Masterpiece Kit from Seedling ($8.99)
We've never met a kid who had enough crafts for rainy days, and Seedling has a great selection at all prices, including this charming little set. It includes the most adorable wooden easel, a small canvas, acrylic paints and a paintbrush. Fabulous! Also check out the Pirate Peg People kit, the Paint Your Own Slide Whistle kit (sorry parents!), and the Color Your Own Kokeshi Doll kit, all of which are smart preschool birthday party gift ideas under $15.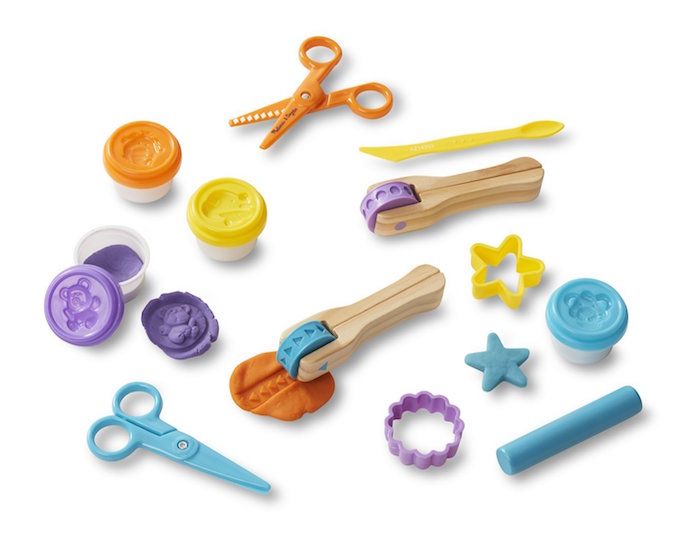 8. Cut, Sculpt and Roll play dough tool set ($11.99)
My kids were always losing the tools to their play dough sets, so this inexpensive collection of wooden sculpting and stamping tools by Melissa & Doug would have been much appreciated.
Related: The coolest preschool toys for pretend play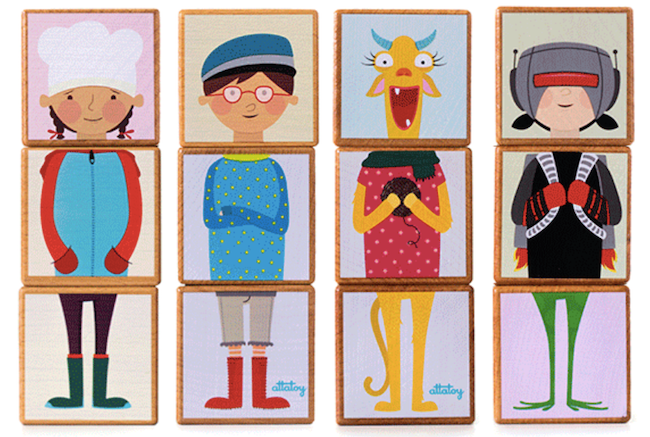 9. Olliblocks print-and-assemble block sets ($12)
We've been huge fans of these mix and match block sets from Caravan Shoppe for a long time since, they are such a fun, creative way for kids to play. While we love the original set, and the funny Ollibot robots, we may be tempted to give the new Merfolk set a twirl ourselves. Note: Olliblocks are a DIY gift. You buy the PDF of the artwork, Mod Podge it onto some simple wooden blocks, and repeat as many times as you like so it does require a little work on your part, but the result is totally worth it.
10. PALS socks ($9)
I have to admit, I was a little surprised when my kids started requesting socks as a birthday present. What used to be a joke when I was a kid, has now turned into the coolest preschool gift since socks have gotten so trendy again. I adore the mismatched socks sets from PALS which feature fun and quirky character pairs like a cat and dog or a unicorn and dragon, and are perfect for keeping your toes warm and silly on a cool morning. (Tip: splurge for one of the multi-set packs which are 3 for $22.50 on Amazon. Then separate them out so you have extra preschool gifts for future parties.)
11. Kids Made Modern coloring pencils ($7.99) and a free printable coloring book
A box of sharp new colored pencils is always awesome, and no kid can have too many art supplies, right? Pair this beautiful set of colored pencils from Target with a collection of free printable coloring pages around a theme the birthday kid loves — Star Wars, mandalas and animals, Halloween, summer fun, Olympic athletes — you name it.
Related: 22 cool kids gifts under $15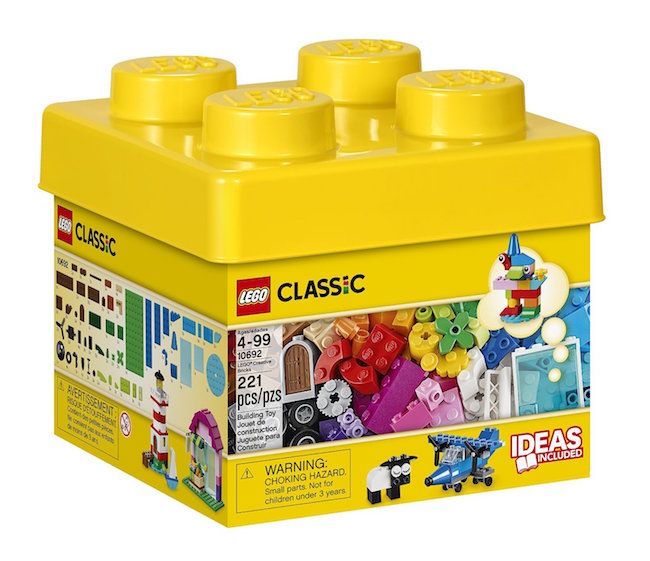 12. Classic LEGO set ($11.99)
Of course, no kids' birthday party is complete without at least one gift of LEGO bricks, right? The end of preschool is the perfect age to start switching kids from Duplos to the bigger kid LEGO sets (with some supervision, of course). This 221-piece is on sale at Amazon right now, for an incredible price. Especially considering it comes in its own storage box. (Their parents will thank you.)
13. Dylan's Candy Bar Personalized Giant Lollipops ($5 each)
If my kids received a huge personalized lollipop from Dylan's Candy Bar, their eyes would pop right out of their heads. Not only because the only lollipops they tend to get are the cheap ones from the bank teller, but because this one is so cool and colorful and has their name written write on the package — or even a photo of them — when you customize it. Which means, of course, that they don't have to share.
14. Pokémon backpack ($15.49)
In my experience, little kids love to be "responsible" for their own stuff. And that means carrying it all in their own backpack. We included this classic Pikachu backpack from Target in this year's Back to School guide to best preschool backpacks because it's small enough for little ones to wear comfortably, but is still so hip. This will be a winning gift. Because, Pokémon.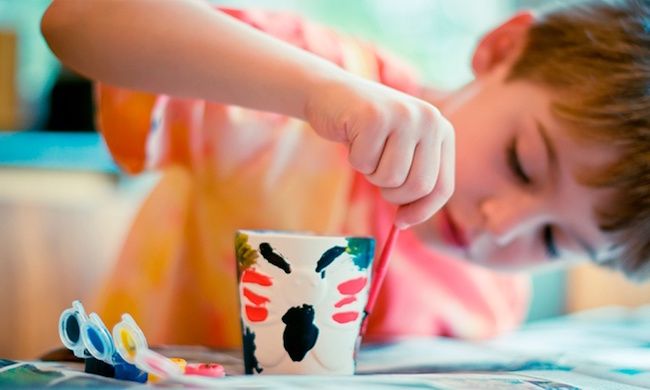 15. Gift certificate to a favorite local activity or attraction (priceless!)
As a parent of preschoolers, a gift I've appreciated more than many others is a gift certificate to whatever local attraction the kids are all begging to go to these days. It may be a trampoline park, the zoo, or a paint-your-own pottery studio. Planning a fun day together is a treat everyone can look forward to long after the party has ended. (Photo via Groupon)