As a newly adoptive parent, I've received a lot of generous adoption gifts from friends and family that celebrate our daughter's culture and heritage, and speak volumes about the fact that she came into our family in a way very different from our other three children.
Of course, like any new parent, an adoptive parent would welcome home cooked meals, gift cards, boxes of diapers. But if you're looking to give a more meaningful or sentimental gift, I've pulled together 10 of the best adoption gifts that I would love to have received myself.
Each one of these is sure to get a very grateful Awww…
CMP is an rstyle affiliate
Related: The personalized baby gifts for kids whose names will never be on a gift shop keychain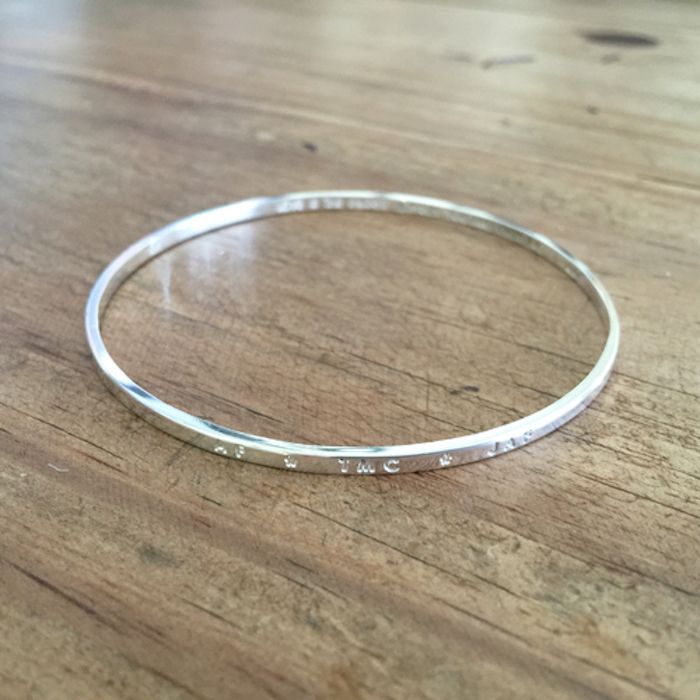 A bracelet embossed with the child's adoption date
The adoption journey can be a difficult emotional rollercoaster, with many families waiting years before they get to bring their babies home. This personalized silver mom bracelet from one of our favorites, Julian and Co., is a special way to commemorate those years of waiting. Stamp the adopted child's birthday, gotcha day, match day — or all three — on this band and you've got one of the best adoption gifts that will be treasured for years.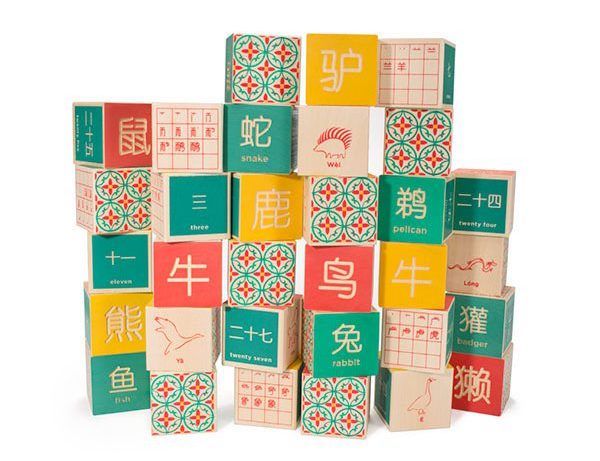 Blocks in the child's native language
We've recommended the wooden blocks from Uncle Goose for years, and this gorgeous set of Chinese blocks (or Korean, shown at top) is stunning. Any set in the child's native language is a thoughtful, sentimental adoption gift that any child can actually play with and appreciate for years to come.

Plant a tree in the child's name, so they can put down roots
No matter where an adoptive child has come from, they'll be making major adjustments as they settle into their new environment. One of my picks for best adoption gifts: Giving a tree to plant that honors the beauty of the process of putting down new roots. I'm impressed with the beautiful gift packaging of the trees I found at Seeds of Life.
Just offer to help the new parents plant it too, because that may be the last thing they want to do after sleepless nights with a new child at home. But the joy of watching it grow as the child grows? That will make it all worth it.
Related: A new board book celebrating all kinds of babies and all kinds of families
An art print that celebrates the child's heritage
For internationally adopted kids, an art print that pays homage to their native country is a great gift to hang on the wall of a nursery or child's room. I love this Haitian quote poster at Raw Art Letterpress that tells kids they can do anything. Whether it's through imagery, typography, or a special custom message in a foreign-born child's native language, there are so many ways to honor a baby's heritage through art making this a fabulous adoption gift for someone you love.
A cute t-shirt set to celebrate the new relationship
I love these Mama and Baby matching tees at Etsy shop The Oyster's Pearl, for any new mother and her baby. But don't worry, it's not just for adoptive moms! The line includes Papa Bear, Little Bear, Brother Bear, and Sister Bear too, which makes this a beautiful adoption gift for the whole family.
Also I know quite a few adoptive parents whose children are a different race, making this a subtle way for them to avoid the awkward, sometimes awful questions ("Are you the nanny?") they may get from strangers.
A baby book that's written just for adopted children
I looked long and hard to find the right baby book for my daughter, and I ended up with the one Cool Mom Picks recommended so long ago: No one has yet made a better adoptive baby book than My Family, My Journey Memory Book by Zoe Francesca, at least that I can find. Details like "your first year with us" (rather than just "your first year") and sections for notes about the people who helped you find your child make this one of the very best adoption gifts I can think of, because traditional baby books sometimes include irrelevant pages dedicated to categories like "pictures of mommy's pregnant belly."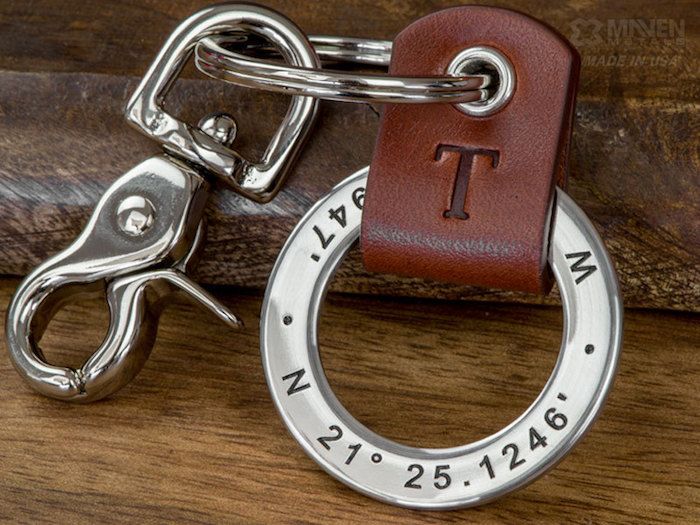 A keychain with the child's birth coordinates on it
I love the idea of gifting a new dad with a personalized keychain embossed with the coordinates of the hospital where his child was born or the courthouse where the adoption was finalized. Sweet, special, and totally stylish at the same time.
Related: 20 wonderfully creative, personalized Mother's Day gifts for a mom who's like no other
A personalized blanket that helps another family adopt too
The personalized notes you can add to the tag on a Swell Forever baby blanket make it perfect for adoptive parents who might prefer to commemorate their child's homecoming day instead of their birthday. This particular one is an extra-thoughtful gift, because some of the proceeds of each purchase go toward helping another family offset the cost of their adoption fees.
A necklace that symbolizes adoption
A special piece of keepsake jewelry that adoptive parents can always have close while they're waiting to meet their child for the first time is a surprisingly meaningful and comforting gift, as I can tell you first-hand.
If you're adopting overseas, a necklace with the child's name written in their native language is a sentimental gift that isn't syrupy sweet and Etsy has plenty of options. But for something a little off the beaten path, I really love the subtle adoption necklace from Dear Mushka.
The triangle in the design represents the connection between the birth mom, adoptive mom, and child; the heart is symbolic of the love they share. Gah, look at me getting all weepy again.

A meaningful family portrait: Illustrated or photographed
We're huge fans of custom illustrated family portraits around here, especially for new parents with a brand new, bigger family, making them definitely one of the best, coolest adoption gifts you can give. Plus, they can be surprisingly affordable!
For parents who already have a photo of the child they're adopting, provide a copy to one of the amazing artists we've recommended — we adore UK artist Blanka Biernat, shown here — and have the illustrator create some fabulous, original art depicting the brand new family, just waiting for the parents when they first return home. Aw, man.
Related: 8 awesome inspirational prints for little boys who could use some empowerment too.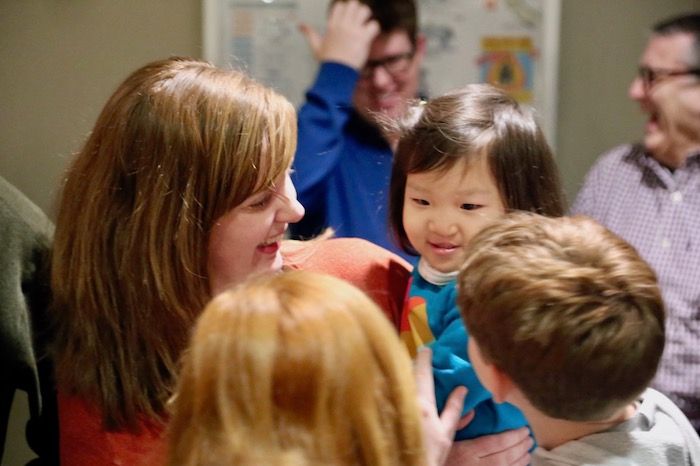 Of course  you can always hire a photographer for a portrait session after the family arrives home. But for something more special, why not a photographer for the big arrival day?
One of my friends showed up at the airport with her camera in hand to candidly capture the very moment our kids met their new sister for the very first time. It's a priceless gift I'm most thankful for.