It's time to decorate those pumpkins, parents! And it's always fun to look around for some of the cute, creative pumpkin decorating ideas. Especially for those of us with little kids who aren't quite into the super creepy pumpkin vomiting guts thing just yet.
So while some of these pumpkin decorating ideas — okay, most of these — are beyond my own crafting 101-level skills, wow, are they impressive. And hey, maybe they'll inspire you to do more than just get out a Sharpie and start drawing.
Related Posts:
16 seriously creative no-carve pumpkin ideas
12 fantastic no-carve pumpkin ideas you can pull off at the last minute
The cutest unicorn pumpkin tutorials around the web
6 super cool ways to decorate a pumpkin with black Sharpies
29 cool Star Wars pumpkin decorating ideas
I love the simplicity and creativity of this cute Good Witch pumpkin decorating idea at The Craft Patch. Such a sweet alternative for kids who might be scared by more "realistic" witches. However, it does require an expensive paper-cutting craft machine. I may just use this as inspiration, then buy a cute witch hat and some flowers from the craft store instead.
These Glow in the Dark sugar skull pumpkins at Color Made Happy are inspired by Dia de los Muertes. I think they're particularly fantastic, because they look totally different from day to night. Simple supplies make this easy enough for your preschool kids to help you decorate, even if you're just letting them get creative with their own little-kid designs.
This cute unicorn pumpkin decorating idea via Confettidea is still one of our favorite decorating tutorials since we shared it two years ago. And our kids haven't outgrown unicorns just yet! They're easier to pull off than you might expect — but be sure you don't miss her tips for getting those horns shiny gold. So smart.
If you haven't quite said goodbye to summer yet, this creative. truly cute Ice Cream Cone pumpkin decorating idea at Frugal Coupon Living is for you. If you're planning to make this one with your young kids, I'd plan on getting the different pieces put together first then bringing them in to help you paint and add sprinkles.
Did your family fall in love with Forky from Toy Story 4 this year? Then you'll want to check out this DIY Forky Halloween pumpkin at The Farm Girl Gabs as a cute pumpkin decorating idea for your front porch. It looks fairly simple to pull together, but definitely read her tips to make sure yours look like the actual Forky and not some sad knock-off.
Related: 10 outrageously creepy Halloween pumpkins for kids who are out of the nightmare stage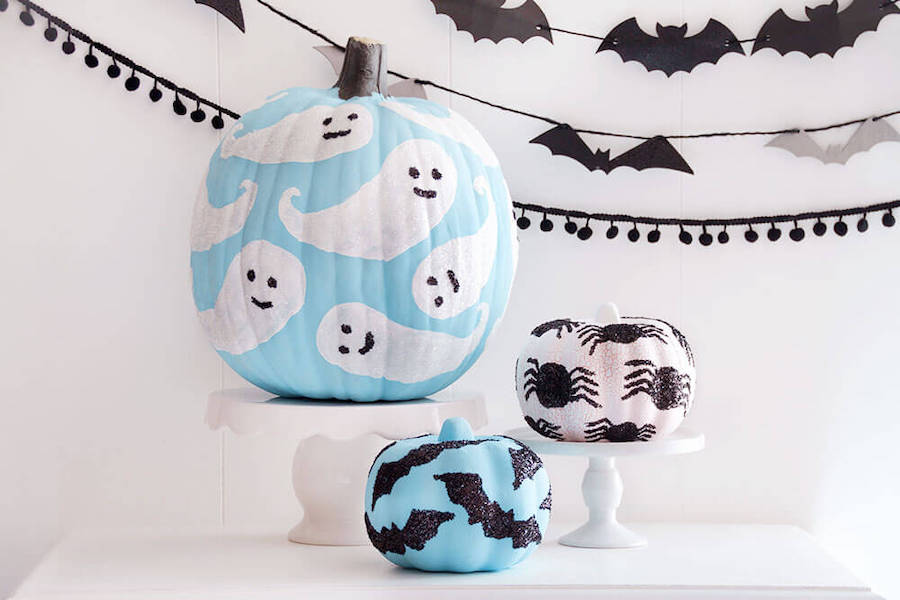 Who could be scared of these sweet glitter glitter ghost pumpkins from I Heart Naptime? They're such a cheerful take on Halloween's creepy crawly characters. The decorating idea may be a little advanced for younger kids, but my teen could probably pull this off better than I could. And if you go with a teal color instead of a pale blue, you've got a teal pumpkin to help indicate an allergy-friendly Halloween house.
I've always associated caramel-covered candy apples with fall celebrations, so this huge Candy Apple Halloween Pumpkin DIY from How to Crafts would be a fun sight gag in a window or at your front door. I have a feeling my kids would really love smushing all those sprinkles into the caramel-colored paint with me.
If you're the type who'd rather just skip Halloween and Thanksgiving and move right on to Christmas, then this reindeer Halloween pumpkin craft at Plaid Online is made for you. You can even add a red nose and make it Rudoph, right? Now I'm not sure my pumpkins would last until December — and TBH, this one looks like it's made from a plastic pumpkin which solves that problem. But still, it's is pretty cute pumpkin decorating idea if you're really looking for something your neighbors won't have.
And, if you're willing to celebrate winter holidays for three straight months.