Trending right now. As in this second.
You are listening to our podcast, right?
Whatever your feelings about what happened on November 6, 2018, we hope you can agree that it was an exciting, historic day for women. Over 100 women in Congress! YES! So, on this week's episode of Spawned with Kristen and Liz, we're talking about Election Day, the...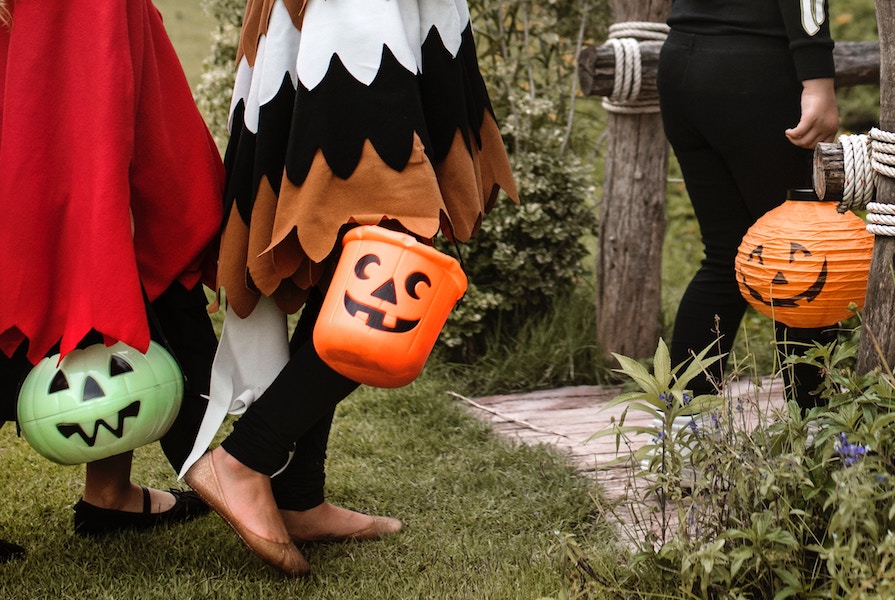 So uh, yeah. Turns out that some American towns are now banning 12-year-old kids from trick-or-treating, under penalty of arrest. We think it's nuts, of course, so we had to talk about it this week on Spawned.There are even a lot of expert reasons that it's good and...
While we're enjoying a little time off for summer, we're updating some of our greatest hits Spawned episodes you might have missed --  and one of our favorites is this fantastic chat with Dr. Catherine Pearlman, author of Ignore It!: How Selectively Looking the Other...
So much coolness. Where to start…
This is a sponsored message from Candlewick Press Will the exhausted Mr. Snore ever get some shut-eye at the busy Sharemore hotel? Kids will giggle from cover to cover as they follow his adventures up each floor of the tall hotel, only to discover that one floor is...
We're always up for tips and tricks to help us make our time in the kitchen more fun, which is why we were so excited to chat with Catherine McCord, of the uber popular Weelicious, one of our all-time favorite food blogs. We've been friends for years now, so how...
When my daughter came home from camp this summer, all she wanted to do was braid everyone's hair. Except... none of us really have long enough hair to braid. That's when I decided to search Amazon for a hair mannequin head so she could braid whenever she wanted. Let...
For all of us Mo Willems fans with a big Elephant and Piggie shaped hole in our hearts, there's good news! And it comes in the form of...unlimited squirrels. Well, technically there are 16 squirrels in total, but with the zany, over-the-top energy these new characters...
After the past week we've had, spotting these illustrated political women icon stickers on a friend's Facebook feed kind of made my day. Let me just say, this is a tiny grassroots effort by artist Gabriela Indivero -- it's not an Etsy shop or a fancy website. But I...
If you're familiar with Cool Mom Picks, you know that we started this site to help discover cool new businesses and products, support women entrepreneurs, and share their amazing stories. That's why I'm so thrilled to tell you about someone I'm so pleased to be...
What a week. That's all you have to say right now to nearly any woman in your life, and she will know exactly what you're talking about. Dr. Christine Blasey Ford's credible, difficult testimony in the Kavanaugh hearing (i.e. not a trial) this past Thursday was...
This year, if your kid wants to be a unicorn with a glowing horn or a chomping dinosaur or even a lit-up UFO for Halloween, you can say with all confidence, "Sure, kiddo! And you can even make it yourself." (If only we could say that about all our family meals too,...
Now that we've found new school clothes and back-to-school gear for all our kids (well, mostly), parents are now moving onto worry #2 -- how to avoid back-to-school sickness. My family has already been through hand-foot-and-mouth disease and a wicked stomach virus,...
Today is National Voter Registration Day which is a good time to ask yourself: Are you registered? Are you sure? Extra-doubly 200% sure? If not, do you know how to register to vote? Do it today. It takes 3 minutes. You can do this! Just click the relevant button...
Oh hey! In today's New Thing To Be Rightfully Outraged Over we're going to go with Halloween costumes that glorify sexual assault. Yeah, you read that right. Thanks to Mark Graham on Twitter, I was alerted to a GYN costume -- which is cool. We love OB/GYNs! I wouldn't...
When work is online, communication is online, entertainment is online and it's all 24/7...it can be hard to get offline. We get it! So we're happy to share so much helpful info from from tech health expert, author, Austin-based dad, and Psychology Today columnist, Dr....
Well isn't it nice when a Facebook ad informs us that TOMS just extended their surprise sale! They're offering up to 50% off lots of styles, or BOGO as we frequent shoppers like to say. That you means you get double the cute shoes and double your donation of shoes to...
It can be hard to remember when we're so busy with the minutiae of each day, but the ultimate goal of parenting is to raise responsible, independent adults. And, well, that starts before they actually hit the age of 18. The dance of educating our kids and then...
If one thing is clear it's that our kids' generation is growing up in the throes of activism, and we love it. So we're always sharing ways to help support their passion to make the world better, from books that teach kids how to be activists, to t-shirts that honor...
This week on Spawned, we're talking kids and nutrition. Which, TBH, is one of those issues that nearly universally stresses out parents of all kinds, with kids of all ages. Fortunately, we've got an expert to help us out: Dr. Tanya Altmann, who you may better know as...
With tomorrow, September 22 being the 25th anniversary National Public Lands Day, that means it's one of 4 days of the year that you can get free admission to more than 400 National Parks that ordinarily charge admission. And it's not just free for kids, it's free for...
We've all got trips we've wanted to take ourselves, or gift to someone else, whether it's that 50th anniversary celebration for our parents, the last-ditch babymoon, or the "who needs a 25th high school reunion?" girls weekend. Now thanks to our sponsor Suiteness, you...
September means new backpacks and football kickoff and pumpkin spice latte month (*insert eyeroll), but mid-month, September is also became Hispanic Heritage Month (September 15 - October 15). So we put together some of our very favorite children's and YA books...
Let's talk about mini crossbody handbags, my friends. If you haven't yet gotten your hands on one these little numbers, they're lining up to be one of fall's biggest (and uh, smallest) trends. I've been coveting one for practical reasons as well; because I log a lot...
From the moment we discovered Goodnight Stories for Rebel Girls by Francesca Cavallo and Elena Favilli, we knew it was bound to be a massive hit. A book full of diverse, inspiring women's stories complete with great writing and stunning illustrations -- what's not to...