Since the first November it launched several years ago, even long before American Express started sponsoring and championing the campaign, we've been staunch advocates for Small Business Saturday. And we're still thrilled to mark on our calendars each year. In fact, supporting small businesses is the whole reason we started Cool Mom Picks in the first place. So this is very dear to our hearts.
Update: This post has been updated for 2021.
For more of our favorite gifts for all ages supporting small business,  check out our recent Small Business Holiday Gift Guide.
While it would be impossible to share every small business we adore (i.e. visit our archives in every single category since the beginning of our site),with the help of our editors, we've somehow managed to narrowed it down today to just a few favorite smaller online retailers where we love to do holiday shopping for our own kids, nieces and nephews.
They're all fantastic companies, with amazing customer service, run by people who just love what they do and it's our pleasure to support them any way we can, and show them big love today and every day.
We hope you'll consider supporting a small business today too!  (Or any day, really.) You can shop your own neighborhood mom-and-pop stores — whether it's your local toy store, butcher, book seller, coffee joint or art gallery. You can discover a new one here from us. And you can spread the word by posting a photo on Instagram that honors your favorite indie purchase or small business using the hashtag #ShopSmall.
Who knows, maybe that one little act of kindness can end up yielding big results for a company that can use a boost this holiday season.
-Kristen + Liz
This post contains affiliate links and some purchases may generate a small commission which helps our own small business. Thank you for your support!
Manzanita Kids:  The entirely handmade, keepsake-quality, wooden toys from this Seattle shop are just mind-blowingly wonderful. They're all still made by parents Adrienne and David in their home using eco-friendly processes and materials. The wooden Waldorf dollhouses that we've included in our Ultimate Birthday Gift Guide is a stunner, as as is the wooden castle kit (shown at very top, right). The  handmade wooden stacking toys make incredible baby and toddler gifts.
While I'm sad that the modular rocket tower, above, is no longer available I'm kind of wondering whether you can message them and ask if they might still make it. If not, you'll also find puzzles, blocks, toddler toys, decor, and custom ornaments in every price range.

My Sweet Muffin: Shina Kim's exquisite online shop is always one of our first stops when we're looking for really beautifully designed children's gifts of all kinds. This is high quality stuff, a lot of it from smaller European brands that you don't see everywhere like Maileg, who makes the cute circus tent play set shown here. Think Waldorf dolls, special tea sets, bath toys, all kinds of wooden blocks, plus adorable clothing for kids up to about four-years-old. Fantastic spot for newborn gifts too.
Pink Olive Boutique Founded by Grace Kang, this small shop has an awesome collection of fun gift ideas for kids (and their grownups), including lots of NYC based gifts, and it's all beautifully curated. There's definitely a focus on paper goods, but the newborn collection in particular is quite sweet.  They now have three local shops in Manhattan and Brooklyn if you ever want to pop in. It's a nice place to be.
Magic Beans: Run by one of our favorite couples, Sherry and Eli Gurock, this is a literally mom and pop store in the Boston area, but they have a hopping online business selling all kinds of toys, baby gear, and essential shower gifts from top, trusted brands — like Tegu's eco-friendly, colorful magnetic blocks, shown here. In fact, I wouldn't buy a stroller or high chair without first checking their buying guides, and expert recommendations.
Related: Our 10 Best Gifts for Little Kids 4-8 | Small Business Holiday Gift Guide 2020
LaLoba Studio: We first discovered this cool indie maker of fabulous superhero dolls from a now (sadly) defunct online shop called Brooklyn Makers, showcasing tons of cool things made in…Brooklyn. Thus the name. But one of our favorite finds from there are these cool handmade superhero dolls from indie shop LaLoba Studio. For some reason the maker is now located out of the country, but ships to Brooklyn — or anywhere, really. 
Related: Our 10 Best Holiday Gifts for Babies and Toddlers from Small Businesses
Sarah + Abraham: Founded by Illinois mom Sara Tams, this is a wonderful shop for finding the sweet personalized gifts from Olliegraphic that we can't stop ordering for all the kids in our own lives. You'll find everything from stationery to library totes, kid-safe dishware, Christmas ornaments, and art prints, all of which can be customized to look like your own child.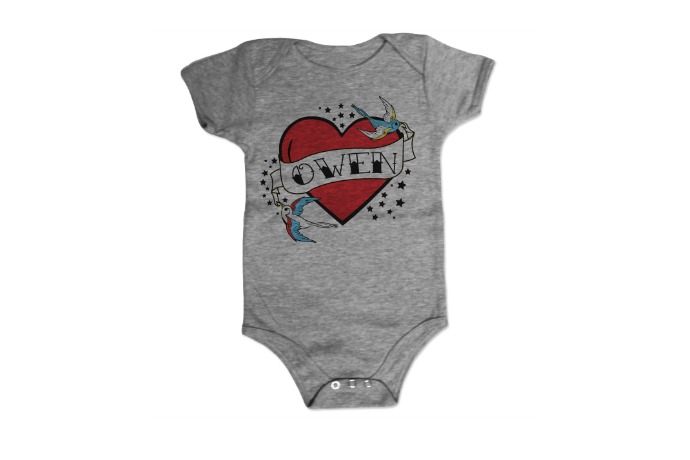 Joy & Chaos (formerly Psychobaby): This Chicago based shop run by moms Marlo and Lisa has evolved from edgy baby and kids gifts to a huge selection edgy personalized baby and kids' gifts. From tattoo heart onesies to headphone-emblazoned flip-flops to funky wall art, there's a lot here to like at really good prices.
Babesta: We can safely call Babesta Manhattan's premier destination for edgy baby and children's gifts. And wow there's a lot here!  Cool clothes, amazing shoes, funky toys and dolls from indie makers, and lots of baby gear that you just don't find at big stores. Even baby swaddlers featuring uniquely New York icons like hot pretzels and taxi cab.
Cate & Levi: We've watched this nifty little Toronto husband-and-wife company grow a few cute, handmade stuffed animals from upcycled materials, to a great selection of kids' gifts from slippers to nursery art to make-your-own craft kits. All with the same eco-smart sensibility of their original creatures. How cute is that shark puppet!
Books of Wonder is NYC's premier indie children's bookstore, packed with special editions, out of print titles, and one-of-a-kind collectibles, plus so many cool events and readings. In fact, we named it one of our favorite places to visit with kids in New York over the holidays. But even if you're not in the market for a limited edition $750 book or an original poster from your favorite award-winning illustrator, shop around online through Indiebound for their publishing imprint on books like the Oz series.
Shana Logic: If you've got tweens to shop for, there is so much to love at this Ann Arbor shop run solely by Shana (the logical one, evidently) and her two assistants. The huge selection entirely hails from indie designers, and you can sort by categories including I ♥ Nerds, I ♥ Cute Things, I ♥ Forest Animals, and I ♥ Dark & Edgy.  And you can't beat a $10 and under category. Fans of our annual holiday gift guide will be no stranger to her wonderful and often humorous gifts. (Shana Logic has closed. sniff.)
Related: Our 10 Best Gifts for Tweens 9-12 | Small Business Holiday Gift Guide 2020
Stubby Pencil Studio has appeared in so many of our gift guides, because they offer so many wonderful little toys, craft supplies, travel games, sketchbooks and more. Portland mom of twins and owner Kate Rosenthal has a strong commitment to eco-friendly and fair-trade gifts, and was in fact one of the first shops we ever found offering soy crayons and FSC certified wood colored pencils.
Acorn Toy Shop: This Brooklyn-based indie toy shop features high-end, artful toys and gifts of all kinds, and we love browsing here for finds we just don't see anywhere else. If you want a keepsake wooden Parcheesi set, rainbow blocks that could double as art pieces, exquisite dress-up clothes, or the cutest baby accessories, you'll find it here.
La La Ling This fantastic kids' shop is right in the heart of hipster Los Feliz, so no surprise they carry an amazing assortment of products from indie clothing, toys of all kinds, and accessory brands we love — a pink trucker hat for kids featuring a pink cupcake? Sure, why not. They've definitely upped their online selection in the past few years, but if you're in LA, definitely stop in.
Hey! Tag us on Instagram too at @CoolMomPicks and help us discover some new favorites!