Galentine's Day is February 13, and if you don't know about it yet, prepare to become a fan. It was created by Amy Poehler's Parks & Recreation character, Leslie Knope, to celebrate strong female friendships. In Leslie's own words:
Oh, it's the best day of the year. Every February 13th, my lady friends and I leave our husbands and boyfriends and home, and we just come and kick it, breakfast-style. Ladies celebrating ladies. It's like Lilith Fair minus the angst. Plus frittatas.
We're all about ladies lifting up ladies, so I've put together some Galentine's Day gift ideas for your bestie from another nestie. Or hey, bookmark these for upcoming birthdays, or any other celebration that requires an awesome little pick-me-up for your girlfriends.
CMP is an rstyle affiliate
This post has been updated for 2020
Related: 11 anti-Valentine's gifts for people who hate Valentine's Day (you know who you are!)
This adorable candy heart pin will last a lot longer than those edible candy hearts — and probably tastes better too, come to think of it. But don't! Because the enamel pin captures the essence of Galentine's Day gifts perfectly for under ten bucks. ($6.60, Bunny Designs Shop)
Also, one of our favorite 90s pop culture gifts for anyone at all, how could the message "thank you for being a friend" not come through loud and clear through a taste of my favorite girl gang? With jalapeño, to boot!  ($36, Always Fits)
Leslie Knope is known for the unique and loving compliments she bestows on her best bud. This collection of postcards (also shown at very top) captures that spirit, including the hilarious  "You poetic and noble land mermaid." Buy a single, or you can mix and match to compliment your gal pals with very specific messages. Sometimes the perfect cards do make the best Galentine's Day gifts of all.  ($2.50/ea or $18/10-pack, Sugar Grenade)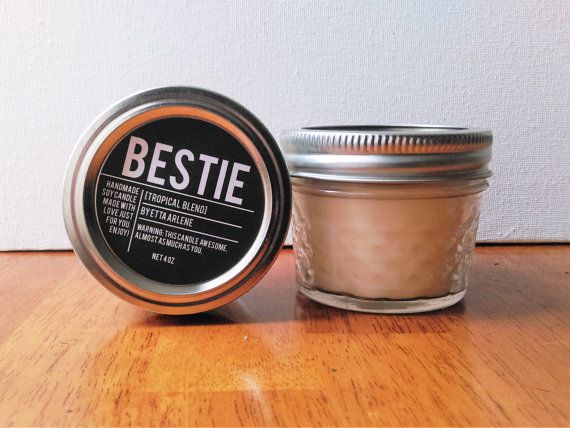 This pretty soy candle is available in two sizes and three scents to bring a little light to your Galentine's day. And it says right on the top: Warning, This candle is awesome, almost as much as you. Best warning ever! ($12-15, Etta Arlene on Etsy)
These pencils will make every missive she writes just a little bit more fierce, with a reminder that brovaries never come before ovaries.  Combine ribbon-wrapped pencils with an uplifting journal like the one below for a gift to spark imagination, or just really fantastic to-do lists. ($8.20, Mint & Mustard)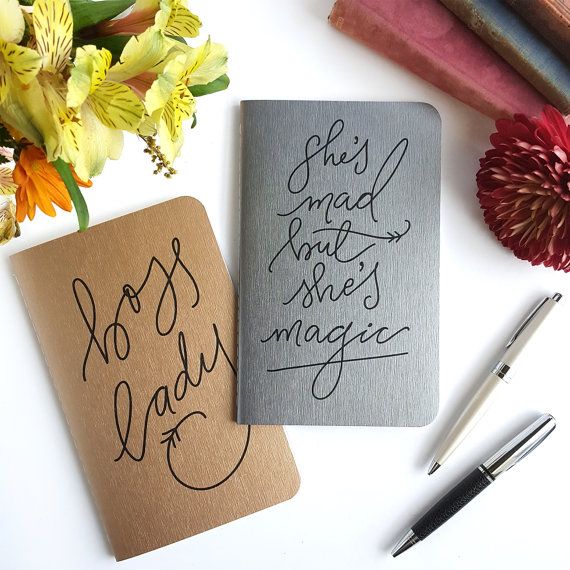 Whether you choose with Boss Lady or She's Mad But She's Magic, you can't go wrong with a this kick-butt, hand-lettered journal for a Galentine's Day gift for any lady on your favorites phone list. The pages are customizable so you can gift this as a 2020 planner, with grid paper for bullet journaling, or with blank pages ready for doodling or keeping track of one's feminist agenda. ($15, Icey Designs on Etsy)
Speakeasy make the most wonderful pouches — lots of us on team CMP own our own after featuring them in our Holiday Gift Guide as a favorite feminist gift honoring activist women friends  There's a full selection of empowering, hand-embroidered slogans to help her start her day off with glittering ferocity. Or, use it for pens and a black Sharpie, which can come in handy when a spontaneous protest pops up somewhere. ($32, Speakeasy on Etsy; printed pouches available for $14)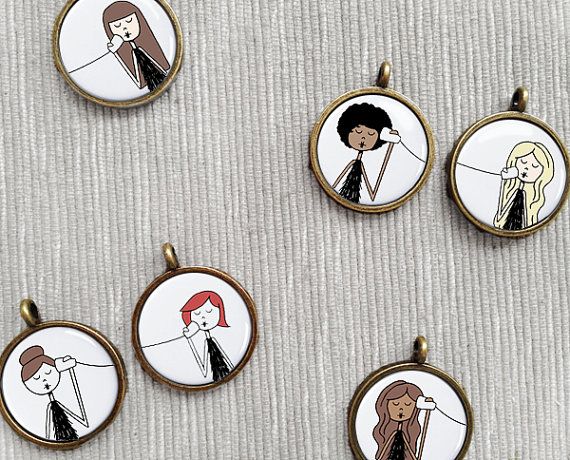 We've loved the galcentric designs at Flapperdoodle ever since we found their affordable Bookworm brooch for our Holiday Gift Guide. Rats…the pendants are no longer available, but there are still sets of custom friendship art in various sizes. These adorable ladies can each be customized with six hairstyles, four hair colors, and two skin colors to capture you and your Galentine having a heart-to-heart. ($10 and up, Flapperdoodle on Etsy)
Related: Style and beauty gifts for women who are over 40, fabulous, and who DGAF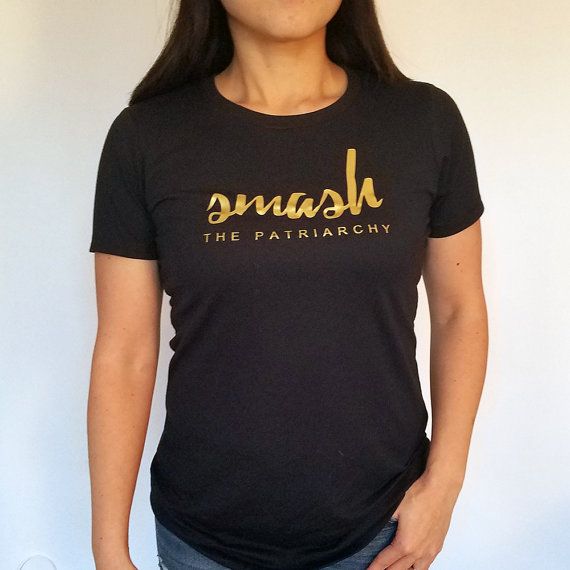 Our friend Christine Koh of Brave New World Designs gets the fierce Galentine feels. Sparkling gold plus pretty calligraphy equals a shirt that your BFF can wear to a protest…or to wait on the carpool line. Women are excellent multi-takers.  ($26, Brave New World Designs on Etsy)
Related: Feminist gifts for a woman who already owns a "Nevertheless She Persisted" shirt
Okay, so I'm plugging my own comic here. But it's all about ladies lifting ladies. Imagine if instead of King Arthur, that lady on the left hefted the sword and became king? And the girl in the middle, already her best friend, became her champion knight? I wrote Ladycastle so that I could read a comic about female friendship and triumph with my 10-year-old daughter. If you know someone who's into stories about awesome ladies slaying in their own way, they'll dig it. ($1.99 on kindle, or $3.99 for hardcover at your local comic book store)
An adorable handmade (by you!) cross-stitch hoop is a tiny Galentine's Day gift with a huge personality. This shop also offers Uteruses Before Duderuses, Ovaries Before Broveries, Hoes Before Bros, and Knope We Can. Download the PDF and get sewing. Ooh! Or have a cross-stitch party! ($3.50, Bananya Stand on Etsy; some ready-made hoops available for $35)
This fabulous mug is dishwasher and microwave safe, which makes it just as resilient as your favorite Galentine. In fact, the entire shop is full of Boss Lady and Like a Boss designs in mugs, pens, and more. It's like they know us. ($19.99, Sweet Water Decor on Etsy)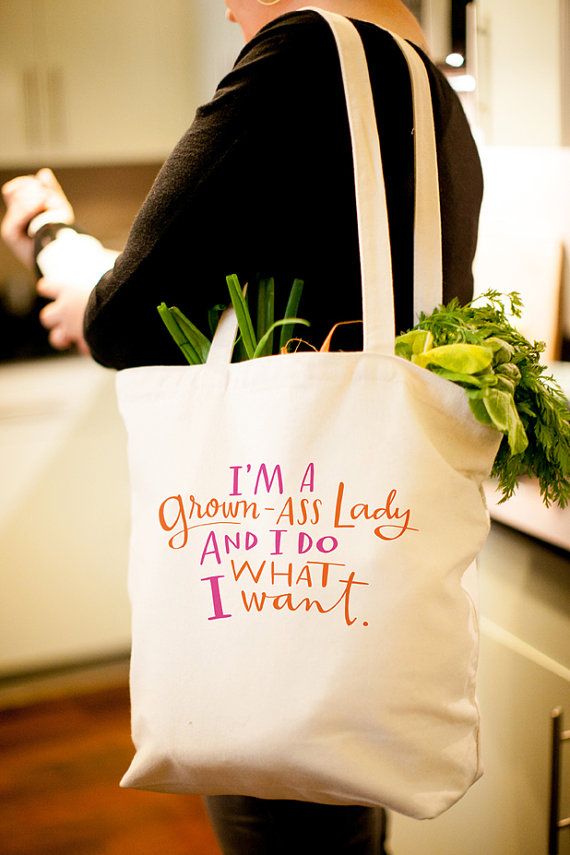 It's no secret that we love Emily McDowell's gorgeous word art, and this best-selling tote bag of hers should definitely keep those nosy old guys at Target from pointing out that your best gal pal shouldn't be trying on men's sunglasses. Yes, for real. Happened to me.  ($20, Emily McDowell Studio)
Tattly Tattoo Pairs
Our friends at Tattly offer so many perfect artist-created temp tattoos that are perfect for BFFs, from their new tattoo pairs (Mac and cheese, corkscrew and wine, or our favorite, two avocado halves) to an entire Valentine's Day collection. There's even Tuesday Bassen's Girl Gang tattoo sheets that let you mix and match before heading out on the town together, letting everyone know you're an inseparable pair. Yay for girlfriends! ($5/2 and up, Tattly)
Now go tell your women how much you love them, you rainbow-infused space unicorn.
For more Valentine's Day help, check out these posts:
– 19 of the coolest, non-candy Valentine's Day gifts for kids
– 11 DIY Valentine's gifts kids can make themselves
– 10 cool non-candy Valentine's Day classroom treats kids will love.
– 10 of the cutest first Valentine's Day gifts for the babies we're in love with.
– 13 practical Valentine's gifts for her that aren't flowers, but they're not a case of motor oil, either
– 11 anti-Valentine's gifts for people who hate Valentine's Day (you know who you are!)
– 8 sweet Valentine's Day crafts your kids can make their BFFs
– 15+ fun, affordable Valentine's Day gifts for kids all under $15 each
–