While our 2018 Holiday Gift Guide is up and running with hundreds of gift ideas, there are still a few very specific types of people on our lists that you might be shopping for. In my case, I'm thinking of all the incredible, engaged, active, activist women who worked tirelessly this past year, fighting for the kind of world that we want for ourselves and our kids.
They registered voters. They texted friends — and strangers. They knocked on doors. They held fundraisers. They got loud on social media. They marched against everything from election fraud to the detention of children to the attempt to destroy Medicaid and the Affordable Care Act. They spoke out at city hall meetings and wrote letters to the editor.
They are all my heroes.
For activist women — even those who don't think of themselves as activists, but just happened to get active in the past year — I've put together some great shops. They each feature feminist gifts that help honor these women's passions, show them a little acknowledgment for their hard work, and maybe give them a much deserved self-care break this holiday season.
Oh, and each of your purchases helps support the women who make or sell them, so they can pursue their passions too.
CMP is an rstyle affiliate
Related: 30+ Feminist gifts all supporting women-owned shops and women makers
Actually, I Can embroidered pouch by Speakeasy
I found this cool shop late last year, and my girls each got one of her beautifully made, hand-embroidered "PerSister" pouches. This year she's added this new design to her collection and I love it for pencils, makeup, or that stash of emergency sundries.
Dolores Huerta Quote Weekly Planner at the National Women's History Museum Gift Shop
Let this quote from the Latina-American civil rights activist create enough inspiration for a year. Just make sure she pencils in some time off. Maybe even pencil it in for her — with a gift card for a foot massage — before gift wrapping. Si Se Puede!
RBG Earrings at Wildfang
We've featured a ton of cool RBG t-shirts and RBG gifts on our pages over the years, but I'm smiling at these wonderful RBG earrings by He Said She Said, available at Portland's Wildfang The shop has other styles including Beyoncé and Michelle Obama — and actually, I kind of love everything they sell, and each month, 20% is donated to a different charity (this month, to WinNYC supporting homeless women and children). If you're shopping for me, just get me something here. Done.
Related: 10 of the most awesome RBG t-shirts to celebrate the force that is Justice Ginsburg
Hero Begins with Her t-shirt at Omaze
Heroes are all around us. Including the woman you're probably shopping her. Love this tee which is raising money for She's the First, which is creating more gender equality by helping first-generation female high school grads succeed now and in the future.  And hey, if it's good enough for Padma…
Related: Gifts that help support journalism, because it matters more than ever right now
The Nasty Woman Card Game by Amanda Brinkman and Erin K Wilson
I am smiling hard at this card game created by two women, and described as like Cards Against Humanity with a feminist twist. You'll laugh, you'll cry, you'll smash the patriarchy. Yes you can find it on Amazon, but buy it from The Shrill Society to support an indie, woman-run shop that gives back to great causes too.
I Really Care, Don't U? jacket by Emma McIlroy and Julia Parsley of Wildfang
It never gets old. And 100% of the profits are donated right to RAICES, one of my own favorite charities right now doing great work to support separated and detained immigrant families in the US, asylum seekers, and children who've been separated from their families altogether. Maybe consider including a donation in her name to them along with the jacket?
Related: 21 fierce feminist gifts for the mom who stays woke
Power Fist Earrings by of The Blacker the Berry
Also a highlight of my list of great feminist gifts from women-owned shops last year, I love these hand-painted wooden earrings from this Cleveland based, woman- (and her husband)  owned Etsy shop offering gorgeous Afrocentric items reflecting Black culture. Check the shop for lots more affordable gifts, plenty under $10 and $15.
Strong as Hell artwork iPhone case  By Tyler Feder of Roaring Softly
I adore her inclusive, empowering, and still totally charming illustrations, but a favorite is this print honoring women at her Etsy shop, also available on mugs, tees, totes, and a conversation-piece iPhone cases at her Society 6 shop. Grab the phone case — along with a good portable charger — so she never runs out of juice when she's in the middle of an Instagram Story live from the Statehouse.
Modern HERstory by Blair Imani and Monique Le
If you're shopping for a feminist who already owns a lot of the "bigger" women's biographical anthologies, I bet she doesn't have this one yet. While most books about women heroes center white women, white women take a back seat in this book of 70 diverse women and nonbinary women who have changed — and are currently changing — the world in terms of progressive social change. I have learned so much from this book about so many important women, in this inspiring reminder that yes, one person can make a difference.
Comfy, ethically made walking sneakers at Bangs Shoes
These smart, affordable, responsibly made "adventure shoes" are actually from a woman-owned company: Hannah Davis started the brand modeling her shoes after the simple work boots work by workers and farmers in China, to invest in 20% of profits entrepreneurs around the world through Kiva loans. And who couldn't use another pair of sneakers? (Even people like me who don't generally like sneakers.)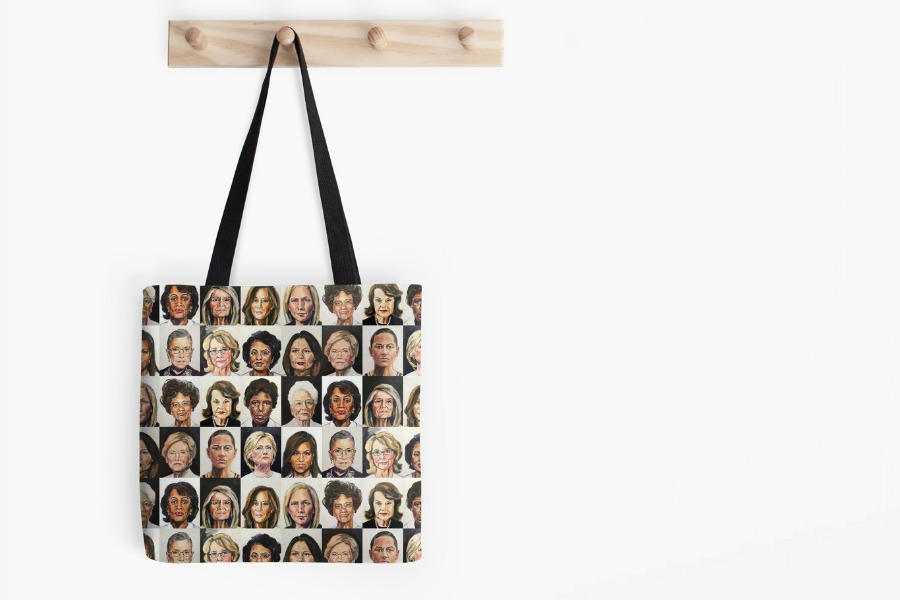 Sheroes Portrait tote by TL Duryea
I'm so in love with the oil painting portraits that artist Tina Duryea has been creating of a diverse array of female heroes, from Ann Richards to Emma Gonzales. Find them all on a series of cool items like this wonderful tote bag.
Related: These 5 social justice themed board games can help you (and your kids) be the change you want to see in the world
Photo: @linguafrancanyc + @rheabobia19 on Instagram
Hand-embroidered cashmere sweater by Rachelle Hruska of Lingua Franca
Splurging this year? Lucky friend! In that case, I'd go with one of the original luxury fair-trade cashmere slogan sweaters from Lingua Franca, all hand-embroidered in NYC with phrases like Nevertheless She Voted, I Believe Her, Give a Damn, Blessed Be the Refugees, and I Won't Be Silent. Of course she's now being ripped off by shops big and small. Sigh. While her designs are pricey, if you really want to support a woman entrepreneur, please buy the original. Besides, $100 from each purchase price supports a different incredible charity.
PS You can also find a more affordable Lingua Franca "We the People" sweatshirt at the Whitney Museum shop, with 100% of profits supporting the Whitney.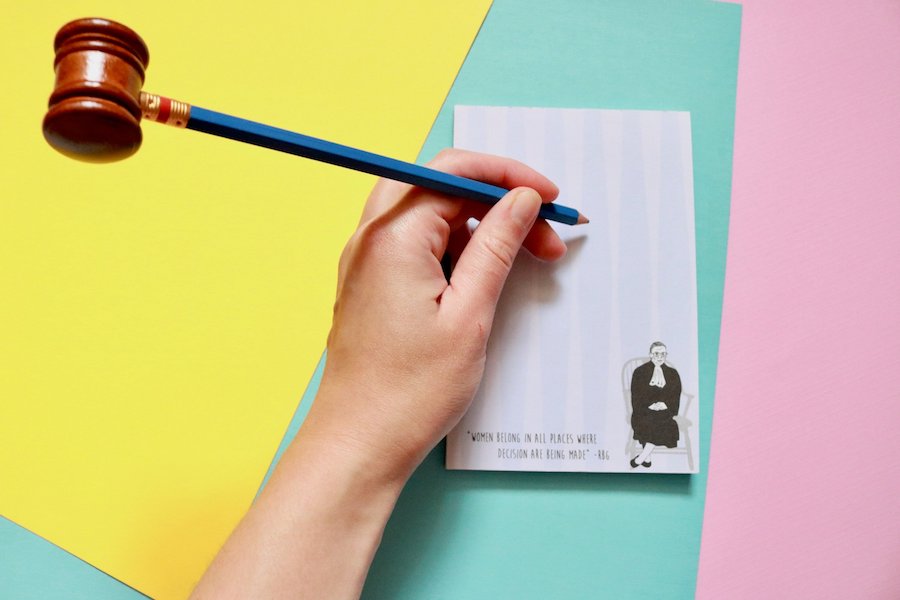 RBG notepad and gavel pencil by Janie Velencia of The Card Bureau
Okay, so one more RBG themed gift because I love this one so much — a notepad with one of my favorite Justice Ginsburg quotes, "Women belong in all places where decisions are being made. Even more fun, add in the gavel pencil, for just $15 for the whole gift set.
Tees for all kinds of feminists and activists and empowered women in general by Christine Koh of Brave New World Designs
We will continue to promote this shop forever, because she just adds more fabulous designs all the time, and surely one speaks to you. Plus, 20% of each purchase supports a different worthy organization. You'll also find her equality kids' tee in our category of 19 meaningful gift ideas for kids this year. Because our kids have strong opinions about such things.
Related: The Little Feminist book subscription box delivers monthly empowerment for kids.
Image: lucia on Unsplash
A donation to her favorite charity supporting other girls + women
RAICES. Emily's List. She Should Run. NARAL. NOW. The National Women's History Museum. Global Fund for Women. Me Too Movement.  I don't even know where to start — but she will. And if she has everything she already needs, she may love this gift best of all. Also, check out the Charity Navigator index of charities supporting women's rights for more ideas.
Radical Self-Love Bath Salts by Callie Garp of Fabulously Feminist
Yes, it's okay for her to slow down and take time for herself. In fact, insist on it. She deserves it. Love these bath salts made with pink Himalayan bath salts, and the soothing properties of coconut milk powder, lavender buds, calendula petals and scented with geranium and lavender essential oils. Plus that jar is great.
Related: Me-time self-care gift ideas that help bring the chill
Beyonce Slay Hand Embroidered Pillow by Krystle Collins of  Create the Culture
When I first found this shop last year, instant love fest. You can find this same design on a sweatshirt, new zip pouches, or even a DIY embroidery hoop kit under $15, which we've featured in our list of 50+ adult gifts under $15 this year. But wow, do I want this pillow! For quite a few women on my list, I know this imagery is pretty much the perfect way for them to sign off 2018 and move forward into the future.