It's been a big few weeks for America, hasn't it? From the heartbreak of the Charleston shootings to the landmark #LoveWins Supreme Court decision to the Girl Scouts donor dust-up, people everywhere are talking about prejudice.
While I've seen such a beautiful swell of love, support and compassion for all kinds of people all over my social media this past month, I've also talked to lots of moms who are wondering how to talk to kids about prejudice and racism. Because even as my kids help me pick out wedding presents for all our friends, prejudice most definitely still exists whether it's because of the color of your skin or the country your family came from.
Related: 10 outstanding Black History Month books for kids of all ages
One of my favorite go-to tools for starting hard conversations with my kids is by reading books together. Reading a great story is an easy way for me to get my kids talking about concepts like open-mindedness, embracing people who are different from them, and fighting for the rights of people who have been marginalized. Even if marginalization is still a word that's a little over their heads.
As you browse your bookstore or local library, here are a few tips we've found to be helpful when we're looking for new titles:
1. Above all, make sure the story is good. Because even if the lesson is well-intentioned, your kids won't pay attention if the book is boring.
2. Choose books with characters that are different than the people in your family. We've recently learned that only 3% of children's books feature characters of color. That's pretty astounding. If you're white, make an effort to find those fantastic titles not featuring white heroes. If your family is of European descent, seek out books about kids from Latin America, Asia, or Africa. If you have a traditional marriage, try stories about kids with single moms, single dads, or same-sex parents. It really helps build an excellent learning foundation for preschoolers and young kids.
Learning aside, imagining other ways of life can be pretty exciting for kids — whether it's life on a pirate ship, in a big city, or in a village in another part of the world.
3. Look for books that show unexpected friendships — maybe a bird and a hippo or a duck and a cow. The plot will probably have nothing to do with prejudice, but you can still open up a conversation about how it's so cool that these two are friends, even though they aren't the same.
4. Learn actual history which is always a great way to take your conversations with your kids deeper. Read your children age-appropriate biographies about the giants who have fought hard for basic human rights — for African Americans, for women, for the LGBTQ community, and so many more. You may be surprised just how much even the youngest kids can process.
Just to get you started, here are 12 books my own younger kids are enjoying, and that are giving me a chance to have fantastic conversations with them about race and respect. I really hope you'll like them too.
CMP is an Amazon affiliate, or find these books in your local independent bookstore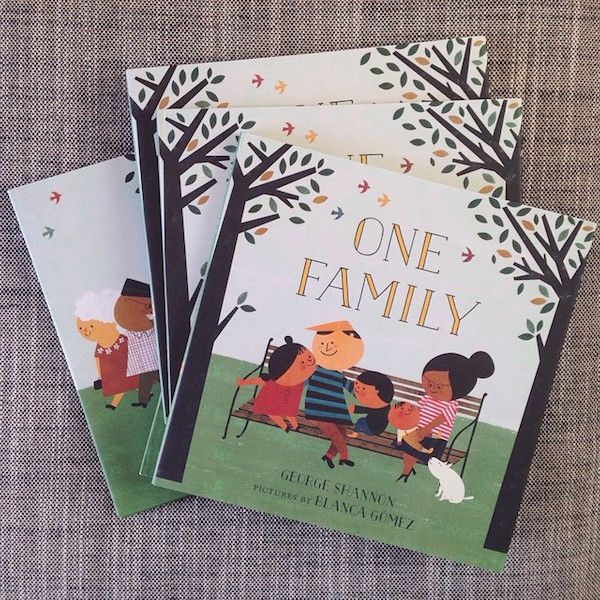 While we've covered so many books featuring diverse heroes over the years, a new favorite of mine is the beautiful depictions of family in One Family by George Shannon and Blanca Gomez. It subtly shows that many families aren't only one color. Whether your family is multi-racial, your kids have been adopted overseas (or domestically of a different race than your own), or you just have some beloved families in your life who you might see reflected here, this is a great book to add to your library.
Related: The Princess and the Pony: A perfect princess book for a new generation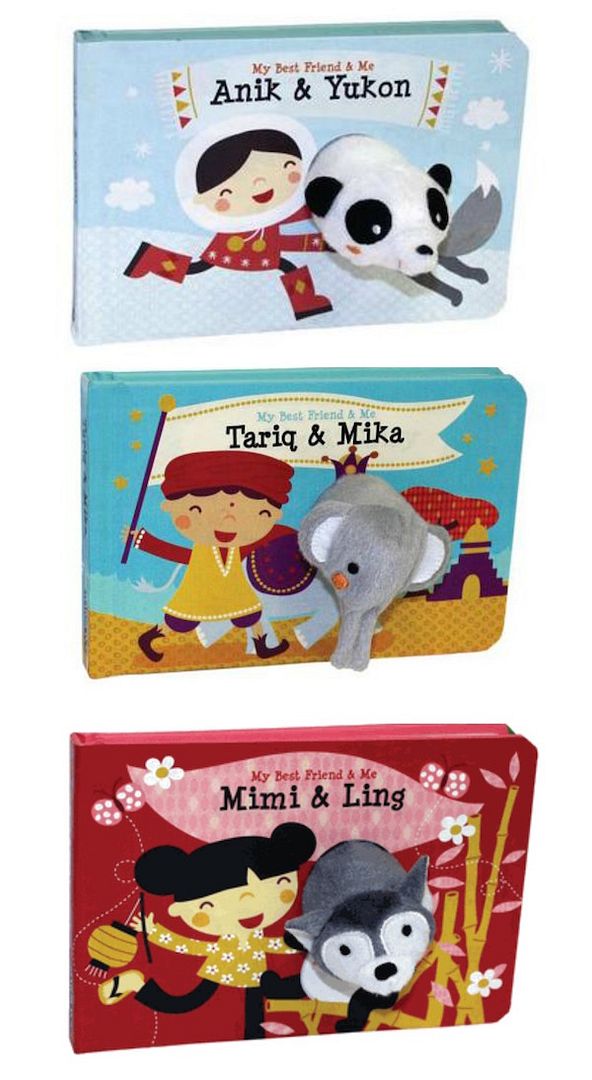 The My Best Friend & Me series of finger puppet books by Annelien Wehrmeijer and Deborah van de Liejgraaf has been around for a while, but their three newest releases, including Anik & Yukon,  Mimi & Ling and Tariq & Mika each introduce babies to other cultures through adorable art with a cuddly finger puppet that pokes through each page. Kids will love these!
Don't be deceived by the cuddly bear protagonist — You Will Be My Friend by Peter Brown (a sequel to the bestselling Children Make Terrible Pets) is a hip, funny, remarkably illustrated book that incorporates cut paper, photography and real wood grain textures into the imagery. My favorite part, besides the look of it, is the idea that being someone's friend doesn't mean you have to forget who you are. The bear, searching for a friend, tries to be like other animals but finally finds his perfect partner…in a flamingo. In other words, look for the people who aren't just like you, kids. It makes life so much more interesting.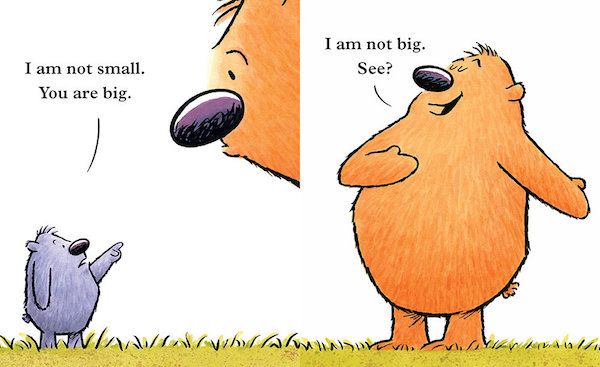 When kids have limited interaction with people who are different, it's easy for them to default to stereotypes. My one friend who's X race does this, so all people of X race must do that. Kids can be so literal that way. But the winner of this year's Theodor Seuss Geisel award for beginning readers, You Are (Not) Small by Anna Kang, can help kids understand the concept of stereotyping with the help of illustrator Christopher Weyant's adorable characters. It's is a current favorite at our house and it's also a fast read, making it great for bedtime. (Also be sure to keep your eyes out for That's (Not) Mine from the same team this fall. It looks great too!)
Related: The best lists of the best children's books of the year for kids, all in one place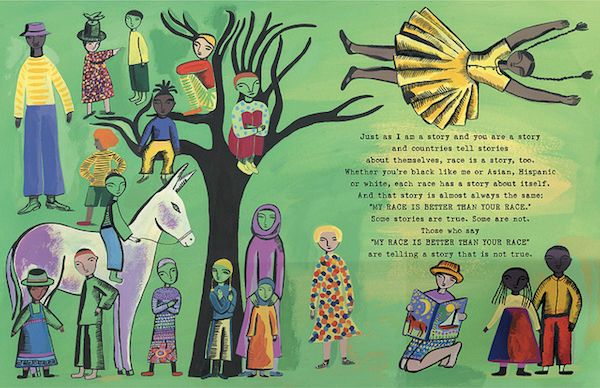 Another beautiful book that addresses racial stereotypes explicitly is Let's Talk About Race by Newbery and Coretta Scott King award winner Julius Lester, whose copious list of titles about social justice goes back to the 60's. In this book, Karen Barbour's illustrated characters introduce themselves with different activities and interests, then say, Oh, and I happen to be _________ race.  Kids will learn that it's easy to identify with all different kinds of people, if they just give them a chance — and that even if we see skin color first, it doesn't mean it's the first most important thing to know about a person.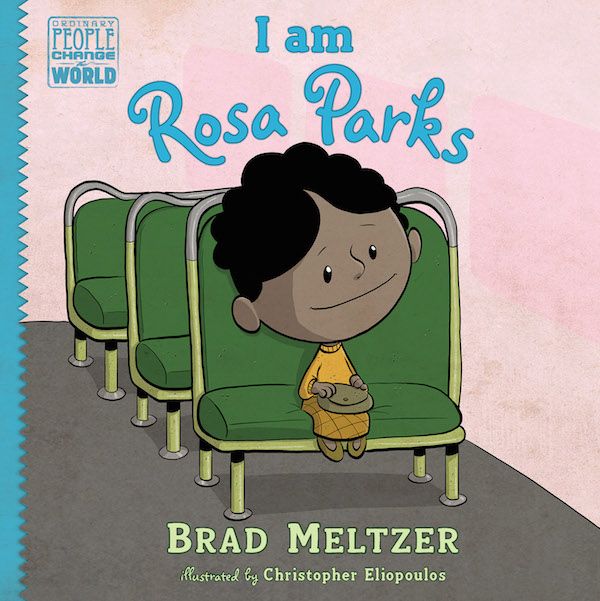 My kids are tearing through these good, easy introductions to biographies. For early readers, go with the I Am… series by Brad Meltzer and Christopher Eliopoulos. For slightly older kids, or if you're reading out loud, choose from one of the hundreds of titles in the Who Was… series. Start with I Am Rosa Parks (also recommended in our 11 excellent new children's books for Black History Month – and the rest of the year too).
For something more contemporary, try Who Is Malala Yousafzai? Feel confident that this entire series is an age-appropriate introduction to important figures, and you can take the conversation as far as you want to go from there.
Related: A sneak peak at Malala's new picture book for kids
Malala is certainly a compelling figure, especially for young girls; she's young, relatable, and alive today, still doing remarkably important work that seems so beyond her years. And we know how kids like reading about other kids. So if yours want to learn a little more about her story, check out the 2014 release Malala Yousafazi: Warrior With Words, by Karen Leggett Abouraya and L.C. Wheatley. Getting to know her as a person will help children unfamiliar with girls or women who wear a traditional Hijab headscarf to see beyond it, to recognize a young girl who stands out and speaks up for all children's rights to go to school.  Eventually, they'll be reading My Name is Malala on their own.
Related: 11 inspiring children's and YA books about historic women for our girls — and especially, our boys.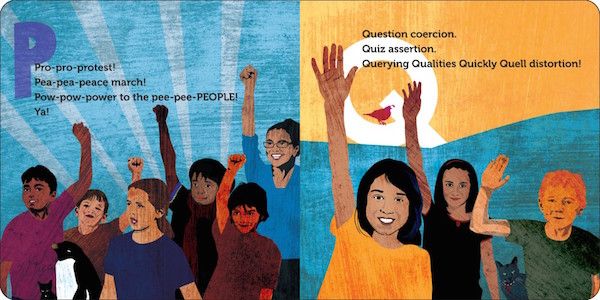 Even our littlest kids can start learning about the activism required to promote the change in the world we'd all like to see. Innosanto Nagra's A is for Activist is a quirky board book for babies that's been described as being like a Howard Zinn book, only for two-year-olds. If you have the kind of family that talks about democracy, civil rights, social justice, environmental causes, and peaceful protest over the dinner table — even Dan Zanes gives the book a thumbs up — the themes will resonate. Plus the alliteration is wonderfully fun, even before toddlers know what any of it means; but it's their older siblings who will get even more out of this book.
Related: 8 must-read books for tweens and teens who want to stay woke
Ultimately, the most important thing I think we can teach our kids is to choose peace. The lovely Peace is an Offering by Annette LeBox and Stephanie Graegin is a beautiful portrayal of kids playing together in harmony (just like your house during summer break, right?). The illustrations of such a diverse group of neighborhood kids playing together — whether or not that's a familiar sight in your own community — accompanied by a beautiful poem for peace, makes this one of my very favorites. Plus, it's a great quiet-down, ready for rest kind of book. Highly recommend.
We all hope we keep the positive momentum of love going. Have the hard-weird-awkward conversations with your kids; we can give them the tools they need to be the generation that puts an end to so much of the hatred many of us have been fighting against our whole lives.