I've had the best time searching for the coolest mermaid gifts for some of the mermaid obsessed kids in my life. After all, the mermaid trend shows no sign of stopping anytime soon. So this summer we're diving in with head-first with 17 cool mermaid gift ideas from clothes to decor, toy, books and more –all Ariel free.
(Hey, our job is to track down some of the stuff you can't find yourself, right? And you know where to find Ariel merch if you want it.)
Whether you're shopping for a tiny mer-person, an imaginative teen, or even a self-respecting adult who can use more pink and purple iridescence in their life we've got you covered. Ahoy!
CMP is an rstyle affiliate.
Related: 23 of the coolest mermaid party ideas we adore. Fin-tastic!
I have one of these magical mermaid sequin pillows from Mermaid Pillow Co. at my house, and I can tell you, they are such a big hit with everyone, big or small, who plops down on my couch. They're flip sequins, meaning brushing a finger over them changes the color from blue to purple which is one way to keep kids engaged without a screen.
Once your kids have seen this cool mermaid tail pool float, they'll never get out of the water. You're welcome.
These mermaid slip-on sneakers at Nordstrom will tell the world all they need to know about your mermaid loving kid. Check out those fins on the tail, too! Super cool mermaid gift win.
We're longtime fans of the personalized gifts from Sarah & Abraham, and their personalized melamine mermaid plate for kids is a total winner. You can customize the look of the human part of the mermaid, right down to skin tone, hair style and color, and even whether you want her smiling or laughing.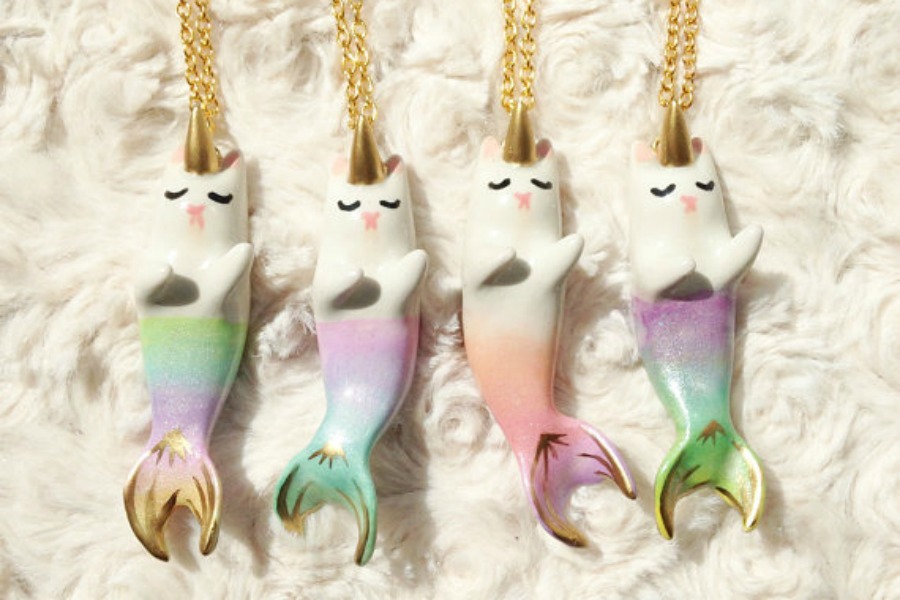 There's something so charming about these cat mermaid necklaces from AGirlandHerCat, which I'm currently coveting so hard. The owner crafts each one to your specifications, so if your purrmaid (yep, she went there) needs a floral wreath or antlers — because you know it does — she can make that. Sold!
Liz first shared these mermaid tail blankets a few years back and they blew up our site. No surprise — they're from a cool mom-run company, made from a soft, snuggly material with sturdy construction that even adults love. It's a fabulous surprise for a kid who's off to sleepaway camp, and when it comes home, it's perfect for snuggling up on the couch on movie night.
I'm guessing teens and tweens will be all over this mermaid eye shadow compact at Sephora, especially when they see the color names. Beach, please and Mermosa totally made my day.
Related: 9 gorgeous mermaid treats you're going to want for your next under the sea bash. 
For older kids and tweens, subtly cool mermaid accessories are on point, like these cool iridescent mermaid earbuds from Claire's. Nice way to nod to mermaid style without announcing to the world that you're a secret mer-person separated at birth from your clan.
If you're hosting a mermaid party for your kid, it won't be complete without some underwater-themed treats. No, not shrimp cocktail. I'm thinking more like these mermaid tail sugar cookies from PF Confections which make for a great goodie bag favor, or an easy dessert.
Sometimes mermaids are real! At least if you're in Coney Island during the annual Mermaid Parade. If that's a part of your family tradition — or especially if it's not — the wonderful Mermaids on Parade picture book from Brooklyn author and illustrator Melanie Hope Greenberg is a favorite. To make it a cooler mermaid gift, download some of the author's free printable coloring pages and mermaid paper dolls from her blog.
These little earrings would make a sweet birthday gift for a girl with newly pierced ears. Plus, the owner of the Etsy shop Poptone draws each set of her mermaid earrings by hand, yielding a cool, handmade look that's perfect for mixing and matching, too.
Ever since I got a Tokidoki nursing pillow for my son's baby shower, heir funky characters are some of my absolute favorites. While Unicorno is the cult favorite, you have to love their new addition — a pop culture mash-up that is this Tokidoki mermaid unicorn plush. Mermaids meet unicorns! Who could want anything else?
I know my nieces would flip out over this gorgeous mermaid costume that I found at Nordstrom, and I like that the top is a halter jacket and not a teeny bikini. You'll be the special favorite if you buy this for a little mermaid in your life; just be prepared when they refuse to wear real clothes the rest of the summer.
Related: The ultimate birthday party gift guide for kids by age.
This Mermaid Castle Playset by Petite Collage appeared in our holiday gift guide as one of the most awesome gifts for kinds under $15 that don't feel like stocking stuffers. Kids can pop out and build the set, then use their endless creativity to play play play.
How wonderful is this Mermaid Gang girls t-shirt from Etsy's Oh Hello Sparkle? It's handmade to order in tween sizes, and you know, if you're going to be in a gang…that sounds like a good one.
Just try not to strike an Ariel-singing-on-the-rock pose with these fun mermaid floor pillows at Floor Bloom. Whether your kid's more likely to use them for hilarious Instagram selfies or just lounging around on the playroom floor while watching Moana, I think these will be a big hit.
Kristen discovered these sleek mermaid Vans at her local mall, and I'm thinking they're a cool mermaid gift for older kids who want to toe the line (heh) between on-trend metallic snakeskin and subtle mermaid scales. Either way, these are pretty rad.
Whether you want these mermaid makeup brushes to go with your mermaid shadows up top, or you like the accent all your own, at just $8 a set at Amazon, you can afford to supply them to all your little mermaids.
If you need a favor for your next mermaid birthday party, or just a sweet, smallert gift for a kid who likes to scribble, journal, or sketch all summer, consider these cute, inexpensive mermaid pencils at Etsy's California Ave.
I love that purchasing this handmade mermaid doll at The Little Market helps support artisans in Peru. And judging from its looks and soft knit, I'm guessing it'll make a young — or older — kid in your life pretty happy too.
Mermaids need to eat too! And this mermaid insulated lunch bag spotted at Anthropologie will look adorable by the pool, at summer camp, on a school cafeteria table in the fall, or even as a pop of whimsy on your own desk at the office. What? Adults deserve a little magical sea life in our lives too.