So, you've gotten the mind-blowing news that you're having twins. Congrats! And, OMG! Now you have to start figuring out a zillion things including the best baby gear for twins. Because trust us, you're going to want to start prepping that nursery for two.
We talked to lots and lots of parents of twins to find out which baby gear is actually worth the investment, when it comes to twins.
You may be surprised to see what made the list — and to learn that having twins doesn't just mean registering for two everything at your baby shower.
Don't worry, moms- and dads-to-be — you got this!
CMP is an rstyle affiliate
Related: 6 creative birth announcement ideas for twins + multiples
The best feeding solutions for twins
Table for Two Twin Feeding System
The number one, most recommended item shared by twin parents is the Table for Two twin feeding system. You can use it from the bottle feeding stage  to the spoon feeding stage. You can see the obvious benefit of feeding two kids at once, especially during the night. And we love the ergonomic position, which is supposed to help reduce the symptoms of reflux and colic. Which means more sleep for you, parents. And those cup holder are so smart, so you don't mix up their bottles in your sleep-deprived state.
Twin Z Nursing Pillow
If you're nursing exclusively, then the Twin Z nursing pillow will be a huge help for twin moms. The double-sided design allows you to hold both of your babies comfortably while you breastfeed. (Or, you can hold two baby dolls and nurse them through your shirt like this model. Either way. Eyeroll.) You can also prop your twins up on this nursing pillow, as with other breastfeeding cushions, but the Twin Z is specifically designed to have room for two.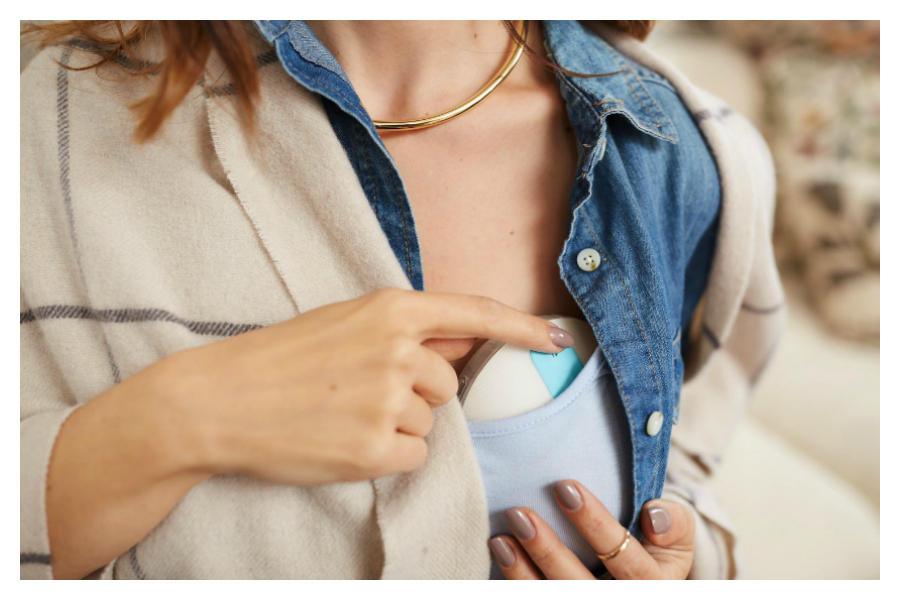 Willow Wearable Breast Pump
If you're nursing but also need to pump breast milk, go for the gold. Moms of twins think the high-tech Willow Wearable Breast Pump is brilliant, because you can tuck it inside your bra and it pumps cordlessly. This way, you're hands-free to read a book or, more realistically, tend to the kids. Because, twins.
Baby Brezza Formula Pro
If you're formula feeding your babies, an investment in a Baby Brezza Formula Pro (around $179 from Amazon or Target) will be totally worth it. We called it a Keurig for baby formula when we first discovered it five years ago, and since then it's grown to be an essential for thousands of mom who once would have eschewed it as an indulgence. Just pressing a button you can have a warm bottle ready to go in minutes — something you will be doing a lot when you're doubling the number of bottles you're feeding each day with twins.
Actually, I'd skip the kitchen and keep the Baby Brezza this right on my bedside table.
The idea of a bottle sterilizer is a bit polarizing, so we leave that decision up to you. But if you are going to get one, we strongly suggest checking out the top-rated Baby Brezza One Step Sterilizer and Dryer. With the lid closed, it keeps bottles sterile for up to 24 hours, and it can't ever hurt to be that far ahead of the game. Or at least, to try.
Boob Designs Nursing Wear
When you're nursing twins, you'll be whipping out those boobs twice as often, and you want nursing wear that's as easy to manage as possible. We can't say enough great things about the Boob Design maternity and nursing wear, which is not only practical, it's durable, and washable and (gasp) stylish. I mean, how great is this new Boob Design Simone Nursing Dress? You'd never even know it was nursing wear — at least until you lift that flap.
In fact, be sure to invest in a few postpartum outfit staples that make you look and feel great. Whether you've just had one baby or multiples, it makes a world of difference.
Related: 8 of the coolest high-tech baby gifts that new parents will actually use 
Beebo Bottle Holder
Another massive-time saver in the baby gear for twins department is the Beebo bottle holder. While it might seem like something you don't need, twin parents not only love it, they suggest you buy two Beebos — or more — so you can feed both babies at the same time, while still holding them in your arms. Brilliant.
Related: The ultimate baby shower gift guide. It's back, and bigger than ever.
The best twin baby gear for diapering
A Diaper Delivery Service
First tip of diapering twins from twin moms who know: use a diaper delivery service like ABBY & FINN.
When you're running on fumes and don't have time to drink your coffee while it's still warm, let alone take a shower, it's a lifesaver not to have to worry about whether you're out of diapers.  Just leave that to the pros.
Alternately, if you're an Amazon Prime member, you can set up an Amazon Dash button for diapers and wipes. Choose your favorite brand, then set up the button near your diapering station. When you're running low, just push the Dash button and in one touch, a new order of diapers or wipes is on its way. Maybe even overnight.
A Wipeable Changing Station
Whether you're expecting one baby or multiples, we always recommend a diaper changing station that you can wipe down, like the Keekaroo Peanut Changer. Skip one with a fabric cover (however cute that fabric) that needs to be washed all the time.
That said, if your newborns have a low birth weight that needs to be monitored, consider the Hatch Baby Grow Smart Changing Table (shown above) which can automatically update your babies' weight via an app, making pediatricians visits easier on you.
The Skip*Hop LIght-Up Diaper Caddy
Fumbling in the dark to find the diaper rash cream or wipes is annoying, but with twins sharing a room you don't have the option of turning on the lights in the same way, because DON'T WAKE THE OTHER BABY! I absolutely love my Ski*Hop Light-Up Diaper Caddy, because by simply touching the sensor on the handle a soft light turns on, illuminating all my diapering essentials.
Related: 4 stylish diaper bags to make schlepping your crap bit more glam
The best twin baby gear for getting out and about
A Right Size Diaper Bag
Everyone has their own taste and must-have list of features when it comes to diaper bags, but I have to say I love my Ju-Ju-Be BFF diaper bag like no other.
It's big enough for all the bottles and diapers you'll need with twins, without being too big to carry when you've also got two babies in your arms. Plus, I like that you can use it with either one shoulder strap like a tote, or two straps like a backpack. And the sturdy, metal zippers open easily and quickly when you're dealing with a blowout or hungry baby who really can't wait for you to fumble around.
There are several cute styles available at Nordstrom by the way, so if florals aren't your thing, it's available in cute polka dots or graphic black-and-white prints.
The TwinGo Baby Carrier
We are big fans of babywearing, so I was excited to learn there was an option just for parents of multiples in the TwinGo Baby Carrier. Twin parents I've spoken to absolutely love this! Bonus: I bet you'll get back in pre-baby shape in no time.
The Numa DEMI Grow Twin Stroller
We've recommended some favorite luxury double strollers for twins, but we know not everyone wants to spend $1300 — and up. Yikes! Fortunately, there are options that are more affordable and still fulfill our top requirements: it must be lightweight, compact, and easy to maneuver with one hand.
The new Nuna DEMI Grow fits all those requirements and rings in at half of what the high-end strollers do. Plus, twin parents love the massive basket down below that you can fill, even with a baby on the lower position. That means you can leave your hands free to carry that vente coffee you so desperately need. (Note: the stroller includes one child seat in the base price, so you'll need to be sure to add the extra seat if you're having twins.)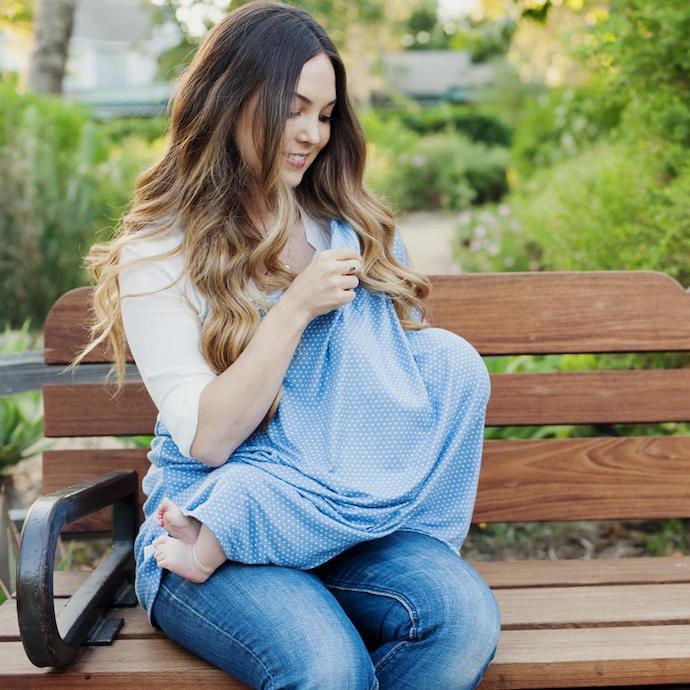 Covered Goods Nursing Cover
Nursing covers can be controversial, and they aren't for anyone. But we don't judge — you do what works for you. One option to consider is the Covered Goods cover. Instead of investing in a separate nursing cover and shopping cart cover and bassinet car seat shade, just buy one that's all of those things — plus it can easily become a cute scarf. Yay for multitasking items that help you simplify your life, and your baby gear.
Binxy Baby Shopping Cart Hammock
Mamas, grocery shopping with infant twins isn't an easy task. I mean, how do you fill the cart with groceries and babies and still have hands free? I don't even know how you do it. The best recommendation I've heard is to splurge on a grocery delivery service for a year. But if that's not in the budget, we recommend bringing one baby carrier plus one Binxy Baby shopping cart hammock on your grocery runs to make it a lot easier.
Related: 3 of the best free baby book apps for busy parents. No scrapbooking required.
The best twin baby gear for sleeping
Halo Sleepers
Last but definitely, definitely not least, let's talk about twin gear that you'll need for sleep. We've recommended the original Halo Swivel Sleeper when it first came out, and it's great to know how much moms of multiples love their Halo Bassinet Twin Sleeper. It gives each twin their own space (which is safer for them), while the breathable, mesh wall still helps them feel close. Which is what twins want.
Sproutling Baby Monitor
While most baby monitors will do the job, when you have two babies who are waking all night long, choosing any one of our recommended smart baby monitors that will give you a clear picture about what's happening in the cribs will give you so much peace of mind.
That said, if you're caring for preemies or twins with low birth weight (as twins often are) you might want to go to the next step and invest in a wearable baby monitor — like the Sproutling monitor, shown here.
Related: 3 outstanding new high-tech baby monitors for 2018
The Snoo Convertible Bassinet
If you've got a generous budget to set up your twins' nursery — and we mean really generous — you might want to get your twins their own Snoo. When Kristen & Liz chatted with Snoo inventor Dr. Harvey Karp on an episode of the Spawned podcast, I was mesmerized by the idea that this bassinet uses white noise and motion to help newborns sleep longer. That's any new parents' dream, much less parents of multiples! It even helps babies transition from bassinet to crib, which is pretty brilliant, even if they can only use it for six months.
Of course it's not an essential, but if you are going to splurge somewhere — or get one indulgent baby shower gift from a generous friend or relative. We'd say something that helps you all get you more sleep would be our number one place to start.